Posted May 28, 2019 at 2:03 p.m.
BOONE, N.C. — Appalachian State University's mission of sustainability doesn't end at its campus borders. Partnering with local organizations, the university provides real-world solutions that are environmentally, economically and equitably sound for all — and that includes horses.
On Thursday, May 9, Appalachian Chancellor Sheri Everts helped cut the ribbon on a new solar barn project at Horse Helpers of the High Country (HHHC), a nonprofit located in nearby Zionville that offers equine rescue, education and advocacy in Watauga, Ashe and Avery counties and nearby Tennessee counties.
The university's partnership with HHHC, which is 10 years strong, has yielded service-learning opportunities and internships for students, as well as educational tools for faculty. It is among many that illustrate how the Appalachian Community works alongside the Greater Boone community to effect a higher standard of living.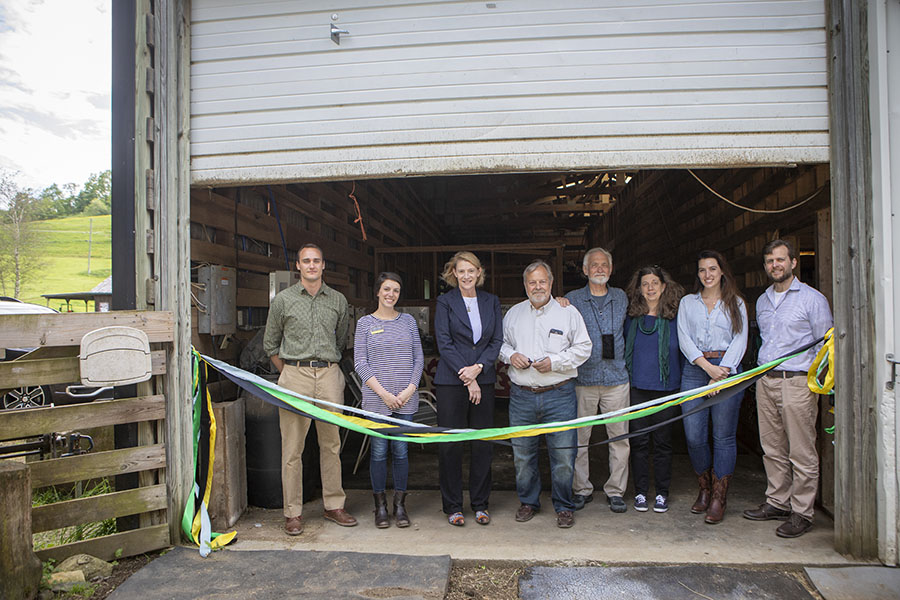 The solar barn sustainability project was made possible by a $13,500 Energy Efficient Grant awarded to HHHC by Appalachian and the Community Together (ACT), the funds for which were generated through ACT's 18th annual Big Sale held in fall 2018. The event raises support for energy efficiency projects for local community partners as well as an Appalachian scholarship.
"This is a step toward a more sustainable future for our organization, and we could not have done it without the High Country and Appalachian Community," said Dr. Heather Dixon-Fowler, a member of HHHC's Board of Directors. Dixon-Fowler is also acting chair and associate professor in Appalachian's Department of Management in the Walker College of Business.
The newly installed solar panels will help power the barn's lights, fans and heated rooms, as well as a heated hose used in winter and the farm's approximately 2 acres of fencing. Appalachian alumnus Matthew Myers '15, owner of Myers Solar and Construction, installed the photovoltaic system, donating $19,000 in labor toward the project.
Myers explained that the renewable energy collected through HHHC's solar panels can be sold to Blue Ridge Energy — which buys and sells electricity at the same price — meaning that HHHC will likely arrive at net-zero energy consumption each month.
Additional funding for the project was provided by Transition Blue Ridge, which gave a $2,000 matching grant.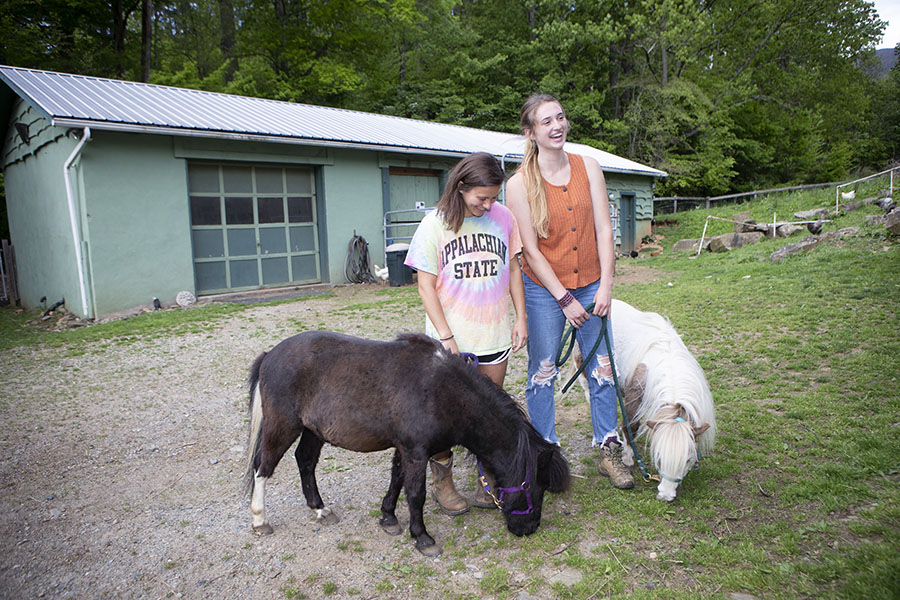 Making sustainable choices
Appalachian faculty on HHHC's Board of Directors
Amy Hudnall, executive director of HHHC's Board of Directors and senior lecturer in Appalachian's Department of History, joked that when it comes to horses, the term "sustainability" might seem an oxymoron.
Horses aren't considered to be sustainable due to the toll they take on the land, Hudnall explained. "It's really important for us that our choices are made keeping sustainable farming and sustainable practices, in general, in mind."
Hudnall said all manure generated at the farm is donated to Against the Grain, which uses this waste in its biodynamic farming model to produce organic vegetables, sorghum and Animal Welfare Approved livestock.
Rising senior Willow Baksa, a psychology major with a concentration in sustainability from Virginia Beach, Virginia, who serves as HHHC's barn manager, said the solar barn project is a great example of Appalachian's support for sustainability. Baksa is also involved in Appalachian's Renewable Energy Initiative (REI) — a student-led, student-funded organization that seeks to install renewable energy and energy efficiency projects on campus.
Ashley Thomasson, a rising junior and global studies major from Mooresville and an HHHC volunteer and employee, said the energy savings the solar project will provide will be put toward acquiring more supplies for the farm's animals, such as feed/hay and medical supplies.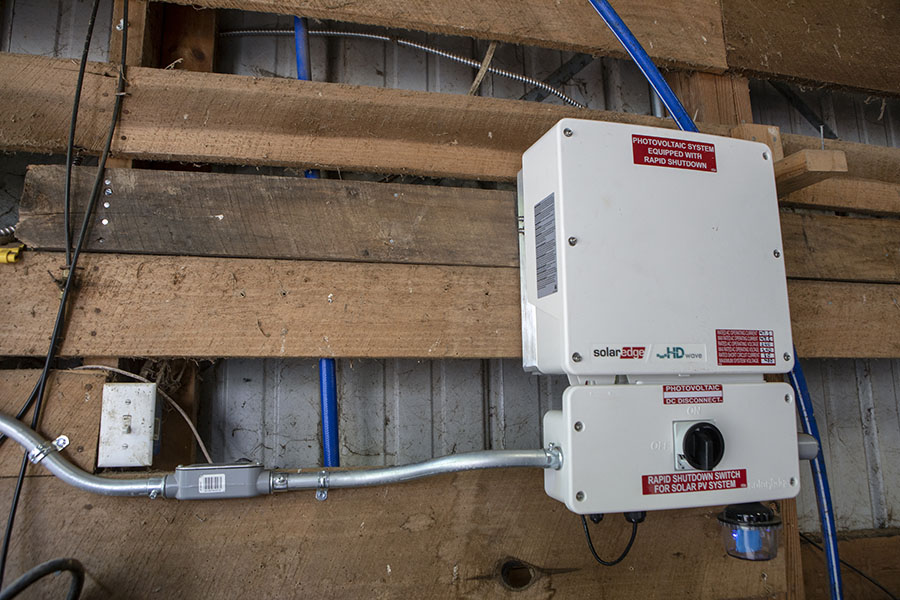 Hands-on opportunities for faculty and students
Beyond ACT, HHHC has partnered with numerous Appalachian faculty for courses on topics that include psychosocial equine therapy, therapy for people with disabilities, agroecology and nonprofit management, among others. The organization also offers conflict resolution, leadership and team-building workshops for local community members and students in middle school through college.
"Our internship program is very strong with the university," Hudnall said. Two biology majors will intern with HHHC this summer, she added, working on an equine abuse investigation in the area. These students will also help develop a best practices program for managing a feral horse herd, which includes completing an inventory of all local feral herds.
She said interns from Appalachian's marketing and communication programs have also assisted in creating promotional materials and communication strategies for HHHC, and the organization regularly receives interns minoring in animal studies as well as pre-veterinary students.
"Many of the students I've managed at the barn have said they really appreciate the more hands-on approach to learning that they received by completing service-learning projects here, that it provides for a diverse experience," Baksa said.
When asked for her thoughts on the new solar barn system, Fiona — a dark brown quarter horse with a white marking on her sleek forehead — answered "neigh," which Hudnall said means "thank you" in horse talk. Fiona was rescued by HHHC in 2014 and is one of the organization's permanent residents.
Appalachian faculty on HHHC's Board of Directors
What do you think?
Share your feedback on this story.
Advocating for & Protecting all Equine & Inspiring Positive Human-Animal Bonds
Appalachian's program has become a model for other campuses across the state and nation
Jan. 25, 2019
About Sustainability at Appalachian
Appalachian State University's leadership in sustainability is known nationally. The university's holistic, three-branched approach considers sustainability economically, environmentally and equitably in relationship to the planet's co-inhabitants. The university is an active steward of the state's interconnected financial, cultural and natural resources and challenges students and others think critically and creatively about sustainability and what it means from the smallest individual action to the most broad-based applications. The university offers both undergraduate and graduate academic degree programs that focus on sustainability. In addition, 100 percent of Appalachian's academic departments offer at least one sustainability course or course that includes sustainability, and all students graduate from programs that have adopted at least one sustainability learning outcome. Learn more at https://appstate.edu/sustainability.
About Appalachian State University
As the premier public undergraduate institution in the Southeast, Appalachian State University prepares students to lead purposeful lives. App State is one of 17 campuses in the University of North Carolina System, with a national reputation for innovative teaching and opening access to a high-quality, affordable education for all. The university enrolls more than 21,000 students, has a low student-to-faculty ratio and offers more than 150 undergraduate and 80 graduate majors at its Boone and Hickory campuses and through App State Online. Learn more at https://www.appstate.edu.