Posted June 11, 2019 at 2:31 p.m.
This article is the second in an ongoing series about the App Builds a Home project, which began with fundraising in fall 2018 and will continue through the building of the home this fall.
BOONE, N.C. — Appalachian State University students encountered both challenges and rewards when designing a zero energy ready house for App Builds a Home, a project to build a home from the ground up in partnership with Watauga County Habitat for Humanity (WCHH).
Appalachian's Integrative Design Experience Laboratory (IDEXlab) — a building science program in which students receive course credit while working on real projects for real clients — was commissioned for the design, which pulled double duty by serving as Appalachian's entry in the U.S. Department of Energy's 2019 Solar Decathlon Challenge held in Golden, Colorado, in February. The IDEXlab team's design was named as a finalist in the competition.
Although meeting two sets of detailed specifications for the design proved a challenge — one that was compounded by budget restrictions and building considerations unique to Habitat for Humanity's model of operations — the IDEXlab team embraced the task as they worked on an outcome that will benefit the community.
"The students focused on balancing Habitat's guidelines with the Solar Decathlon contest's in order to produce the best overall design with respect to cost, comfort, engineering, energy performance, architectural design, constructability and environmental benefits," said Chelsea Helms, practitioner-in-residence in Appalachian's Department of Sustainable Technology and the Built Environment (STBE).
Groundbreaking for Appalachian's Habitat house is scheduled for September, in Boone's GreenWood neighborhood. Thus far, six homes have been built by WCHH teams in this 20-home model neighborhood of sustainable, integrated community design.
"This neighborhood is an example of what's possible in the green building industry, demonstrating that efficient, ecological building practices can ensure lasting affordability for our hardworking partner families," said Alex Hooker '92 '99, executive director of WCHH.
Even as recent builds by WCHH have incorporated efficient green features, the IDEXlab team strove to "push the envelope" with innovations, Helms said. "While some of our proposed ideas and innovations for this home might be beyond the typical solutions for Habitat homes, we hoped to reconsider the standards and propose options for the future of Habitat homes in Watauga County," she added.
Some of the features included in the plan will reduce resource consumption and monthly utility bills for the homeowners. These include:
An optional greywater filtration tank to reduce demand for clean water, thereby lowering the household's carbon footprint.
A rainwater cistern with an incorporated hookup for a garden hose for outdoor watering needs.
Ideal positioning of the home on the site to protect conditioned spaces from heat loss and wind exposure.
A grid-tied photovoltaic system (solar panels) with an innovative islanding system that prevents power loss if the grid shuts down.
HVAC and ventilation systems allowing the homeowners to control the comfort of their living space with little to no maintenance required.
Challenges faced
App Builds a Home timeline
Habitat for Humanity's mission is to provide decent, affordable housing to low-income residents, which is accomplished by building modest homes with volunteer labor and materials that are donated or purchased at reduced cost.
"Habitat is focused on keeping all of their homes to the same construction standards," said Christian Bocchino '19, a recent graduate of Appalachian's building sciences program from Mooresville who worked on the IDEXlab project during his final semester. "Since this was the first collaboration the university has done with Habitat where the students were directly involved in both the design and construction, we had to learn about the standards of the community we were working in."
Bocchino continued, "We had to make sure we were keeping the budget in check while thinking of cost-effective ways to push the design forward from a sustainability aspect."
Joseph Shawley, a senior building sciences major from Charlotte, added, "We also had to make all of our improvements volunteer-friendly, making sure everything was easy to implement."
"While we were aiming for innovative improvements, when presenting this to an audience that tries to rapidly and efficiently build Habitat for Humanity homes, we had to be conscious of disrupting the rhythm that volunteers are accustomed to," said Michelle Stanziola, a junior building sciences major from Apex.
The solution came in the proposal of a "catalog home" — a modular design that can be easily altered later by the homeowners. "Owners can further develop the home to add units such as additional rooms, a back porch, a cistern, solar panels and more," Stanziola explained.
Catalog options are determined by the client's budget and can be implemented after the construction of the home if the homeowners need or want these extra features.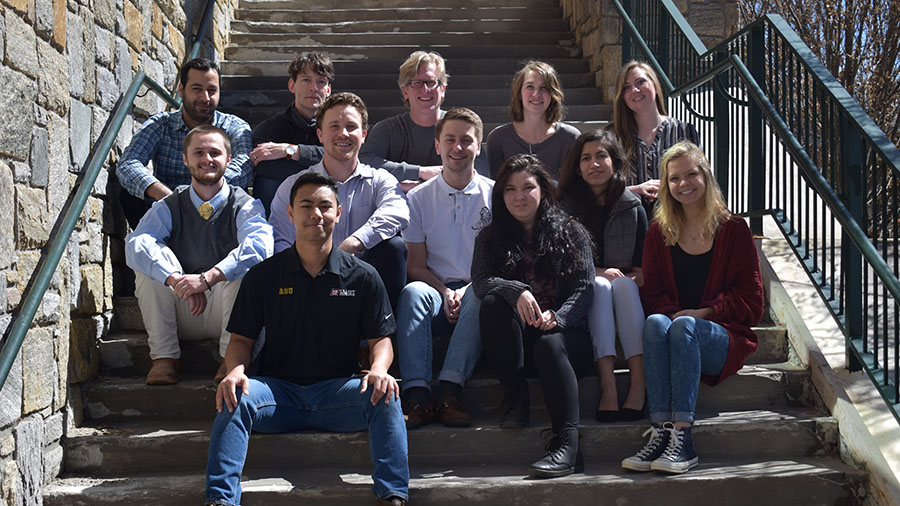 A rewarding process
Several of the IDEXlab team members plan to be involved in the construction of the home in the fall semester. "I want to see the design come to life and witness the impact on the community," Shawley shared.
Stanziola, who has volunteered with WCHH since her first year at Appalachian, participated both in the design and the fundraising efforts for App Builds a Home. "This project is student-driven from design, to funding, to building the home," she said.
"With students representing half the population of Boone, I feel the students need to take action in giving back to the community. Building is a financial investment and also an emotional investment," Stanziola said.
Bocchino, who is pursuing his master's degree at Virginia Polytechnic Institute and State University (Virginia Tech) this fall, said he hopes to return to Boone to see the home being built.
"While working on the design, it was rewarding to know we were trying to make a difference in the way sustainable, ecological and energy-proactive affordable housing was viewed — changing the narrative on how low-income housing can be perceived by the general public. I was happy to be a part of that," he shared.
What do you think?
Share your feedback on this story.
App Builds a Home timeline
Department of Sustainable Technology and the Built Environment
March 1, 2019
About the Department of Sustainable Technology and the Built Environment
One of seven departments housed in the College of Fine and Applied Arts, the Department of Sustainable Technology and the Built Environment at Appalachian State University features an integrated array of programs spanning the fields of sustainable design and technology. Its mission is to foster a strong and vibrant culture of inquiry, discovery and innovation that integrates theory with application, problem seeking with problem-solving, local issues with global perspectives and technological progress with environmental stewardship. It offers bachelor's degrees in sustainable technology and building science, and a master's degree in technology. Learn more at https://stbe.appstate.edu.
About the College of Fine and Applied Arts
Appalachian State University's College of Fine and Applied Arts is a dynamic and innovative group of seven academic departments, bringing together a variety of perspectives, experiences and real-world education to provide unique opportunities for student success. The college has more than 3,000 undergraduate and graduate majors. Its departments are Applied Design, Art, Communication, Military Science and Leadership, Sustainable Development, Sustainable Technology and the Built Environment, and Theatre and Dance. Learn more at https://faa.appstate.edu.
About Appalachian State University
As the premier public undergraduate institution in the Southeast, Appalachian State University prepares students to lead purposeful lives. App State is one of 17 campuses in the University of North Carolina System, with a national reputation for innovative teaching and opening access to a high-quality, affordable education for all. The university enrolls more than 21,000 students, has a low student-to-faculty ratio and offers more than 150 undergraduate and 80 graduate majors at its Boone and Hickory campuses and through App State Online. Learn more at https://www.appstate.edu.