Posted June 21, 2019 at 2:06 p.m.
BOONE, N.C. — Kayla McDougle's grandfather taught her to always "measure twice, cut once." Now she applies his woodworking advice — along with her Appalachian State University education — to real-life projects as she majors in interior design with a minor in building science.
McDougle, a junior from Greensboro, is president of Appalachian's Habitat for Humanity Club and is on the planning team for App Builds a Home — a project to build a home from the ground up in partnership with Watauga County Habitat for Humanity (WCHH).
McDougle got involved with Habitat for Humanity at the beginning of her first year at Appalachian. "I felt like it was the perfect opportunity for me to learn more skills in construction while being able to give back to my community at the same time. The experience has brought me close with fellow volunteers as well as the homeowners working alongside us to build their home."
In addition to woodworking, McDougle said she has always been interested in art. "I knew I wanted to go into some sort of creative field," she shared. "I ultimately decided to major in interior design because it seemed like the best way for me to combine my passion for art and design with my interest in construction and building."
She continued, "One of the reasons I chose Appalachian was because the interior design program doesn't just focus on design but also includes the technicalities of building and construction so we can create designs that are practical as well as visually appealing. The program provides hands-on experiences, so I'll be prepared to go out in the world and pursue my career goals."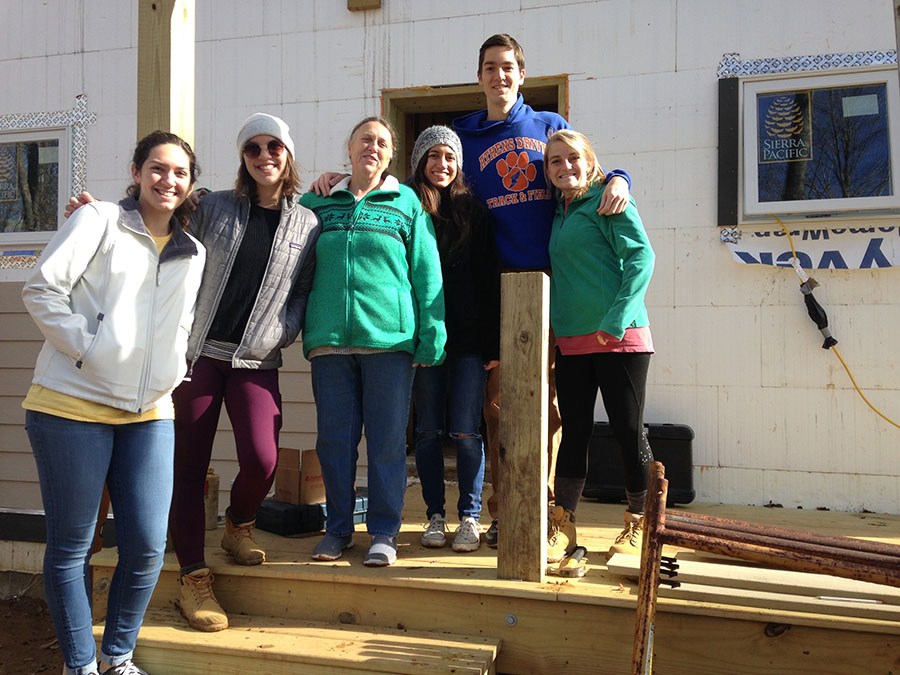 She was also drawn to Appalachian's sense of community. "I came to visit Appalachian in the fall of my senior year of high school. The campus was so beautiful, and everyone we met was so friendly and welcoming. There was a strong sense of belonging, and I knew I wanted to be part of that community," she said.
McDougle's favorite interior design project thus far was the redesign of the dean's suite for the College of Fine and Applied Arts. "This project wasn't in the original curriculum for the class, but when the opportunity came up, the faculty worked hard to put together the opportunity for our class. We had to create a design to fit the client's needs within challenges presented by the space. It was exciting and rewarding to work on a real-life project and get direct feedback."
Brian Davies, instructor in and chair of Appalachian's Department of Applied Design, encouraged McDougle to minor in building science, she said. "He has been a huge support throughout my time at Appalachian. He has offered me guidance in some of the Habitat projects, as well. It is encouraging to know that someone cares so much about my success and is always there to help me."
After graduating, McDougle said she would like to start her own company in residential construction and interior design.
What do you think?
Share your feedback on this story.
About the Department of Applied Design
One of seven departments housed in the College of Fine and Applied Arts, the Department Applied Design at Appalachian State University fosters excellence in design education, design research and professional placement. The department balances theoretical and pragmatic approaches while exploring an awareness of impact through design decisions on the global community. Faculty focus on a holistic approach to creative problem-solving by integrating sustainability and ethical responsibility in teaching and practice. The department offers bachelor's degrees in apparel design and merchandising, industrial design and interior design. Learn more at https://design.appstate.edu.
About the Department of Sustainable Technology and the Built Environment
One of seven departments housed in the College of Fine and Applied Arts, the Department of Sustainable Technology and the Built Environment at Appalachian State University features an integrated array of programs spanning the fields of sustainable design and technology. Its mission is to foster a strong and vibrant culture of inquiry, discovery and innovation that integrates theory with application, problem seeking with problem-solving, local issues with global perspectives and technological progress with environmental stewardship. It offers bachelor's degrees in sustainable technology and building science, and a master's degree in technology. Learn more at https://stbe.appstate.edu.
About the College of Fine and Applied Arts
Appalachian State University's College of Fine and Applied Arts is a dynamic and innovative group of seven academic departments, bringing together a variety of perspectives, experiences and real-world education to provide unique opportunities for student success. The college has more than 3,000 undergraduate and graduate majors. Its departments are Applied Design, Art, Communication, Military Science and Leadership, Sustainable Development, Sustainable Technology and the Built Environment, and Theatre and Dance. Learn more at https://faa.appstate.edu.
About Appalachian State University
As the premier public undergraduate institution in the Southeast, Appalachian State University prepares students to lead purposeful lives. App State is one of 17 campuses in the University of North Carolina System, with a national reputation for innovative teaching and opening access to a high-quality, affordable education for all. The university enrolls more than 21,000 students, has a low student-to-faculty ratio and offers more than 150 undergraduate and 80 graduate majors at its Boone and Hickory campuses and through App State Online. Learn more at https://www.appstate.edu.