Posted June 18, 2019 at 10:25 a.m.
BOONE, N.C. — Whether you're an aspiring geologist or a mountain biker, a budding archaeologist or a kayaker, Appalachian State University and its Blue Ridge Mountains setting likely offer an adventure — both academic and recreational — for every lover of the great outdoors.
Peterson's — the world's leading educational services company — named Appalachian in its "The 20 Best Colleges for Outdoor Enthusiasts" list, published May 1. The university placed as No. 13 out of the 20 recognized schools nationwide, which were ranked based on their proximity to the outdoors, as well as the academic and recreational opportunities they provide.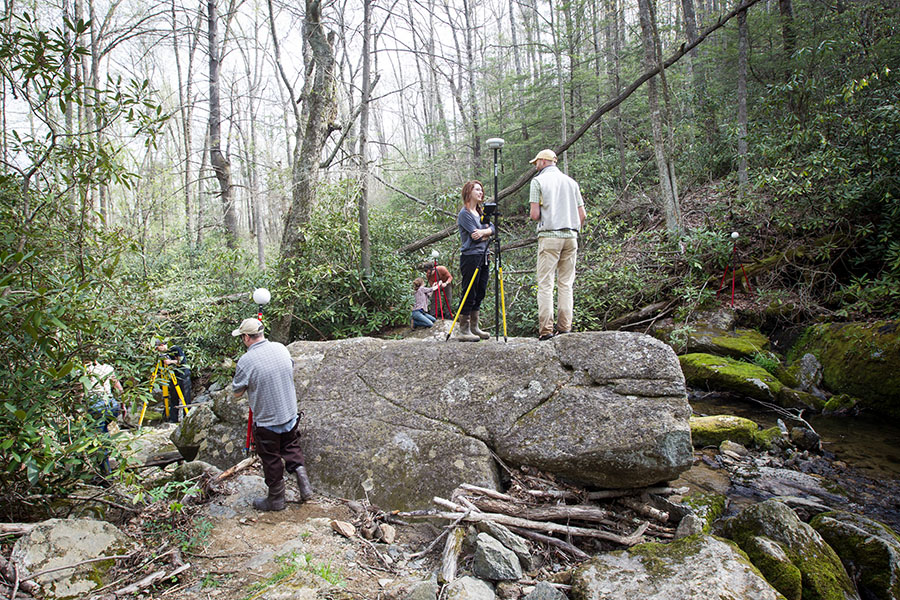 A research-rich environment
"The Southern Appalachian region represents the center of biodiversity for many plants and animals in North America and also has the highest forest coverage. The presence of watersheds, rivers, forests, rock outcrops and highly diverse animal and plant communities, essentially in our backyard, can be thought of as a natural laboratory," said Dr. Ece Karatan, professor in Appalachian's Department of Biology and incoming vice provost for research.
"Faculty members from diverse disciplines, including biology, chemistry, physics, geological and environmental sciences, and geography and planning take advantage of the unique location of Appalachian in their research programs. Courses in many Appalachian departments incorporate opportunities to study these natural resources and … provide unparalleled hands-on learning opportunities for students."
The varied terrain that surrounds Appalachian in the Western North Carolina region — from mountains to meadows, along with the area's waterways, is rife with research opportunities for the university's students and faculty. Additionally, the wildlife and vegetation native to the High Country make for diverse research subjects.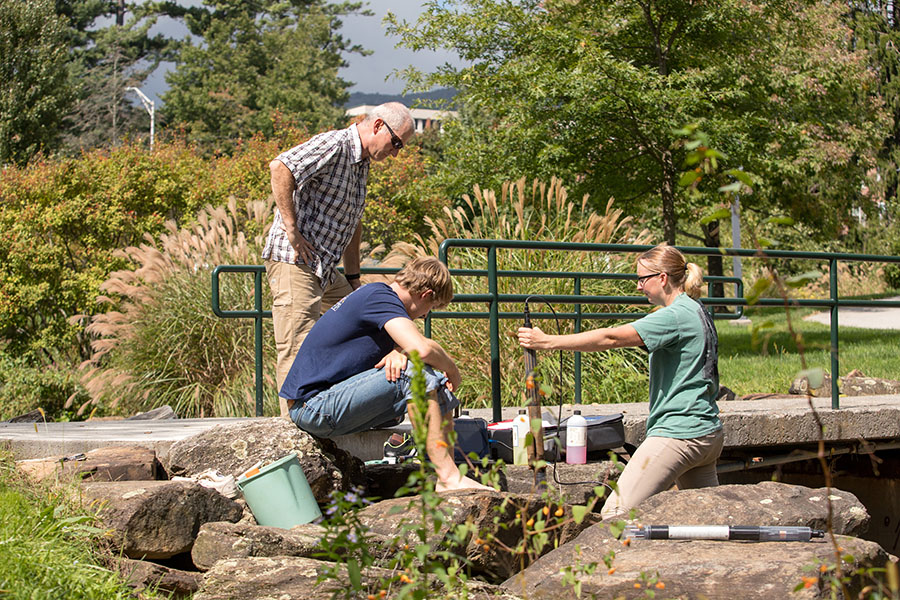 Myriad outdoor research projects are in progress at Appalachian year-round. Recent projects include a Beemon hive monitoring system to understand the health and behavior of honeybees and the development of an outdoor recreation database through a partnership between Appalachian's Healthy Outdoor Play and Exercise (HOPE) Lab and Park Rx America.
For those students who are interested in pursuing career fields that engage with the outdoors, Appalachian offers several degree programs in environmental studies and recreation management. The following are just a few examples: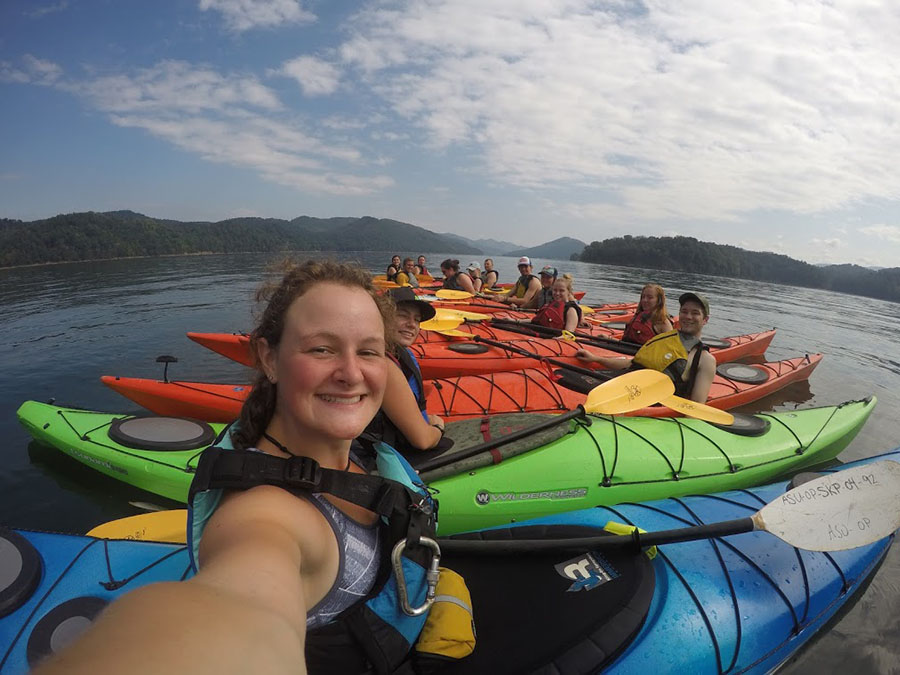 Learning through outdoor exploration
The Western North Carolina region is home to the more than 100 miles of biking and hiking trails, some of the highest peaks east of the Mississippi River, including the approximately 6,884-foot Mount Mitchell, and, according to the National Park Service, one of the oldest rivers in the world — the 320-mile New River.
In its online list, Peterson's highlighted Appalachian's Outdoor Programs, which is part of the university's Division of Student Affairs. Outdoor Programs offers outdoor gear rentals at affordable prices and a variety of different outdoor adventures for Appalachian students, as well as faculty, staff and their immediate family.
"Many students list the outdoor location (of Boone) as one of the reasons they choose to attend Appalachian," said Rich Campbell '90 '96, associate director of Appalachian's Outdoor Programs. "Our program serves as an easy and affordable way to discover some of these amazing outdoor resources found in our community."
Campbell, who holds a B.S. in recreation management and an M.A. in student development from Appalachian, said Outdoor Programs participants have traveled extensively throughout North Carolina and the Southeast, exploring both the state and region by hiking, backpacking, rock climbing, caving, whitewater rafting and kayaking, stand-up paddle boarding, canoeing and kayaking.
"By participating in our programs, students learn more about themselves. We offer opportunities to challenge students, in a supportive atmosphere, and that allows for significant growth and development," he said. "Through those challenges, students develop an ability to persevere, manage adversity and achieve success — skills often found through hard work."
What do you think?
Share your feedback on this story.
Mountaineers on Boone's outdoor advantages
Regional outdoor attractions at a glance
About the Division of Academic Affairs
The Division of Academic Affairs is responsible for student learning and success at Appalachian State University, including oversight of the university's challenging academic curriculum, active classroom environments, and close collaboration between faculty members and students on scholarly activities. Academic Affairs encompasses the degree-granting College of Arts and Sciences, College of Fine and Applied Arts, Beaver College of Health Sciences, Reich College of Education, Walker College of Business and Hayes School of Music; as well as the Cratis D. Williams Graduate School, the Honors College, University College and 12 other units that support the innovative, interdisciplinary and integrative academic experience for which Appalachian is known. Learn more at http://academicaffairs.appstate.edu.
About the Division of Student Affairs
The Division of Student Affairs at Appalachian State University is committed to the development of lifelong learners and leaders by engaging and challenging students within a culture of care and inclusion. The division consists of 16 units that offer activities and services to help students develop more fully by becoming global learners, fostering healthy relationships, appreciating diversity and different perspectives, understanding community responsibility, enhancing self-awareness, developing autonomy and living ethically. These units include the Career Development Center, Campus Activities, Office of Community-Engaged Leadership, Wellness and Prevention Services, Counseling and Psychological Services, Student Health Service, Parent and Family Services, University Housing, Student Conduct, University Recreation, Intercultural Student Affairs, Student Legal Clinic and Off-Campus Student Services, Electronic Student Services, Child Development Center, and Staff Development and Strategic Initiatives. Learn more at https://studentaffairs.appstate.edu.
About Appalachian State University
As the premier public undergraduate institution in the Southeast, Appalachian State University prepares students to lead purposeful lives. App State is one of 17 campuses in the University of North Carolina System, with a national reputation for innovative teaching and opening access to a high-quality, affordable education for all. The university enrolls more than 21,000 students, has a low student-to-faculty ratio and offers more than 150 undergraduate and 80 graduate majors at its Boone and Hickory campuses and through App State Online. Learn more at https://www.appstate.edu.