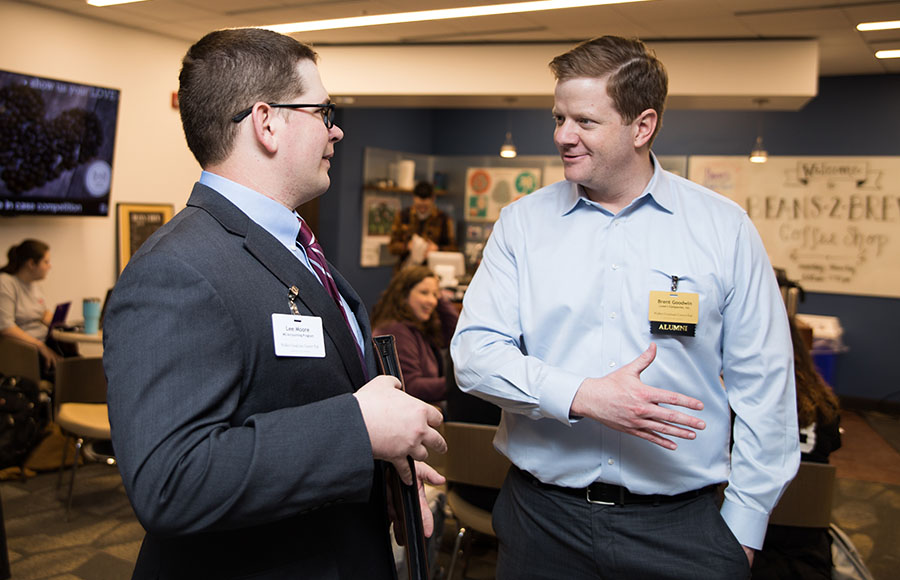 Posted Aug. 16, 2019 at 9:15 a.m.
BOONE, N.C. — The resources available through Appalachian State University's Career Development Center (CDC) empower students to take charge of their future and continue their success long after they've crossed the graduation stage.
"Appalachian prepares students for careers, not just the first job," said Dr. Susan McCracken, Appalachian's director of career development and economic engagement. "Career development is identity development. Having a career is doing meaningful work."
McCracken and her CDC team are redefining the way students think about the career readiness process and encouraging students to start their journey as soon as they arrive at Appalachian.
"It is critical to get students to recognize early on the need to develop a strategy for how they will attain and demonstrate the competencies that broadly prepare them for a successful transition into the workplace," said Jennifer Shaffer, associate director of employee relations and marketing in the CDC.
The focus of the CDC is to help students achieve three broad milestones:
Finding their value and how they want to impact others.
Exploring interests that align to their values, such as majors, industries, jobs and cities where they might want to live after graduating.
Gaining professional experiences.
Notable CDC events and resources
To foster one-on-one engagement and aid in identifying a student's values and interests, each career counselor supports a specific college at Appalachian. The counselors are available to meet with students and discuss anything from resumes and interview skills to developing a digital identity and practicing their elevator pitch.
Individual career counseling appointments can also focus on how to translate experiential learning, like volunteer and community work, into the desired skills and competencies sought by employers. On average, 90% of Appalachian students report their career counseling appointment helped them with their specific need, according to post-appointment surveys conducted during the 2018–19 academic year.
The CDC also offers ongoing events related to writing resumes and cover letters and identifying internships. Signature events organized by the center include the annual Internship and Job Fair, Careers for Impact symposium, Graduate and Professional School Fair, and Talent Jam.
Professional experiences gained through student employment are a top priority for Appalachian. An average of 4,500 students are employed on Appalachian's campus each year, and the CDC works to map job descriptions to career competencies.
The result? Experiences that yield transferrable skills — skills that prepare students for the challenges and opportunities they will find in the workplace and in life.
Additionally, on average, 80% of students self-report they've completed an internship either on or off campus. Internships create opportunities for students to demonstrate their skills, expand their competencies and network among industry professionals while still in school — all of which are invaluable when it comes time to apply for jobs.
Notable CDC events and resources
What do you think?
Share your feedback on this story.
Appalachian tracks where its graduates go, notes high success rate
About the Career Development Center
The Career Development Center at Appalachian State University supports the mission of the university and its Division of Student Affairs in developing lifelong learners and leaders by engaging and challenging students within a culture of care and inclusion. Students who participate in the center's services are able to identify core values, beliefs and skills and use them to articulate relatable career goals; acquire transferable skills and relevant experiences for future professional endeavors; and utilize resources that are available to gain experiential learning opportunities and cultivate professional networks. Learn more at https://careers.appstate.edu.
About the Division of Student Affairs
The Division of Student Affairs at Appalachian State University is committed to the development of lifelong learners and leaders by engaging and challenging students within a culture of care and inclusion. The division consists of 16 units that offer activities and services to help students develop more fully by becoming global learners, fostering healthy relationships, appreciating diversity and different perspectives, understanding community responsibility, enhancing self-awareness, developing autonomy and living ethically. These units include the Career Development Center, Campus Activities, Office of Community-Engaged Leadership, Wellness and Prevention Services, Counseling and Psychological Services, Student Health Service, Parent and Family Services, University Housing, Student Conduct, University Recreation, Intercultural Student Affairs, Student Legal Clinic and Off-Campus Student Services, Electronic Student Services, Child Development Center, and Staff Development and Strategic Initiatives. Learn more at https://studentaffairs.appstate.edu.
About Appalachian State University
As the premier public undergraduate institution in the Southeast, Appalachian State University prepares students to lead purposeful lives. App State is one of 17 campuses in the University of North Carolina System, with a national reputation for innovative teaching and opening access to a high-quality, affordable education for all. The university enrolls more than 21,000 students, has a low student-to-faculty ratio and offers more than 150 undergraduate and 80 graduate majors at its Boone and Hickory campuses and through App State Online. Learn more at https://www.appstate.edu.