Posted Nov. 1, 2019 at 10:04 a.m.
BOONE, N.C. — While an undergraduate at Appalachian State University, Jake Dorsett '18 conducted some earthshaking research that was recently published by the Bulletin of the Seismological Society of America.
Dorsett, who is from Monroe, was a double major, earning a B.S. in geology with a concentration in quantitative geoscience and a B.S. in physics with a concentration in applied physics. He also explored geophysics as part of his physics major and is now pursuing a master's degree in geophysics at Indiana University.
At Appalachian, Dorsett worked with Dr. Scott Marshall, professor in the Department of Geological and Environmental Sciences (GES), along with collaborators at the Universidade de Brasília's Instituto de Geociências and the University of Massachusetts at Amherst.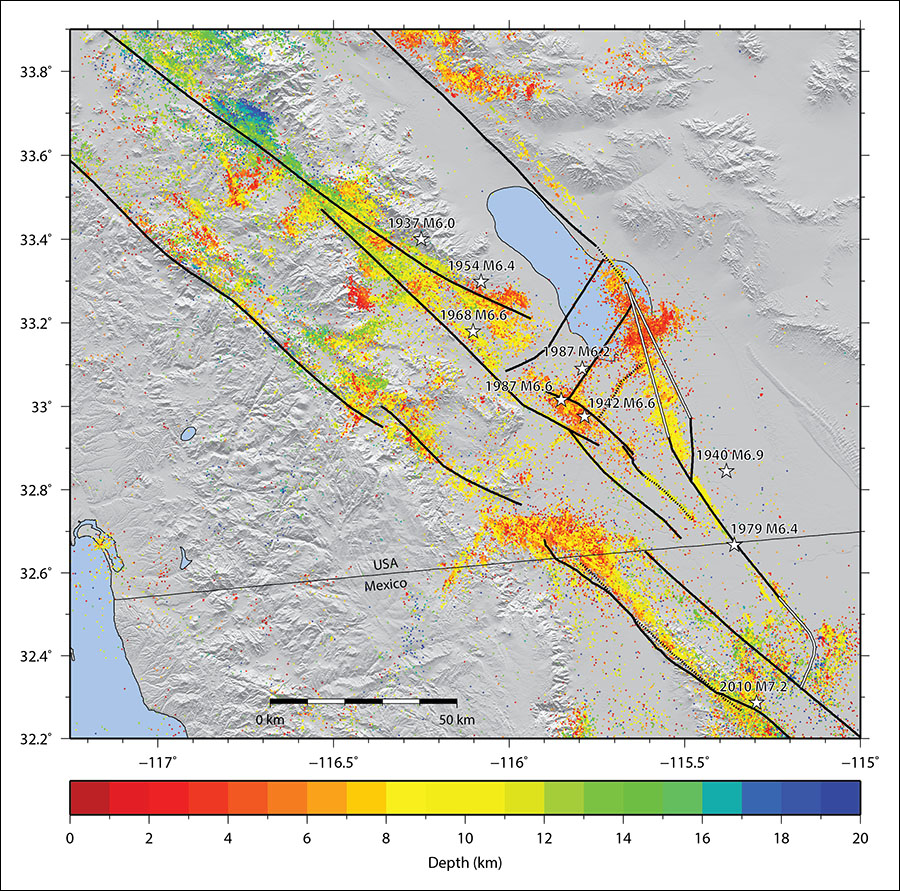 The team built a physics-based model that demonstrated the San Andreas Fault in California does not end where most people think — but is, in fact, connected to other faults extending into Mexico.
"To scientists working on probabilistic earthquake forecasting in the Los Angeles area, it is important to consider how the San Andreas interacts with the dozens of other seismically active faults near the boundary," Dorsett explained.
"When matched with field-based geologists' observations, our model showed the San Andreas Fault extends approximately 50 miles south of where it was thought to end — which might alter predictions surrounding the next major earthquake," he continued.
Marshall was Dorsett's academic adviser at Appalachian. "During an advising meeting, I voiced interest in doing an undergraduate thesis with Dr. Marshall, and we settled on this project," Dorsett said.
"Dr. Marshall spent a lot of time teaching me the skills required to be a geophysical modeler. He advised me on creating scientific posters, talks and working my thesis into a publication," he added.
Marshall said, "It is cool that an undergraduate student at Appalachian, through lots of hard work and dedication, can learn to create and analyze cutting-edge computational models that demonstrate something completely fundamental about a fault that has been studied by hundreds of thousands of people."
Scholarships and support
Dorsett received an Undergraduate Research Assistantship from Appalachian's Office of Student Research and additional scholarships and travel grants from the GES department.
"Thanks to the financial support, I was able to quit my job as a line cook and have more time to dedicate to scientific research," Dorsett shared. "I can't overstate the impact that decision has had on my academic career."
While Marshall was his primary mentor, Dorsett said he could depend on many of his professors to work with him through difficult concepts, share about their research and guide him in career-oriented decisions.
"The faculty were engaged with students and really wanted us to succeed," Dorsett said. "They were willing to provide some fantastic opportunities — the type of work that prepared us for graduate school and the industry."
What's next for Dorsett? When he finishes his master's degree, he plans to work in the energy industry as an exploration geologist with Exxon Mobil Corp.
"As long as I get to learn new things every day and continue to solve new and novel problems, I'll be happy," he said.
What do you think?
Share your feedback on this story.
Appalachian tracks where its graduates go, notes high success rate
About the Department of Geological and Environmental Sciences
Located in Western North Carolina, Appalachian State University provides the perfect setting to study geological and environmental sciences. The Department of Geological and Environmental Sciences provides students with a solid foundation on which to prepare for graduate school or build successful careers as scientists, consultants and secondary education teachers. The department offers six degree options in geology and two degree options in environmental science. Learn more at https://earth.appstate.edu.
About the Department of Physics and Astronomy
The Department of Physics and Astronomy's curriculum has an applied nature that includes a core of fundamental physics courses and laboratory experiences. The department prepares graduates for a variety of scientific, teaching or engineering professions, as well as future educational endeavors. Learn more at https://physics.appstate.edu.
About the College of Arts and Sciences
The College of Arts and Sciences (CAS) at Appalachian State University is home to 17 academic departments, two centers and one residential college. These units span the humanities and the social, mathematical and natural sciences. CAS aims to develop a distinctive identity built upon our university's strengths, traditions and unique location. The college's values lie not only in service to the university and local community, but through inspiring, training, educating and sustaining the development of its students as global citizens. More than 6,400 student majors are enrolled in the college. As the college is also largely responsible for implementing App State's general education curriculum, it is heavily involved in the education of all students at the university, including those pursuing majors in other colleges. Learn more at https://cas.appstate.edu.
About Appalachian State University
As the premier public undergraduate institution in the Southeast, Appalachian State University prepares students to lead purposeful lives. App State is one of 17 campuses in the University of North Carolina System, with a national reputation for innovative teaching and opening access to a high-quality, affordable education for all. The university enrolls more than 21,000 students, has a low student-to-faculty ratio and offers more than 150 undergraduate and 80 graduate majors at its Boone and Hickory campuses and through App State Online. Learn more at https://www.appstate.edu.