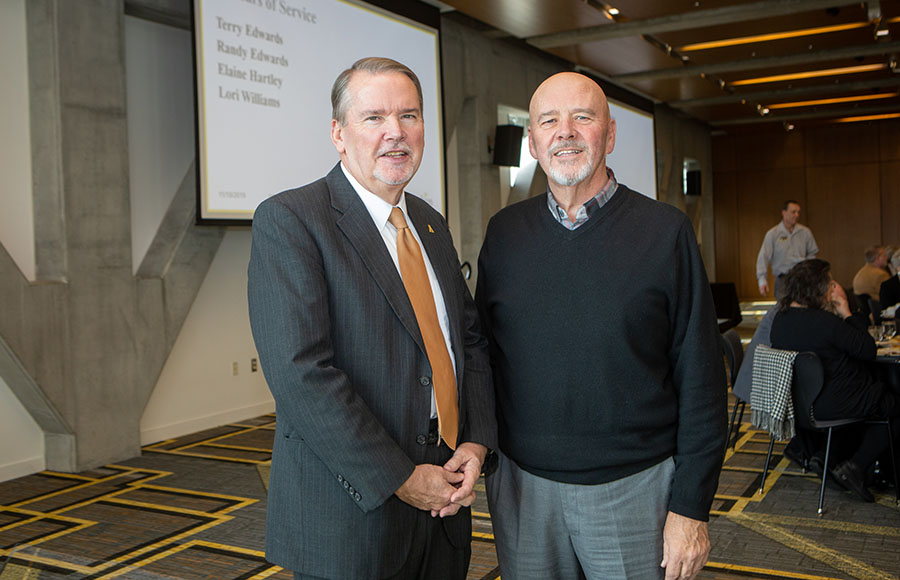 Posted Nov. 21, 2019 at 4:37 p.m.
BOONE, N.C. — Two sets of siblings who have served Appalachian State University and the state of North Carolina for a collective 132 years were among more than 120 staff members recognized at the university's inaugural Chancellor's Service Awards Luncheon held Tuesday on Appalachian's campus.
The event honored staff members who, in 2018 or 2019, achieved milestone service anniversaries of 20, 25, 30, 35, 40 or 45 years.
Dr. Randy Edwards '77 '78 and his brother, Terry Edwards '72, were each recognized for 35 years of service, and sisters Sheila Perry and Kathy Deas were each honored for 30 years of service. As of 2019, the Edwards brothers have served Appalachian for 36 years each.
About the Edwards brothers
Randy Edwards is currently vice chancellor for advancement at the university. Over the years, he has served as a faculty member in and department chair and dean of the Walker College of Business (WCOB), as well as on a number of university advisory boards and committees.
He earned his BSBA in accounting and M.S. in accounting from the WCOB in 1977 and 1978, respectively, and his Ph.D. from the University of Tennessee, Knoxville.
It was his big brother who paved the way, he said. Terry Edwards was the first Edwards to go to college, setting an example for many Edwardses to follow.
Additionally, scholarships opened the path for many members of the Edwards family, Randy Edwards said. He said a particular point of pride in his current role is his ability to provide scholarship opportunities for students, including other first-generation college applicants like himself.
Of the brothers, Randy Edwards was first to land a job at the university in fall 1977. He began his lengthy career at Appalachian as a graduate student teaching in the WCOB while earning his master's degree.
Terry Edwards signed on with the university shortly after his brother left Appalachian's campus in 1983 to attend graduate school in Knoxville, Tennessee, which ultimately evened the brothers' years of Appalachian service.
Terry Edwards earned his BSBA in 1972 and worked for 10 years as an accountant at Grandfather Golf and Country Club in Linville and for a short time for Sugar Mountain Resort near Banner Elk.
He was hired as an internal auditor at Appalachian in 1983 and served under five different chancellors. "It's been a great career for me," he said. "I had five supervisors — all good ones."
Both brothers remarked on the tremendous growth they have witnessed over the years at Appalachian — both in population and building structures.
Terry Edwards said the most substantial change has been the advancements in technology. "When I started in '83, we shared computers in the office. No one had their own," he said.
Randy Edwards noted the university has become "a recognized and prestigious university of choice that attracts a very high caliber of student."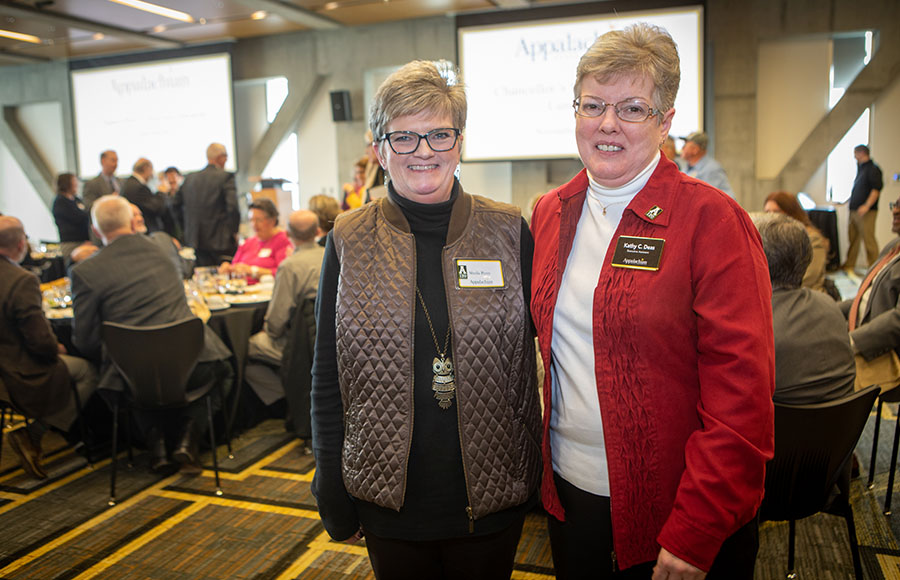 About sisters Kathy Deas and Sheila Perry
Deas and Perry grew up in Boone and said Appalachian has always been a part of their lives.
Deas began her life on campus, as she was born at the Watauga County Hospital — the building that is now Founders Hall. She attended Appalachian Elementary School, which existed on campus as a demonstration school until 1975.
The two sisters were both employed with the state of North Carolina in other areas before continuing their careers at Appalachian. Deas spent 16 years at the North Carolina Employment Security Commission before being hired to work in Appalachian's Office of Compliance (now known as the Office of Title IX Compliance).
Deas now works as an executive assistant and paralegal in Appalachian's Office of General Counsel and plans to retire at the end of December. "I have been very blessed to work in this office," Deas said. "Dayton Cole, our previous general counsel who retired, and our current general counsel, Paul Meggett, have both been exceptional to work with."
Perry began her career with the state as a teacher's assistant in Wake County Schools, then worked in administration in Watauga County Schools prior to joining Appalachian's staff. She was hired for a position in the University Bookstore, transferred to the payroll office and now works as executive assistant to the director of Appalachian Athletics.
The two sisters cross paths on Appalachian's campus often, especially when administrating contracts for Athletics. "It's fun being sisters and working on campus together," Perry said. "We both understand what it takes to do our jobs and to do them well."
Chancellor Sheri Everts shares accolades for long-term service staff
What do you think?
Share your feedback on this story.
About Appalachian State University
As the premier public undergraduate institution in the Southeast, Appalachian State University prepares students to lead purposeful lives as global citizens who understand and engage their responsibilities in creating a sustainable future for all. The Appalachian Experience promotes a spirit of inclusion that brings people together in inspiring ways to acquire and create knowledge, to grow holistically, to act with passion and determination, and to embrace diversity and difference. Located in the Blue Ridge Mountains, Appalachian is one of 17 campuses in the University of North Carolina System. Appalachian enrolls nearly 21,000 students, has a low student-to-faculty ratio and offers more than 150 undergraduate and graduate majors.