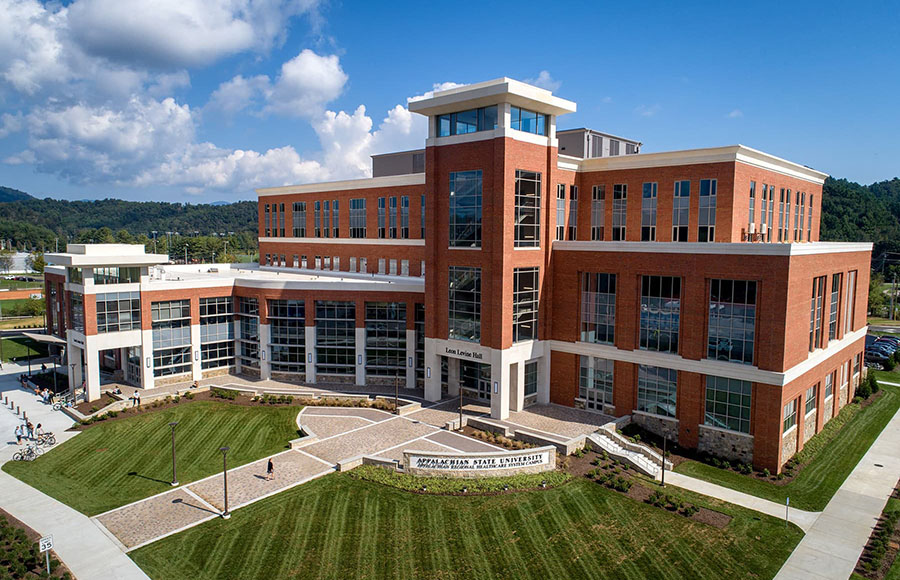 Posted May 13, 2020 at 2:12 p.m.
BOONE, N.C. — Appalachian State University's Leon Levine Hall of Health Sciences, which opened in 2018, has achieved Silver LEED (Leadership in Energy and Environmental Design) certification from the U.S. Green Building Council. This is the 10th building on Appalachian's campus to be awarded LEED certification.
LEED certification is a globally recognized symbol of sustainability achievement and leadership. It provides a framework for healthy, highly efficient and cost-saving green buildings. LEED buildings have economic benefits, are healthier for occupants and reduce energy use and carbon emissions, according to the USGBC website.
"One of our strategic goals as a university is to build a responsive infrastructure for a sustainable campus. LEED certifications are a great way to show that we're staying true to our mission," said Jeff Pierce, director of planning, design and construction.
"Obtaining a LEED certification is an arduous process that begins well before the first footer goes in the ground. Most of the planning happens in the initial stages, and during each construction phase, we re-analyze to make sure we're hitting the marks we've set for ourselves. In the end, LEED representatives scrutinize every point. Leon Levine Hall achieving a LEED Silver is extremely gratifying," Pierce said.
The following features of Leon Levine Hall helped the facility achieve Silver LEED certification:
Energy performance, including green power through rooftop solar panels.
Indoor environmental quality.
Water efficiency, including water use reduction and water-efficient landscaping.
Sustainability of the building site, including access to public transportation with fuel-efficient vehicles, light pollution reduction and community connectivity.
Construction waste management, including the use of recycled content and materials.
Innovation in design.
In the LEED certification process, projects earn points for the various green building strategies employed across several categories. Based on the number of points achieved, a project can earn one of four LEED rating levels: Certified, Silver, Gold or Platinum.
The complete list of Appalachian buildings certified by the U.S. Green Building Council's LEED program:
LEED Gold

Cone Residence Hall (2013).
Frank Residence Hall (2010).
Mountaineer Residence Hall (2012).
Plemmons Student Union Annex (2013).

LEED Silver

Reich College of Education (2012).
Trivette Dining Hall (2014).
Belk Residence Hall (2016).
Summit Hall (2016).
Appalachian Hall (2017).
Leon Levine Hall (2020).
About Leon Levine Hall
Leon Levine Hall opened in August 2018 and was the largest capital project to date in Appalachian's history and the first completed project as part of the $2 billion Connect NC Bond referendum approved by voters in March 2016. It is located at 1179 State Farm Road, across from Watauga Medical Center.
In November 2019, Levine Hall won a 2019 Building North Carolina Award in the Public Project category based on design, innovation and impact on the community.
The five-story, 203,000-square-foot facility houses five of the six departments in the Beaver College of Health Sciences: Communication Sciences and Disorders, Health and Exercise Science, Nursing, Nutrition and Health Care Management and Social Work. The Beaver College of Health Sciences enrolls more than 3,600 students.
The state-of-the-art facility enhances collaborative efforts across the disciplines and fosters a patient-centered practice model for students. It also serves citizens of the region — many in rural areas — through clinical services provided by the Blue Cross North Carolina Institute for Health and Human Services Interprofessional Health Clinic housed in the building and by Appalachian's well-prepared graduates working in their communities.
The Leon Levine Foundation made a $5 million donation for the building and furnishings. Levine Hall contains 33 classrooms and 27 laboratories.
What do you think?
Share your feedback on this story.
About the Beaver College of Health Sciences
Appalachian State University's Beaver College of Health Sciences (BCHS), opened in 2010, is transforming the health and quality of life for the communities it serves through interprofessional collaboration and innovation in teaching, scholarship, service and clinical outreach. BCHS offers nine undergraduate degree programs and seven graduate degree programs, which are organized into six departments: Nursing, Nutrition and Health Care Management, Public Health and Exercise Science, Recreation Management and Physical Education, Rehabilitation Sciences, and Social Work. The college's academic programs are located in the Holmes Convocation Center on App State's main campus and the Leon Levine Hall of Health Sciences, a state-of-the-art, 203,000-square-foot facility that is the cornerstone of the Wellness District. In addition, the college supports the Blue Cross NC Institute for Health and Human Services and has collaborative partnerships with the Wake Forest School of Medicine's Physician Assistant Program, the Appalachian Regional Health System and numerous other health agencies. Learn more at https://healthsciences.appstate.edu.
About Appalachian State University
As the premier public undergraduate institution in the Southeast, Appalachian State University prepares students to lead purposeful lives as global citizens who understand and engage their responsibilities in creating a sustainable future for all. The Appalachian Experience promotes a spirit of inclusion that brings people together in inspiring ways to acquire and create knowledge, to grow holistically, to act with passion and determination, and to embrace diversity and difference. Located in the Blue Ridge Mountains, Appalachian is one of 17 campuses in the University of North Carolina System. Appalachian enrolls nearly 21,000 students, has a low student-to-faculty ratio and offers more than 150 undergraduate and graduate majors.