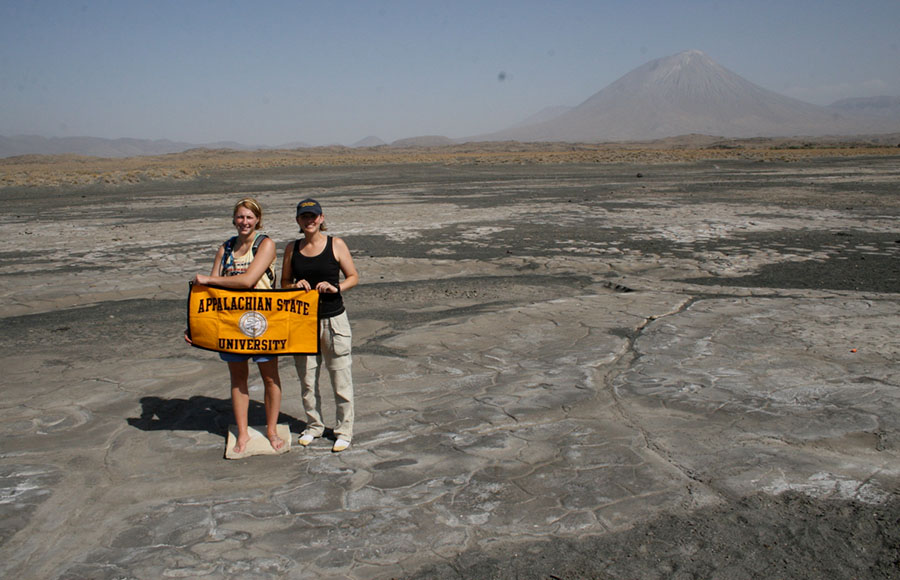 Posted May 15, 2020 at 3:49 p.m.
BOONE, N.C. — Two faculty members in Appalachian State University's Department of Geological and Environmental Sciences and their undergraduates have worked with an international team of scientists on research that provides in-depth analyses of the largest human fossil footprint site that has ever been discovered in Africa and for the first time has provided a snapshot of group behavior in prehistoric humans.
The multidisciplinary group, led by Appalachian's Dr. Cynthia M. Liutkus-Pierce, professor and director of the environmental science program, and which includes senior lecturer Brian W. Zimmer, has published a culminating article of their work titled "Snapshots of human anatomy, locomotion and behavior from Late Pleistocene footprints at Engare Sero, Tanzania" in the journal Scientific Reports, published by Nature Research.
Liutkus-Pierce has led the team in excavating and analyzing the Engare Sero footprints since 2009. Liutkus-Pierce notes that the footprints have been remarkably preserved within an ancient volcanic mudflow produced by the nearby Oldoinyo L'engai, a still-active volcano in the East African Rift.
"This has been one of the most challenging yet exciting research projects I've ever had the chance to work on. Being able to reconstruct the demographics of a group of ancient humans from tens of thousands of years ago — to be able to interpret what they were doing and who was in the group — is absolutely astounding to me," Liutkus-Pierce said.
This latest report crowns almost a decade of work by multiple co-authors across the United States and Tanzania on excavations and analyses of more than 400 human footprints, all from within an area of about 300 square meters at the site at Engare Sero, Tanzania. The footprints, preserved in volcanic ash, are estimated to have been made approximately 6,000 to 19,000 years ago and represent the distinct pathways of at least 20 different individuals and their ecological and behavioral settings.
While previous publications focused on the geological context and preservation of this site, this report explores the paleoanthropological implications of this collection of human footprints, seeking to understand the early development of anatomically modern humans. This includes evidence-based conclusions regarding the body sizes, locomotor behaviors and composition of the group of humans who generated these tracks.
"Footprint sites are rare in the human fossil record and they preserve exciting, direct windows into the past," said Dr. Kevin Hatala, assistant professor of biology at Chatham University and primary author on the new study. "Here we have a richly detailed snapshot of a group that walked across this landscape at a very specific moment in human history. Based on our analysis of the sizes, spacings and directions of the footprints, we believe they were made by a group of mostly adult females who were traveling together."
The paper's co-authors:
Dr. David J. Green, Campbell University.
Dr. Adam D. Gordon, University of Albany.
Dr. William E.H. Harcourt-Smith, City University of New York City – Lehman College.
Dr. Kevin G. Hatala, Chatham University.
Dr. Cynthia M. Liutkus-Pierce, Appalachian State University.
Adam Metallo, Smithsonian Institution, 3D Visualization Lab.
Dr. Briana L. Pobiner, Smithsonian Institution – Human Origins Program.
Dr. Brian G. Richmond, Aura Health.
Vince Rossi, Smithsonian Institution, 3D Visualization Lab.
Brian W. Zimmer, Appalachian State University.
In addition to the paper summarizing the group's findings, a full 3-D re-creation of the site has been generated and made available online for study and download by the Smithsonian's Digitization Program Office.
Six students from Appalachian's Department of Geological and Environmental Sciences participated in research activities related to this study while pursuing their undergraduate education.
"I am so thankful that I got to work with such an amazing team of researchers and students over the years, and to see this finally come out in a Nature journal is incredibly satisfying," Liutkus-Pierce said.
The undergraduates who were involved in the research:
Katelyn McGinnis '11, geology major, participated in fieldwork in Tanzania with Liutkus-Pierce for three weeks. She measured the footprints and helped map some of the first footprints discovered. McGinnis was funded by an Explorers Club "Young Explorers Grant" for her fieldwork, and she carried The Explorers Club flag to the footprint site in 2009.
Seth Hewitt '11, geology major, participated in fieldwork in Tanzania with Liutkus-Pierce and Zimmer for three weeks a different year. He mapped footprints, hiked the regional volcanoes and collected rock samples. He was then able to analyze the volcanic samples to figure out which regional volcano produced the ash that the footprints were pressed into.
Kaylee Barket '13, geology major, completed a lab-based Fourier-transform infrared spectroscopy (FTIR) project on the chemical composition of nepheline minerals from the footprinted ash.
Travis Hartney '16, geology major, did a lab-based project where he chemically analyzed a variety of samples from the footprint site and local volcanoes to determine their specific mineralogical composition.
Lauren Richardson '17, geology major, completed a computer modeling research project to detect differences in footprint shapes over time.
Grant Montieth '18, geology major, worked on a computer modeling project to calculate the volumetric loss of material from a footprint over time.
"The faculty in our department are dedicated to involving undergraduate students in research at all levels, from lab work at Appalachian State to fieldwork all over the world. To be able to say that we provided six undergraduate students with a chance to collaborate with faculty and colleagues around the world is pretty exciting, and I especially loved bringing Katelyn and Seth to Tanzania. Seeing Africa through the eyes of a student who hasn't been there before is such an incredible experience," Liutkus-Pierce said.
The Engare Sero research project has been made possible through collaboration with the Tanzanian government and local Maasai communities, and with financial and material assistance from National Geographic, The Leakey Foundation, the National Science Foundation, the Evolving Earth Foundation, The Explorers Club, Appalachian State University, the George Washington University, the Smithsonian Institution and the American Museum of Natural History.
About Dr. Cynthia M. Liutkus-Pierce
Liutkus-Pierce earned her B.A. in geology as well as philosophy at Bucknell University and her M.S. and Ph.D. at Rutgers University. She joined the faculty at Appalachian in 2005 after teaching for one year at Bucknell University as a visiting assistant professor.
She is a sedimentologist and paleoenvironmental scientist, and is the current director of the environmental science program in the Department of Geological and Environmental Sciences.
She was inducted into Appalachian's Academy of Outstanding Teachers in 2016, and was awarded the University of North Carolina Board of Governors Appalachian State University Excellence in Teaching Award for 2017. She is a fellow in The Explorers Club and is a National Geographic explorer.
About Brian W. Zimmer
Zimmer earned a B.S. from Allegheny College and an M.S. from Northern Arizona University. He joined the Department of Geological and Environmental Sciences in 2008 and has taught a myriad of labs, introductory lectures and freshman seminar courses.
He is a leader of the Land of Fire and Ice GLY 1103 trip to Iceland and won the 2015 College of Arts and Sciences Teaching Excellence Award (non-tenure-track).
What do you think?
Share your feedback on this story.
CBS News This Morning
May 16, 2020
Smithsonian Magazine
May 20, 2020
Appalachian researchers use photogrammetry to quantify erosion at ancient footprint site
Aug. 27, 2018
About the Department of Geological and Environmental Sciences
Located in Western North Carolina, Appalachian State University provides the perfect setting to study geological and environmental sciences. The Department of Geological and Environmental Sciences provides students with a solid foundation on which to prepare for graduate school or build successful careers as scientists, consultants and secondary education teachers. The department offers six degree options in geology and two degree options in environmental science. Learn more at https://earth.appstate.edu.
About the College of Arts and Sciences
The College of Arts and Sciences (CAS) at Appalachian State University is home to 17 academic departments, two centers and one residential college. These units span the humanities and the social, mathematical and natural sciences. CAS aims to develop a distinctive identity built upon our university's strengths, traditions and unique location. The college's values lie not only in service to the university and local community, but through inspiring, training, educating and sustaining the development of its students as global citizens. More than 6,400 student majors are enrolled in the college. As the college is also largely responsible for implementing App State's general education curriculum, it is heavily involved in the education of all students at the university, including those pursuing majors in other colleges. Learn more at https://cas.appstate.edu.
About Appalachian State University
As the premier public undergraduate institution in the Southeast, Appalachian State University prepares students to lead purposeful lives. App State is one of 17 campuses in the University of North Carolina System, with a national reputation for innovative teaching and opening access to a high-quality, affordable education for all. The university enrolls more than 21,000 students, has a low student-to-faculty ratio and offers more than 150 undergraduate and 80 graduate majors at its Boone and Hickory campuses and through App State Online. Learn more at https://www.appstate.edu.