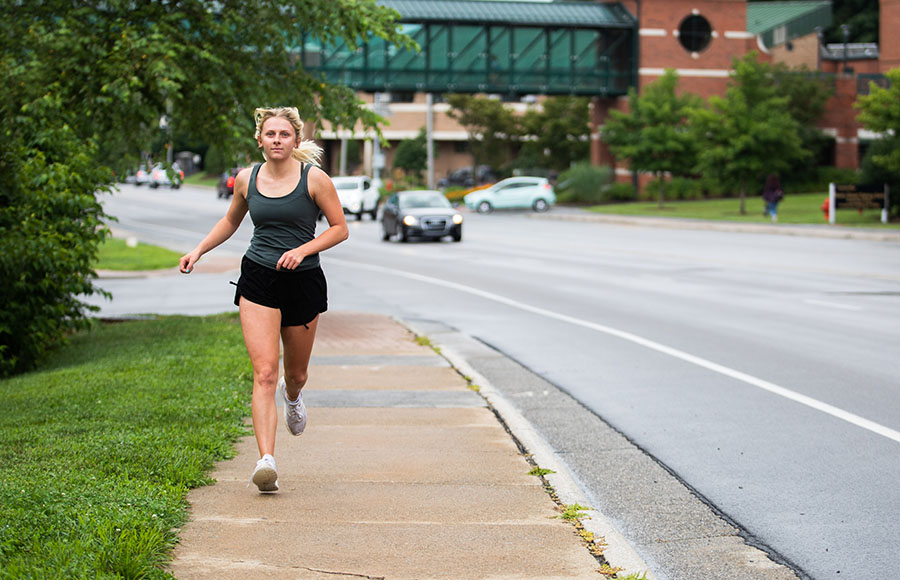 Some rules for outdoor safety
A 'gym' of nature — 10 ideas for outdoor exercise
Posted Aug. 20, 2020 at 3:22 p.m.
BOONE, N.C. — Sporting and club opportunities are a big part of life at Appalachian State University. This fall, some options are limited due to COVID-19. Still, there are plenty of options to exercise outside, enjoy the fall weather and learn what the university campus and Greater High Country have to offer.
According to Erin Sanders, assistant director for intramural and club sports in Appalachian's University Recreation (UREC), she and the UREC team are adapting many exercise opportunities for the outdoors — to be held both on and off campus. They include the following:
Fitness classes and yoga.
Weightlifting.
Local day trips.
Individual and dual intramural sports and special events.
Equipment will be regularly rotated, cleaned and sanitized, appropriate distancing will be maintained and both the timing and size of classes will be monitored, Sanders said.
Sanders said UREC staff can also customize group team-building and challenge courses at Broadstone, the university's off-campus outdoor recreation facility. The university's Outing Center will offer outdoor equipment rental.
A new UREC mobile application will give access to the latest news and announcements for aquatics, club sports, fitness, intramural sports and outdoor programs. Users will also find facility hours and a QR (Quick Response™) code that can be used to access facilities and check in to programs. More information can also be found on UREC's COVID-19 updates webpage.
Discover campus — strike out on your own
Sanders suggested some ways to exercise on your own and discover some of the university's hidden gems:
Take a tour of campus sculptures — use this map as your guide. A QR code will take you to the 34th Annual Rosen Outdoor Sculpture Competition and Exhibition catalog for June 2020–May 2022, which provides additional information about the sculptures.
Walk or run a loop around campus — this map shows different routes of varying distances.
For slow starters, run your own Jimmy Smith marathon — a 333-foot fun run around the iconic Jimmy Smith Park track, located on the corner of Depot and Rivers streets in Boone.
Take a day trip
Dr. Mark Spond, Appalachian's liaison to the National Park Service, suggests exploring some of the area's parks and trails less traveled.
"I think right now we have to spend more time and effort planning our outdoor recreation. I encourage folks who are fortunate to live here to explore some of the less-visited public lands in our area, or visit more popular areas during less popular times. Fortunately, outdoor activity is far safer than many other forms of recreation right now," he said.
If you choose to exercise off campus, Dr. Rebecca Battista — professor in Appalachian's Department of Health and Exercise Science, director of the Office of Student Research and a member of the Healthy Outdoor Play and Exercise (HOPE) Lab research team — suggests using the ParkRX website, which provides maps and information about local parks and trails, including specific locations, activities, access to public transportation, park amenities and more.
Exercise? Why bother?
Research supports the value of exercise in general and, according to Battista, "time spent outdoors can have restorative effects, which may help with overall mental health and well-being."
In its policy statement regarding improving health and wellness through access to nature, the American Public Health Association states "spending time outside has positive benefits to both physical and mental health," decreases symptoms of stress and depression and often encourages more physical activity.
Appalachian's Dr. David Neiman, professor of biology and director of Appalachian's North Carolina Research Campus Human Performance Laboratory, co-authored a recent article that outlines the importance of being active.
The article states, "During this pandemic, it is essential for those with normal health and chronic disease to activate, maintain and advance physical activity to 30 minutes to 60 minutes most days of the week within the confines of social distancing." But the article goes on to caution, "The COVID crisis requires a flexible approach to physical activity based on the need for social distancing combined with changes to personal demands and environments."
What do you think?
Share your feedback on this story.
Some rules for outdoor safety
A 'gym' of nature — 10 ideas for outdoor exercise
About University Recreation (UREC)
A department in the Division of Student Affairs, University Recreation provides structured and unstructured leisure time activities for Appalachian State University students. Through these activities, students learn lifelong skills that contribute to their social, physical, emotional and intellectual growth and development. University Recreation serves as a laboratory for training in recreation management and related fields. Additionally, University Recreation is responsible for scheduling various athletic and recreational facilities. Learn more at https://urec.appstate.edu.
About the Department of Public Health and Exercise Science
The Department of Public Health and Exercise Science in Appalachian State University's Beaver College of Health Sciences delivers student-centered education that is accentuated by quality teaching, scholarly activity and service. The department includes two undergraduate academic disciplines: exercise science and public health. The department also offers a master's degree in exercise science, which prepares students for advanced study in a variety of related fields as well as research. Learn more at https://phes.appstate.edu.
About the Beaver College of Health Sciences
Appalachian State University's Beaver College of Health Sciences (BCHS), opened in 2010, is transforming the health and quality of life for the communities it serves through interprofessional collaboration and innovation in teaching, scholarship, service and clinical outreach. BCHS offers nine undergraduate degree programs and seven graduate degree programs, which are organized into six departments: Nursing, Nutrition and Health Care Management, Public Health and Exercise Science, Recreation Management and Physical Education, Rehabilitation Sciences, and Social Work. The college's academic programs are located in the Holmes Convocation Center on App State's main campus and the Leon Levine Hall of Health Sciences, a state-of-the-art, 203,000-square-foot facility that is the cornerstone of the Wellness District. In addition, the college supports the Blue Cross NC Institute for Health and Human Services and has collaborative partnerships with the Wake Forest School of Medicine's Physician Assistant Program, UNC Health Appalachian and numerous other health agencies. Learn more at https://healthsciences.appstate.edu.
About the College of Arts and Sciences
The College of Arts and Sciences (CAS) at Appalachian State University is home to 17 academic departments, two centers and one residential college. These units span the humanities and the social, mathematical and natural sciences. CAS aims to develop a distinctive identity built upon our university's strengths, traditions and unique location. The college's values lie not only in service to the university and local community, but through inspiring, training, educating and sustaining the development of its students as global citizens. More than 6,400 student majors are enrolled in the college. As the college is also largely responsible for implementing App State's general education curriculum, it is heavily involved in the education of all students at the university, including those pursuing majors in other colleges. Learn more at https://cas.appstate.edu.
About Appalachian State University
As the premier public undergraduate institution in the Southeast, Appalachian State University prepares students to lead purposeful lives. App State is one of 17 campuses in the University of North Carolina System, with a national reputation for innovative teaching and opening access to a high-quality, affordable education for all. The university enrolls more than 21,000 students, has a low student-to-faculty ratio and offers more than 150 undergraduate and 80 graduate majors at its Boone and Hickory campuses and through App State Online. Learn more at https://www.appstate.edu.