Posted Aug. 28, 2020 at 10:24 a.m.
BOONE, N.C. — A prehistoric reptile that prowled the Earth more than 230 million years ago has found a home on Appalachian State University's campus. Archie the aetosaur, a bronze sculpture four years in the making, was recently installed in its permanent habitat among the exhibits of Appalachian's Fred Webb Jr. Outdoor Geology Laboratory/Interactive Rock Garden.
The Archie project, a collaborative effort of faculty and students in Appalachian's Department of Geological and Environmental Sciences (GES) and Department of Art, "is the largest and most accurate aetosaur sculpture in the northern hemisphere and one of the best in the world," said GES professor Dr. Andrew Heckert.
Archie is based on a handful of fossils that were unearthed near Raleigh in 2015 and are currently housed in the permanent collections of the North Carolina Museum of Natural Sciences. Heckert identified and documented the fossils as a new genus and species of aetosaur known as Gorgetosuchus pekinensis, publishing his research as the lead author of an article featured in the Journal of Vertebrate Paleontology.
Appalachian's aetosaur sculpture and habitat will help educate future generations of students and community members about North Carolina's prehistoric landscape and the evolution of creatures from the Triassic Period.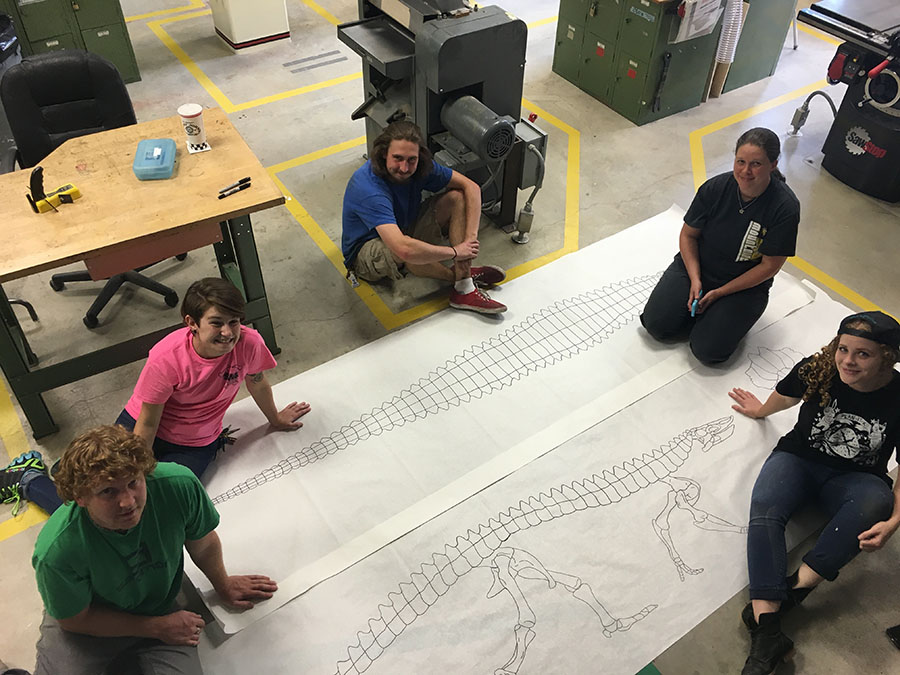 The art of Archie
After brainstorming a way to bring Archie to life on Appalachian's campus, Dr. Lauren Waterworth '01, senior lecturer of environmental law in the GES department, reached out to Travis Donovan, assistant professor and sculptor in the Department of Art, to create a collaboration between their two departments and turn her vision into a reality.
In spring 2016, Archie the aetosaur was modeled from the actual fossil record by Department of Art faculty and students. Donovan, along with six of his advanced sculpting students, created a life-size sculpture of the aetosaur.
Matt Celeskey, a paleontological artist and exhibit designer from New Mexico, came up with the original sketch for Archie. Celeskey then used computer-aided design software (CAD) to turn his sketch into a 3D model for the sculpture.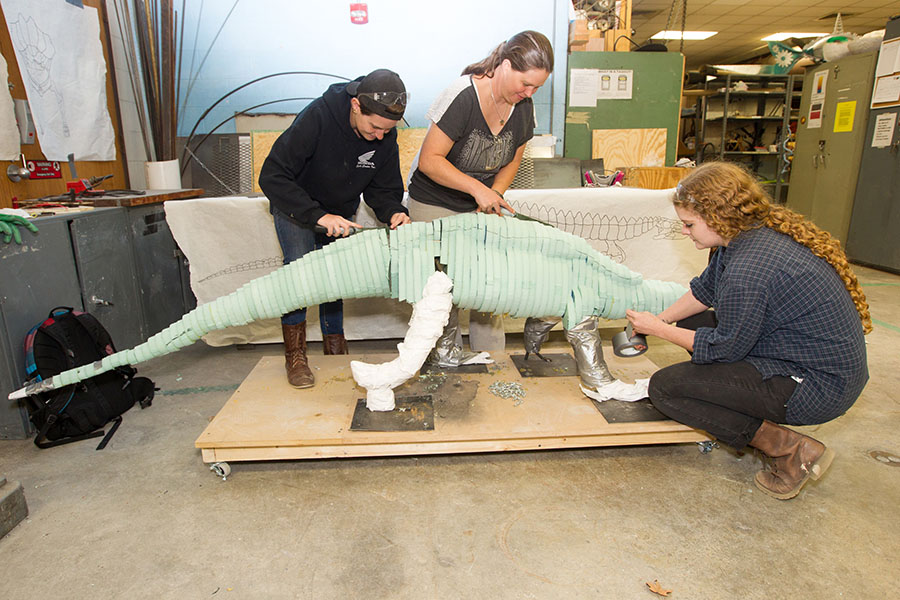 Archie's armored scales, or osteoderms, were constructed using insulated foam, Plasticine — an oil-based modeling clay, and other types of clay. After construction, Archie was sent to Inferno Art Foundry, a bronze foundry in Atlanta, to be cast in bronze.
"The detail of the final bronze piece is immaculate. It looks so similar to the actual clay model — you can still see the fingerprints from the students who were working on that process," Donovan said.
The initial funds to take Archie from Waterworth's concept to a Plasticine model came from a grant through Appalachian's University Research Council, and additional funds used to cast Archie in bronze were contributed by more than 50 corporate and individual donors.
The Fred Webb Jr. Outdoor Geology Laboratory/Interactive Rock Garden, where Archie now lives, is named in honor of Dr. Fred Webb Jr., the first and longest-serving chair of the GES department upon his retirement.
To learn more about Archie outreach and engagement opportunities, contact the GES department at mckinneymuseum@appstate.edu or visit https://earth.appstate.edu/outreach.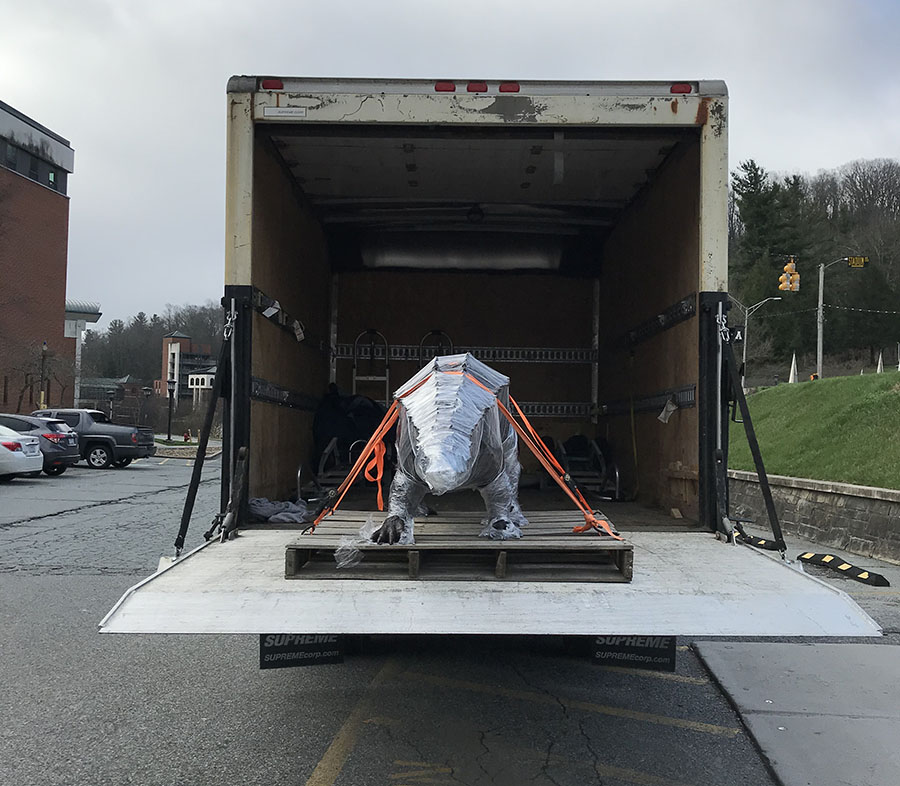 Archie's App State student sculptors
What do you think?
Share your feedback on this story.
About the Department of Geological and Environmental Sciences
Located in Western North Carolina, Appalachian State University provides the perfect setting to study geological and environmental sciences. The Department of Geological and Environmental Sciences provides students with a solid foundation on which to prepare for graduate school or build successful careers as scientists, consultants and secondary education teachers. The department offers six degree options in geology and two degree options in environmental science. Learn more at https://earth.appstate.edu.
About the College of Arts and Sciences
The College of Arts and Sciences (CAS) at Appalachian State University is home to 17 academic departments, two centers and one residential college. These units span the humanities and the social, mathematical and natural sciences. CAS aims to develop a distinctive identity built upon our university's strengths, traditions and unique location. The college's values lie not only in service to the university and local community, but through inspiring, training, educating and sustaining the development of its students as global citizens. More than 6,400 student majors are enrolled in the college. As the college is also largely responsible for implementing App State's general education curriculum, it is heavily involved in the education of all students at the university, including those pursuing majors in other colleges. Learn more at https://cas.appstate.edu.
About the Department of Art
One of seven departments housed in the College of Fine and Applied Arts, the Department of Art at Appalachian State University prepares students to explore art, identity, expression and creative problem-solving while challenging them to go beyond their previous limits by discovering new connections to culture. The department offers degrees in art and visual culture, art education, graphic design, studio art, photography and graphic communications management, with minors in art history, studio art, photography and graphic communications management. Learn more at https://art.appstate.edu.
About the College of Fine and Applied Arts
Appalachian State University's College of Fine and Applied Arts is a dynamic and innovative group of seven academic departments, bringing together a variety of perspectives, experiences and real-world education to provide unique opportunities for student success. The college has more than 3,000 undergraduate and graduate majors. Its departments are Applied Design, Art, Communication, Military Science and Leadership, Sustainable Development, Sustainable Technology and the Built Environment, and Theatre and Dance. Learn more at https://faa.appstate.edu.
About Appalachian State University
As the premier public undergraduate institution in the Southeast, Appalachian State University prepares students to lead purposeful lives. App State is one of 17 campuses in the University of North Carolina System, with a national reputation for innovative teaching and opening access to a high-quality, affordable education for all. The university enrolls more than 21,000 students, has a low student-to-faculty ratio and offers more than 150 undergraduate and 80 graduate majors at its Boone and Hickory campuses and through App State Online. Learn more at https://www.appstate.edu.