Posted March 10, 2017 at 3:01 p.m.
BOONE, N.C. — Forget Jurassic Park. Appalachian State University will soon have its own Triassic Park – complete with its very own dinosaur-like creature.
In truth, the "park" will be a reconstructed aetosaur habitat in the Fred Webb Jr. Outdoor Geology Laboratory/Interactive Rock Garden that runs along Rankin Science South. The garden will be home to a cast bronze replica of Gorgetosuchus pekinensis, a Maurice Sendak-like reptile that roamed the Upper Triassic Pekin Formation, Deep River Basin, North Carolina, 230 million years ago.
Why Gorgetosuchus? And, why here? This aetosaur, an armored reptile related to but more primitive than crocodiles, was identified in 2015 based on 10 rows of bony plates called osteoderms, representing the front part of an armored shield that would have covered the back of the animal. The plates were found embedded in sandstone and conglomerate boulders near a brick quarry in Chatham County, North Carolina. Appalachian Professor of Geology Andy Heckert was leader for the research team that named Gorgetosuchus, hence the Appalachian connection.
Furthermore, Lauren Waterworth, J.D., geology lecturer on environmental law, researched and painted a few small 3-D likenesses of the bones for Heckert "to make them more lifelike. I fell down an Internet wormhole, looking at models and museum displays. I thought, 'Wouldn't it be great if we had a full-size model of our aetosaur?'" Her brainstorm resulted in an unusual collaboration between art students in the College of Fine and Applied Arts and scientists in the College of Arts and Sciences to create a museum-quality installation for the campus.
Waterworth said everything simply fell into place. She shared her idea about the model with Hecket who replied, "I could get on board with that."
"If you know Andy," she explained, "that was a really enthusiastic response." She thought someone in the art area might have some ideas about who might help construct the model and, when she approached Travis Donovan, sculptor and visiting assistant professor, he immediately said, "This would make a great project for my fall sculpture class." Waterworth was elated. "I said to myself, this is gonna happen. It really is. It's the Appalachian way."
Donovan said he recognized a great opportunity for "students to grapple with the real-life challenges and problem-solving skills that are involved with actual design and fabrication collaborations. I wanted this to be a student-driven project to allow them experience in navigating a collaborative and professional atmosphere reminiscent to a commission or client- driven project."
With help in writing the grant and budget from the Office of Research, Waterworth secured initial funding and she will shepherd the project through to its placement in the rock garden in fall 2018. The project will culminate with a celebration during the 2019 Science Festival and Steam Expo, held in spring 2019.
Ultimately, Waterworth said the project will include hours of student and faculty involvement in sculpting, scientific oversight and development of educational materials; creation of the natural habitat in the rock garden in conjunction with the university's Physical Plant; funding of up to $100,000; and collaboration with a paleo-illustrator from the New Mexico Museum of Natural History, a foundry outside of Winston Salem and possibly a documentary filmmaker.
A work in progress
The construction of the aetosaur began in fall 2016 with students and faculty working from a drawing from New Mexico paleo-illustrator Matt Celeskey. From that, the sculpture class created a digitized 3-D model from which the sculptors built a steel armature. The armature was then fitted with foam slices cut to bulk out the shape of the animal. The foam reduces the amount of clay needed to drape the frame, keeping costs and weight down. The artists sculpt the details by hand, using carving tools for fine tunings.
The body structure of the aetosaur, dubbed "Archie" by the students, was created by extrapolating from related species, Waterworth explained. "It may not be 100 percent accurate, but that's the best part of the story. There is a long history of dinosaur sculptures and how they've proven to be incorrect… it's part of the evolution of education around the species."
Interdisciplinary collaboration is key, Waterworth said. "The scientists did not have the skills to build this on their own, and the artists would not have been accurate." During a work session last fall, three of the sculptors were applying clay to the frame. Heckert, who was observing, touched Archie's thigh. "This area will have to be thicker," he said. The aetosaur "would push off with his foot. And, you'll need more space between the foot and the floor." The sculptors each nodded in understanding, and worked on. "They are interested in the process," Heckert said. "I am interested in the armature and getting it correct."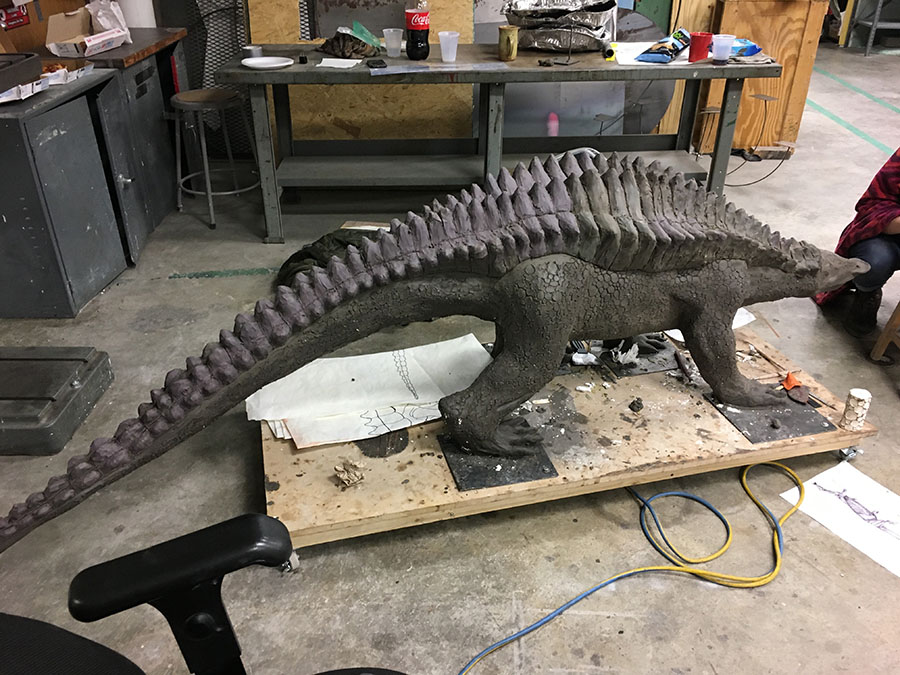 Once the clay figure is acceptable to both artists and scientists, the students will take 3-D scans of the entire model to use in other visualizations and projects. Pending funding – Waterworth has written a proposal for submission to the National Endowment of the Arts (NEA), which has received internal approval – Archie will be shipped to Carolina Bronze, a foundry south of Winston Salem. Donovan said they would make some small molds of the head and a few spikes for the students to cast in bronze so they can "experience some form of the project going from ideation to the final casting."
A natural habitat for Archie
The rock garden habitat is in the planning stages. According to Waterworth, it will include plant species that are living relatives of the plants that the aetosaur would have encountered – horsetail ferns and a ginkgo tree – and some large boulders of Triassic rock from the same basin where the fossils were found. And, there might be aetosaur footprints cast by students, she said. "The installation will be a permanent exhibit in the rock garden and a big part of our science outreach program. At every stage, we hope to leverage student involvement as much as possible. This is really about the educational experience."
Heckert said he hopes seeing the aetosaur habitat will give people a sense of how different the North Carolina landscape must have been in the Triassic, when this area was in tropical Pangea.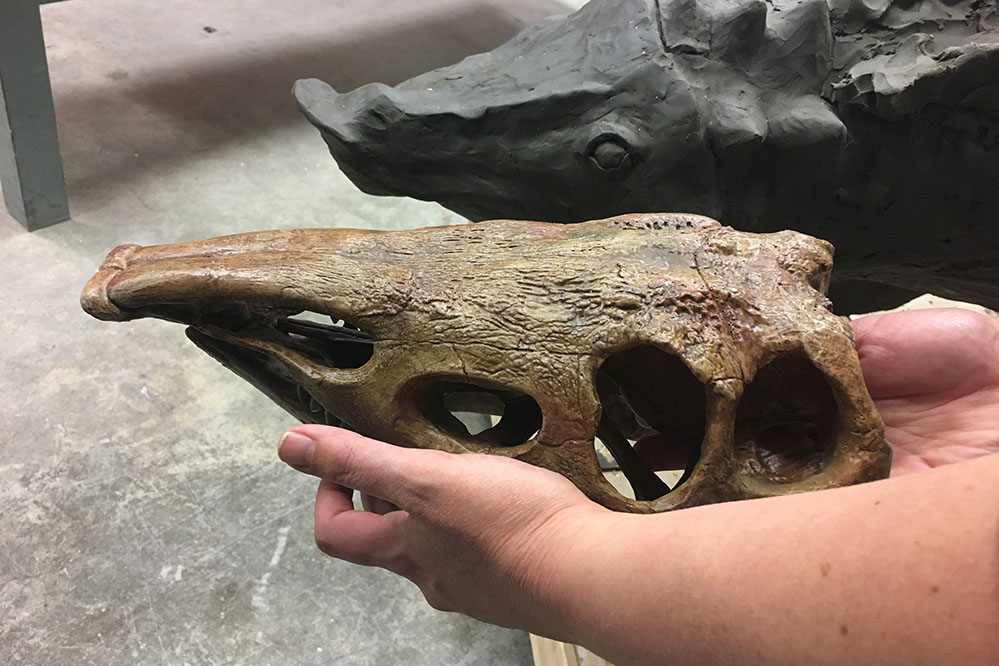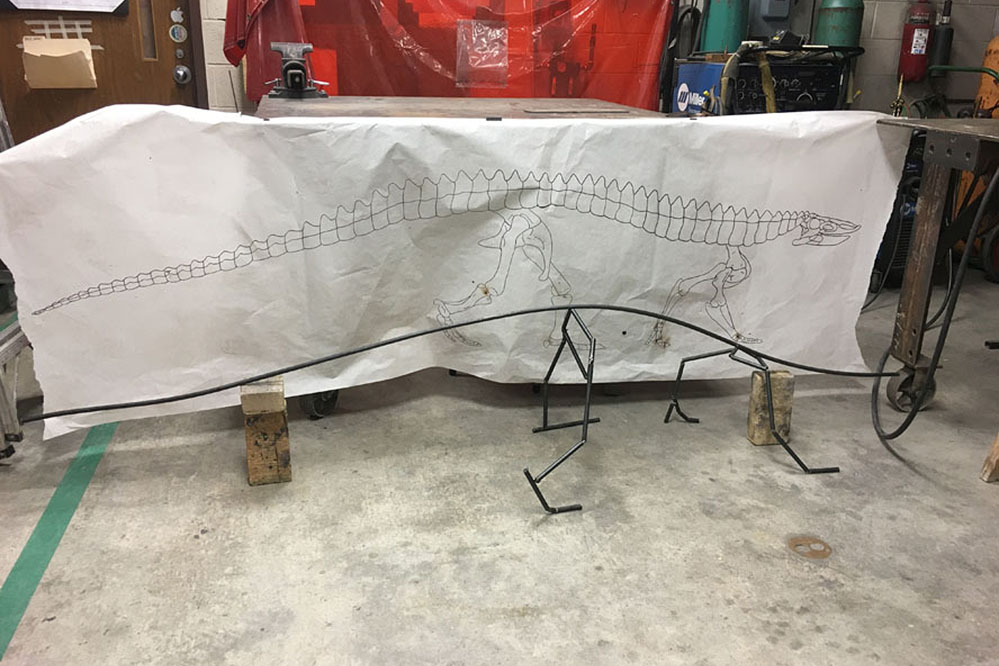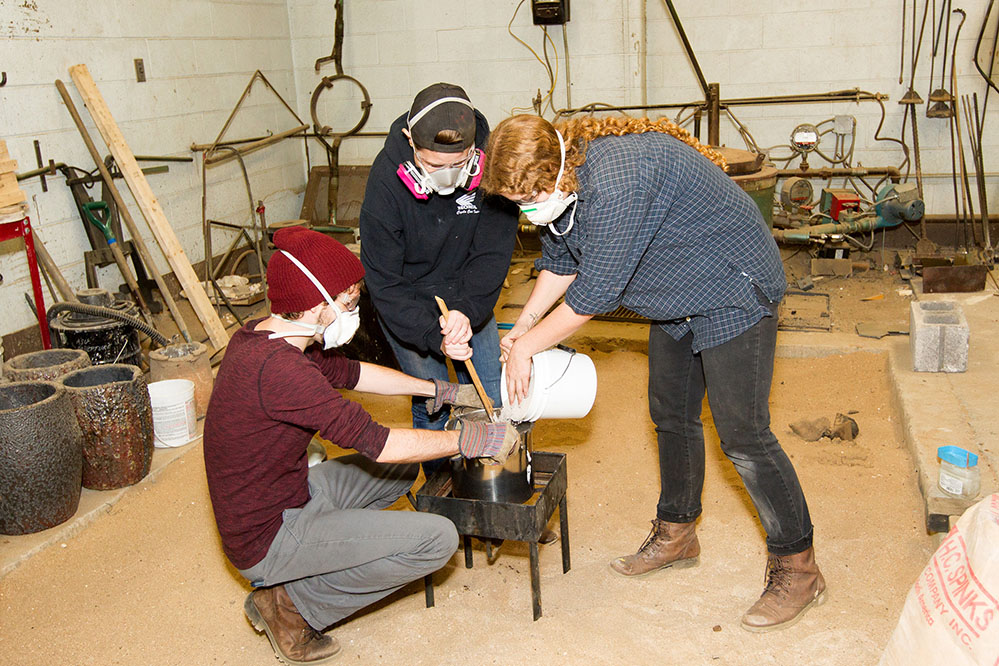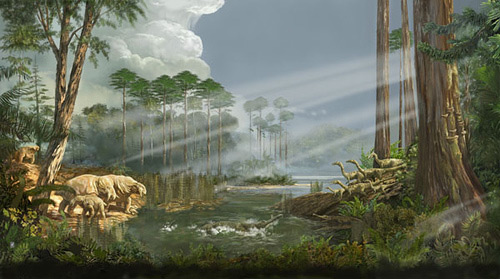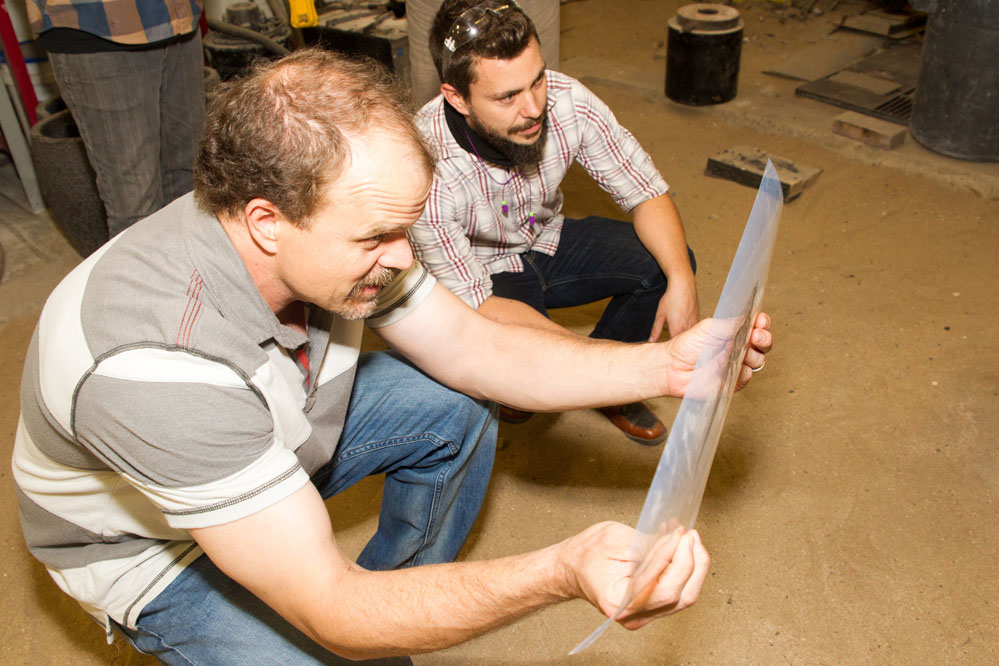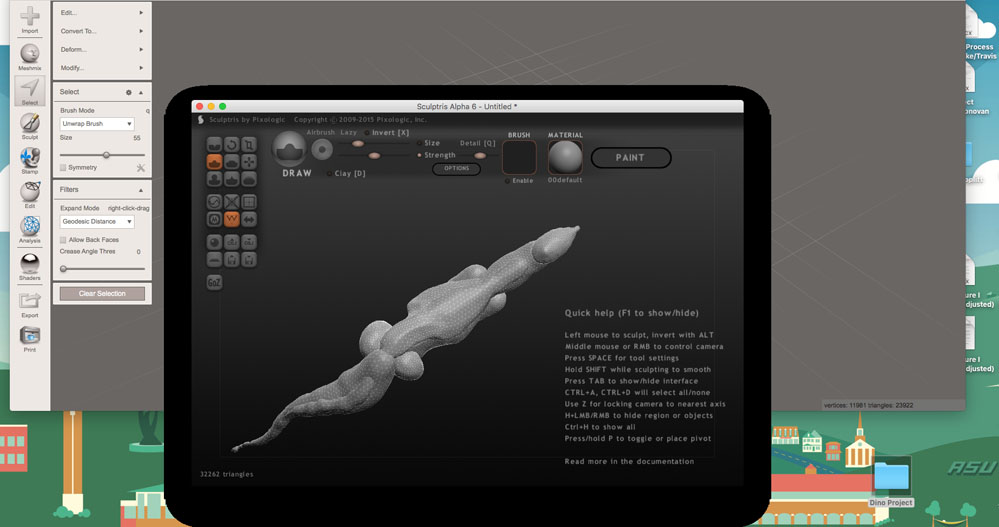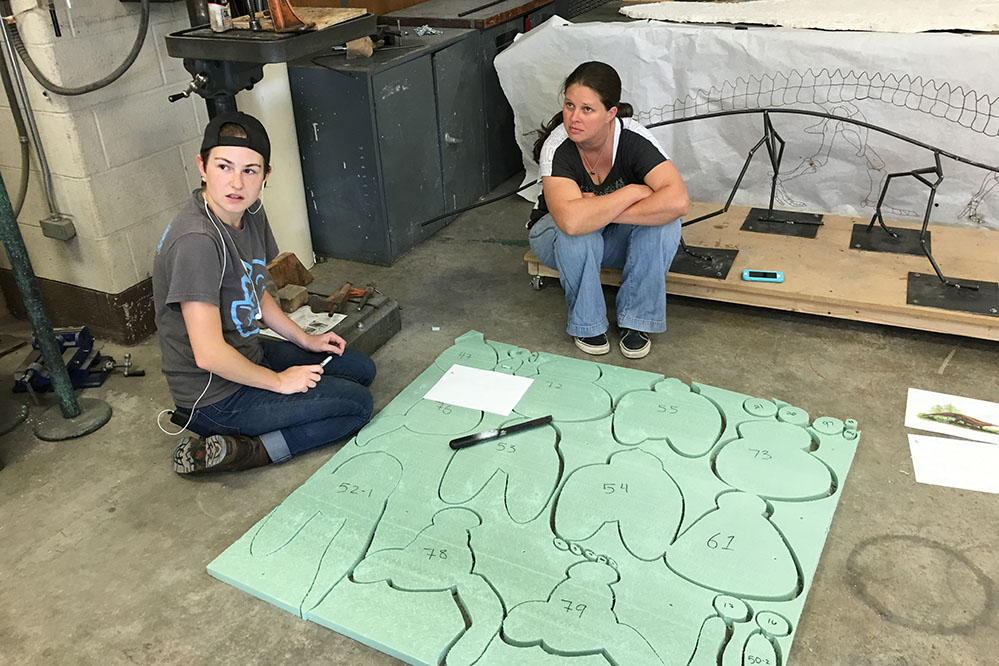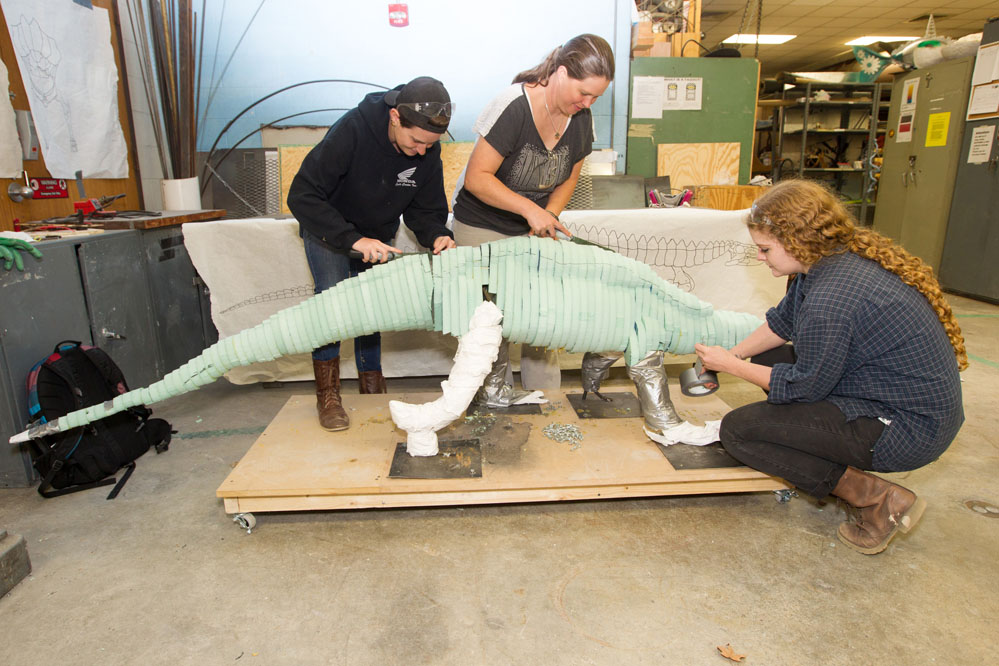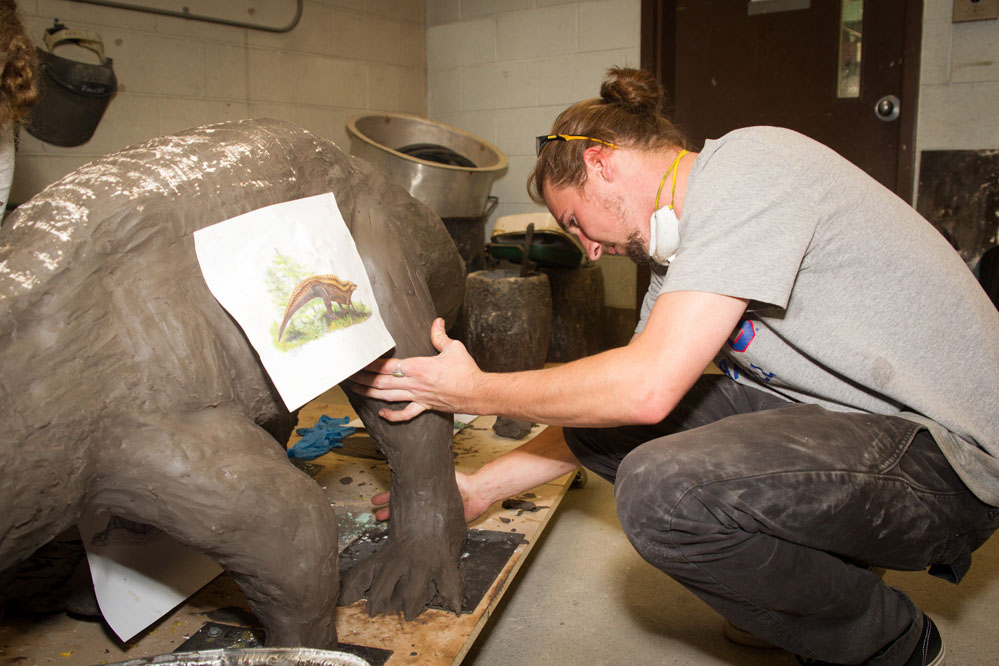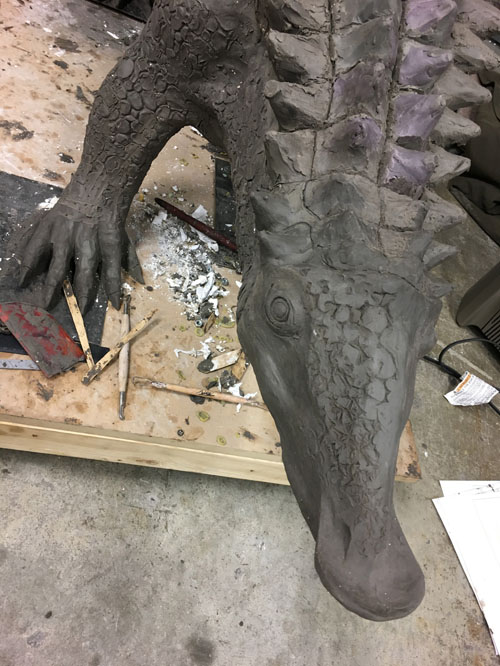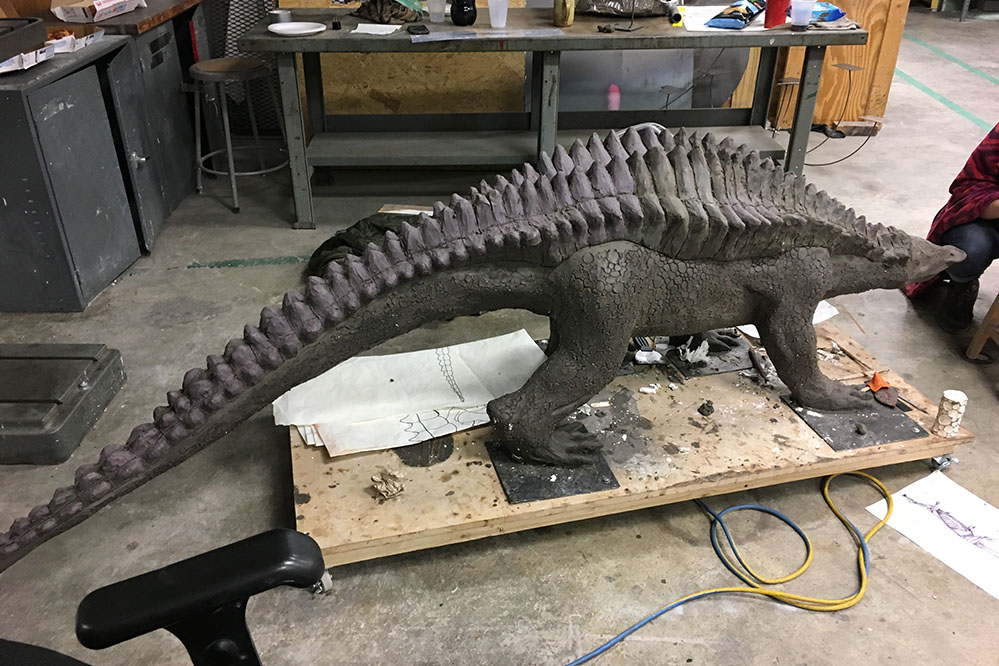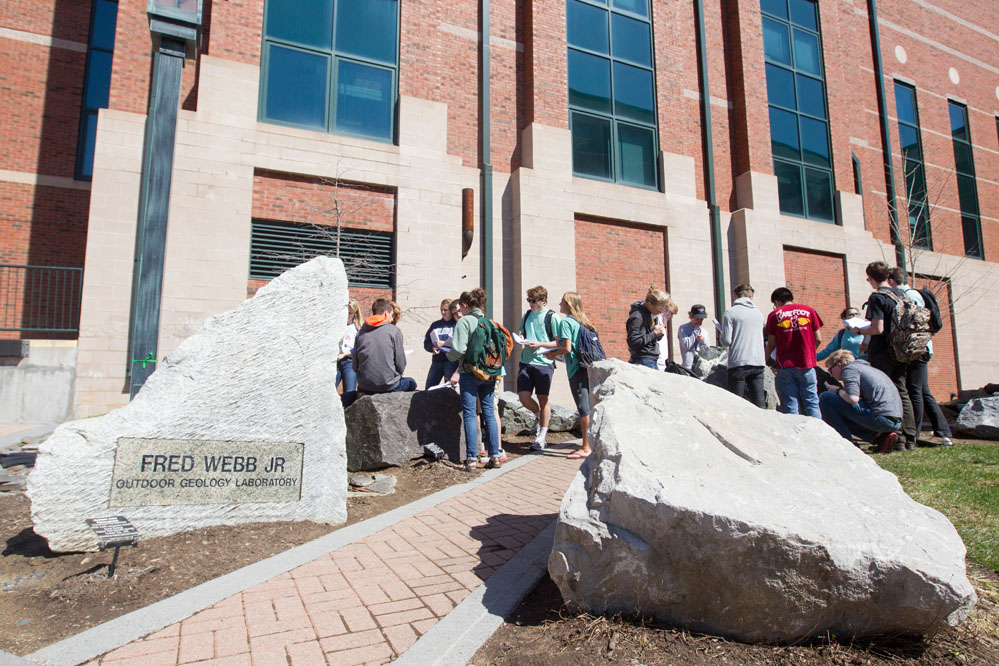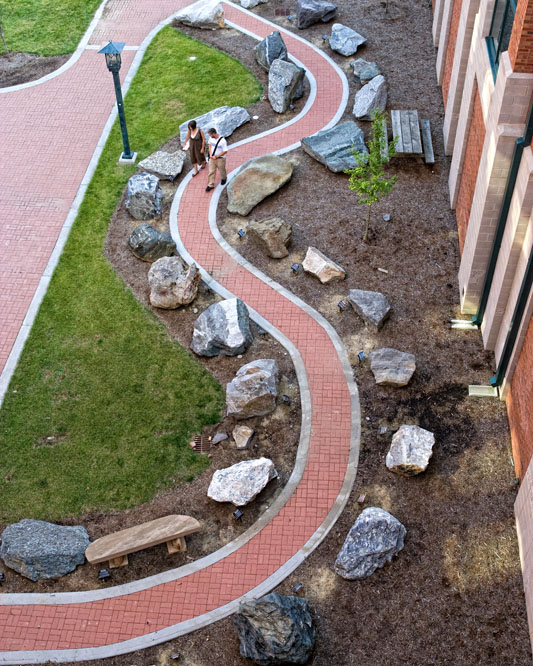 Photos of Triassic aetosaur sculpture
Appalachian State University art and geology students are collaborating on a sculpture of a Triassic aetosaur based on a handful of pre-historic bones unearthed in North Carolina. The finished piece is expected to be placed in the Fred Webb Jr. Outdoor Geology Laboratory/Interactive Rock Garden alongside Rankin Science South in fall 2018.
"There is no shortage of ideas," Waterworth said. "The students in the art department may develop a little origami kit and also a wood model and miniatures as some merchandising options." Donovan explained: "The students have generated a model of Gorgetosuchus, both physically as well as digitally. They can now create different visuals from different processes, but using the same data and model. For instance, we can now scan the completed clay model of the aetosaur and take that data into a program to create small but highly accurate models on a 3D printer. The students get a sense of how all this technology and process weave together."
"It's just all so cool," Waterworth concluded. "I love that it is bringing together such different areas of expertise and is resulting in something no one of us could have done on our own."
From a personal aspect, Waterworth said her husband's late mother, Sherry Edwards, "would like this, I think." Edwards was a bronze sculptor and professor in Appalachian's Department of Art. Several of her pieces are featured on campus, such as the statues of W.H. Plemmons and B.B. Dougherty. "I never got to know her, but I got to see her working, pouring a bronze piece," Waterworth said. Her husband Alex Waterworth, a web developer in University Communications, is helping the team build on online exhibit of their work as an educational resource.
What do you think?
Share your feedback on this story.
About the Department of Geological and Environmental Sciences
Located in Western North Carolina, Appalachian State University provides the perfect setting to study geological and environmental sciences. The Department of Geological and Environmental Sciences provides students with a solid foundation on which to prepare for graduate school or build successful careers as scientists, consultants and secondary education teachers. The department offers six degree options in geology and two degree options in environmental science. Learn more at https://earth.appstate.edu.
About the College of Arts and Sciences
The College of Arts and Sciences (CAS) at Appalachian State University is home to 17 academic departments, two centers and one residential college. These units span the humanities and the social, mathematical and natural sciences. CAS aims to develop a distinctive identity built upon our university's strengths, traditions and unique location. The college's values lie not only in service to the university and local community, but through inspiring, training, educating and sustaining the development of its students as global citizens. More than 6,400 student majors are enrolled in the college. As the college is also largely responsible for implementing App State's general education curriculum, it is heavily involved in the education of all students at the university, including those pursuing majors in other colleges. Learn more at https://cas.appstate.edu.
About the College of Fine and Applied Arts
Appalachian State University's College of Fine and Applied Arts is a dynamic and innovative group of seven academic departments, bringing together a variety of perspectives, experiences and real-world education to provide unique opportunities for student success. The college has more than 3,000 undergraduate and graduate majors. Its departments are Applied Design, Art, Communication, Military Science and Leadership, Sustainable Development, Sustainable Technology and the Built Environment, and Theatre and Dance. Learn more at https://faa.appstate.edu.
About Appalachian State University
As the premier public undergraduate institution in the Southeast, Appalachian State University prepares students to lead purposeful lives as global citizens who understand and engage their responsibilities in creating a sustainable future for all. The Appalachian Experience promotes a spirit of inclusion that brings people together in inspiring ways to acquire and create knowledge, to grow holistically, to act with passion and determination, and to embrace diversity and difference. Located in the Blue Ridge Mountains, Appalachian is one of 17 campuses in the University of North Carolina System. Appalachian enrolls nearly 21,000 students, has a low student-to-faculty ratio and offers more than 150 undergraduate and graduate majors.