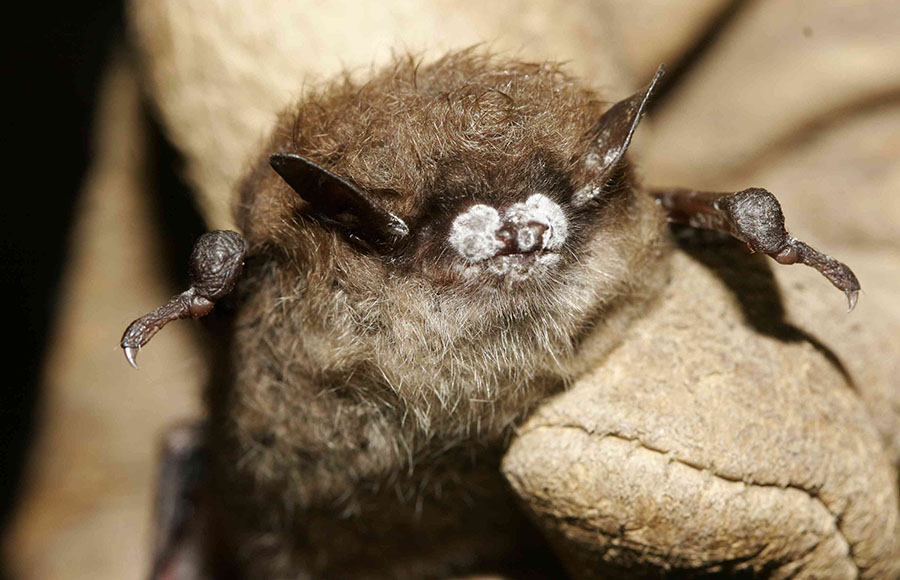 Posted Dec. 4, 2020 at 1:28 p.m.
BOONE, N.C. — With grant-funded assistance from Appalachian State University, the National Park Service (NPS) is expanding its knowledge of rare bat species found along North Carolina's Blue Ridge Parkway, as well as parkway species that may be infected with white-nose syndrome (WNS) — a fatal fungal disease that has killed millions of U.S. bats to date, according to NPS.
Dr. Mark Spond, App State's liaison to NPS and a faculty affiliate in the Department of Geography and Planning, was awarded $19,098 in NPS grant funding along with $5,589 in matching funds from App State for the project, which included conducting several studies to collect information on bat populations in the Blue Ridge Parkway area.
For the project, which took place from January–September, Spond collaborated with NPS Wildlife Biologist Bob Cherry and App State student researcher Chloe Dorin '20, of Raleigh. Spond said Dorin's efforts for the project were completed earlier this year, pre-COVID-19.
In addition to the overarching aim of learning about the parkway's rare and WNS-affected bat species, Spond said the project's two other goals were as follows:
Educate the public and Blue Ridge Parkway staff about WNS in bats.
Help protect bats that reside in the parkway area by knowing their locations and ensuring steps are taken in all parkway projects to protect bat roosts and hibernacula (where bats shelter while dormant during the winter).
The research team followed protocols set by the North American Bat Monitoring Program to conduct driving acoustic surveys along 20-mile sections of the Blue Ridge Parkway. During these surveys, an acoustic detection system mounted to the roof of the team's vehicle was used to record the bats' calls, or ultrasounds — sounds with a wave frequency higher than the human ear can detect.
The team also set out stationary survey microphones along the parkway, in coordination with the driving routes, and conducted stationary acoustic surveys at additional significant biological areas, in developed areas and at known bat roosts along the parkway.
After all surveys were performed, Spond and Dorin helped with managing and analyzing the collected data.
Dorin, who is a graduate student in the university's Master of Science in biology degree program, holds a Bachelor of Science in biology from App State.
More about WNS and bat conservation
"Though often feared and loathed as sinister creatures of the night, bats are vital to the health of our environment and our economy as pest control, pollinators and seed dispersers," the U.S. Fish and Wildlife Service (FWS) website states.
According to FWS — which works to protect and raise awareness of bats and also research WNS treatments — recent studies estimate bats eat enough insects to save more than $1 billion per year in crop damage and pesticide costs in the U.S. corn industry alone. Additionally, the FWS website states that across all U.S. agricultural production, consumption of insect pests by bats results in a savings of more than $3 billion per year.
The particular fungus that causes WNS, Pseudogymnoascus destructans, is likely exotic, having been introduced to North America from Europe, according to NPS.
Spond said of the 12 confirmed bat species that inhabit the Blue Ridge Parkway corridor, nine have been affected by WNS.
The NPS website states, "Researchers call the disease 'white-nose syndrome' (WNS) because of the visible white fungal growth on infected bats' muzzles and wings. This cold-loving fungus infects bats during hibernation, when the bats reduce their metabolic rate and lower their body temperature to save energy over winter.
"What started in New York in 2006 has spread to more than half of the United States and five Canadian provinces by August 2016, leaving millions of dead bats in its path. WNS causes high death rates and fast population declines in the species affected by it, and scientists predict some regional extinction of bat species."
What do you think?
Share your feedback on this story.
About the Appalachian State University Liaison to the National Park Service
The Appalachian State University Liaison to the National Park Service (NPS) is the central contact for initiatives that partner Appalachian with NPS units across the United States. The liaison promotes opportunities, such as service projects and task agreements, that mutually benefit NPS units and university students, faulty, staff and alumni. Past projects have partnered members of the Appalachian Community with NPS natural/cultural resource personnel, interpreters and educational initiatives. Learn more at https://npsliaison.appstate.edu.
About the Department of Geography and Planning
The Department of Geography and Planning promotes the understanding of the spatial dimensions of human behavior within the physical and cultural systems of the earth, and the role of planning in achieving improvement in those systems. The department offers degrees in geography and in community and regional planning. Learn more at https://geo.appstate.edu.
About the College of Arts and Sciences
The College of Arts and Sciences (CAS) at Appalachian State University is home to 17 academic departments, two centers and one residential college. These units span the humanities and the social, mathematical and natural sciences. CAS aims to develop a distinctive identity built upon our university's strengths, traditions and unique location. The college's values lie not only in service to the university and local community, but through inspiring, training, educating and sustaining the development of its students as global citizens. More than 6,400 student majors are enrolled in the college. As the college is also largely responsible for implementing App State's general education curriculum, it is heavily involved in the education of all students at the university, including those pursuing majors in other colleges. Learn more at https://cas.appstate.edu.
About Appalachian State University
As the premier public undergraduate institution in the Southeast, Appalachian State University prepares students to lead purposeful lives as global citizens who understand and engage their responsibilities in creating a sustainable future for all. The Appalachian Experience promotes a spirit of inclusion that brings people together in inspiring ways to acquire and create knowledge, to grow holistically, to act with passion and determination, and to embrace diversity and difference. Located in the Blue Ridge Mountains, Appalachian is one of 17 campuses in the University of North Carolina System. Appalachian enrolls nearly 21,000 students, has a low student-to-faculty ratio and offers more than 150 undergraduate and graduate majors.