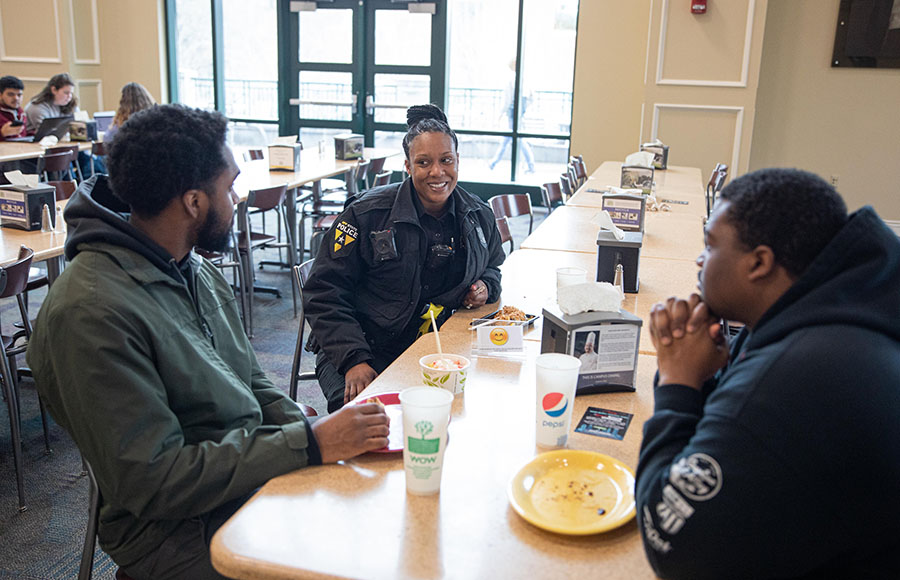 Posted March 25, 2021 at 4:55 p.m.
BOONE, N.C. — The Appalachian Police Department (APD), Appalachian State University's official policing agency, has created a new Diversity, Inclusion and Community Engagement Unit to help build meaningful relationships and trust between APD officers and campus and community members from underrepresented groups.
APD Officer Cashae Cook '14, who has served on the APD force since 2018, was appointed to her new role as the unit's diversity, inclusion and community engagement officer in January.
"The introduction of this unit and Cashae's leadership extend APD's commitment to issues of diversity, equity and inclusion — enhancing the department's mission to equitably serve everyone on campus," said Andy Stephenson, App State's director of public safety and chief of police.
While working with other university offices and student organizations in her new role, some of Cook's responsibilities will include:
Serving as an APD spokesperson and advocate on various university boards and committees.
Representing APD in new student orientation sessions.
Leading APD's efforts for recruiting both police officers and applicants for the Appalachian Police Officer Development Program.
The unit's development and specialization also align with strategic university initiatives put in place by Chancellor Sheri Everts upon her arrival at App State in 2014, including the creation of programs designed to make campus equally welcoming for everyone and the implementation and improvement of services and resources to attract and support a diverse campus community. The university's Appalachian Police Officer Development Program — initiated by APD in 2018 to facilitate reform and have significant, positive impact on the policing profession — also aligns with these initiatives.
"The addition of this new unit is an important bridge to help strengthen connections to underrepresented groups on campus as well as in the broader community," Stephenson said. "Developing and supporting relationships with everyone is the means by which we can have inclusive, open discussions with the community, learn about evolving needs and recruit new generations of educated, compassionate and engaged police officers."
As part of its ongoing strategy to promote inclusive excellence on campus and in the local community, APD hosted and sponsored implicit bias training for APD and regional officers in September 2020. Fifteen High Country police officers who participated, including Cook and four other APD officers, are now certified to provide implicit bias training to other sworn officers and officers in training.
"I commend the efforts of the Appalachian Police Department to champion inclusive excellence within their department and the broader community," said App State Chief Diversity Officer Willie Fleming. "I've personally facilitated many diversity, equity and inclusion trainings for these officers and the addition of this new unit is the next step in their commitment to creating a just and fair environment for all Mountaineers."
What do you think?
Share your feedback on this story.
About Diversity and Inclusion at Appalachian
Appalachian State University is committed to developing and allocating resources to the fundamental task of creating a diverse campus culture. We value diversity as the expression of human similarities and differences, as well as the importance of a living and learning environment conducive to knowledge, respect, acceptance, understanding and global awareness. Learn more at http://diversity.appstate.edu.
About the App State Police Department
Appalachian State University's official policing agency — the App State Police Department — supports the university's academic mission by working in partnership with the campus community to prevent crime, solve problems and improve the quality of life on campus. The department's philosophy is one of proactive community engagement, collaboration and customer service, holding the safety and health of App State's community members as its top priorities. State-certified police officers, security officers and civilian employees compose the department, and this team of professionals helps to create and maintain an inclusive sense of belonging for all members of the App State Community — students, faculty, staff and visitors. Additionally, through its efforts, the department aims to be a leader in innovative public safety ideas and strategies. Learn more at https://police.appstate.edu.
About Appalachian State University
As the premier public undergraduate institution in the Southeast, Appalachian State University prepares students to lead purposeful lives. App State is one of 17 campuses in the University of North Carolina System, with a national reputation for innovative teaching and opening access to a high-quality, affordable education for all. The university enrolls more than 21,000 students, has a low student-to-faculty ratio and offers more than 150 undergraduate and 80 graduate majors at its Boone and Hickory campuses and through App State Online. Learn more at https://www.appstate.edu.