Posted April 8, 2021 at 9:38 a.m.
Dr. Steven J. Hageman is a two-time Fulbright award recipient who researches patterns and processes of evolution, including the interaction of colonial growth habits and their environments.
He is also an award-winning teacher, former editor of the Journal of Paleontology and an elected Fellow of The Geological Society of America (GSA) — one of the highest honors in the profession based on a sustained record of distinguished contributions in research, teaching, administration of geological programs and other contributions.
Recognizing his research and professional acclaim, the Fulbright Program selected Hageman for study of new research methods in evolutionary biology and paleobiology at Croatia's Center for Marine Research, and the effects of global warming on marine organisms in the polar Arctic through the Institute of Oceanology of the Polish Academy of Sciences.
About Dr. Steven J. Hageman
What excites you about the field of geology?

The study of the Earth is inherently interdisciplinary. I greatly enjoy that problem solving in geology requires knowledge and application from all fields of science. I really like the challenge of being confronted with the unknown and then working to provide an explanation. There is still so much that is unknown in geology. The mystery still engages me when I hold a 540-million-year-old fossil and imagine it alive, in its ancient environment interacting with other organisms, all long extinct, having spent that vast amount of time inside a rock, waiting to be a data point for analysis in my research question.

Why did you choose to come to App State to teach?

Our program is special, if not unique in our field, because we have a large faculty of highly successful scientists who dedicate all of their time to teaching and mentoring research with undergraduate students. We make a critical investment in our undergraduates. This is a career decision that I, and most of my colleagues, have made consciously — we enjoy focusing on providing the best opportunities for our students.

What is your research specialty and how does it fit into and/or strengthen your teaching?

I am an invertebrate paleontologist. I am interested in questions of patterns and processes of evolution at the species level. Specifically, I am interested in how genetic and environmental influences produce the size and shape of an organism's skeletons, which can then be preserved as fossils.

I study modern organisms at marine research stations, in museum collections and those that I have collected from the field. I have had two Fulbright Research Fellowships to support this work, one to a marine lab on the Adriatic coast in Croatia and one to an oceanographic institute on the Baltic Sea in Poland. The interchanges between me, a paleontologist, and the marine biologists at these facilities were rewarding and productive for everyone. When possible, I bring specific examples of this cross-disciplinary research into classrooms at Appalachian.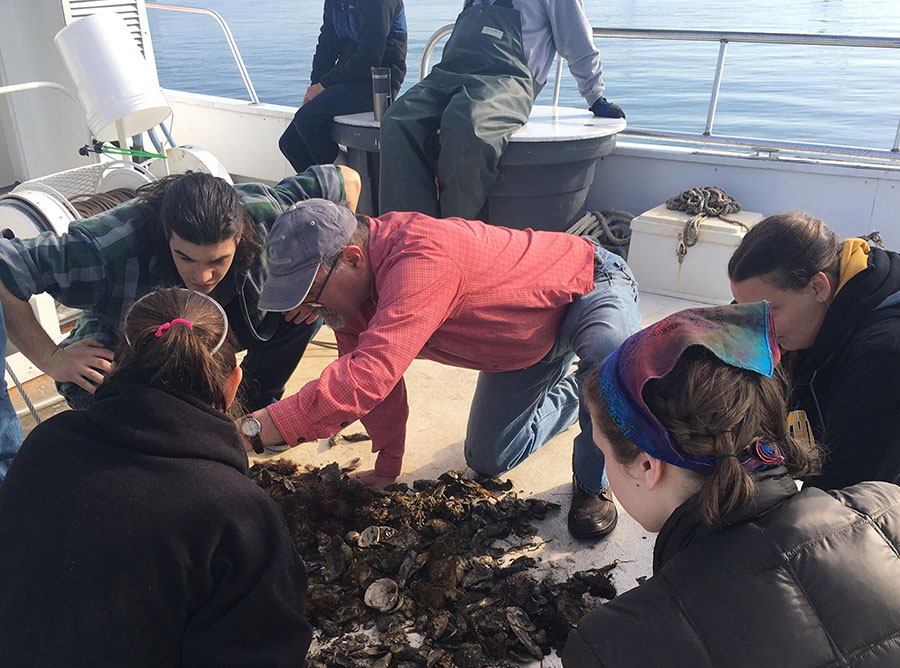 What do you hope students take away from the classes you teach?

For all of my classes, I hope that students will gain new knowledge and expertise, but more importantly, I want them to have an appreciation of how their new experience fits into the context of the broader world. That is, if geology is an interdisciplinary science, then a student needs to have an understanding of where the details of the discipline fit into the broader field and beyond.

It is always a goal of mine to have my students become comfortable with the process of problem solving when faced with the unknown. The unknown is often scary, and we always want to get the "right answer," but after graduation, they are going to need to know the process of getting to the right answer more than just having memorized a fact. It is so gratifying to watch when this realization finally clicks with a student.

You have been deeply involved as a Faculty Transfer Mentor. In what ways do you help new students adjust to App State, and why is that important to you?

As a Faculty Transfer Mentor for our department, early each new semester I invite all of our new transfer students for a meeting, with pizza, where we have an open discussion built on the resources provided by the Office of Online and Transfer Services. From those present, we quickly recognize the wide variety of experiences that transfer students bring to our program and as a result, the different challenges they might encounter.

For some, their greatest change may be living on their own for the first time, whereas others bring considerable and complex life histories with them. In our meeting, we then emphasize the impressive resources and opportunities that our department offers to all students. We also discuss the academic expectations in our program and the culture of our department, and I invite the sharing of anxieties that they might have. I end the discussion by saying this meeting is the last time they will be identified as a "transfer student" in our department. They are equal members with everyone else.

Why should a student interested in geology choose App State? Are there particular aspects that make it special?

We have internationally recognized faculty whose scientific expertise spans a diverse range of subject areas in the field. These faculty have access to high-quality research facilities and equipment, including a scanning electron microscope. There are many opportunities for students to participate in faculty-led field trips and research, often international. They can learn from textbook examples of geology while conducting field study out our backdoor. They learn alongside a strong group of student peers who both challenge and support them. And of course, they have an address in the beautiful Blue Ridge Mountains.

What do you think?

Share your feedback on this story.

About the Department of Geological and Environmental Sciences

Located in Western North Carolina, Appalachian State University provides the perfect setting to study geological and environmental sciences. The Department of Geological and Environmental Sciences provides students with a solid foundation on which to prepare for graduate school or build successful careers as scientists, consultants and secondary education teachers. The department offers six degree options in geology and two degree options in environmental science. Learn more at https://earth.appstate.edu.

About the College of Arts and Sciences

The College of Arts and Sciences (CAS) at Appalachian State University is home to 17 academic departments, two centers and one residential college. These units span the humanities and the social, mathematical and natural sciences. CAS aims to develop a distinctive identity built upon our university's strengths, traditions and unique location. The college's values lie not only in service to the university and local community, but through inspiring, training, educating and sustaining the development of its students as global citizens. More than 6,400 student majors are enrolled in the college. As the college is also largely responsible for implementing App State's general education curriculum, it is heavily involved in the education of all students at the university, including those pursuing majors in other colleges. Learn more at https://cas.appstate.edu.

About Appalachian State University

As the premier public undergraduate institution in the Southeast, Appalachian State University prepares students to lead purposeful lives as global citizens who understand and engage their responsibilities in creating a sustainable future for all. The Appalachian Experience promotes a spirit of inclusion that brings people together in inspiring ways to acquire and create knowledge, to grow holistically, to act with passion and determination, and to embrace diversity and difference. Located in the Blue Ridge Mountains, Appalachian is one of 17 campuses in the University of North Carolina System. Appalachian enrolls nearly 21,000 students, has a low student-to-faculty ratio and offers more than 150 undergraduate and graduate majors.