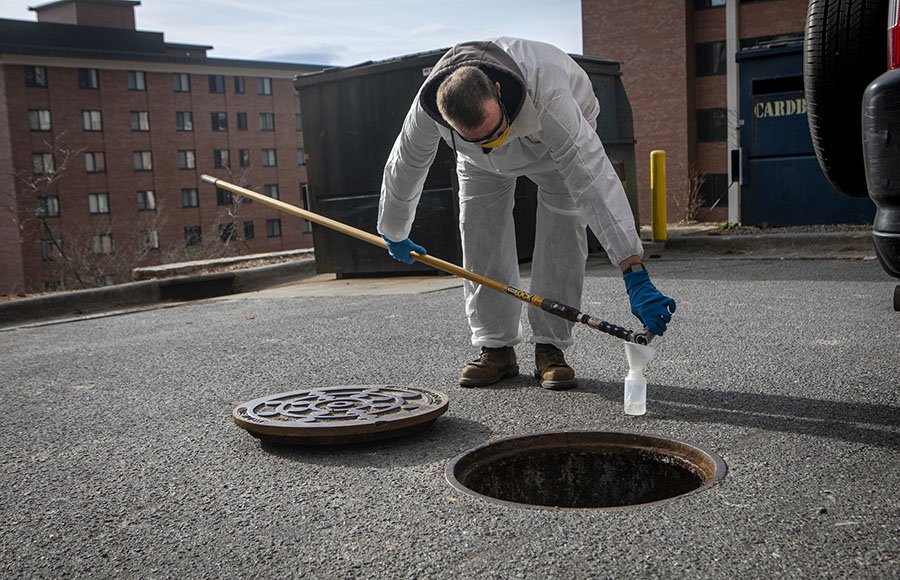 Posted April 15, 2021 at 9:27 a.m.
BOONE, N.C. — While face coverings, physical distancing and testing events have come to define COVID-19 for many colleges and universities, including Appalachian State University, a key component of managing the global pandemic runs in the sewers beneath their campuses.
This spring, App State is enhancing its residence hall wastewater testing strategy — which began in fall 2020. The university now regularly collects samples from eight of its residence halls and tests the samples on campus within the Department of Biology.
Wastewater testing allows institutions to capture data on the presence of SARS-CoV-2, the virus that causes COVID-19, in fecal matter — from both symptomatic and asymptomatic infections. This information can be a "leading indicator of changes in COVID-19 burden in a community," according to the Centers for Disease Control and Prevention.
"It's important that the university maintains a comprehensive testing strategy that includes residence hall wastewater testing," said Jason Marshburn, App State's director of environmental health, safety and emergency management. "This allows us to detect cases earlier and help to reduce the spread of COVID-19."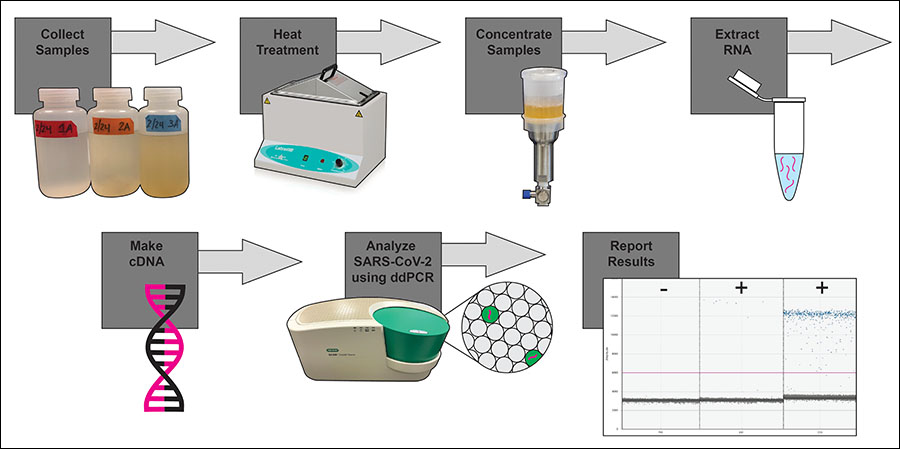 Research indicates wastewater surveillance can identify COVID-19 hot spots five to seven days before they are reflected by clinical testing results and is intended to identify trends over time, as well as the absence or presence of the virus.
App State's residence hall wastewater testing strategy is led by Marshburn and the following individuals:
Dr. Ece Karatan, vice provost for research, who has also directed several Honors College theses.
Dr. Alex F. Howard, interim assistant vice chancellor in the Division of Student Affairs and director of Wellness and Prevention Services.
Dr. Jenna Valley, lab supervisor for molecular and microbiology in the Department of Biology.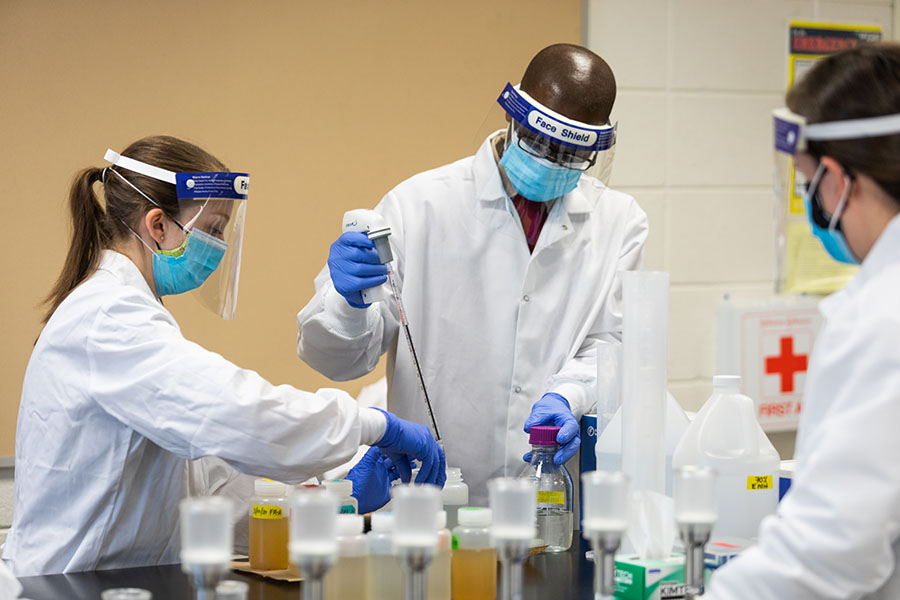 Enhancing residence hall wastewater surveillance
App State resumed its residence hall wastewater testing in February, after students returned from winter break.
Karatan said the fundamental difference in the university's testing last fall and this spring is that now "the entire process is being conducted on our campus." In fall 2020, the samples were tested off-site at the University of North Carolina Institute of Marine Sciences.
"The main benefit of being able to conduct the testing on-site is increased efficiency," Valley said. "Not having to outsource for testing at other facilities allows for a faster turnaround of results, which in turn expedites subsequent mitigation strategies informed by those results."
Testing on-site also increases the chances of detecting the virus because the sample can degrade in the time it takes to ship it to an outside facility, according to Valley.
Eric Greer, supervisor of mechanical engineering in Facilities Operations, is coordinating the gathering of samples. In the lab, Valley is assisted by Dr. Rachel Bleich, assistant professor of microbiology, and Dr. Michael Opata, assistant professor of immunology and infectious diseases, who has also directed an Honors College thesis.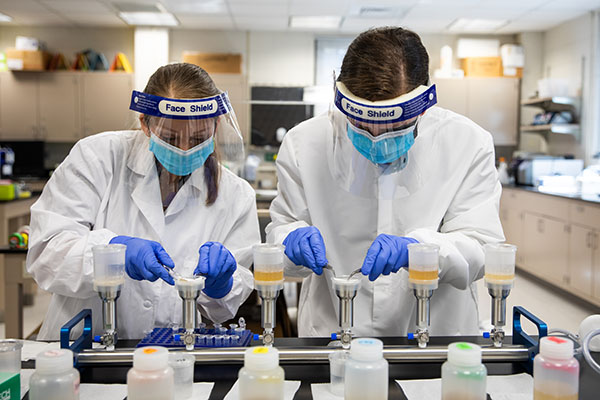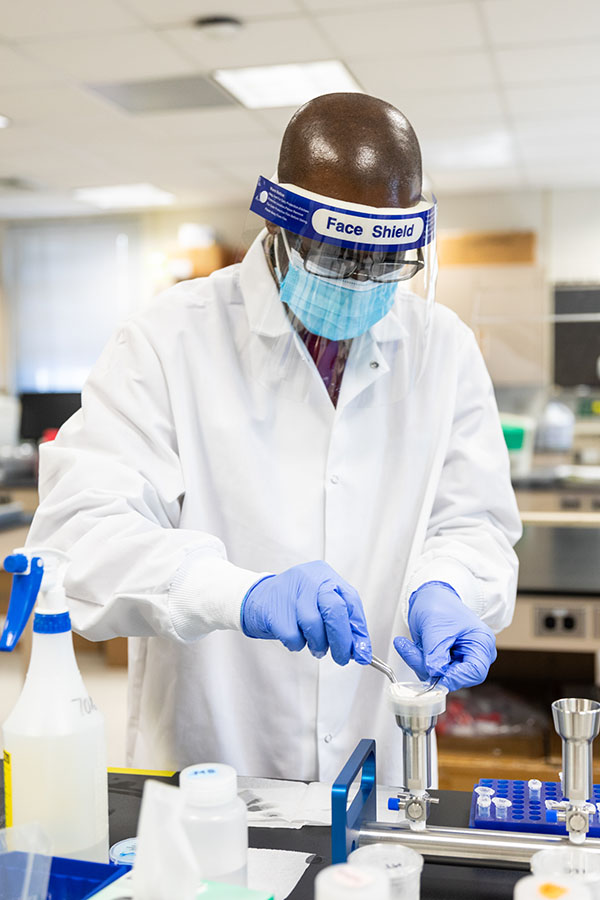 Karatan said the university is in the process of purchasing autosamplers. Currently, staff manually gather samples weekly. At each residence hall, they collect samples three times in a one-hour period. In contrast, the autosamplers will collect samples over a 24-hour period to provide a more representative sample.
Valley's team heats the wastewater to inactivate any potential SARS-CoV-2 and then performs a test similar to the polymerase chain reaction (PCR) test conducted on nasal swabs.
Early detection through wastewater
"The advantage of using wastewater surveillance is that it allows us to survey a large number of students in an efficient and cost-effective manner," Valley said.
Valley continued, "It also allows us to detect the presence of infected individuals in a residential population who may be asymptomatic and therefore less likely to seek testing."
During the fall semester, samples from App State's East Hall came back positive and since March 1, samples from five residence halls have also tested positive.
When results are positive for the presence of SARS-CoV-2, App State's emergency response team is alerted and then focuses individualized testing efforts to that building.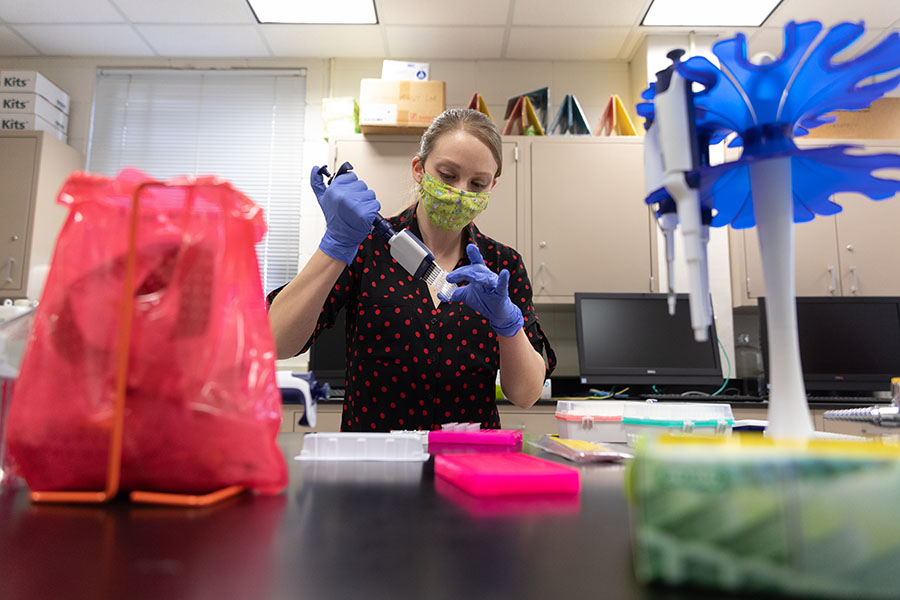 Funding the project
Around the time App State began to explore residence hall wastewater testing in fall 2020, Karatan said the university was contacted by the director of the North Carolina Policy Collaboratory at UNC-Chapel Hill — an organization established by the state's General Assembly to facilitate the dissemination of policy and research expertise within the UNC System and other institutions of higher learning across the state.
App State worked quickly to establish a wastewater testing program on campus in collaboration with a team at the UNC Institute of Marine Sciences, which has been leading a large effort with other UNC System institutions, the North Carolina Department of Health and Human Services and the North Carolina Department of Environmental Quality to use wastewater epidemiology to track the pandemic.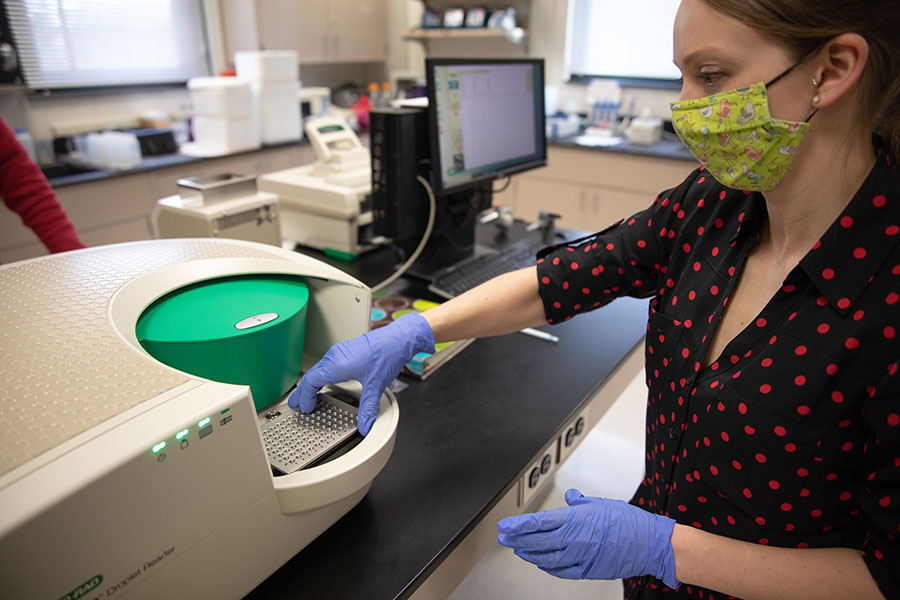 According to Karatan, App State received a nearly $130,000 grant from the North Carolina Policy Collaboratory that made it possible for the university to begin testing in the fall and continue testing in the spring.
Karatan said, "The majority of the funding was for several pieces of equipment to perform a process called droplet digital PCR to detect the SARS-CoV-2. The remainder funded salaries for the individuals sampling and processing the wastewater and for supplies."
What do you think?
Share your feedback on this story.
About the Office of Research
Appalachian State University's Office of Research provides support for the research, creative, and scholarly endeavors of Appalachian faculty, staff and students. The office consists of four units: Grants Resources and Services, Sponsored Programs, Research Design and Analysis, and Research Protections. The Office of Research also collaborates with the university's Special Funds Accounting on the fiscal management of awarded projects. Learn more at https://research.appstate.edu.
About the Department of Biology
The Department of Biology is a community of teacher-scholars, with faculty representing the full breadth of biological specializations — from molecular genetics to landscape/ecosystem ecology. The department seeks to produce graduates with sound scientific knowledge, the skills to create new knowledge, and the excitement and appreciation of scientific discovery. Learn more at https://biology.appstate.edu.
About the College of Arts and Sciences
The College of Arts and Sciences (CAS) at Appalachian State University is home to 17 academic departments, two centers and one residential college. These units span the humanities and the social, mathematical and natural sciences. CAS aims to develop a distinctive identity built upon our university's strengths, traditions and unique location. The college's values lie not only in service to the university and local community, but through inspiring, training, educating and sustaining the development of its students as global citizens. More than 6,400 student majors are enrolled in the college. As the college is also largely responsible for implementing App State's general education curriculum, it is heavily involved in the education of all students at the university, including those pursuing majors in other colleges. Learn more at https://cas.appstate.edu.
About Appalachian State University
As the premier public undergraduate institution in the Southeast, Appalachian State University prepares students to lead purposeful lives. App State is one of 17 campuses in the University of North Carolina System, with a national reputation for innovative teaching and opening access to a high-quality, affordable education for all. The university enrolls more than 21,000 students, has a low student-to-faculty ratio and offers more than 150 undergraduate and 80 graduate majors at its Boone and Hickory campuses and through App State Online. Learn more at https://www.appstate.edu.