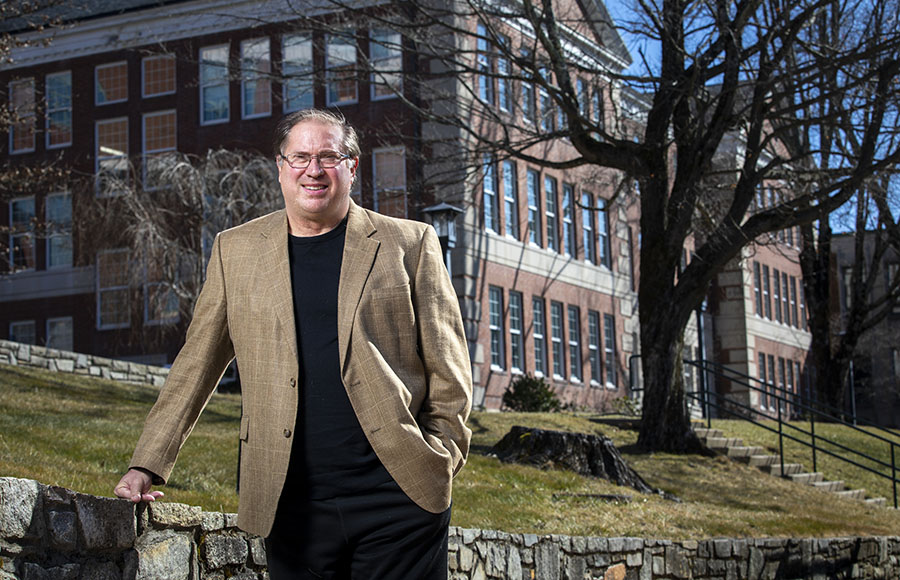 Posted May 20, 2021 at 4:01 p.m.
BOONE, N.C. — Appalachian State University is among more than 70 higher education institutions across the nation and world that have joined the Universities Studying Slavery (USS) consortium to foster greater diversity and inclusion within their campus and local communities. App State is one of seven North Carolina schools in the consortium.
According to the University of Virginia (UVA), which created and leads the consortium, the organization is part of a "growing movement of schools coming to terms with slavery and racism in institutional and regional history as part of efforts to make 21st-century schools more diverse, welcoming and inclusive."
"At App State, we look to our history to inform an equitable and inclusive future," said App State Chancellor Sheri Everts. "Our participation in this consortium is a continuation of the progress toward inclusive excellence that has been made at App State, and also an important acknowledgment there is more work to be done. We embrace the opportunity to learn and to effect change as a university through this research."
"Membership in this USS consortium reflects the dedication of our faculty and staff to foster inclusive excellence on our campus and presents new opportunities for our students to engage in research," said Dr. Willie C. Fleming, App State's chief diversity officer. "I am proud of the work undertaken at App State in the last six years, in particular, to continue on a path that prioritizes diversity and inclusion."
"Our participation in the consortium is in keeping with Chancellor Sheri Everts' goals for diversity and inclusion growth at Appalachian," said Dr. Louis B. Gallien Jr., an Honors College faculty member and a professor in the Reich College of Education's Department of Leadership and Educational Studies. "The university's faculty have a responsibility to achieve those goals that can lead to real, systemic change in race relations on campus, in our state and in the nation."
Gallien will serve as coordinator of App State's project, which represents an outgrowth of its existing public history programs — at both the undergraduate and graduate levels — and its Africana studies program.
Gallien shared that, for its first consortium research project, App State aims to publish a book with an academic press. Each book chapter will explore the various roles of both enslaved and freed African Americans in the Western North Carolina region and how they helped advance the region's economic and cultural development.
Research topics include the following:
Lewis Banner, founder of the Banner Elk community, and his conversion from a slave owner to an abolitionist — a person who supported ending slavery in the U.S. before and during the Civil War. Banner's homestead near Lees-McRae College was used as a stop along the Underground Railroad for deserting Union and Confederate soldiers on their way to Tennessee and Kentucky.
An expanded examination of the family history of App State adjunct instructor Dr. Leslie Dula McKesson '93 '09 '16 — a direct descendent of the Dula family that consists of both African American and white Dula relatives. The family was the subject of the App State-produced documentary "Dulatown" that aired on UNC-TV in 2019.
The antebellum, or pre-Civil War, community of Valle Crucis, where several oppositional groups, including Unionists, Confederates, deserters, runaway slaves, freed slaves and others, lived in proximity to one another.
Other goals of App State's USS consortium project include faculty and student participation in the consortium's semiannual meetings to present research and the development of a web database to house faculty and student research. App State's database will link to the other consortium members' databases.
"We have an opportunity to showcase our local and regional history," Gallien said in regard to App State's niche within the consortium, which, according to Gallien, will be a research, teaching and scholarship focus on slavery in the Appalachian Mountains.
The USS consortium's work is funded by UVA.
Learn more about the USS consortium and view a list of participating institutions.
What do you think?
Share your feedback on this story.
The faculty team for App State's USS consortium project
About the Department of History
The Department of History offers a broad curriculum in local, national, regional and world history at both the undergraduate and graduate levels, which encourages history majors to develop a comprehensive approach to human problems. The study of history is an essential part of a liberal arts education and offers valuable preparation for many careers, such as law, journalism, public history, public service and business, as well as in teaching and the advanced discipline of history. Learn more at https://history.appstate.edu.
About the College of Arts and Sciences
The College of Arts and Sciences (CAS) at Appalachian State University is home to 17 academic departments, two centers and one residential college. These units span the humanities and the social, mathematical and natural sciences. CAS aims to develop a distinctive identity built upon our university's strengths, traditions and unique location. The college's values lie not only in service to the university and local community, but through inspiring, training, educating and sustaining the development of its students as global citizens. More than 6,400 student majors are enrolled in the college. As the college is also largely responsible for implementing App State's general education curriculum, it is heavily involved in the education of all students at the university, including those pursuing majors in other colleges. Learn more at https://cas.appstate.edu.
About the Department of Leadership and Educational Studies
The Department of Leadership and Educational Studies at Appalachian State University prepares traditional and nontraditional students to assume educational leadership roles in community colleges, universities, public schools, public libraries and related educational settings through active scholarship, reflection, professional discourse and interdisciplinary programs of study based on the integration of theory and practice. The department, housed in App State's Reich College of Education, offers a doctoral program in educational leadership, as well as support courses in educational foundations and research. Learn more at https://les.appstate.edu.
About the Reich College of Education
Appalachian State University offers one of the largest undergraduate teacher preparation programs in North Carolina, graduating about 500 teachers a year. The Reich College of Education enrolls more than 2,000 students in its bachelor's, master's, education specialist and doctoral degree programs. With so many teacher education graduates working in the state, there is at least one RCOE graduate teaching in every county in North Carolina. Learn more at https://rcoe.appstate.edu.
About the Honors College
More than 500 students are enrolled in Appalachian State University's Honors College, which serves a diverse group of high-achieving, high-potential, highly motivated students from all majors. The Honors College helps students develop independent and creative thinking and high-level research skills; promotes interdisciplinary inquiry; and nurtures cultured and caring exchanges of ideas. The college's enhanced academic experience prepares students for success in graduate or professional school and for leadership roles in their lives, communities and careers. Learn more at https://honors.appstate.edu.
About Appalachian State University
As the premier public undergraduate institution in the Southeast, Appalachian State University prepares students to lead purposeful lives. App State is one of 17 campuses in the University of North Carolina System, with a national reputation for innovative teaching and opening access to a high-quality, affordable education for all. The university enrolls more than 21,000 students, has a low student-to-faculty ratio and offers more than 150 undergraduate and 80 graduate majors at its Boone and Hickory campuses and through App State Online. Learn more at https://www.appstate.edu.