Posted May 28, 2021 at 12:48 p.m.
BOONE, N.C. — Throughout the year, Appalachian State University's Veterans Memorial serves as an ever-present reminder of the ultimate sacrifice made by those who served in the armed forces. On Memorial Day, commemorated on the last Monday in May, it holds elevated meaning as the Appalachian Community reflects on the importance of the occasion.
About Memorial Day
Memorial Day is an American holiday celebrated on the last Monday of May to honor the men and women who have died while serving in the military.
Originally known as Decoration Day, it originated in the years following the Civil War and became an official federal holiday in 1971. The first national celebration of Memorial Day took place May 30, 1868, at Arlington National Cemetery.
How Memorial Day is commemorated
It is traditional to fly the U.S. flag at half-staff from dawn until noon. Many people visit cemeteries and memorials, particularly to honor those who have died in military service. In national cemeteries, volunteers place an American flag on each grave.
The wearing of poppies in honor of America's war dead is traditional on Memorial Day. The origin of the red poppy as a modern-day symbol of this day was conceived by Moina Michael after reading John McCrae's 1915 poem "In Flanders Fields."
In war-torn battlefields, the red field poppy (Papaver rhoeas) was one of the first plants to grow. Its seeds scattered in the wind and sat dormant in the ground, only germinating when the ground is disturbed — as it was by the brutal fighting during World War I.
Today, poppies are both the symbol of loss of life as a symbol of recovery and new life, especially in support of those in service who were damaged physically or emotionally.
Holding close our military community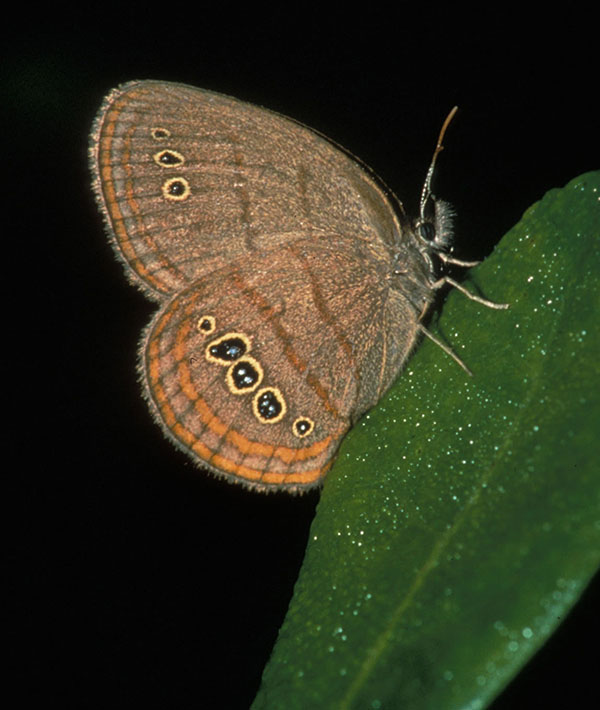 'Saint Francis's Satyr Butterfly'
What do you think?
Share your feedback on this story.
About Appalachian State University
As the premier public undergraduate institution in the Southeast, Appalachian State University prepares students to lead purposeful lives as global citizens who understand and engage their responsibilities in creating a sustainable future for all. The Appalachian Experience promotes a spirit of inclusion that brings people together in inspiring ways to acquire and create knowledge, to grow holistically, to act with passion and determination, and to embrace diversity and difference. Located in the Blue Ridge Mountains, Appalachian is one of 17 campuses in the University of North Carolina System. Appalachian enrolls nearly 21,000 students, has a low student-to-faculty ratio and offers more than 150 undergraduate and graduate majors.