Posted June 1, 2021 at 11:32 a.m.
BOONE, N.C. — Dr. Baker Perry, professor in Appalachian State University's Department of Geography and Planning, is recognized as one of the world's top experts in high altitude precipitation and climate change.
Over the years, Perry has led undergraduate and graduate students on a number of climate research trips, where principles taught in the classroom come to life through hands-on experience. He sets a high bar for students who wish to participate in his programs.
Mountaineering skills, analytical experience, programming ability, a basic proficiency in Spanish and excellent physical conditioning are a few of the qualifications he looks for when seeking research assistants.
"Climate science careers often involve work in harsh and rigorous conditions," Perry said. "Fieldwork in high mountain environments is physically challenging, with strenuous hiking, camping and gathering data at high elevations in extreme cold."
Dr. Johnathan Sugg '08 '13, assistant professor in App State's Department of Geography and Planning, served as Perry's research assistant as both an undergraduate and a graduate student at App State.
As an undergraduate, Sugg worked on a Western North Carolina snowfall mapping project with Perry. In 2013, as a graduate student, Sugg accompanied Perry on a trip to Peru to study climate and glacier interaction in the tropical Andes.
Sugg said, "Anytime we can involve students in our research process, they get some valuable experience just like I did. Even if they aren't involved in research in their future careers, they learn new skills that enable them to produce value wherever they go — and these skills make the students marketable in the industry."
Whether in class or in the field, many students say Perry has piqued their interest in studying geography and climate science.
Some of those inspired by Perry and their experiences with him went on to continue their studies, pursue climate-related careers or teach. App State alumni who have served on Perry's research teams share their experiences and their current work:
Camila Moreno '18 '21
B.A. in languages, literatures and cultures-Spanish and Hispanic studies
M.A. in geography
What do you think?
Share your feedback on this story.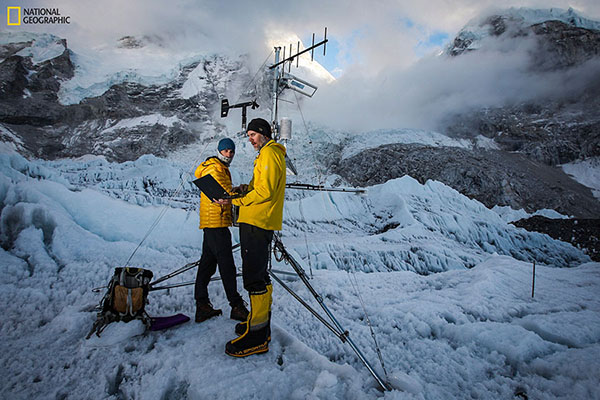 Baker Perry: A National Geographic Explorer
A faculty-led study abroad in Peru supports NSF experiments and student learning
March 15, 2019
About the Department of Geography and Planning
The Department of Geography and Planning promotes the understanding of the spatial dimensions of human behavior within the physical and cultural systems of the earth, and the role of planning in achieving improvement in those systems. The department offers degrees in geography and in community and regional planning. Learn more at https://geo.appstate.edu.
About the College of Arts and Sciences
The College of Arts and Sciences (CAS) at Appalachian State University is home to 17 academic departments, two centers and one residential college. These units span the humanities and the social, mathematical and natural sciences. CAS aims to develop a distinctive identity built upon our university's strengths, traditions and unique location. The college's values lie not only in service to the university and local community, but through inspiring, training, educating and sustaining the development of its students as global citizens. More than 6,400 student majors are enrolled in the college. As the college is also largely responsible for implementing App State's general education curriculum, it is heavily involved in the education of all students at the university, including those pursuing majors in other colleges. Learn more at https://cas.appstate.edu.
About Appalachian State University
As the premier public undergraduate institution in the Southeast, Appalachian State University prepares students to lead purposeful lives. App State is one of 17 campuses in the University of North Carolina System, with a national reputation for innovative teaching and opening access to a high-quality, affordable education for all. The university enrolls more than 21,000 students, has a low student-to-faculty ratio and offers more than 150 undergraduate and 80 graduate majors at its Boone and Hickory campuses and through App State Online. Learn more at https://www.appstate.edu.