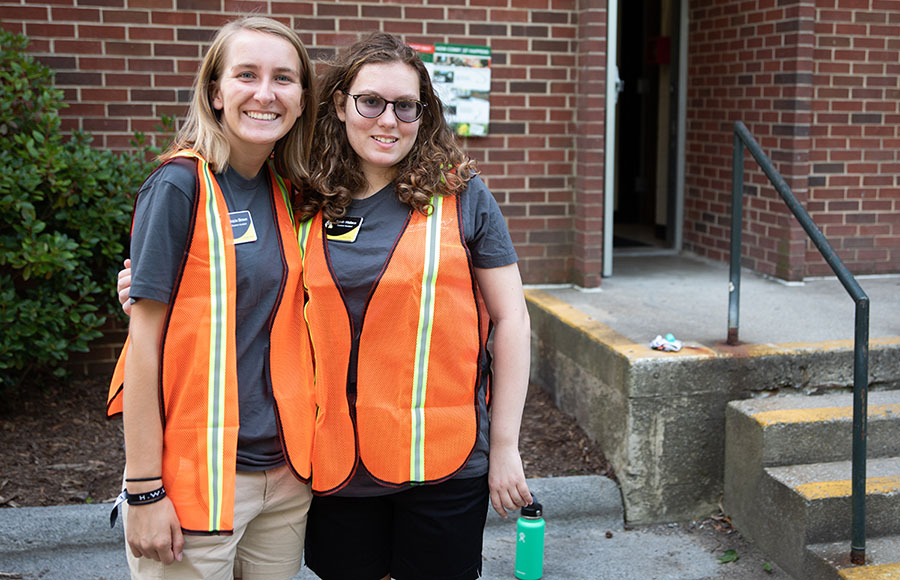 Posted Aug. 13, 2021 at 1:20 p.m.
BOONE, N.C. — For many Appalachian State University students, living in an on-campus residence hall provides the chance to more easily engage with their peers and with university amenities and resources, according to Dr. Brandon Nelson, App State's director of business operations for student affairs.
University Housing resident assistants (RA) lead the charge in helping foster these connections for thousands of students who live on campus each year. In 2021–22, approximately 6,200 students will reside in App State's residence halls.
Each RA serves as a mentor and guide for 30–60 students on a floor or a living area within a residence hall. Their charge: to create a safe, welcoming environment for their residents and to cultivate opportunities for students to take advantage of all App State has to offer.
"Our RAs show an extremely high level of care and concern for their peers," Nelson said. "They are actively engaged in making University Housing and App State a better place for future students, and they are committed to diversity, equity and inclusion."
Connecting with residents
Erin O'Neill, a senior from Noblesville, Indiana, who has been an RA since her sophomore year, said RAs provide a support system for students from the very first day they move into their residence halls.
"RAs are extremely knowledgeable about campus resources and we are always happy to help residents get connected with them. We've been in their shoes and we are excited to help them in their journey at App State," said O'Neill, who is double majoring in communication, journalism and communication, public relations, with a minor in leadership studies.
Tips for residence hall life
As an out-of-state student, O'Neill said University Housing staff helped her feel at home and discover her place on campus.
Junior Jon'Nae Williams, an exercise science major from Concord who is an RA in Summit Hall this fall, echoed similar feelings: "I wasn't able to go home as much as I would have liked (my first year). Having my RA there to support me, show me around campus and make sure that my first year was enjoyable was something that I will never forget," Williams said.
RAs engage with their residents in a variety of ways:
Being available. An RA is on duty from 5 p.m. to 8 a.m. daily in their residence hall and helps residents with anything from being locked out of their room to dealing with interpersonal conflicts, crises or safety concerns.
Initiating App Chats. RAs schedule one-on-one conversations with each resident twice a semester. O'Neill said these sessions "help us get to know our residents, see how things are going and get them connected with any resources they might need."
Hosting programs and events. RAs often partner with offices across campus for educational presentations and interactive events. O'Neill said RAs work hard to develop fun ways for residents to build meaningful relationships with one another and learn more about the university. She said her most successful program was a bracelet-making event, in which participants used multiple colors of beads, each representing a different emotion, feeling or goal. She then connected residents with on-campus resources and offices based on the beads they chose for their bracelet.
Sharing opportunities for engagement. Williams said her residents often ask her for recommendations of things to do on campus and in the local community, so she seeks out events and activities she can share with the students in her hall.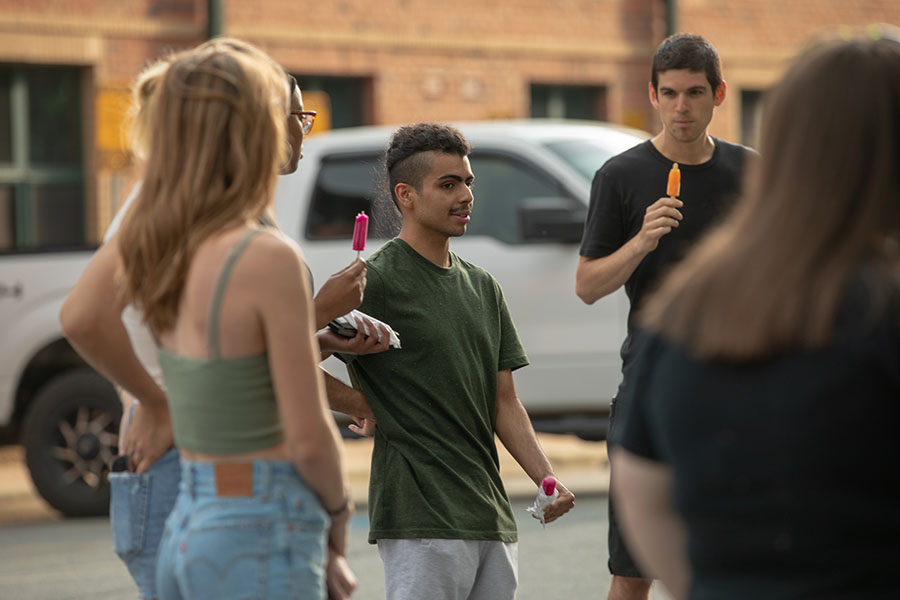 Honing professional skills
The university employs more than 150 RAs each year. According to Nelson, one of the benefits of the RA program is students gain transferable skills and training that can help them in their future careers, including:
Time management.
Crisis management.
Communicating with diverse populations.
Developing events and programming.
New and returning RAs annually complete an intensive 11-day training, in coordination with offices, departments and programs across campus, to ensure they are well versed in safety protocols and campus resources and are prepared to mediate any conflicts or issues that arise within their residence halls. RAs are also required to complete professional development throughout the year.
Dr. Susan McCracken, director of career development and economic engagement in App State's Career Development Center, said RAs have to "develop a unique set of skills ranging from program development, to mediation, to crisis management."
"Few campus jobs require student employees to hone such a diverse set of career readiness skills — communication, leadership, critical thinking, intercultural fluency. The mentoring and training students gain as an RA is invaluable for students' professional and personal development," McCracken said.
According to Williams, who was an RA in the newly opened Raven Rocks Hall last year, her time as an RA has been helpful in improving "my people skills and also developing my creativity and problem-solving skills. I need all of these for this job and any job that I get in the future."
"Being an RA gives me purpose as a student leader and helps me stay motivated and engaged in campus life," O'Neill said.
What do you think?
Share your feedback on this story.
Tips for residence hall life
About the Division of Student Affairs
The Division of Student Affairs at Appalachian State University is committed to the development of lifelong learners and leaders by engaging and challenging students within a culture of care and inclusion. The division consists of 16 units that offer activities and services to help students develop more fully by becoming global learners, fostering healthy relationships, appreciating diversity and different perspectives, understanding community responsibility, enhancing self-awareness, developing autonomy and living ethically. These units include the Career Development Center, Campus Activities, Office of Community-Engaged Leadership, Wellness and Prevention Services, Counseling and Psychological Services, Student Health Service, Parent and Family Services, University Housing, Student Conduct, University Recreation, Intercultural Student Affairs, Student Legal Clinic and Off-Campus Student Services, Electronic Student Services, Child Development Center, and Staff Development and Strategic Initiatives. Learn more at https://studentaffairs.appstate.edu.
About Appalachian State University
As the premier public undergraduate institution in the Southeast, Appalachian State University prepares students to lead purposeful lives. App State is one of 17 campuses in the University of North Carolina System, with a national reputation for innovative teaching and opening access to a high-quality, affordable education for all. The university enrolls more than 21,000 students, has a low student-to-faculty ratio and offers more than 150 undergraduate and 80 graduate majors at its Boone and Hickory campuses and through App State Online. Learn more at https://www.appstate.edu.