Posted Sep. 8, 2020 at 3:16 p.m.
BOONE, N.C. — An appropriate smattering of people — safely distanced and sporting a variety of colorful and App State black and gold face coverings — gathered at Founders Plaza Thursday, Sept. 3, for the third annual Appalachian State University Founders Day celebration.
Many more watched the livestream broadcast by AppTV as two bell ringers commemorated the 121-year anniversary of the first day of classes at Watauga Academy in 1899. Watauga Academy was the educational institution founded by B.B. Dougherty, D.D. Dougherty and Lillie Schull Dougherty that evolved to become a state university in 1967.
Chancellor Sheri Everts said, "This past year has presented unimaginable challenges for our university. Yet, in spite of the uncertainties of a global pandemic, the Appalachian Community has rallied together to find every opportunity to create a positive experience for our students and move our university forward. Mountaineer spirit continues to prevail — as it has for more than a century."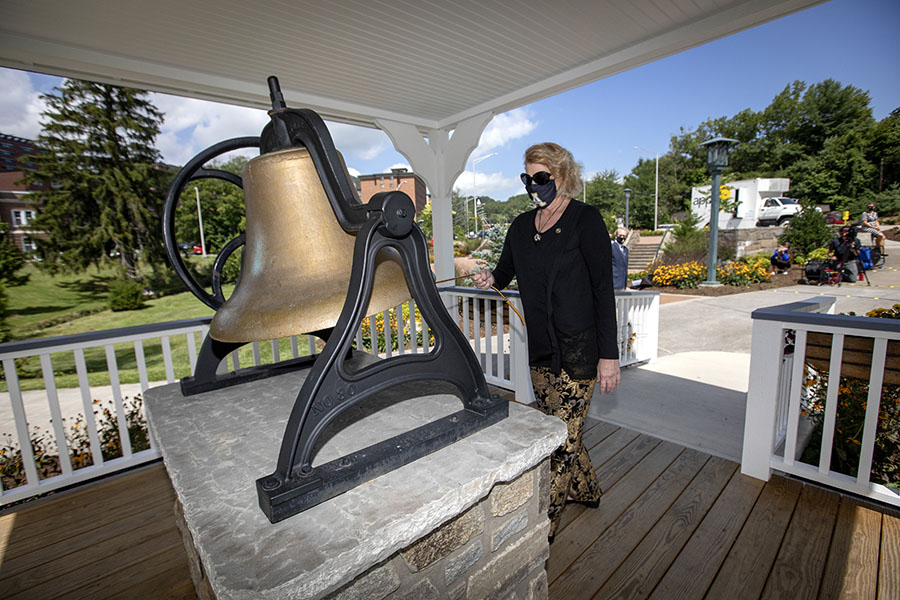 A cool breeze kept the black-eyed Susans dancing on a near-perfect afternoon in the High Country as Donna Fiori, Appalachian Alumni Council president, introduced the two inductees of the 2020 class of Appalachian's Bell Ringers Society: Dr. Baker Perry, the great-great-grandson of D.D. Dougherty and professor in Appalachian's Department of Geography and Planning, and Dr. Karl Campbell, associate professor in Appalachian's Department of History, chair of the university's History Committee and adviser for Founders Day historical activities.
The tradition of ringing the Founders Bell, an iconic symbol of Appalachian's history, was established Sept. 5, 2019, as the university celebrated its second annual Founders Day. Twelve members of the Appalachian Community were selected to ring the bell nine times each to signify the university's 120th anniversary as an innovator and leader in higher education. These 12 bell ringers were the inaugural members of Appalachian's Bell Ringers Society. New members are inducted into the society each year to ring the bell on Founders Day.
This year, the chancellor, Perry and Campbell each rang the bell seven times. Both inductees received bell ringer pins from Everts.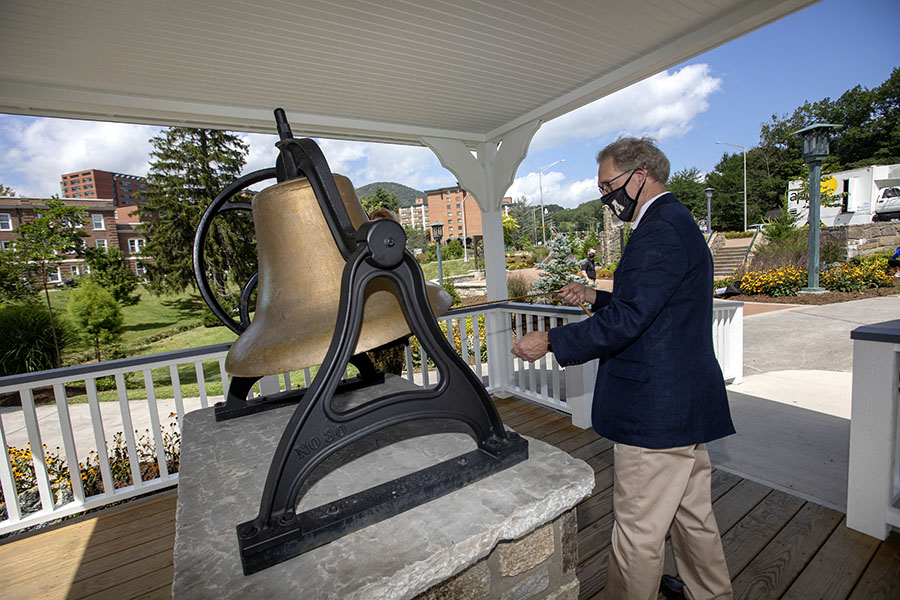 In her opening remarks, Everts noted, "We are working to tell a fuller history of our university — and of those who helped make it the institution it is now. We are also collectively examining our past and our present, and making needed changes to ensure the Appalachian Experience is inclusive and creates a legacy of which we can all be proud."
In concluding remarks by Student Government Association President Michael Davis, a senior majoring in political science from Wilkesboro, Davis affirmed the university's ability to sustain. "The past truly does build the foundation for the future, and I think the resilience that App State has shown this summer and in the beginning of this semester proves that when Mountaineers work together we can overcome any obstacle," he said.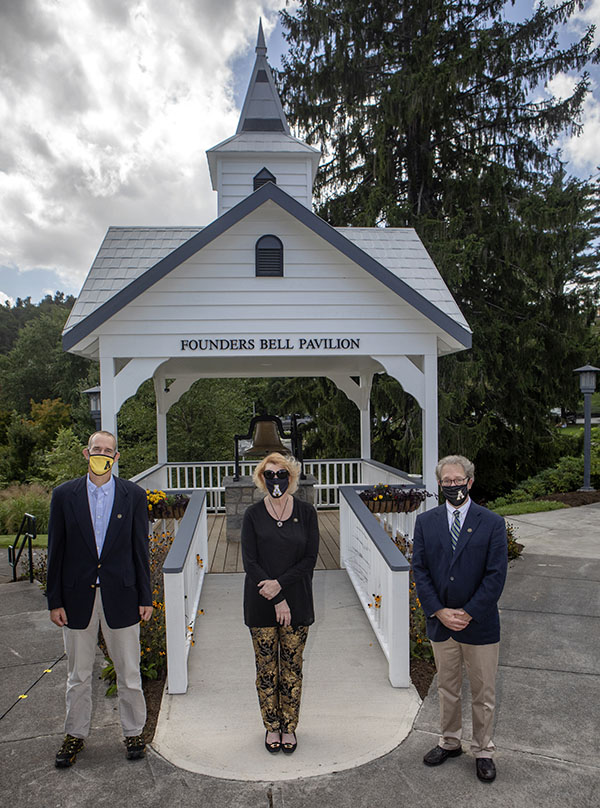 Residence hall ribbon-cuttings
About Thunder Hill and Raven Rocks Residence Halls
Earlier in the day, Everts led ribbon-cuttings at the two residence halls that were completed in time for students' arrival in August. She was joined by a limited number of people from the Appalachian Community and speakers Jeremy Doss, senior vice president of RISE: A Real Estate Company (RISE), the construction firm that completed the buildings, and J.J. Brown, vice chancellor for student affairs.
Thunder Hill and Raven Rock — for which the buildings are named — are scenic spots near campus on the Blue Ridge Parkway. In her remarks, Everts said, "Naming our buildings and spaces after local geography, geology and biology helps our students build a stronger connection with our region. Many of our students choose Appalachian, in part, because of our stunning location, so we take every opportunity to honor this beautiful area and its landmarks."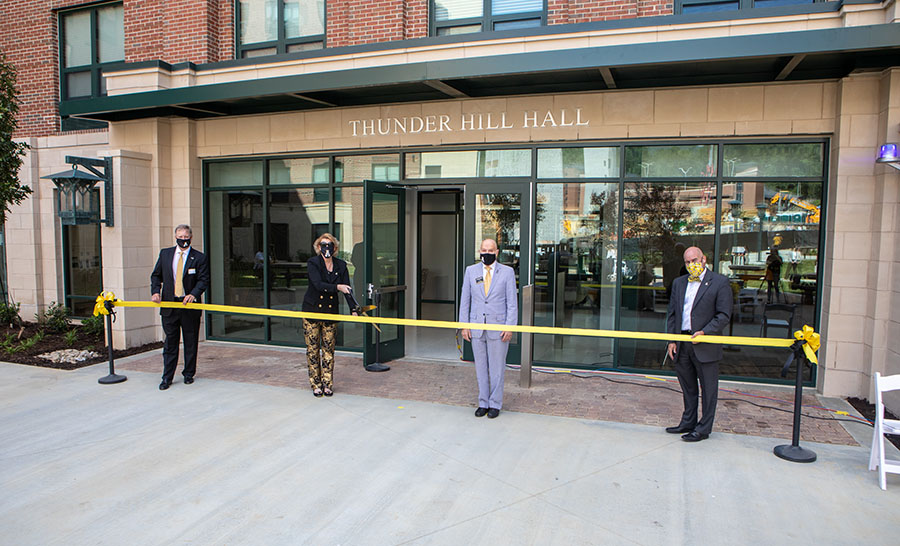 She continued, "As you look at this building, be assured it is far more than brick and mortar. It is a home for our students — a place where they will make memories, build a community and discover what it means to live and learn like a Mountaineer."
Vice Chancellor for Student Affairs J.J. Brown spoke to the value of the new residence halls to students' well-being. He said buildings such as these are "truly part of a student's transformational experience at App State," noting the spaces were designed to meet social and academic needs with smart technology, kitchens, laundry facilities and "small meeting spots and nooks and crannies that help students connect outside their rooms."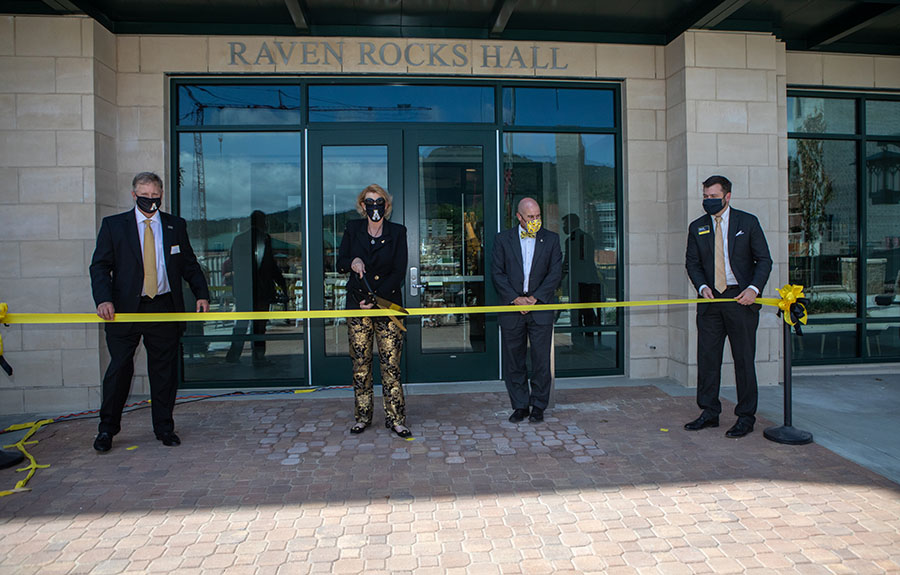 In his remarks, Doss thanked Appalachian and its leadership for the confidence indicated by the partnership and for the trust shared between the entities. He noted that despite the challenges of the pandemic, the buildings were completed on time and on budget. RISE was contracted by the university to complete a three-phase plan to redevelop some of App State's residential housing, which involves replacing nearly 1,800 beds and adding 300–400. Phase 2 is slated to be completed August 2021. Read more about these and other construction projects on App State's campus.
About Thunder Hill and Raven Rocks Residence Halls
What do you think?
Share your feedback on this story.
About Appalachian State University
As the premier public undergraduate institution in the Southeast, Appalachian State University prepares students to lead purposeful lives as global citizens who understand and engage their responsibilities in creating a sustainable future for all. The Appalachian Experience promotes a spirit of inclusion that brings people together in inspiring ways to acquire and create knowledge, to grow holistically, to act with passion and determination, and to embrace diversity and difference. Located in the Blue Ridge Mountains, Appalachian is one of 17 campuses in the University of North Carolina System. Appalachian enrolls nearly 21,000 students, has a low student-to-faculty ratio and offers more than 150 undergraduate and graduate majors.