App State's Bell Ringers Society — Class of 2021 members
Posted Oct. 8, 2021 at 8:52 a.m.
BOONE, N.C. — Mountaineers welcomed fall with a flurry of activities from Sept. 17–19 — highlighted by the fourth annual Founders Day celebration, during which a crowd gathered at Founders Plaza on App State's campus Sept. 17 to honor the university's founders, history and traditions.
Founders Day commemorates the anniversary of the first day of classes held in 1899 at Watauga Academy — the educational institution founded by B.B. Dougherty, D.D. Dougherty and Lillie Shull Dougherty that evolved to become Appalachian State University in 1967.
"Reflecting on our past emphasizes our longstanding, institutional commitment to increasing access to education for all," said App State Chancellor Sheri Everts. "This commitment to access — which was set forth by our founders — has guided us to be the forward-thinking university we are today."
During the challenges of the past 18 months, as the university confronted the COVID-19 pandemic, Everts said the Appalachian Community rallied to find every opportunity to create positive experiences for students and move the university forward. "Through two World Wars, the Great Depression and the first global pandemic, Mountaineer spirit continues to prevail," she said.
The history and future of App State are intrinsically interwoven with that of the High Country. As a guest speaker at the ceremony, App State alumnus David Jackson '00, president and CEO of the Boone Area Chamber of Commerce and former staff member at the university, expressed his appreciation for the partnership between the town and the university.
He said, "There's no secret that all of us understand what it means to have the black and gold spirit inside us."
Bell Ringers Society chimes in 7 new members
The tradition of ringing the Founders Bell, an iconic symbol of App State's history, was established in 2019, as the university celebrated its second annual Founders Day.
Each inductee of App State's Bell Ringers Society rings the bell and receives a commemorative pin from the chancellor.
Dr. Karl Campbell, associate professor in App State's Department of History and chair of the university's History Committee, introduced the 2021 class of the Bell Ringers Society — with members representing "the App State that was, the App State that is and the App State that is to come," he said.
In his remarks, the historian asked Founders Day attendees to consider how the actions of today's Appalachian Community will affect Mountaineers of tomorrow: "How will history look back on us from 100 years in the future? Will it be said that we emerged from our present situations with flying colors? Will our actions be remembered with pride?"
He continued, "A century ago, our community exemplified the power of resilience and unity. Let's work together to make our own positive contribution to the historical legacy of Appalachian State University."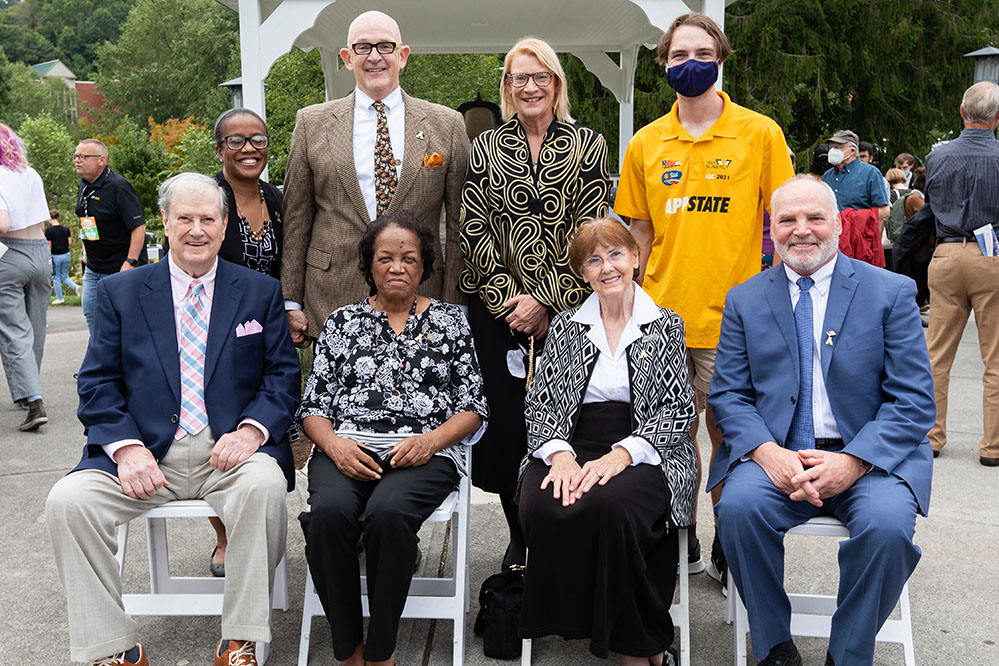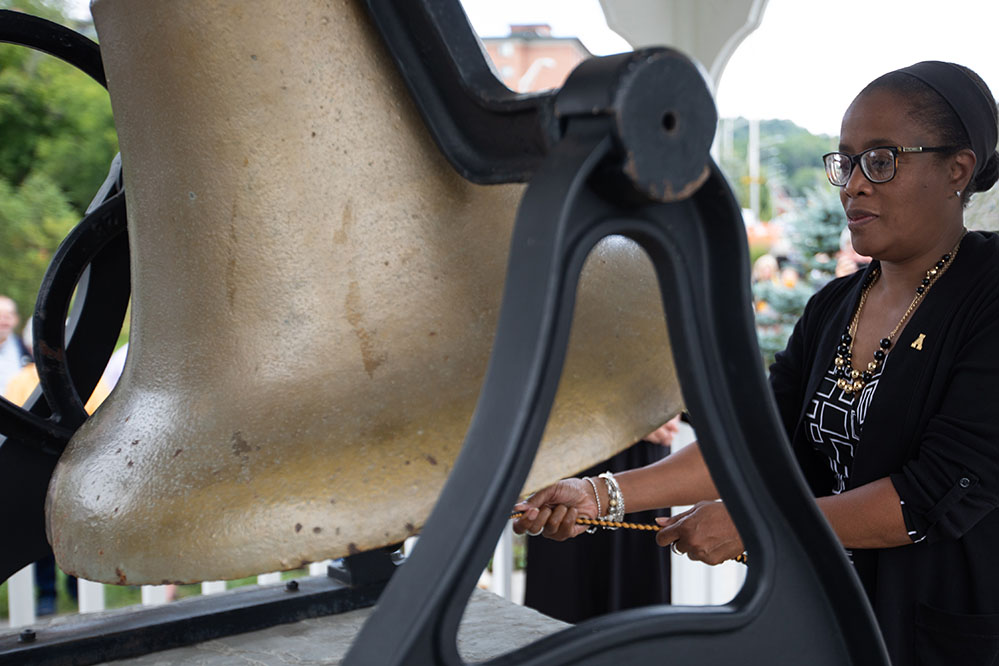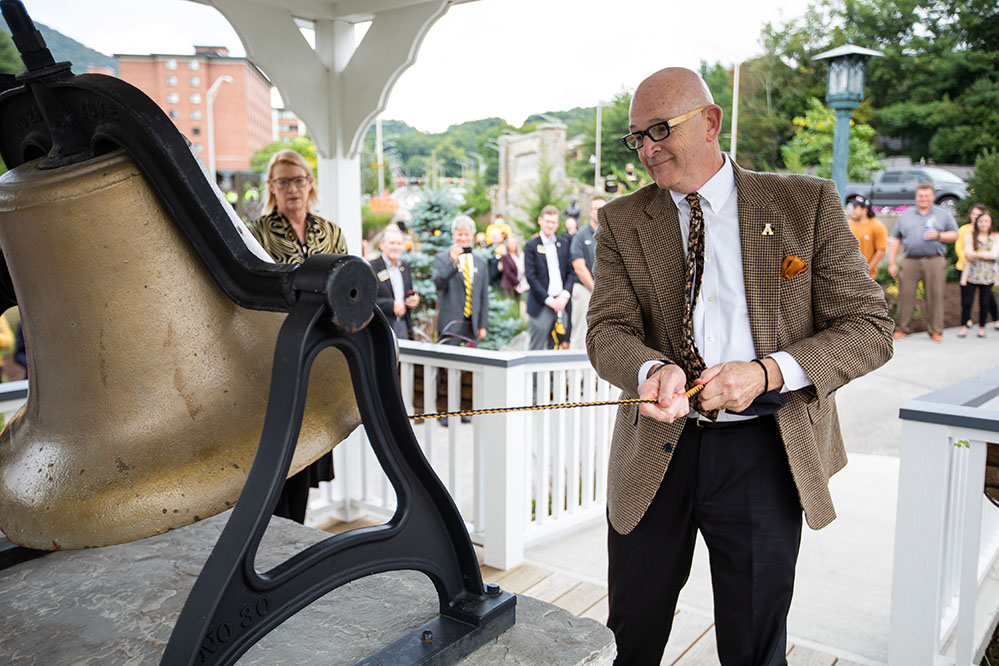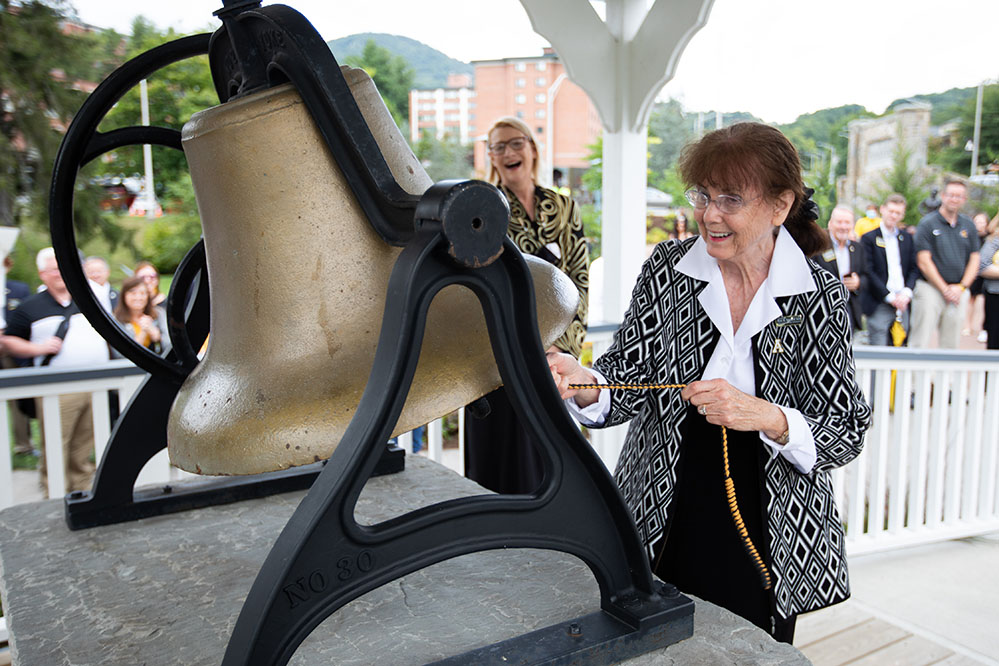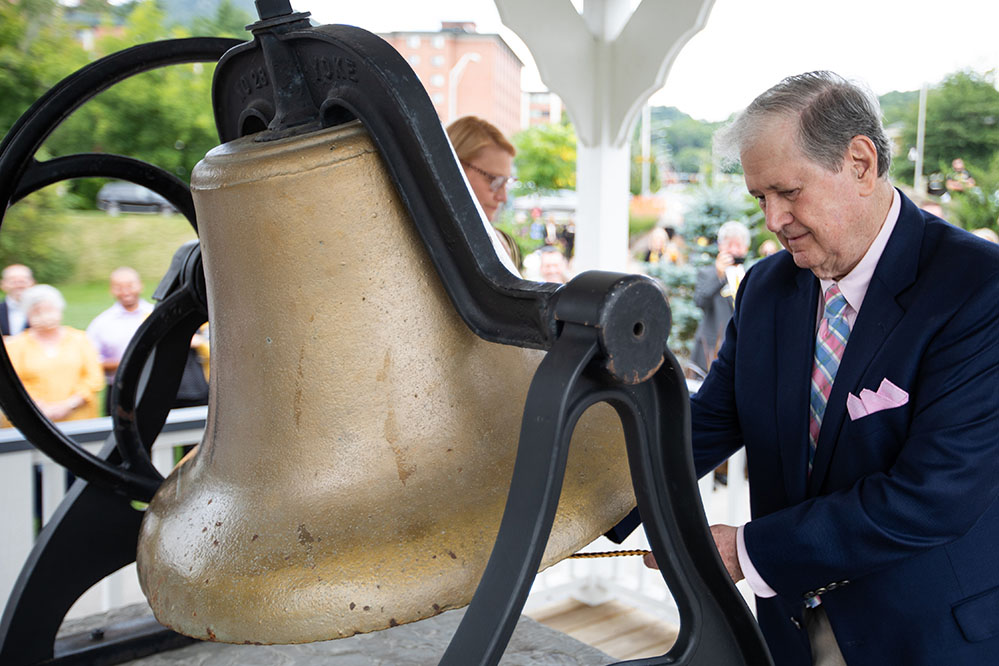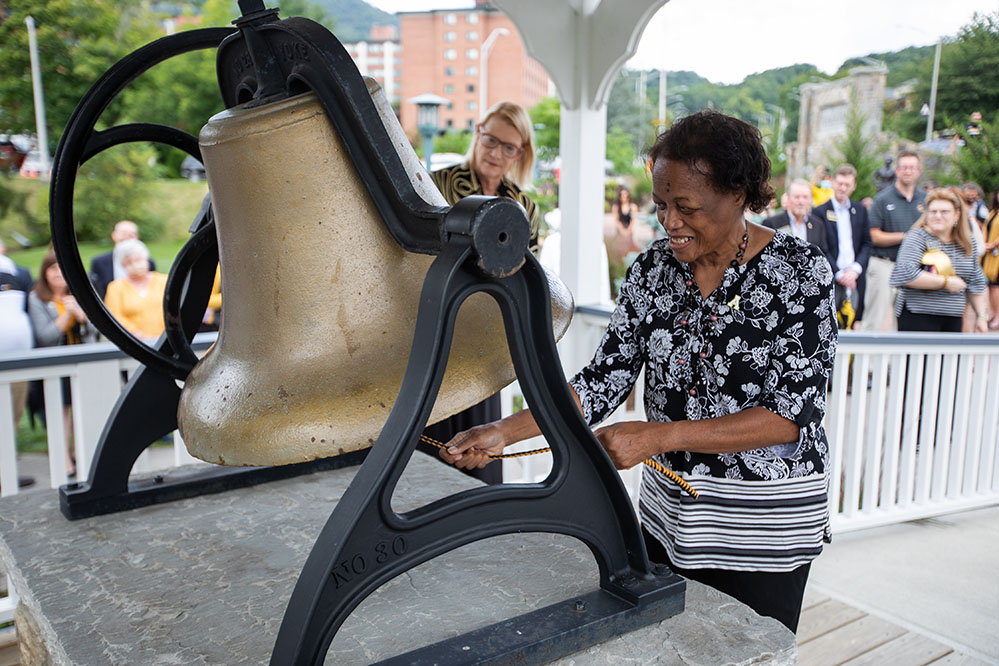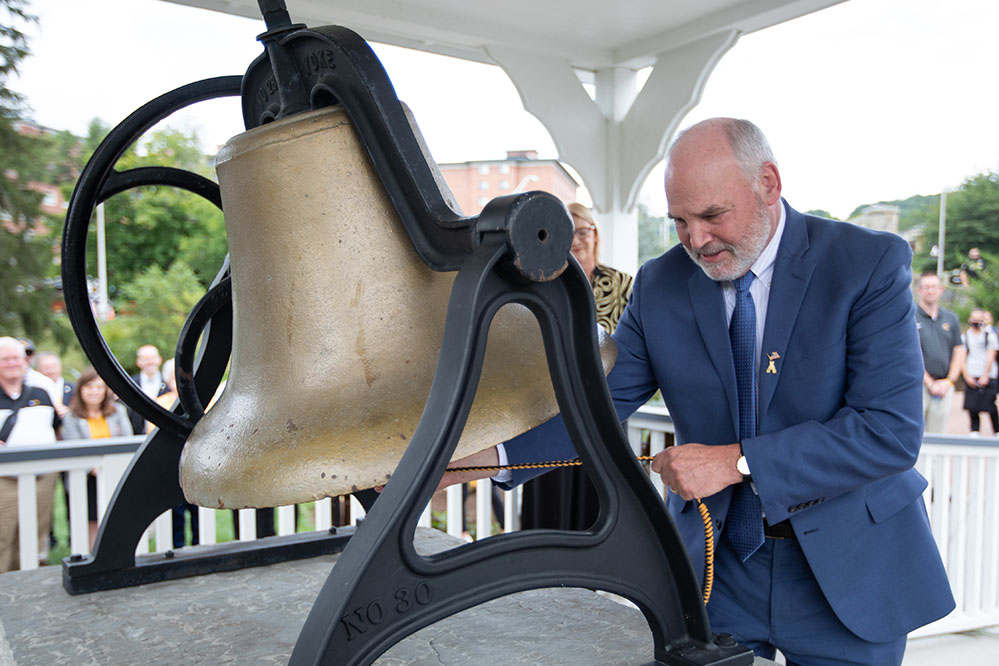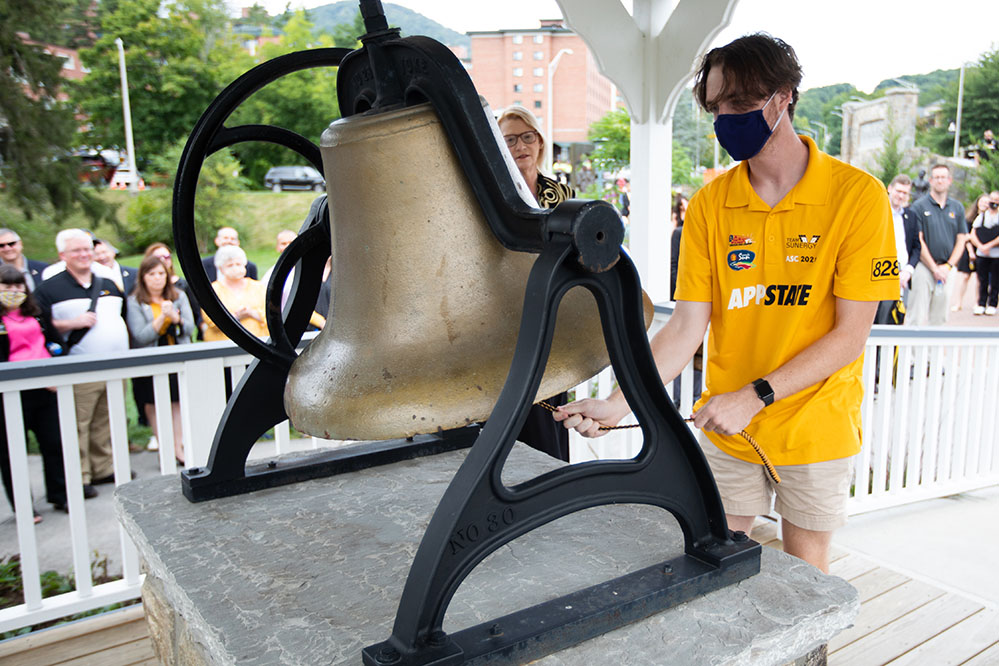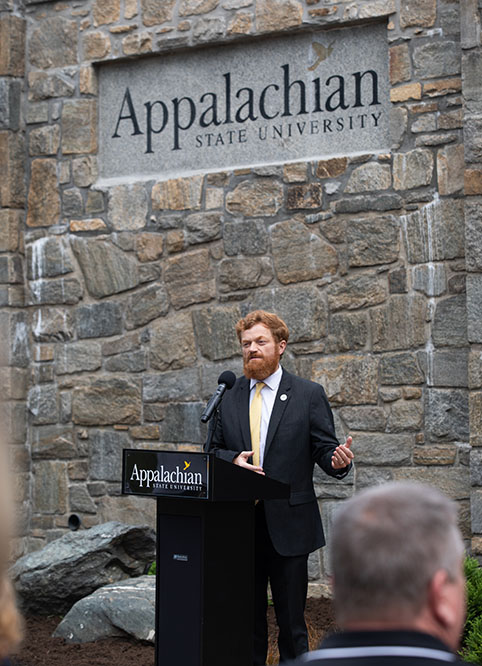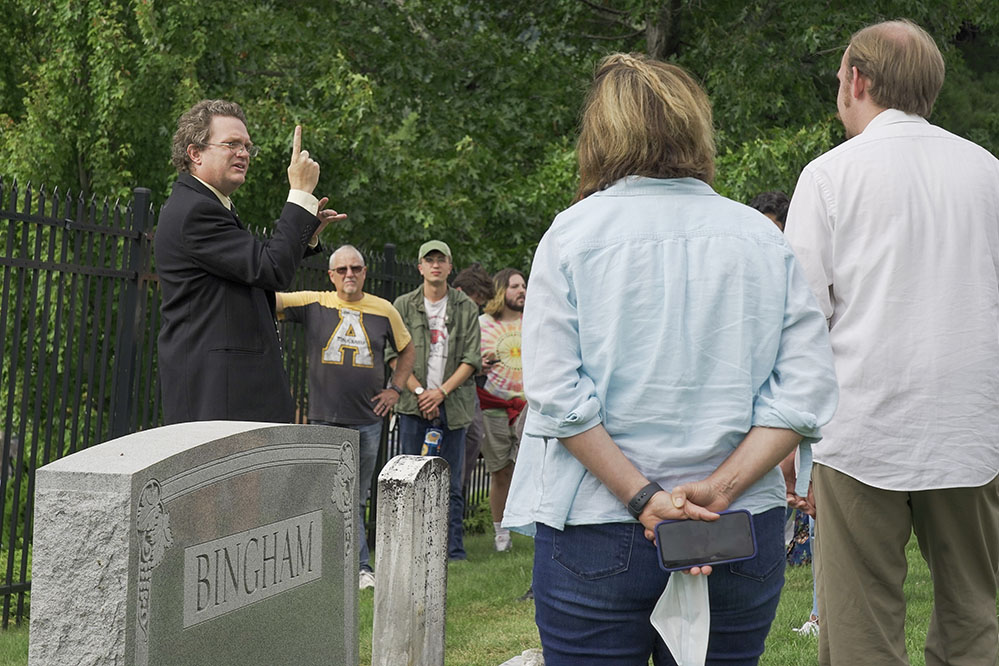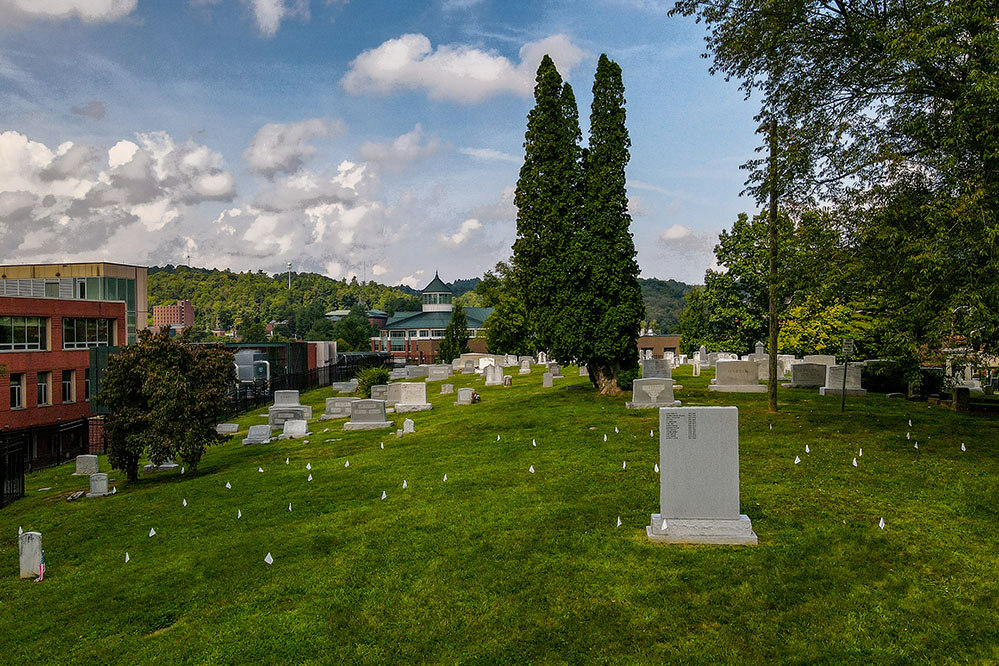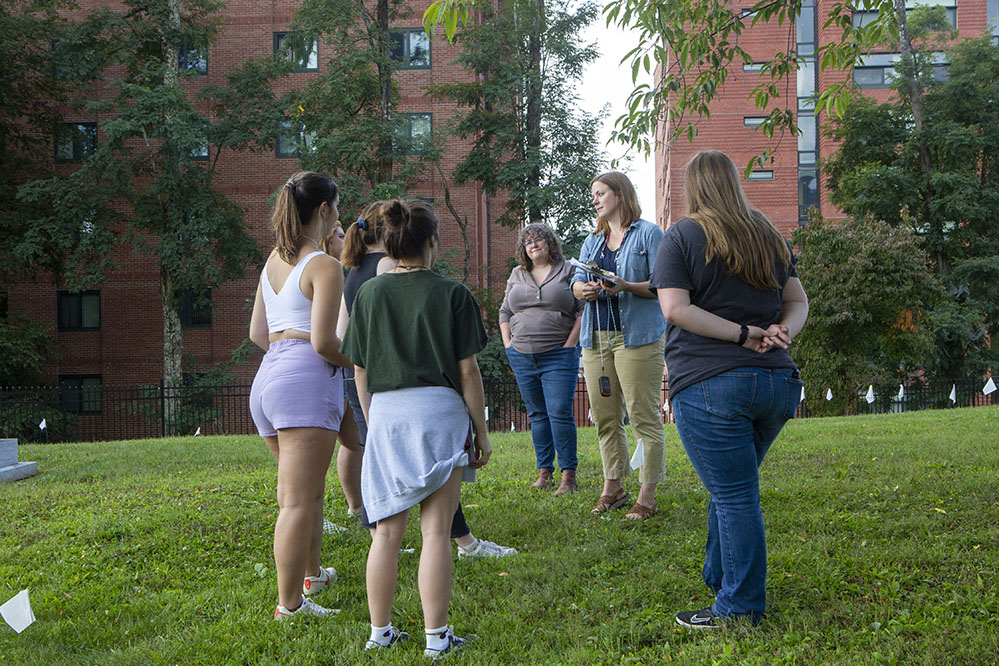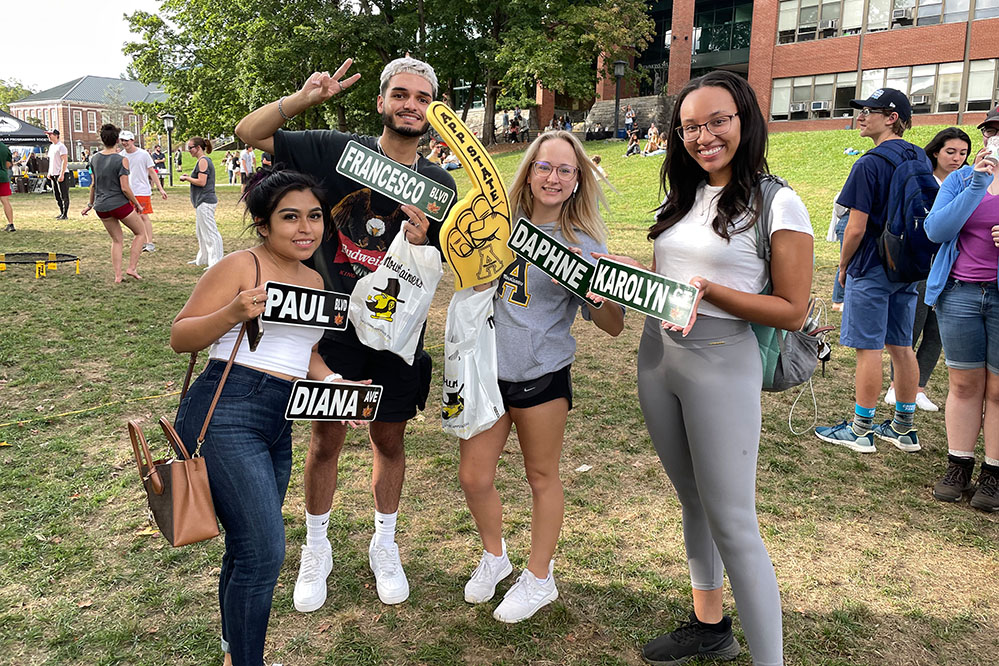 History in the cemetery
Earlier in the day, Founders Day attendees had the opportunity to learn more about App State's history through a presentation about the historic cemetery located on campus, given by senior lecturer Trent Margrif. Known as the Boone Cemetery, the site is home to some historic figures from the town and university who are buried there.
After the Founders Day ceremony on Founders Plaza, Margrif led a tour of the cemetery, highlighting gravesites of notable town and university members, as well as a number of graves of Black individuals that are unmarked. The latter graves were flagged for the Founders Day tour by Department of Anthropology students, to showcase ongoing work for a preservation project by the Junaluska Heritage Association.
AppalFest on Sanford Mall
Free food, music, crafts and fun. What was not to love about the Founders Day finale on Sanford Mall? Students flocked to AppalFest to listen to music by a DJ, feast on hot dogs and cotton candy, frolic on inflatable slides and rev up their school spirit for the Mountaineers' first home football game of the 2021 season, which took place Sept. 18.
With this year's Founders Day coinciding with the kickoff of App State's Family Weekend, the event on Sanford Mall provided the opportunity for students to celebrate campus life and Mountaineer history with their families.
What do you think?
Share your feedback on this story.
App State's Bell Ringers Society — Class of 2021 members
About Appalachian State University
As the premier public undergraduate institution in the Southeast, Appalachian State University prepares students to lead purposeful lives as global citizens who understand and engage their responsibilities in creating a sustainable future for all. The Appalachian Experience promotes a spirit of inclusion that brings people together in inspiring ways to acquire and create knowledge, to grow holistically, to act with passion and determination, and to embrace diversity and difference. Located in the Blue Ridge Mountains, Appalachian is one of 17 campuses in the University of North Carolina System. Appalachian enrolls nearly 21,000 students, has a low student-to-faculty ratio and offers more than 150 undergraduate and graduate majors.