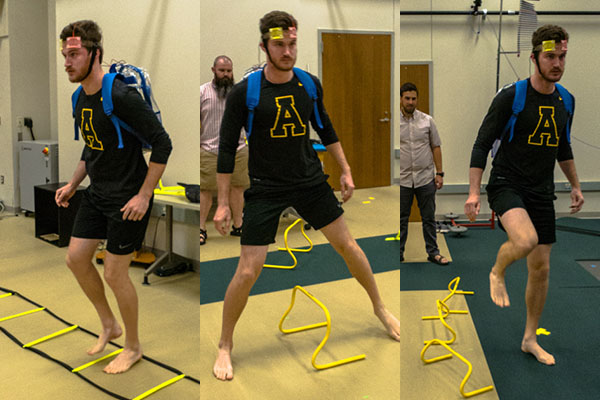 Posted Oct. 19, 2021 at 3:32 p.m.
BOONE, N.C. — If you've sprained your ankle once, it's likely it has or will happen again.
According to Appalachian State University's Dr. Alan Needle, research shows between 50% and 70% of people who have suffered an ankle sprain — the most common injury seen in active people — will suffer another.
Needle, an associate professor in the Department of Health and Exercise Science (HES), has received $57,349 in grant funding from the National Athletic Trainers' Association (NATA) Research and Education Foundation for research that might alter that trend.
One of the reasons individuals continue to "roll" their ankles during activity, Needle said, is changes in how, post an initial sprain, the brain and nervous system adapt to plan and execute movement. "These changes cause individuals to move in a way that makes them more likely to injure themselves," he said.
In order to prevent these repetitive injuries, Needle and his research team are proposing methods to address the altered brain and nervous system's way of coordinating movement using common rehabilitative balancing and agility exercises — while transmitting a low-level electrical current through the brain.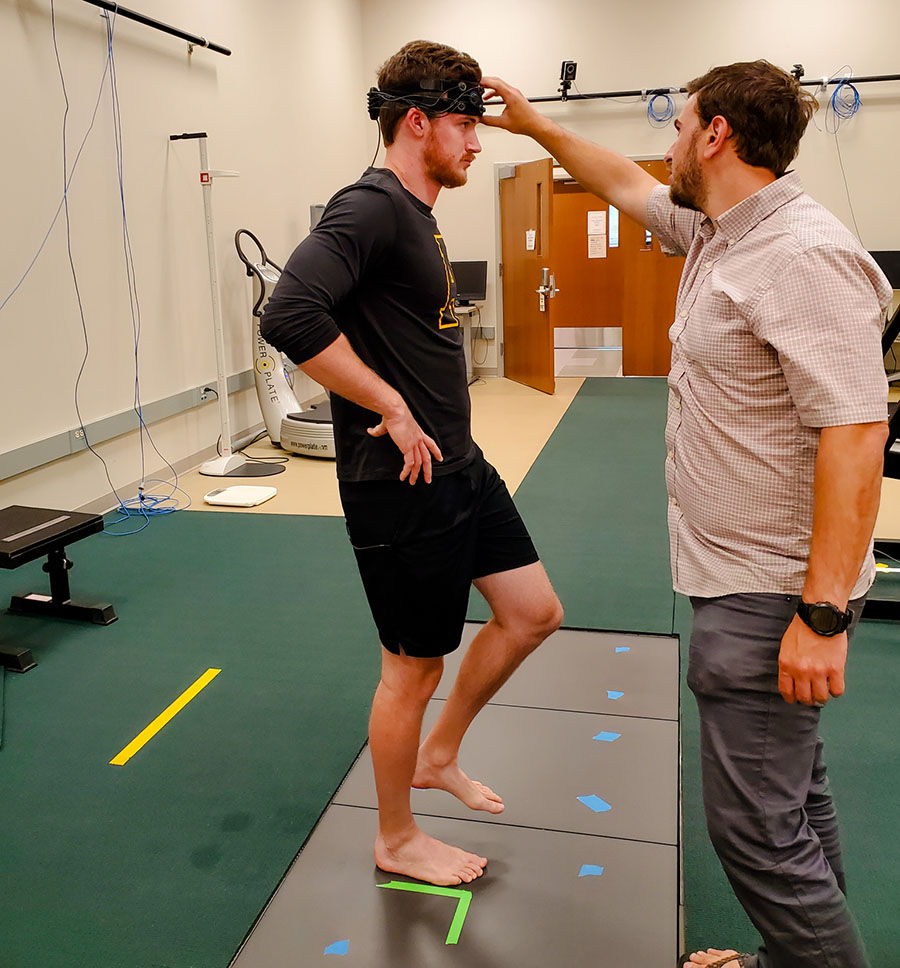 By running this current through either the part of the brain that executes movement or through the part of the brain that plans movement, Needle said he hopes to determine if either is better at improving function for patients with repeated ankle sprains over the course of a four-week rehabilitation regimen.
The project, titled "How to TRAIN Pathways: Targeted Rehabilitation of Ankle Instability through Neurological Pathways," began in May and will continue through August 2024.
Needle's project collaborators are App State's Dr. Jennifer Howard, associate professor in the HES department, and Dr. Jared Skinner, assistant professor in the HES department.
What do you think?
Share your feedback on this story.
About the Department of Public Health and Exercise Science
The Department of Public Health and Exercise Science in Appalachian State University's Beaver College of Health Sciences delivers student-centered education that is accentuated by quality teaching, scholarly activity and service. The department includes two undergraduate academic disciplines: exercise science and public health. The department also offers a master's degree in exercise science, which prepares students for advanced study in a variety of related fields as well as research. Learn more at https://phes.appstate.edu.
About the Beaver College of Health Sciences
Appalachian State University's Beaver College of Health Sciences (BCHS), opened in 2010, is transforming the health and quality of life for the communities it serves through interprofessional collaboration and innovation in teaching, scholarship, service and clinical outreach. BCHS offers nine undergraduate degree programs and seven graduate degree programs, which are organized into six departments: Nursing, Nutrition and Health Care Management, Public Health and Exercise Science, Recreation Management and Physical Education, Rehabilitation Sciences, and Social Work. The college's academic programs are located in the Holmes Convocation Center on App State's main campus and the Leon Levine Hall of Health Sciences, a state-of-the-art, 203,000-square-foot facility that is the cornerstone of the Wellness District. In addition, the college supports the Blue Cross NC Institute for Health and Human Services and has collaborative partnerships with the Wake Forest School of Medicine's Physician Assistant Program, UNC Health Appalachian and numerous other health agencies. Learn more at https://healthsciences.appstate.edu.
About Appalachian State University
As the premier public undergraduate institution in the Southeast, Appalachian State University prepares students to lead purposeful lives. App State is one of 17 campuses in the University of North Carolina System, with a national reputation for innovative teaching and opening access to a high-quality, affordable education for all. The university enrolls more than 21,000 students, has a low student-to-faculty ratio and offers more than 150 undergraduate and 80 graduate majors at its Boone and Hickory campuses and through App State Online. Learn more at https://www.appstate.edu.