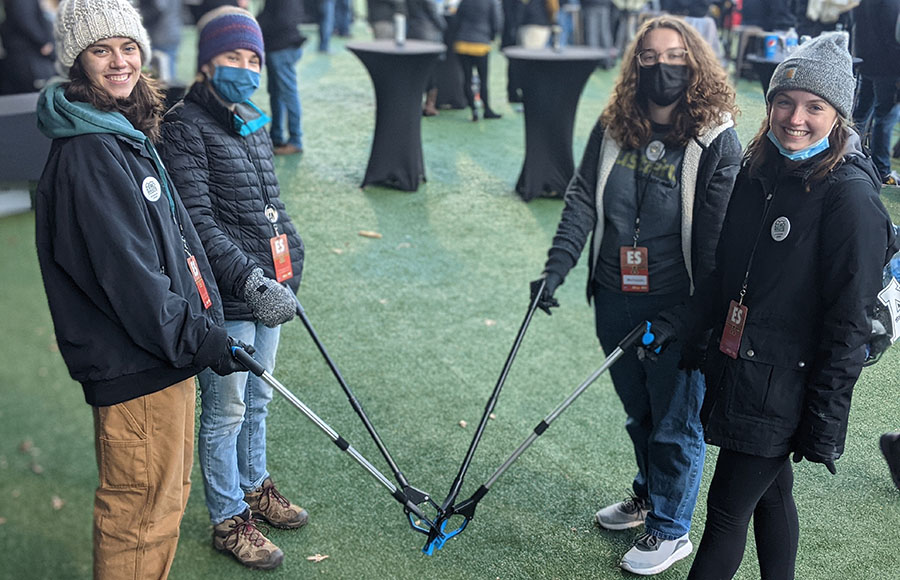 Are you passionate about sustainability?
Posted Dec. 10, 2021 at 11:01 a.m.
BOONE, N.C. — Student Sustainability Ambassadors provide a personal connection between the Mountaineer community and the message of sustainability on Appalachian State University's campus.
Whether they are behind an information table on Sanford Mall, speaking to student clubs and organizations, conducting an upcycling (creative reuse) workshop or helping fans sort their tailgate trash at football games — the ambassadors serve as the "face of sustainability," said Rebecca Walton '15, sustainability outreach director in App State's Office of Sustainability.
Peer-to-peer education is among the most effective methods of disseminating information, Walton said. The Office of Sustainability employs 20 Sustainability Ambassadors who each work about five hours a week. They plan and hold education events, create videos and social media posts to build awareness and engage with others on sustainability issues.
Walton also supervises a new team of five Zero Waste Ambassadors who specialize in composting, recycling and promoting methods to keep trash from ending up at landfills. The team has recently been partnering with residence halls and some of the food service establishments on campus to conduct "deep dives into the zero waste aspects of those locations, sharing best practices and making recommendations for improvement," Walton said.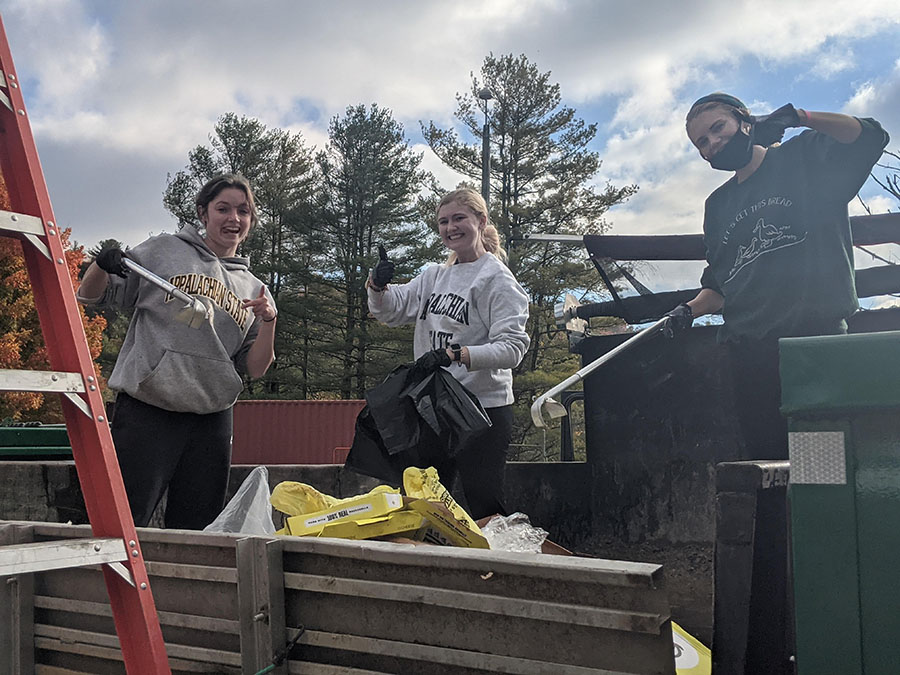 Campus connections
Becca Glebus, a senior from Greensboro who is majoring in sustainable development-environmental studies and minoring in biology, has been a Sustainability Ambassador for three years.
"I wanted to make a difference on campus," Glebus said. "I am passionate about sustainability and wanted to educate more people — especially students — on how to live a more sustainable lifestyle."
This semester, Glebus manages the ambassadors' Instagram account and helps write a newsletter and blog to share ideas with students and let them know about upcoming events.
In the fall 2021 semester, the Office of Sustainability and the student ambassadors conducted and/or participated in more than 100 total outreach events and activities, some of which included:
A tree planting on campus, as part of App State's Tree Campus USA recertification efforts.
The Mascot Recycling Challenge, a competition among several universities in the Carolinas to gather the most plastic bottles for recycling.
The Free Store Roadshow — a weekly used clothing giveaway on App State's Sanford Mall. The sustainability office also offers the Mountaineer Food Hub and Free Store in the bottom floor of East Hall, where students and staff can claim clothes and winter gear, books and household items that have been previously owned.
A trivia night event during which students learned about sustainability while competing for prizes.
Zero waste events at home football games, Founders Day events and App State homecoming events, with ambassadors on-site to educate attendees and help sort trash items.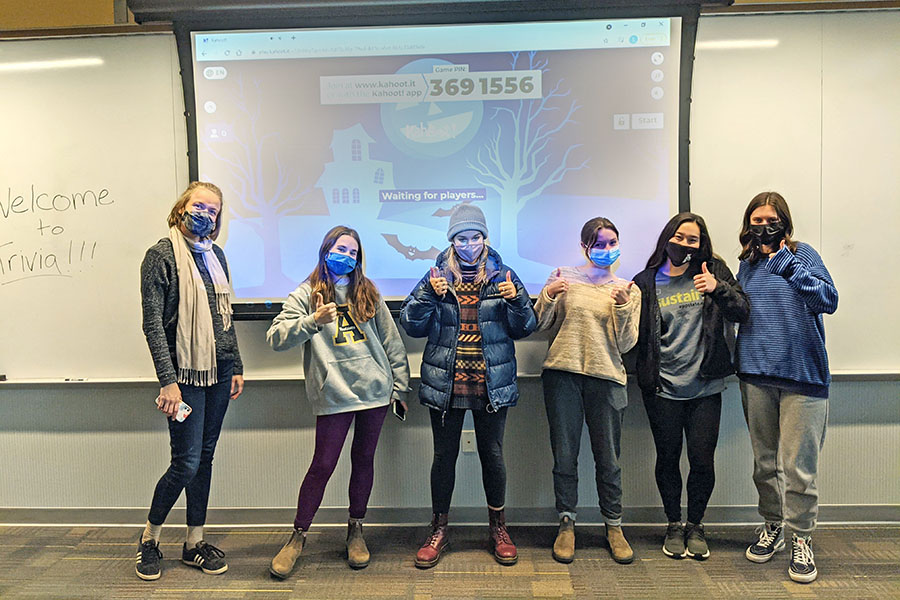 Connections in the residence halls
Crystal Norford, a sophomore from Lexington who is majoring in sustainable development-environmental studies with a double minor in global studies and sustainable business, is serving her first year as a Sustainability Ambassador.
In her position, Norford helps manage the Eco-Reps — volunteers from each residence hall who serve as liaisons, bringing the message of sustainable living to those residing on campus.
Eco-Reps attended a retreat this year to learn about sustainability, and they work with Norford and the Office of Sustainability to plan and execute green/educational events within their residence halls. They encourage resident participation in GreenAppal — a certification program for App State students to commit to sustainable practices in their energy consumption, lifestyles, and food and transportation choices.
Some students served as Eco-Reps or other sustainability office volunteers prior to being hired as ambassadors, Walton said. "We look for students who have a passion about sustainability and about App State. The ability to get along and work as a member of a team is also key," she added.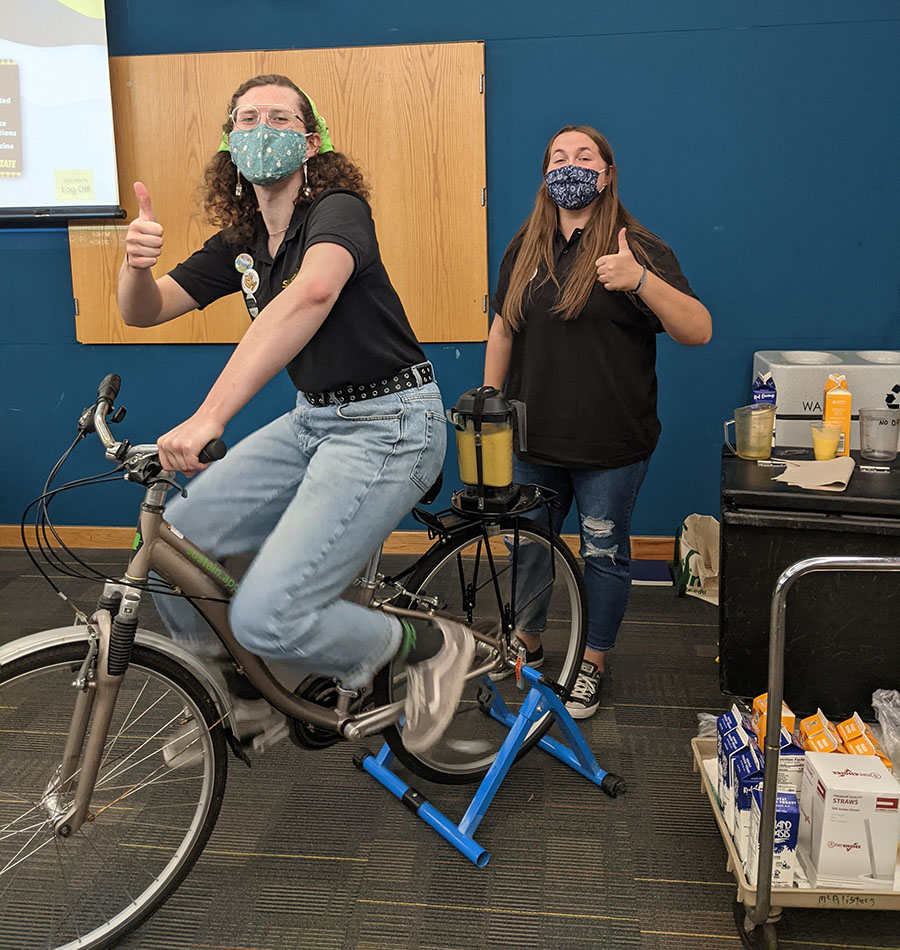 The experience of being a Sustainability Ambassador has been meaningful for her, Norford shared, as she has witnessed others find a passion for sustainability through community engagement.
"I get to help educate the campus community on how to work toward a more sustainable future," she said.
What do you think?
Share your feedback on this story.
Are you passionate about sustainability?
About Sustainability at Appalachian
Appalachian State University's leadership in sustainability is known nationally. The university's holistic, three-branched approach considers sustainability economically, environmentally and equitably in relationship to the planet's co-inhabitants. The university is an active steward of the state's interconnected financial, cultural and natural resources and challenges students and others think critically and creatively about sustainability and what it means from the smallest individual action to the most broad-based applications. The university offers both undergraduate and graduate academic degree programs that focus on sustainability. In addition, 100 percent of Appalachian's academic departments offer at least one sustainability course or course that includes sustainability, and all students graduate from programs that have adopted at least one sustainability learning outcome. Learn more at https://appstate.edu/sustainability.
About Appalachian State University
As the premier public undergraduate institution in the Southeast, Appalachian State University prepares students to lead purposeful lives. App State is one of 17 campuses in the University of North Carolina System, with a national reputation for innovative teaching and opening access to a high-quality, affordable education for all. The university enrolls more than 21,000 students, has a low student-to-faculty ratio and offers more than 150 undergraduate and 80 graduate majors at its Boone and Hickory campuses and through App State Online. Learn more at https://www.appstate.edu.