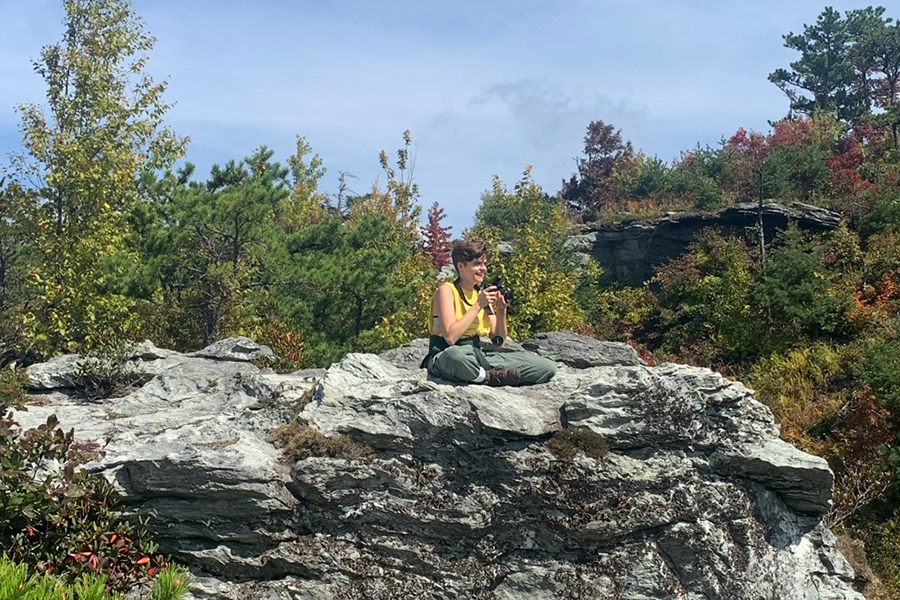 Posted March 22, 2022 at 11:30 a.m.
BOONE, N.C. — Appalachian State University's Dr. Alice Wright and Dr. Cameron Gokee are leading an App State research team into the steep and rugged terrain of the Linville Gorge Wilderness area (LGWA) — with eyes peeled for evidence of ancient activity.
In discovering and documenting probable archaeological sites in the gorge, they hope to learn more about the lives of ancestral Cherokee and Catawba and other Indigenous people who once used the land while facilitating the preservation of cultural resources.
Wright and Gokee, associate professor and assistant professor, respectively, in App State's Department of Anthropology, have partnered with the National Forests in North Carolina (NFNC) since 2020 to conduct the first broad-scale archaeological survey of LGWA. In fall 2021, they received an $86,000 grant from the U.S. Department of Agriculture Forest Service to support the project through 2025.
"The grant — which funds undergraduate research assistants and summer internships for recent graduates — provides our students an unparalleled opportunity to gain real-world experience in cultural resource management, setting them up for future employment in both governmental and private sector archaeology," Wright said.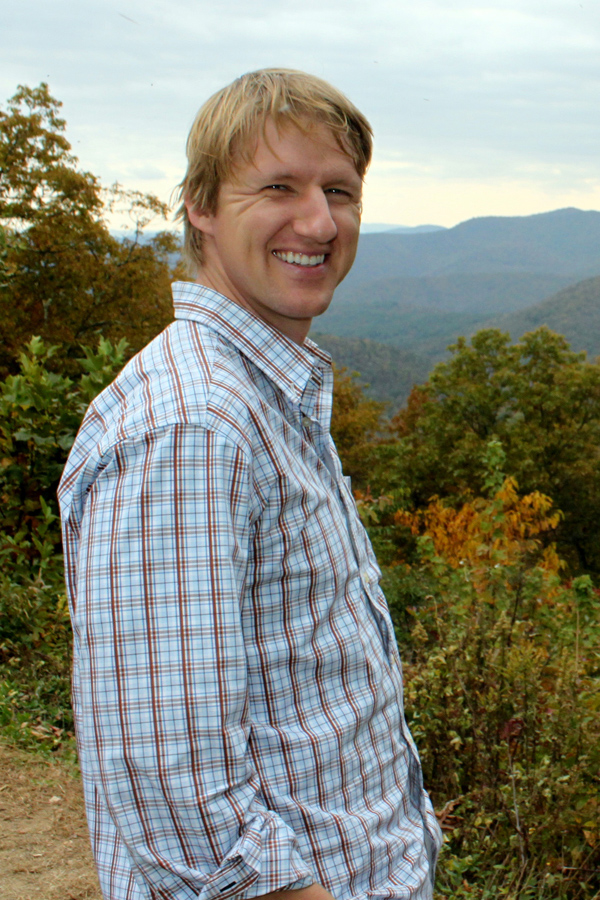 In their research, the team's first goal is to locate potential archaeological sites: Rock shelters or other areas used by ancient Indigenous people for camping, hunting, stone quarrying and ceremonial activities.
Gokee, an expert in terrestrial archaeological surveys and the use of GPS and mapping equipment, uses satellite imagery to help predict where sites of interest might be located. The research team then hikes to selected areas to investigate. Depending on the site, the team may collect artifacts to study in the lab at App State.
Ultimately, Gokee said the goal is to provide the U.S. Forest Service with a map showing confirmed and likely areas for archaeological sites so they can plan future hiking trails and manage recreational usage to limit impact on these areas, if possible.
"We can use these same maps to better understand how Native people in the past were utilizing the landscape," Gokee added.
Wright said the project serves multiple purposes, including:
Providing data to NFNC, so that the agency may responsibly manage the wilderness area, balancing demands of recreation and preservation.
Preserving sites important to NFNC's Native American Tribal partners as tangible connections to their heritage and the landscape.
Raising awareness among hikers, campers and climbers so that they may gain a new appreciation for the area's cultural history while fostering a sense of stewardship that will contribute to its preservation.
Providing hands-on field training for App State students on a real-world project, so that they can learn how archaeology can make a difference to a variety of stakeholders.
Gokee said the project is an "incredible opportunity for our students to cultivate key practical skills for archaeology," citing field methods for discovering and documenting sites, methods for identifying and studying artifacts, and practical experience in working with partners in the U.S. Forest Service and in writing technical reports and grant proposals.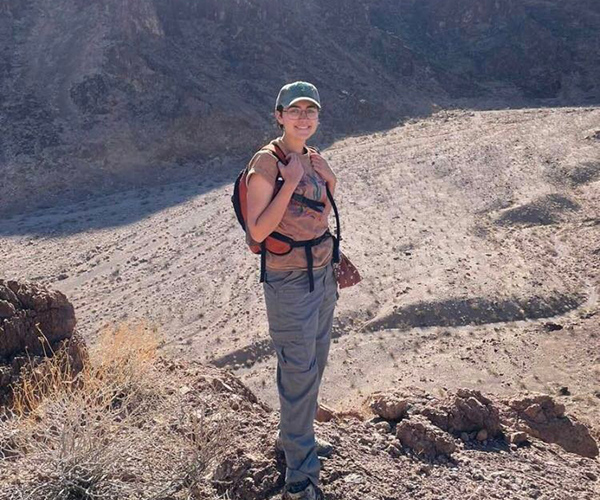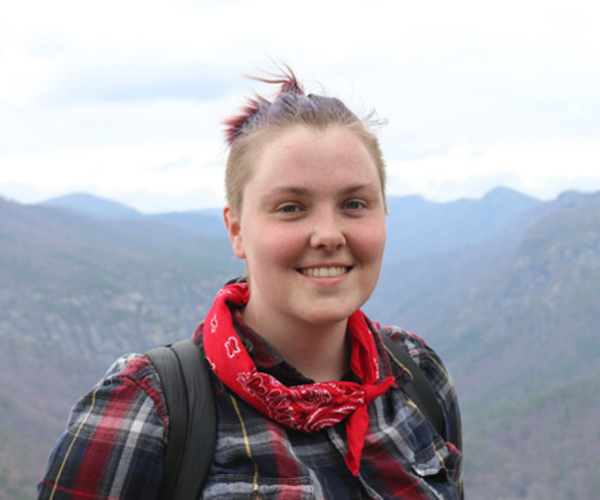 Engaging students, engaging the community
Caroline Boerger '21, who graduated summa cum laude from App State with a Bachelor of Science in multidisciplinary anthropology, spearheaded a community outreach effort while working with the Linville Gorge Archaeological Survey team when she was a student.
Local hiking and climbing groups have an "intimate knowledge of the landscape" and have a "love for history and the land," Boerger said. Reaching out to the groups provided valuable insights and information to the App State research team, she said.
Boerger, who is an archaeological technician in the Cultural Resources Department at Lake Mead National Recreation Area in southeastern Nevada, said her experiences working on the Linville Gorge project helped her grow as a student and prepared her for the work she does in her career.
App State senior Ann-Marie Mignone, from Gibsonville, is the current undergraduate research assistant on the research team. She said she has appreciated the chance to witness the management and policies involved in this type of work, which she expects will prepare her for a role in cultural resource management after she graduates.
Wright added, "Our research demonstrates to students that there is real-world work to be done in archaeology — beyond what they might read about in a magazine or see in the movies. It's something they can pursue as a career, and something that makes a difference to a lot of people."
What do you think?
Share your feedback on this story.
About the Department of Anthropology
The Department of Anthropology offers a comparative and holistic approach to the study of the human experience. The anthropological perspective provides a broad understanding of the origins as well as the meaning of physical and cultural diversity in the world — past, present and future. Learn more at https://anthro.appstate.edu.
About the College of Arts and Sciences
The College of Arts and Sciences (CAS) at Appalachian State University is home to 17 academic departments, two centers and one residential college. These units span the humanities and the social, mathematical and natural sciences. CAS aims to develop a distinctive identity built upon our university's strengths, traditions and unique location. The college's values lie not only in service to the university and local community, but through inspiring, training, educating and sustaining the development of its students as global citizens. More than 6,400 student majors are enrolled in the college. As the college is also largely responsible for implementing App State's general education curriculum, it is heavily involved in the education of all students at the university, including those pursuing majors in other colleges. Learn more at https://cas.appstate.edu.
About Appalachian State University
As the premier public undergraduate institution in the Southeast, Appalachian State University prepares students to lead purposeful lives. App State is one of 17 campuses in the University of North Carolina System, with a national reputation for innovative teaching and opening access to a high-quality, affordable education for all. The university enrolls more than 21,000 students, has a low student-to-faculty ratio and offers more than 150 undergraduate and 80 graduate majors at its Boone and Hickory campuses and through App State Online. Learn more at https://www.appstate.edu.