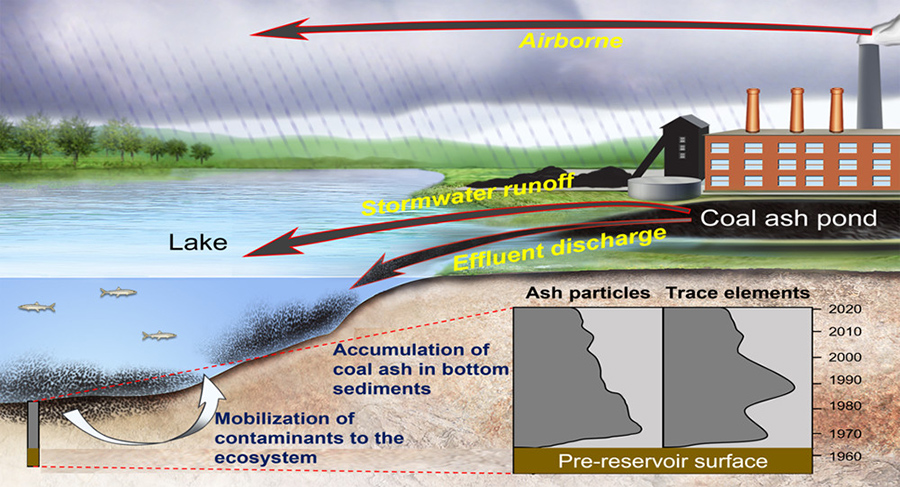 Posted Oct. 24, 2022 at 1:07 p.m.
DURHAM, N.C. — An analysis of sediments from five North Carolina lakes near coal-burning power plants has found that coal ash pollution of surface waters has been more persistent and widespread than previously known.
The findings, from scientists at Appalachian State University, Duke University and Montclair State University, show that large quantities of coal ash have been transferred and deposited in lake sediments since the beginning of coal operations in North Carolina. The study appeared online Oct. 3 in the peer-reviewed journal Environmental Science & Technology.
"The bottom sediments of a lake represent a complete history of what has fallen into the lake water and settled to the bottom," said Dr. Avner Vengosh, the Distinguished Professor of Environmental Quality in Duke University's Nicholas School of the Environment. "Using our age dating methods, we were able to go back in time, in some cases even before the coal plant was built, and reconstruct the history of the lakes."
Coal ash is the residual material produced from burning coal to generate electricity and is known to contain hazardous metals, including lead, chromium, cadmium, mercury, arsenic, selenium and molybdenum, many of which have been tied to human cancers and other health effects. The five lakes in the study were created for nearby coal plants:
Hyco Lake and Mayo Lake, North of Durham in Person County.
Belews Lake, northwest of Greensboro in Rockingham, Forsyth and Stokes counties.
Mountain Island Lake, northwest of Charlotte in Mecklenburg County.
Lake Sutton, northwest of Wilmington in Brunswick County.
For comparison, the researchers also sampled Lake Waccamaw in Columbus County, a natural lake located west of Wilmington that was dammed in 1926 so it wouldn't dry out during droughts.
"By looking at the microscope, we were able to identify the different types of coal ash that were deposited over time in the lakes," said study co-author Dr. Ellen Cowan, a professor of geology in App State's Department of Geological and Environmental Sciences. "At several of the sites, it appears that coal ash was initially just dumped into the nearby lake. Over time, when the Clean Air Act was enforced and scrubbers were added to the coal plant smokestacks to catch fine particulates, we see changes in the coal ash with higher proportions of small particles."
Yet, the tiny particles of coal ash contain the highest concentrations of toxic elements, which made contamination worse for the lakes, Vengosh said. "The toxicity of the coal ash actually becomes worse because those small particles contain higher concentrations of the trace elements."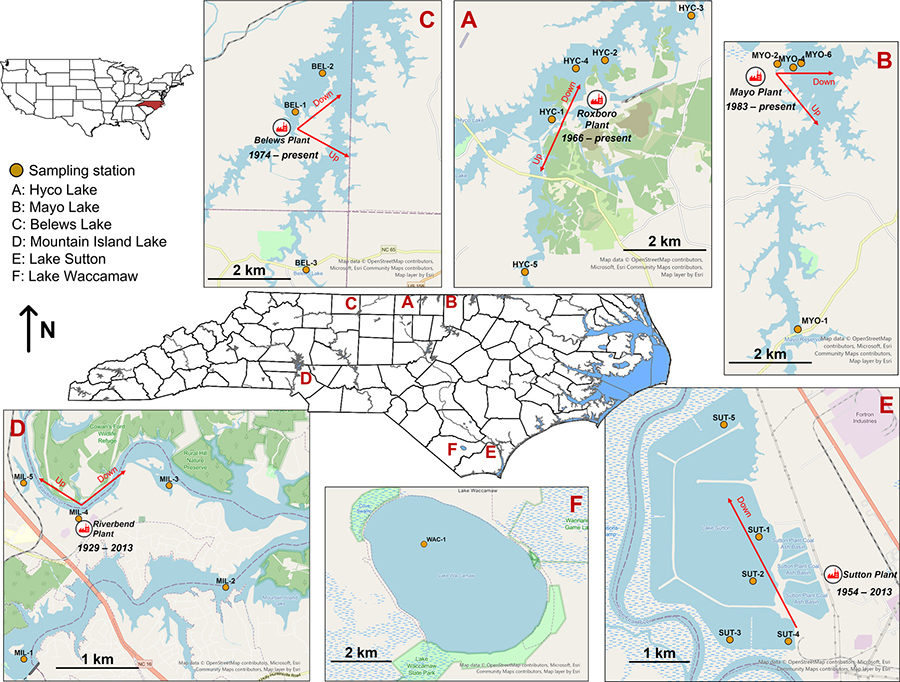 The contaminants are not locked into the lake sediments, Vengosh added. A chemical analysis of the pore water within the lake sediments indicated the metals leached out from the buried coal ash and could enter the aquatic food chain.
"These are recreational lakes," said Zhen Wang, a Ph.D. student at Duke's Nicholas School of the Environment and the lead author of the study. "Some of them, like Hyco Lake, were originally built for the coal plant, but over the years, it has become very desirable real estate where people build their dream homes. It looks very pristine and beautiful, but if you dig in, you find piles of toxic coal ash."
The study authors suggest that coal ash reached lakes by three possible routes:
Atmospheric emissions of coal ash — particularly those present before the installation of the scrubbers — settled in nearby lands and were washed back into the lakes by their watersheds.
Climate events such as tropical storms and hurricanes flooded and flushed the nearby coal ash impoundments to overflow into the nearby lakes.
Ordinary flows of effluents, or liquid waste, from the coal ash ponds reached the lake as part of their routine operation.
"While previously we thought that lakes and groundwater are being contaminated by leaking or effluents discharge from coal ash ponds, the new findings indicate that we have underestimated the environmental impact of coal ash," Vengosh said. "We thought that the majority of the coal ash is restricted to coal ash ponds and landfills. Now we see it's already in the open environment."
The study authors warn that this is a much larger problem that will only grow worse due to climate change.
"We did a very detailed examination of five lakes, but there are numerous lakes or open water reservoirs next to coal plants not only in North Carolina, but all over the country," Vengosh said. "The phenomenon that we discovered probably applies to many other sites across the U.S. and all of them are going to be vulnerable to more extreme weather events and flooding that we know is coming from global warming."
App State alumni and study co-authors Randall Karcher '22 and Jessie Wilson '22 shared their favorite parts of working on the research: For Karcher, of Raleigh, this was using a scanning electron microscope, while Wilson, of Troy, said that "seeing all the results come to together at the end and knowing we did good science" was the most enjoyable moment for her.
Karcher holds a Bachelor of Science in geology from App State and is pursuing a master's degree at Colorado School of Mines. Wilson, who majored in environmental sciences-life science and minored in geology at App State, is pursuing her master's degree at the University of North Carolina at Wilmington.
This research was supported by National Science Foundation grant funding.
What do you think?
Share your feedback on this story.
About the Department of Geological and Environmental Sciences
Located in Western North Carolina, Appalachian State University provides the perfect setting to study geological and environmental sciences. The Department of Geological and Environmental Sciences provides students with a solid foundation on which to prepare for graduate school or build successful careers as scientists, consultants and secondary education teachers. The department offers six degree options in geology and two degree options in environmental science. Learn more at https://earth.appstate.edu.
About the College of Arts and Sciences
The College of Arts and Sciences (CAS) at Appalachian State University is home to 17 academic departments, two centers and one residential college. These units span the humanities and the social, mathematical and natural sciences. CAS aims to develop a distinctive identity built upon our university's strengths, traditions and unique location. The college's values lie not only in service to the university and local community, but through inspiring, training, educating and sustaining the development of its students as global citizens. More than 6,400 student majors are enrolled in the college. As the college is also largely responsible for implementing App State's general education curriculum, it is heavily involved in the education of all students at the university, including those pursuing majors in other colleges. Learn more at https://cas.appstate.edu.
About Appalachian State University
As the premier public undergraduate institution in the Southeast, Appalachian State University prepares students to lead purposeful lives. App State is one of 17 campuses in the University of North Carolina System, with a national reputation for innovative teaching and opening access to a high-quality, affordable education for all. The university enrolls more than 21,000 students, has a low student-to-faculty ratio and offers more than 150 undergraduate and 80 graduate majors at its Boone and Hickory campuses and through App State Online. Learn more at https://www.appstate.edu.