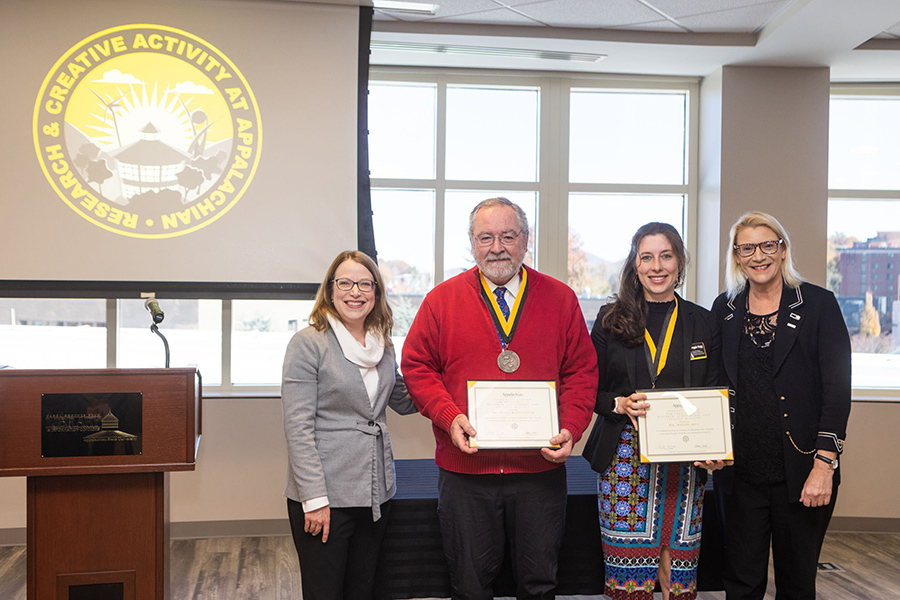 Posted Oct. 31, 2022 at 2:10 p.m.
BOONE, N.C. — App State faculty provided multiple presentations during the fourth annual Research and Creative Activity at Appalachian event on Oct. 21, and the university's chancellor and provost recognized two faculty members for excellence in research, scholarship and creative activity.
"Every day, innovative and creative App State educators are elevating the App State Experience for their students by involving them in real-world research and creative endeavors," said App State Chancellor Sheri Everts. "App State is fortunate to have their vast contributions in our educational community."
Last year, App State celebrated a record-setting year for research funding. App State received $36.8 million from grants and contracts that support the research, development and programmatic activities of faculty and staff.
This year's Research and Creative Activity at Appalachian event included 40 presenters representing 21 departments in six degree-granting colleges and University Libraries. The presentations spanned a wide range of disciplines on a variety of topics, including:
Policy options for increasing participation and investment in forest carbon in Southern Appalachia.
Expressive arts-based research for learning about social and environmental justice.
Bio-binders, which are asphalt-binders produced from renewable resources.
The impact of mobile health intervention among rural, low-income, Spanish-speaking and English-speaking participants.
Triassic micro-vertebrate fossils.
"Today's presentations spotlight the breadth of scholarly activities and creative work being conducted by the App State faculty and staff," said App State Provost and Executive Vice Chancellor Heather Hulburt Norris. "There's a reason that U.S. News & World Report has repeatedly ranked App State on its Most Innovative Schools list — and that we have been No. 1 on that list for three years running."
Dr. David Koppenhaver, professor in the Department of Reading Education and Special Education (RESE), received the Chancellor's Award for Excellence in Research, Scholarship and Creative Activity, and Dr. Maggie Sugg, associate professor and departmental honors director in the Department of Geography and Planning, received the Provost's Award. A committee of faculty members representing each academic college and University Libraries selected the recipients for their superior achievement in their fields.
Dr. David Koppenhaver
Throughout his career at App State, Koppenhaver and his colleagues have secured nearly $4 million in external funding through grants and sponsored research, including a five-year $1 million interdisciplinary collaborative project between the Departments of Communication Sciences and Disorders (now known as the Department of Rehabilitation Sciences) and RESE funded by the U.S. Department of Education's Office of Special Education and Rehabilitative Services.
His currently funded research and development projects involve the collaborative development of online instructional support for teachers of students with high-intensity needs (HIN) with two of his doctoral students and faculty at the University of North Carolina at Chapel Hill's Center for Literacy and Disability Studies.
"Dr. Koppenhaver has had a long and illustrious career at App State," said Norris. "His research focuses on literacy in individuals with high-intensity needs who include — among others — children with autism, cerebral palsy, intellectual disabilities and Rett syndrome. His teaching and research have contributed to improved understanding, enhanced teaching methods and new diagnostic assessments."
His work has led to almost 300 state, regional, national and international conference presentations, plenary sessions, and other invited papers. He has co-authored five books; many peer-reviewed publications and book chapters; three national reports (for the American Association of Colleges for Teacher Education, the U.S. Department of Education Office of Special Education Programs and the National Institute on Disability and Rehabilitation Research); and online training modules for teachers. He has also authored beginning reader books that have been read by children and adolescents with HIN in 122 different countries since 2007 under the pen name Reed A. Booke.
In 2019, he published a highly successful and best-selling methods book, called "Comprehensive Literacy for All: Teaching Students with Significant Disabilities to Read and Write," which ranks in the top 10 best sellers in three of Amazon's special education categories. The book has been adopted for pre-service teacher training by faculty across the United States and has sparked the development of online courses and other forms of professional development in other countries, including Canada and Australia.
Koppenhaver has been honored previously as the Distinguished Lecturer of the International Society for Augmentative and Alternative Communication, a Fulbright Scholar to the Schonell Special Education Research Center at the University of Queensland in Brisbane, Australia, and a visiting scholar at the Schonell Special Education Center. At App State, Koppenhaver has been inducted into the Academy of Outstanding Graduate Mentors, received the 100 Scholars Research Award from the Williams School of Graduate Studies, and received the Outstanding Mentoring Award and Outstanding Scholarship/Creative Achievement Award from the Reich College of Education.
Dr. Maggie Sugg
Sugg's primary areas of research interest include geography of mental health; monitoring of environmental exposure and psychological health outcomes; vulnerability and resilience of climate extremes; and the COVID-19 pandemic. Her research activities include collaborations across multiple departments and other universities.
"Maggie is an expert on research at the intersection of geography, climate and health," said Norris. "Her research provides insights into the cause of environmental health diseases — highlighting both at-risk populations and the place-based conditions that lead to adverse health outcomes."
"She is a prolific, interdisciplinary researcher with 51 peer-reviewed publications, and her research has been funded by several federal agencies, including the National Institutes of Health and the National Science Foundation," continued Norris. "She has also received a National Science Foundation CAREER award — which is the foundation's most prestigious award in support of early-career faculty."
Sugg has received approximately $1 million in external funding in the last two years. Her research has been funded by the American Foundation for Suicide Prevention, a three-year NIH grant to study the causal effects of climate disasters on adolescent mental health, and a five-year National Science Foundation Faculty Early Career Development Program Award in 2021. Her research has appeared in numerous peer-reviewed publications in high-impact journals, including over 20 with student co-authors.
The Office of Research and University Libraries hosted the fourth annual Research and Creative Activity at Appalachian in Belk Library and Information Commons. The Research and Creative Activity at Appalachian event celebrates all research, scholarship and creative endeavors of App State faculty and staff.
What do you think?
Share your feedback on this story.
About the Office of Research
Appalachian State University's Office of Research provides support for the research, creative, and scholarly endeavors of Appalachian faculty, staff and students. The office consists of four units: Grants Resources and Services, Sponsored Programs, Research Design and Analysis, and Research Protections. The Office of Research also collaborates with the university's Special Funds Accounting on the fiscal management of awarded projects. Learn more at https://research.appstate.edu.
About student research at Appalachian
Appalachian State University encourages faculty-mentored student research, which provides students with the opportunity to work side by side with faculty on meaningful research or creative endeavors. These projects often result in presentations, performances or exhibitions at regional, national and international conferences and events. Students who engage in research are able to apply knowledge from the classroom into real-world experiences and learn how to problem-solve, effectively communicate and analyze complex issues. Appalachian's Office of Student Research (OSR) was established in 2005 to expand the opportunities necessary for undergraduate and graduate students to engage in research and creative activities at Appalachian. Learn more at https://osr.appstate.edu.
About University Libraries
University Libraries at Appalachian State University contributes to the campus mission of learning, teaching, advancing knowledge, engagement and effectiveness. Belk Library and Information Commons along with the Nicholas Erneston Music Library provide academic resources for all students and faculty. Within the library, students and faculty find group and quiet study spaces, the Digital Media Studio, the inspire lab, the Idea Factory, digital devices to check out, and special collections such as the W.L. Eury Appalachian Collection and Instructional Materials Center. Learn more at https://library.appstate.edu.
About the Reich College of Education
Appalachian State University offers one of the largest undergraduate teacher preparation programs in North Carolina, graduating about 500 teachers a year. The Reich College of Education enrolls more than 2,000 students in its bachelor's, master's, education specialist and doctoral degree programs. With so many teacher education graduates working in the state, there is at least one RCOE graduate teaching in every county in North Carolina. Learn more at https://rcoe.appstate.edu.
About the College of Arts and Sciences
The College of Arts and Sciences (CAS) at Appalachian State University is home to 17 academic departments, two centers and one residential college. These units span the humanities and the social, mathematical and natural sciences. CAS aims to develop a distinctive identity built upon our university's strengths, traditions and unique location. The college's values lie not only in service to the university and local community, but through inspiring, training, educating and sustaining the development of its students as global citizens. More than 6,400 student majors are enrolled in the college. As the college is also largely responsible for implementing App State's general education curriculum, it is heavily involved in the education of all students at the university, including those pursuing majors in other colleges. Learn more at https://cas.appstate.edu.
About Appalachian State University
As the premier public undergraduate institution in the Southeast, Appalachian State University prepares students to lead purposeful lives as global citizens who understand and engage their responsibilities in creating a sustainable future for all. The Appalachian Experience promotes a spirit of inclusion that brings people together in inspiring ways to acquire and create knowledge, to grow holistically, to act with passion and determination, and to embrace diversity and difference. Located in the Blue Ridge Mountains, Appalachian is one of 17 campuses in the University of North Carolina System. Appalachian enrolls nearly 21,000 students, has a low student-to-faculty ratio and offers more than 150 undergraduate and graduate majors.