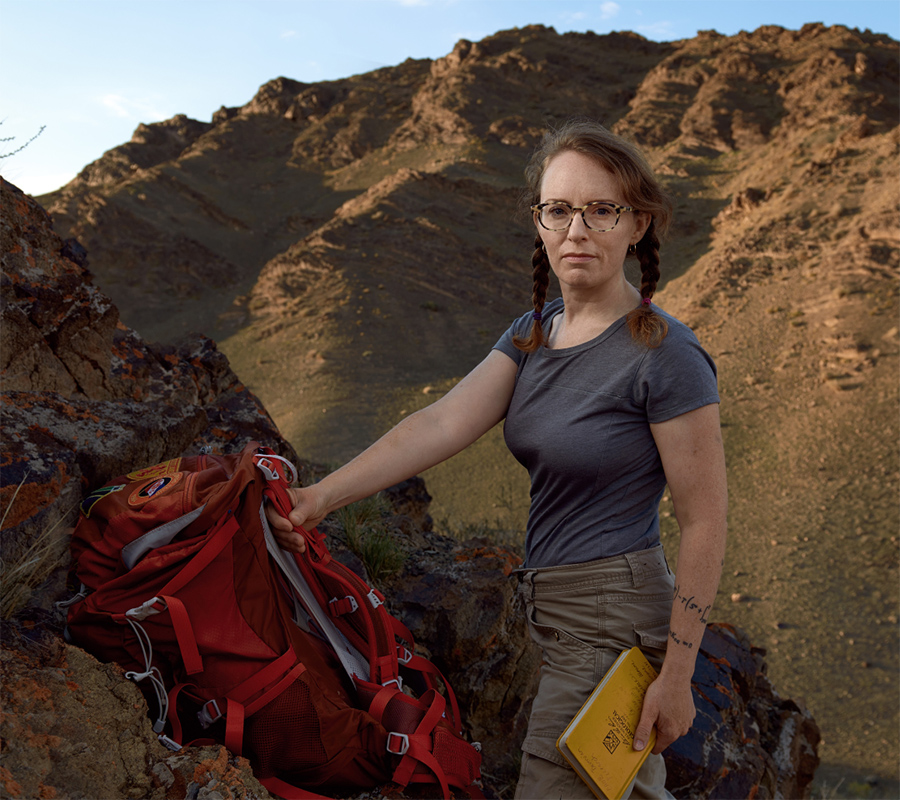 Posted Dec. 2, 2022 at 10:39 a.m.
BOONE, N.C. — Dr. Sarah Carmichael, a geochemist and professor at Appalachian State University, is at the forefront of geomicrobiology and mass extinction research. She is among 50 scientists and explorers worldwide named to this year's The Explorers Club 50 — a program amplifying explorers from around the globe and across a wide field of disciplines who push the boundaries of exploration.
Carmichael, who was included in the club's 2022 publication "The Explorers Club 50: Fifty People Changing the World Who the World Needs to Know About," teaches in the Department of Geological and Environmental Sciences (GES) and the Department of Interdisciplinary Studies' Appalachian studies program.
In the publication, Richard Wiese, co-chair of The Explorers Club 50 committee, said, "Every awarded honoree featured here, as well as the hundreds of nominees, are exploring, inspiring and creating the future — the future of the planet, the future of food security, of paleontology, of biology, of what our communities should look like, and so much more."
Dr. Johnny Waters, professor emeritus in the GES Department and a Paleontological Society Fellow, nominated Carmichael in recognition of her groundbreaking, interdisciplinary research and efforts to collaborate with student and career scientists across disciplines.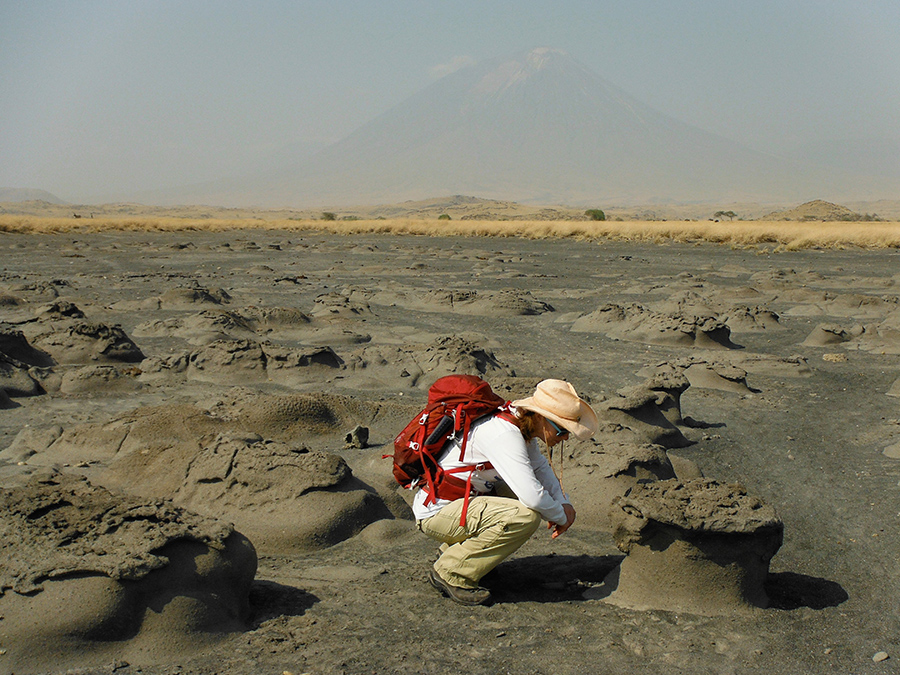 Her areas of expertise include the geochemistry of mass extinctions, the interactions between microbes and minerals in caves and the interplay between microbes, water and ore deposits.
"I study tiny minerals that tell big stories," explained Carmichael, who travels to hard-to-reach locations — from caves, to deserts, to volcanoes, to the bottom of the ocean — to collect rocks that contain these minerals.
Although she is known for her fieldwork in extreme environments, Carmichael's real joy, she shared, is using powerful lab equipment, including electron microscopes and X-rays, to decipher the stories preserved in minerals that are too small for the naked eye to see.
Carmichael will share her research during an episode of The Explorers 50 Speaker Series, to be livestreamed on Dec. 14. She will join geoscientist Andrés Ruzo Callejas and ecologist Dr. Natalie Schmitt to discuss the ways exploration has been changed by the science of conservation, extinction, and the importance of sharing these discoveries with communities.
Founded in 1904 by a group of America's leading explorers, The Explorers Club is a multi-disciplinary professional society with 33 chapters worldwide. It is dedicated to the advancement of field research, scientific exploration and resource conservation.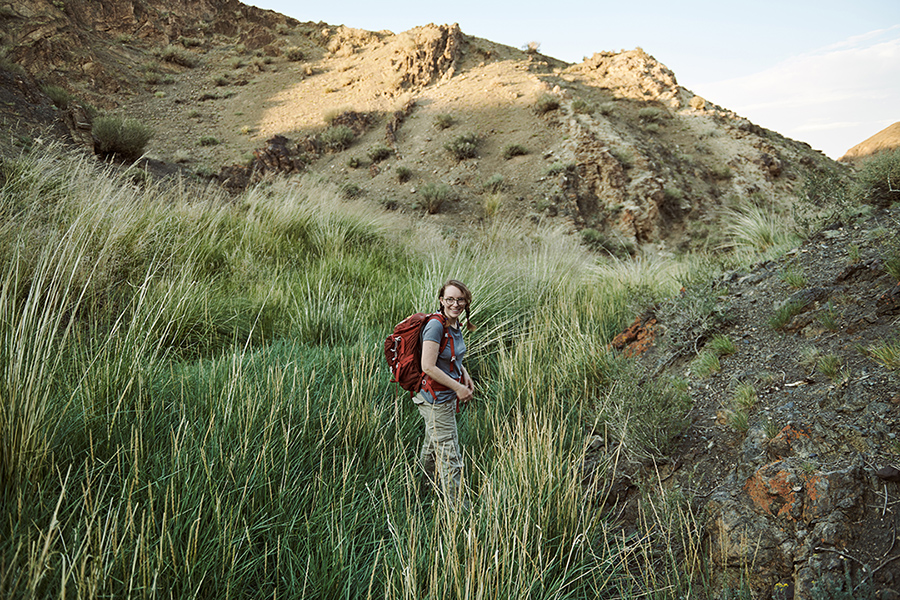 About Dr. Sarah Carmichael
Carmichael joined App State as a visiting assistant professor in 2007 and was promoted to full professor in 2019. Since coming to App State, Carmichael has been awarded nearly $1.2 million in external funding, published over 20 peer-reviewed journal articles, advised over 40 student research projects and theses and led numerous research expeditions both nationally and internationally.
"My current research is focused on two fundamental scientific questions: How do humans impact the microbes and minerals found in caves? Did severe climate change hundreds of millions of years ago cause the mass extinctions that decimated coral reefs and forever changed the evolutionary trajectory of fish?" Carmichael said in her The Explorers Club 50 profile.
Her current research focuses:
The Late Devonian mass extinctions using both the chemistry and shapes of tiny minerals that were preserved along with the fossils of organisms that died during the extinction event. This work is performed in collaboration with Waters and Dr. Cole Edwards, associate professor in the GES Department. Marta Toran, lecturer and outreach coordinator in the GES Department, serves as the educational outreach coordinator for this project.
Evaluating the impact of human visitation on cave systems using tiny, biologically derived minerals as tracers. Carmichael performs this research in collaboration with Dr. Suzanna Bräuer, professor in the Department of Biology.
The origin of manganese ore deposits in the Appalachians using a variety of techniques that focus on mineral particles smaller than the width of a human hair. This work is a collaboration between Carmichael and the United States Geological Survey.
In 2020, Carmichael received a college-level University of North Carolina System Board of Governors Excellence in Teaching Award. She was inducted into the College of Arts and Sciences' Academy of Outstanding Teachers in October.
In their Academy of Outstanding Teachers nomination letter, one of Carmichael's colleagues wrote: "Sarah showcases her extensive research career by providing clear, visually appealing and memorable examples of where she's explored and how that relates to the subject she is teaching. She is an inspiration to us all but especially to the students who learn from her in class. She is a great mentor and role model to many of the other faculty for her outstanding teaching and dedication to GES students."
Carmichael teaches a variety of courses relating to her research, including Introduction to Physical Geology, Geology Field Methods, Petrology and Petrography and Energy Extraction in Appalachia: Past/Present/Future.
She earned her Ph.D. in earth and planetary sciences from the Johns Hopkins University and completed her postdoctoral work at the University of New Hampshire.
What do you think?
Share your feedback on this story.
Geochemist joins John Glenn, Sally Ride, Sir Edmund Hillary, Jane Goodall and other well-known explorers in this prestigious society
March 3, 2017
About the Department of Geological and Environmental Sciences
Located in Western North Carolina, Appalachian State University provides the perfect setting to study geological and environmental sciences. The Department of Geological and Environmental Sciences provides students with a solid foundation on which to prepare for graduate school or build successful careers as scientists, consultants and secondary education teachers. The department offers six degree options in geology and two degree options in environmental science. Learn more at https://earth.appstate.edu.
About the Department of Interdisciplinary Studies
The Department of Interdisciplinary Studies offers graduate and undergraduate degrees in four program areas: Appalachian studies; gender, women's and sexuality studies; global studies; and interdisciplinary studies. The department is also home to Watauga Residential College, an interdisciplinary, alternative general education program. The department promotes creative and imaginative engagement through a cross-disciplinary investigation of complex systems and problems. Learn more at https://interdisciplinary.appstate.edu.
About the College of Arts and Sciences
The College of Arts and Sciences (CAS) at Appalachian State University is home to 17 academic departments, two centers and one residential college. These units span the humanities and the social, mathematical and natural sciences. CAS aims to develop a distinctive identity built upon our university's strengths, traditions and unique location. The college's values lie not only in service to the university and local community, but through inspiring, training, educating and sustaining the development of its students as global citizens. More than 6,400 student majors are enrolled in the college. As the college is also largely responsible for implementing App State's general education curriculum, it is heavily involved in the education of all students at the university, including those pursuing majors in other colleges. Learn more at https://cas.appstate.edu.
About Appalachian State University
As the premier public undergraduate institution in the Southeast, Appalachian State University prepares students to lead purposeful lives as global citizens who understand and engage their responsibilities in creating a sustainable future for all. The Appalachian Experience promotes a spirit of inclusion that brings people together in inspiring ways to acquire and create knowledge, to grow holistically, to act with passion and determination, and to embrace diversity and difference. Located in the Blue Ridge Mountains, Appalachian is one of 17 campuses in the University of North Carolina System. Appalachian enrolls nearly 21,000 students, has a low student-to-faculty ratio and offers more than 150 undergraduate and graduate majors.