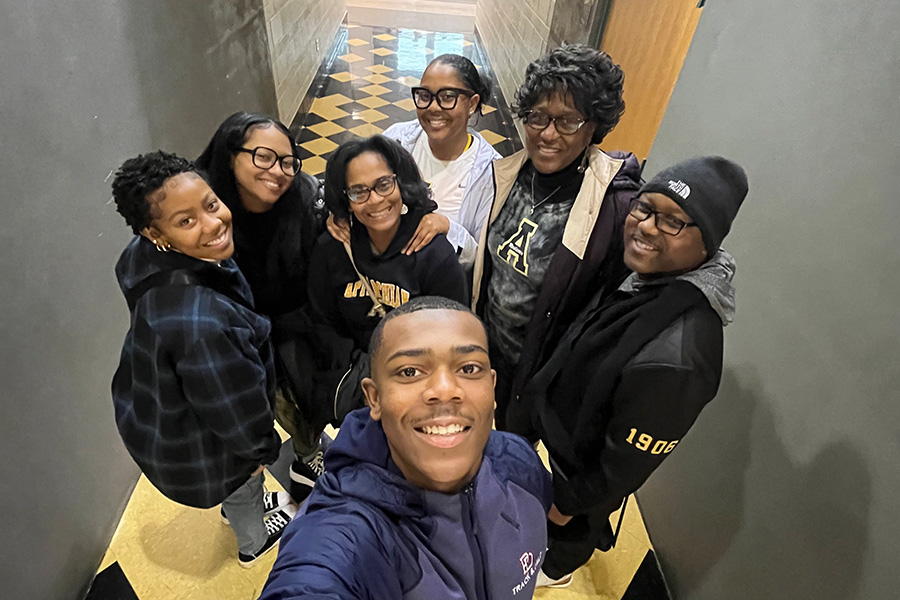 Posted Feb. 3, 2023 at 10:43 a.m.
BOONE, N.C. — The Harris household in Charlotte wears a lot of black and gold. Tony Harris Sr. '92 and his daughter Lundyn Harris '16 are alumni of Appalachian State University — and his daughter Jaeda Harris and son Tony Harris II are current students.
Tony Sr. earned a Bachelor of Science in Business Administration in risk management and insurance from App State, a Master of Science in emergency management from Eastern Kentucky University and is pursuing his Ph.D. in leadership at North Carolina Agricultural and Technical State University.
His 30-year career includes running his own insurance agency in Charlotte, directing safety and risk management operations for Cabarrus County and overseeing environmental health and safety risk management for Duke Energy Corporation. Now, he is associate vice president of risk, safety and security (chief risk officer) at Central Piedmont Community College (CPCC).
Mentoring others is one of the things Tony likes most about his job. "I enjoy being able to help others achieve their desired goals. As a risk professional, it is by nature that I identify gaps and collaborate with others to minimize risks. I really like that aspect of what I do," he shared.
He has received a number of awards and recognitions in his field, including:
CPCC's Accountability Award in 2022 for exemplifying the institution's values.
The Impact Award – Risk and Compliance Assurance from Duke Energy in 2020 for his collaboration and service.
The Public Risk Manager of the Year Award from the Public Risk Management Association in 2013.
Mike Whiteman, vice president of finance and administrative services at CPCC, said Tony's intentional approach to his work "has led to processes that keep his team accountable — to make Central Piedmont the safest environment possible for students, faculty and staff."
Tony credits his experiences and connections made at App State in laying the groundwork for his success.
Dr. Dave Wood, formerly at App State as the Joseph F. Freeman Distinguished Professor of Insurance and director of the Brantley Risk and Insurance Center, piqued Tony's interest in risk management and insurance.
"I used to think of insurance as salespeople coming by to collect money," Tony said. "Dr. Wood introduced me to underwriting, marketing, analyzing risks and other aspects of the industry."
After a challenging semester, Tony said Wood helped him get back on track. "He was very straightforward with me and gave me guidance. I learned that you're never alone in something. You just need to be open and communicate with professors or people in charge when dealing with problems," Tony shared.
Life lessons outside the classroom
While at App State, Tony was a member in and served as treasurer for Alpha Phi Alpha fraternity — a role he said helped him develop his business skills. The work of the fraternity instilled in him the value of community service, he said, and helped him build a network of friends and associates that has remained strong through the years.
Being a resident assistant prepared Tony to manage tasks, resolve conflicts and lead others, he said. "I remember the initial training for the position, where we had to role-play and go through real-life scenarios. I learned how to become a really great listener — versus just jumping in and trying to solve a problem. I still use those skills in my work," he said.
Tony was a member of the App State Gospel Choir, led by former App State Chief Diversity Officer Dr. Willie Fleming '80 '84, who, at the time, served as App State's director of minority affairs — known today as intercultural student affairs.
"We traveled to a lot of different places with the choir, and having those new experiences and being mentored by a great man such as Dr. Fleming helped me become who I am today," Tony shared.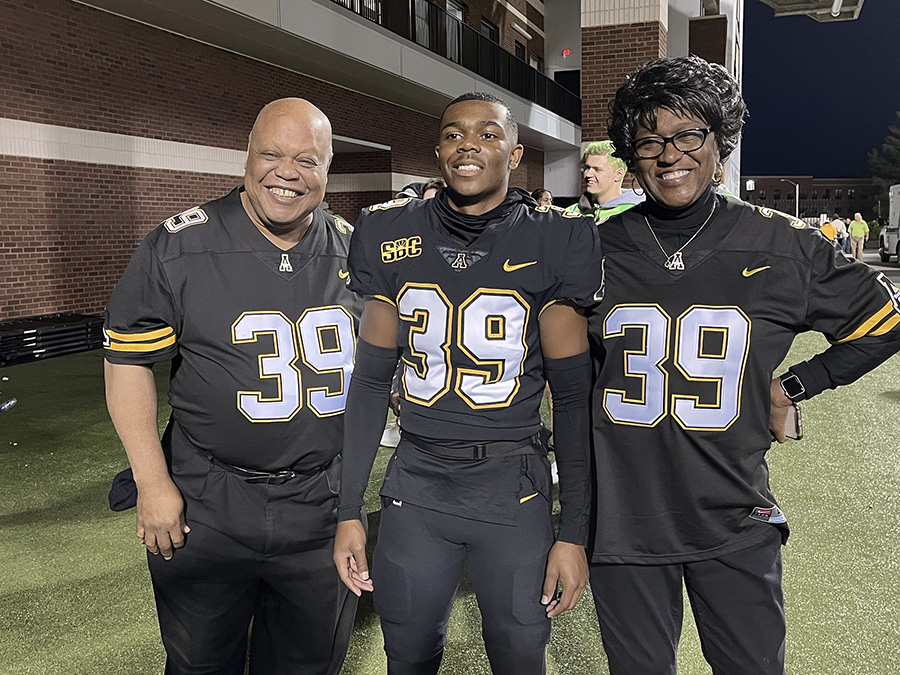 Father, coach and leader
Tony is married to Melissa Harris, and together they serve in ministry at Empowerment Church in Charlotte. While their children Lundyn, Jaeda and Tony II are all Mountaineers, their daughter Joy Harris is a senior at another University of North Carolina System campus — North Carolina A&T University in Greensboro, where she is majoring in sports science and fitness management with a minor in psychology.
Outside the office, Tony Sr. volunteers as a coach for Little League and high school football and track.
Tony has maintained his ties with App State through the African American Alumni Network and Alpha Phi Alpha. He also serves on the advisory board for Walker College of Business' Brantley Risk and Insurance Center.
He regularly attends App State football games and has brought his family to Homecoming for years. When the time came, he encouraged his children to apply to his alma mater.
"I told them App State has a good, solid reputation in academics, and the networks they could develop would help them in their careers and lives," he said.
What do you think?
Share your feedback on this story.
About the Department of Finance, Banking and Insurance
The Department of Finance, Banking and Insurance develops leaders for business, government and education by offering a Bachelor of Science in business administration in two specializations: finance and banking, and risk management and insurance. Learn more at https://finance.appstate.edu.
About the Walker College of Business
The Walker College of Business at Appalachian State University delivers transformational educational experiences that prepare and inspire students to be ethical, innovative and engaged business leaders who positively impact our community, both locally and globally. The college places emphasis on international experiences, sustainable business practices, entrepreneurial programs and real-world applications with industry. Enrolling approximately 3,000 undergraduates in 10 majors and more than 180 graduate students in three master's programs, Walker College has the highest enrollment of full-time undergraduate students in the University of North Carolina System. Walker College is accredited by AACSB International — the premier global accrediting body for business schools. Learn more at https://business.appstate.edu.
About the Dr. Wiley F. Smith Department of Psychology
Appalachian State University's Dr. Wiley F. Smith Department of Psychology serves more than 1,400 undergraduate majors seeking the Bachelor of Arts or Bachelor of Science degree in psychology, as well as 90 graduate students across four graduate programs: experimental psychology (MA), industrial-organizational psychology and human resource management (MA), school psychology (MA/SSP) and clinical psychology (PsyD). Learn more at https://psych.appstate.edu.
About the Department of Biology
The Department of Biology is a community of teacher-scholars, with faculty representing the full breadth of biological specializations — from molecular genetics to landscape/ecosystem ecology. The department seeks to produce graduates with sound scientific knowledge, the skills to create new knowledge, and the excitement and appreciation of scientific discovery. Learn more at https://biology.appstate.edu.
About the College of Arts and Sciences
The College of Arts and Sciences (CAS) at Appalachian State University is home to 17 academic departments, two centers and one residential college. These units span the humanities and the social, mathematical and natural sciences. CAS aims to develop a distinctive identity built upon our university's strengths, traditions and unique location. The college's values lie not only in service to the university and local community, but through inspiring, training, educating and sustaining the development of its students as global citizens. More than 6,400 student majors are enrolled in the college. As the college is also largely responsible for implementing App State's general education curriculum, it is heavily involved in the education of all students at the university, including those pursuing majors in other colleges. Learn more at https://cas.appstate.edu.
About Appalachian State University
As the premier public undergraduate institution in the Southeast, Appalachian State University prepares students to lead purposeful lives. App State is one of 17 campuses in the University of North Carolina System, with a national reputation for innovative teaching and opening access to a high-quality, affordable education for all. The university enrolls more than 21,000 students, has a low student-to-faculty ratio and offers more than 150 undergraduate and 80 graduate majors at its Boone and Hickory campuses and through App State Online. Learn more at https://www.appstate.edu.