Posted Nov. 10, 2022 at 9:56 a.m.
BOONE, N.C. — Four first-year students at Appalachian State University have been named recipients of the Dr. Willie C. Fleming Scholarship — a merit-based award designed to support students from underrepresented populations.
The Fleming Scholarship program, now in its eighth year, covers full in-state tuition and fees for up to four consecutive years. The renewable scholarship includes mentorship by alumni, the opportunity to participate in inclusivity-focused events, and networking and team building within each group of recipients.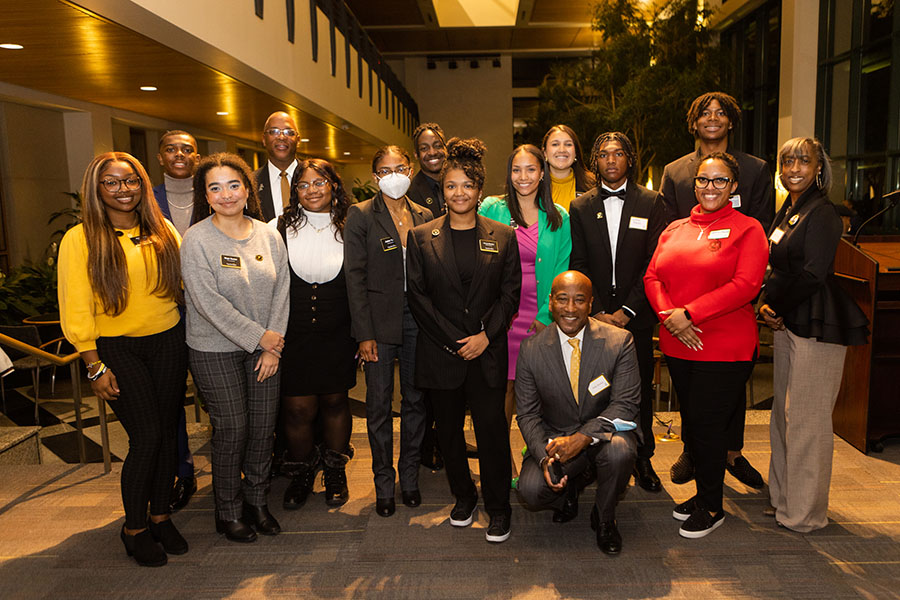 The scholarship was established by alumni to honor Dr. Willie C. Fleming '80 '84 for his many contributions to App State. Fleming retired in June 2021 after serving as App State's first cabinet-level chief diversity officer. The two-time App State graduate served as App State's director of minority affairs, known today as Intercultural Student Affairs, in the 1980s. He founded the App State Gospel Choir and the Black Student Association and was a founding member of the university's Black Faculty and Staff Association. He was also instrumental in bringing Black Greek life to App State.
"This year's Fleming Scholarship recipients are outstanding representatives of Dr. Fleming's legacy," said App State Chancellor Sheri Everts. "I look forward to watching them develop as leaders in the university community and beyond."
The 2022–23 recipients of the Fleming Scholarship:
Fleming Scholars are selected based on their academic excellence and their desire to promote cultural diversity. As members of the App State Community, the scholars are called to assume the responsibility of leadership, scholarship and community involvement.
Judge Gary Henderson '92 '94, who presides over Mecklenburg County's 26th Judicial District, initiated the Fleming Scholarship in 2011. He and Dr. Reneé Evans '97 '99, a founder of App State's African American Alumni Network (AAAN) and then-president of the organization, formed a committee consisting of members of the African American alumni community to fully develop, implement and engage alumni to give toward the scholarship and its endowment. Many of the endowment's donors are AAAN members.
The 2022–23 class and previous classes of scholars were recognized at the Fleming Scholarship Recognition Reception held at Plemmons Student Union on Oct. 28.
Meet the 2022–23 Fleming Scholars
In their own words
Interested in learning more about App State's 2022–23 Fleming Scholars? In this video, the scholars share details about their App State Experience and the opportunities afforded them through the Fleming Scholars program.
Transcript
Zha'Monét Gray: Hi. My name is Monét. I am a political science major here at App State and I'm from Statesville, North Carolina.
David Itson: My name is David Itson and I plan to major in accounting and I'm from Gastonia, North Carolina.
Amani Stanely: Hello, my name is Amani. I'm actually undecided and my hometown is Harrisburg, North Carolina.
Tony Harris: My name is Tony Harris. I'm majoring in risk management and insurance and I'm from Charlotte, North Carolina.
ZG: I enjoy a lot of things here at App State, but the thing I enjoy the most is being able to live right down the hall from all my best friends here on campus.
AS: One thing that I enjoy about App State is the beautiful campus. It's very pretty with all the colorful leaves and another thing I enjoy is the community that we have here at Appalachian State.
TH: The thing I love about being at App State is the views. I love the football aspect of it. The people are nice here. The weather … well, not necessarily the weather … but the teachers are great here and I would say the classes, I'm learning a lot in the classes as well.
DI: One thing that I do enjoy about being at App State is actually being in the minority. It's being Black at App State. We were forced to kind of make that strong-knit community and within the first couple weeks, I have met people that I now consider as family, and that's what I really have enjoyed so much about App State and the community around it that allow us to build that tight-knit family.
AS: When I first found out that I was going to be a Fleming Scholar, I was really, really excited and the first person I told, I think, was my sister.
ZG: I was so excited I did not expect to ever achieve or receive a full-ride scholarship from any university, but when I received it, I cried, I cheered, I celebrated.
DI: So, the first thought through my head was "Was this real?" So, I had to do a little research beforehand, and then when I figured out it was real, it actually felt like my hard work that I've been going through, through my years of schooling and pushing myself, was actually worth it.
TH: My family, when we found out I got the scholarship for the Fleming Scholars, they were excited, especially my dad because he used to go here, and my sister went here as well and then I have a sister here that's going here right now.
ZG: Well, my mom, for one, started crying when I received the scholarship. She was like "No debt! No debt!" and I was like "Yay!" So it was really great to know that I was going to be able to attend a four-year college debt-free and that is like the American dream and I'm living it so I'm really excited.
DI: Needless to say, they were overjoyed once they found out and I quote my grandma said, "You going where the money is!" So, one of the reasons why I ended up here, so it was kind of a no-brainer after that fact.
TH: I would say being a Fleming Scholar, it takes a lot of stress off my parents, you know, having to pay bills, because I have three other siblings in school right now. So, yeah, it takes a lot of stress off of them.
AS: It allows me to (a) have financial assistance, and another thing that it opens up is it opens up doors for mentorship opportunities so I have more guidance and help along the way in my college career and professional career.
DI: … And being able to just focus on my education and focus on my goals and my dreams to accomplish and giving me that opportunity that not many people have the luxury of having a stress-free experience at college.
AS: What I enjoy most about the Fleming Scholar ocmmunity is that I have a backbone and I have a lot of support to lean on to, and if I have any questions, I know that there's others to help guide me.
TH: It's great because if I need anything, they got me. If I have any questions, they got me, or if I'm having trouble, they got me, so if they need anything for me, they got me too. So, it's great being able to build those connections and getting to know new people as well.
DI: To me, being a Fleming Scholar is a responsibility and knowing that when I do walk out my dorm, when I go to school, when I go back home, that I'm not only representing myself but I'm also representing the Fleming Scholarship and knowing that I have things that need to be accomplished for myself and for Flemings and that my success and my failures not only represent myself but represent them as well.
TH: The legacy I would like to leave behind is that I'm a very hard worker, on the field and off the field, in the classroom, building great connections with my teachers and my classmates as well as my teammates.
AS: I hope to accomplish a successful career. I hope that I have an internship and that I have graduated with honors. Another thing that I hope is I hope that everybody that knew me here at App State knows that I'm a good person and that I will help anyone regardless of anything.
DI: You know what? I'm not sure. I can't really say from four or five years from now what legacy that I want to leave behind, but I do know one thing for sure: I want to leave a legacy behind, and I don't know what exactly what that's going to look like. I know that's going to probably be somewhat dealing with bringing more people of color in the school, however I can do that. So about four or five years from now, it might be a whole list of things that I have that I haven't done and have done, but I know I want to leave something behind, so when my name is said 10 years from now, I have a legacy that can be remembered.
ZG: When I finish my time here at Appalachian State University, I want to say that I accomplished something that nobody else has here on campus. I want to find something that maybe no other Black student might have done or no other female student might have accomplished. I want to say that me, Zha'Monét Gray, has accomplished that here on Appalachian State's campus, whatever that might be.
What do you think?
Share your feedback on this story.
About the Dr. Willie C. Fleming Scholarship
The Dr. Willie C. Fleming Scholarship is designed to support students from underrepresented populations, with selection based on their desire to promote cultural diversity. In addition to covering full in-state tuition and fees, the renewable scholarship provides mentorship by alumni, the opportunity to participate in inclusivity-focused events, and networking and team building within each cohort of recipients. It was established to honor Dr. Willie C. Fleming '80 '84, who founded the Appalachian Gospel Choir and the Black Student Association, was a founding member of the Black Faculty and Staff Association and was also instrumental in bringing black Greek life to the university. Learn more
About Scholarships at App State
Appalachian State University offers students the opportunity to receive a world-class education at an affordable rate, with an average of $25 million awarded to incoming, current and transfer students each year based on need, as well as academic and athletic achievement. On average, about $4.9 million in outside aid is awarded to App State students annually. App State's Office of Student Financial Aid and University Scholarships assists students in learning about and applying for these university scholarship opportunities and also shares information about non-App State scholarships. Learn more at https://scholarships.appstate.edu.
About Appalachian State University
As the premier public undergraduate institution in the Southeast, Appalachian State University prepares students to lead purposeful lives as global citizens who understand and engage their responsibilities in creating a sustainable future for all. The Appalachian Experience promotes a spirit of inclusion that brings people together in inspiring ways to acquire and create knowledge, to grow holistically, to act with passion and determination, and to embrace diversity and difference. Located in the Blue Ridge Mountains, Appalachian is one of 17 campuses in the University of North Carolina System. Appalachian enrolls nearly 21,000 students, has a low student-to-faculty ratio and offers more than 150 undergraduate and graduate majors.