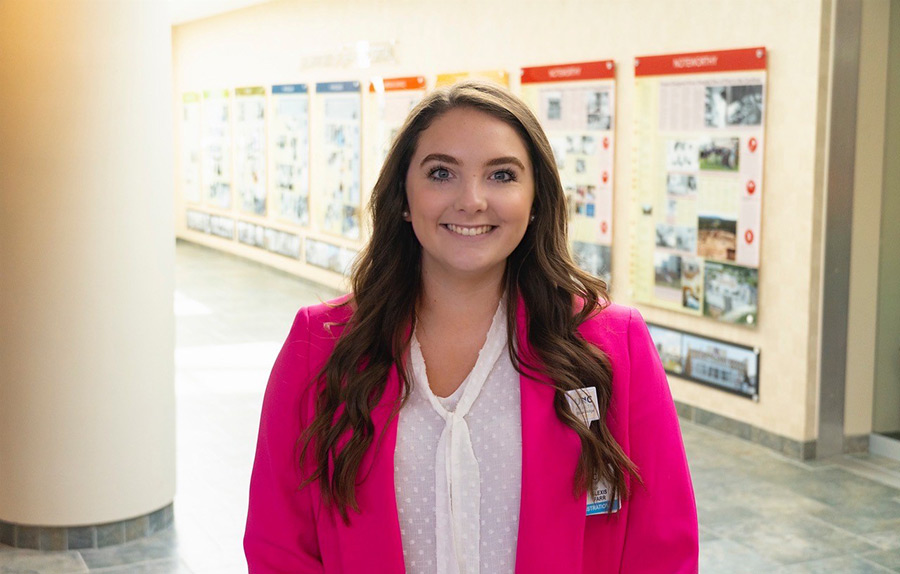 Posted April 21, 2023 at 3:14 p.m.
BOONE, N.C. — Growing up in Granite Falls, Appalachian State University alumna Alexis "Lexie" Farr '22 said she dreamed of becoming the first person in her family to graduate from college — and of finding a way to give back to the hometown community she loves. App State's Beaver Scholars program provided her with the financial support she needed to achieve those dreams; she now holds a leadership role at UNC Health Blue Ridge in Morganton, one of the health care systems serving her hometown.
Established in 2019, the Beaver Scholars program is the premier scholarship program in App State's Beaver College of Health Sciences. Benefactors Donald C. Beaver '62 '64 and his wife, Vickie Beaver — the couple for whom the college is named — created the scholarship with the goal of providing support to North Carolina students with a commitment to health care careers. The $10,000-per-year scholarship goes toward tuition and college expenses.
"I fell in love with Appalachian when I toured the school in 2018, but without a scholarship, I wouldn't have been able to afford coming here," said Farr, who graduated from App State in May 2022 with a bachelor's degree in health care management. "I am so appreciative of the Beaver Scholarship because it allowed me to attend App State — the school of my dreams — without going into debt."
Shortly after graduating, Farr took on her current role as administrative assistant to Jon Mercer '98, chief operating officer and senior vice president of operations at UNC Health Blue Ridge, and Drew Thomas '06, chief ambulatory officer at UNC Health Blue Ridge. In addition to being American College of Healthcare Executives fellows, Mercer and Thomas also are App State graduates: Mercer earned his master's degree in exercise physiology and Thomas earned a bachelor's degree in business administration.
"Jon and Drew are more than just supervisors; they are my mentors. They encourage me to soak up everything so that I can become a leader within the organization one day," said Farr, who added that she has learned everything from how to lead a team to investing and managing finances.
Farr said she felt well prepared to join the "C-suite"— the executive office of UNC Health Blue Ridge — because of the intensive curriculum of App State's health care management program, as well as her professors' encouragement.
"After I started working, I quickly realized just how well my App State professors had prepared me by including their life experiences in their teaching. I now get to take everything that I learned in my three years at App State and utilize that in my career," she said.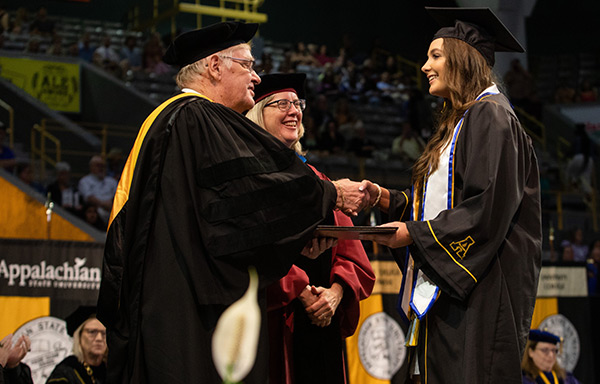 While at App State, Farr completed an eight-week internship working in the Quality and Risk Department at UNC Health Caldwell in Lenoir, which helped pave the way for her current position and first job out of college.
"I learned during my internship that I love process improvement — analyzing data to track how the physician practiced and how the hospital department performed each month," she shared. "Data often show when patients are happy with their experience, and while seeing growth was exciting, I also enjoyed digging deeper to understand when there were declines in volume, to discover areas for improvement."
Dr. Ashley Parks, assistant professor in the health care management program, said that Farr took advantage of career advising and mentorship at App State and worked with her professors to seek advice and guidance in her future career path.
"Lexie was an incredible student and an active contributor in our case study discussions regarding organizational behavior and quality improvement scenarios. She was drawn to learning more about how data and analytics guide improvement and foster change in a health care organization," said Parks, a former director of quality and program management in health care systems.
Returning to the community where her family and friends live was also important to Farr.
"It is meaningful to have connections within the community and to realize that we (UNC Health Blue Ridge) are doing everything we can to help," she said.
What do you think?
Share your feedback on this story.
The scholars, all from NC, are committed to improving health care — in the High Country and beyond
March 10, 2023
About the Department of Nutrition and Health Care Management
The Department of Nutrition and Health Care Management in Appalachian State University's Beaver College of Health Sciences provides graduate and undergraduate programs. The undergraduate health care management program prepares students for entry-level management positions, while the online Master of Health Administration degree is designed for working professionals who desire to advance their careers. The undergraduate nutrition and foods program prepares students for careers in dietetics or food systems management in a variety of settings, including schools, hospitals, nursing homes and food banks. The highly competitive master's degree in nutrition provides a pathway for students to become registered dietitians. Learn more at https://nhm.appstate.edu.
About the Beaver College of Health Sciences
Appalachian State University's Beaver College of Health Sciences (BCHS), opened in 2010, is transforming the health and quality of life for the communities it serves through interprofessional collaboration and innovation in teaching, scholarship, service and clinical outreach. BCHS offers nine undergraduate degree programs and seven graduate degree programs, which are organized into six departments: Nursing, Nutrition and Health Care Management, Public Health and Exercise Science, Recreation Management and Physical Education, Rehabilitation Sciences, and Social Work. The college's academic programs are located in the Holmes Convocation Center on App State's main campus and the Leon Levine Hall of Health Sciences, a state-of-the-art, 203,000-square-foot facility that is the cornerstone of the Wellness District. In addition, the college supports the Blue Cross NC Institute for Health and Human Services and has collaborative partnerships with the Wake Forest School of Medicine's Physician Assistant Program, the Appalachian Regional Health System and numerous other health agencies. Learn more at https://healthsciences.appstate.edu.
About Appalachian State University
As the premier public undergraduate institution in the Southeast, Appalachian State University prepares students to lead purposeful lives. App State is one of 17 campuses in the University of North Carolina System, with a national reputation for innovative teaching and opening access to a high-quality, affordable education for all. The university enrolls more than 21,000 students, has a low student-to-faculty ratio and offers more than 150 undergraduate and 80 graduate majors at its Boone and Hickory campuses and through App State Online. Learn more at https://www.appstate.edu.