Posted March 10, 2023 at 9:02 a.m.
BOONE, N.C. — This academic year, Appalachian State University has awarded its Beaver Scholarship to six aspiring health care professionals enrolled in the Beaver College of Health Sciences (BCHS). They are among 38 students who have received the scholarship to date, some of whom have gone on to serve their communities as health care providers or to pursue advanced degrees in health sciences.
Donald C. Beaver '62 '64 and his wife, Vickie Beaver — the couple for whom Beaver College is named — established the Beaver Scholars program in 2019, with the goal of providing support to North Carolina students with a commitment to health care careers. As Beaver Scholars, students qualify for scholarships of $10,000 per academic year.
"These students are smart, ambitious and eager to pursue their degrees at Appalachian," said Vickie, a member of the BCHS Advisory Board. "We are excited to watch them grow as students and as future health care professionals."
The 2022–23 Beaver Scholars:
Bebe Basinger, a first-year exercise science major from Iredell County.
Emily Lin Bjerregaard, a first-year exercise science major and an Honors College student from Mecklenburg County.
Breanna Gibson, a first-year exercise science major and an Honors College student from Iredell County.
Mary Sterett, a first-year communication sciences and disorders major from Onslow County.
Kaitlyn Sessoms, a social work graduate student from Lee County.
Ian Russell, a nutrition graduate student from Mecklenburg County.
The Beaver Scholarship is renewable as long as students meet academic standards established by the college. Scholarships are awarded to undergraduate and graduate students from North Carolina who are majoring in health-focused programs, with priority given to students who demonstrate a strong commitment to improving health care in the region.
BCHS Dean Marie Huff shared that spending time with App State's Beaver Scholars and getting to know them — learning of their plans and aspirations — is an inspiring experience.
"Many of our Beaver Scholars start making a difference in people's lives as students here at App State, volunteering with community organizations and looking for ways to improve access to heath care and to remove barriers," she said.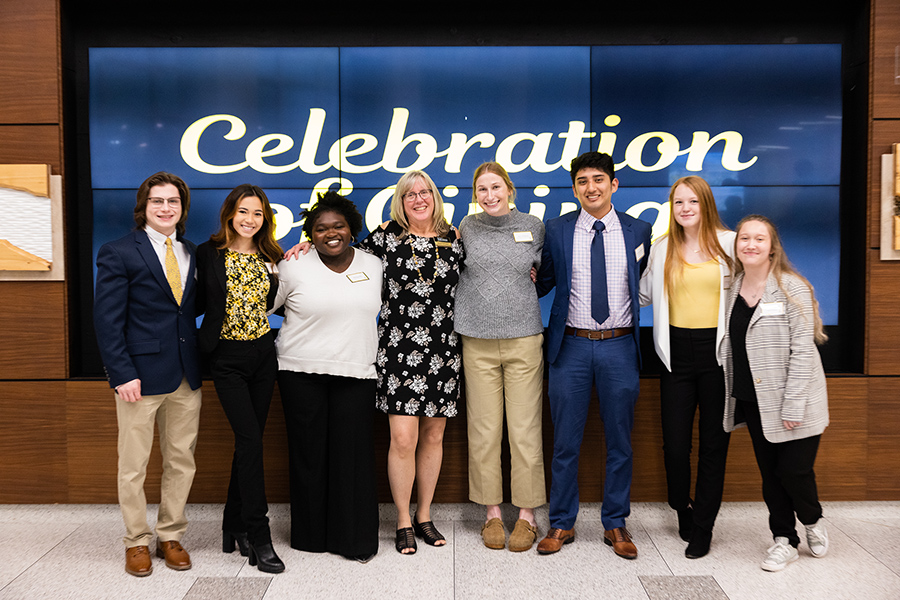 Carson Goins, a senior Beaver Scholar majoring in nutrition and foods from King, said that being one of the inaugural scholars is an experience he will take with him throughout his career and future studies.
"After graduation, I'm looking forward to being able to give back and show how much the Beaver Scholarship has meant to me," Goins said. "Even though Beaver Scholars represent different majors and fields of study, we've built a tremendous amount of camaraderie and I'll be keeping up with them after graduation to make sure they're doing well. We've also had a lot of support from Dean Huff and others who check on us and make sure we're staying on track."
Since the program began, 16 Beaver Scholars have graduated, going on to pursue careers in nursing, social work, nutrition, public health and health care management or advanced degrees in health sciences.
More than 40% of the 38 scholarship recipients are first-generation college students and nearly half of the scholars come from racially diverse or underrepresented groups. More than a third of Beaver Scholars are from rural areas in the state.
What do you think?
Share your feedback on this story.
Beaver Scholars by the numbers
App State's continuing Beaver Scholars
About the Beaver College of Health Sciences
Appalachian State University's Beaver College of Health Sciences (BCHS), opened in 2010, is transforming the health and quality of life for the communities it serves through interprofessional collaboration and innovation in teaching, scholarship, service and clinical outreach. BCHS offers nine undergraduate degree programs and seven graduate degree programs, which are organized into six departments: Nursing, Nutrition and Health Care Management, Public Health and Exercise Science, Recreation Management and Physical Education, Rehabilitation Sciences, and Social Work. The college's academic programs are located in the Holmes Convocation Center on App State's main campus and the Leon Levine Hall of Health Sciences, a state-of-the-art, 203,000-square-foot facility that is the cornerstone of the Wellness District. In addition, the college supports the Blue Cross NC Institute for Health and Human Services and has collaborative partnerships with the Wake Forest School of Medicine's Physician Assistant Program, UNC Health Appalachian and numerous other health agencies. Learn more at https://healthsciences.appstate.edu.
About Appalachian State University
As the premier public undergraduate institution in the Southeast, Appalachian State University prepares students to lead purposeful lives. App State is one of 17 campuses in the University of North Carolina System, with a national reputation for innovative teaching and opening access to a high-quality, affordable education for all. The university enrolls more than 21,000 students, has a low student-to-faculty ratio and offers more than 150 undergraduate and 80 graduate majors at its Boone and Hickory campuses and through App State Online. Learn more at https://www.appstate.edu.