Posted June 29, 2023 at 10:34 a.m.
BOONE, N.C. — Appalachian State University Chancellor Sheri Everts announced June 7 that the University of North Carolina System and its partners have collectively avoided $1.75 billion in energy costs since the 2002–03 academic year. The announcement came on the opening day of the Appalachian Energy Summit, which App State has hosted annually since 2012.
The three-day event gathers faculty, staff and students from colleges and universities, as well as energy managers and visionaries and government and industry leaders, to share ideas and put into action ecological, financial and social processes designed to improve energy efficiency across the UNC System, the state and beyond. Driven by the summit, the UNC System, North Carolina community colleges and other state agencies are working to save $2 billion in avoided energy costs by 2025.
"For more than a decade, this annual summit has served as a beacon for government officials, industry leaders, educators and students from across the state and the University of North Carolina System," said Everts. "These leaders and innovators convene each summer to share accomplishments, current research and best practices. They return to their home communities and campuses inspired and motivated to effect change and continue their collaborations year-round. The influence of this summit extends nationwide, and it has also had real and powerful impacts on the North Carolina economy."
App State has achieved nearly $56 million in avoided energy costs and over $15 million in avoided water use costs since 2002–03, for a combined total of more than $71 million in utility savings.
The campus continues to exceed the goal established in Gov. Roy Cooper's Executive Order 80: North Carolina's Commitment to Address Climate Change and Transition to a Clean Energy Economy, with a 44% reduction in energy use per square foot since 2002–03. The executive order established an energy use reduction goal of at least 40% compared to 2002–03 fiscal year levels.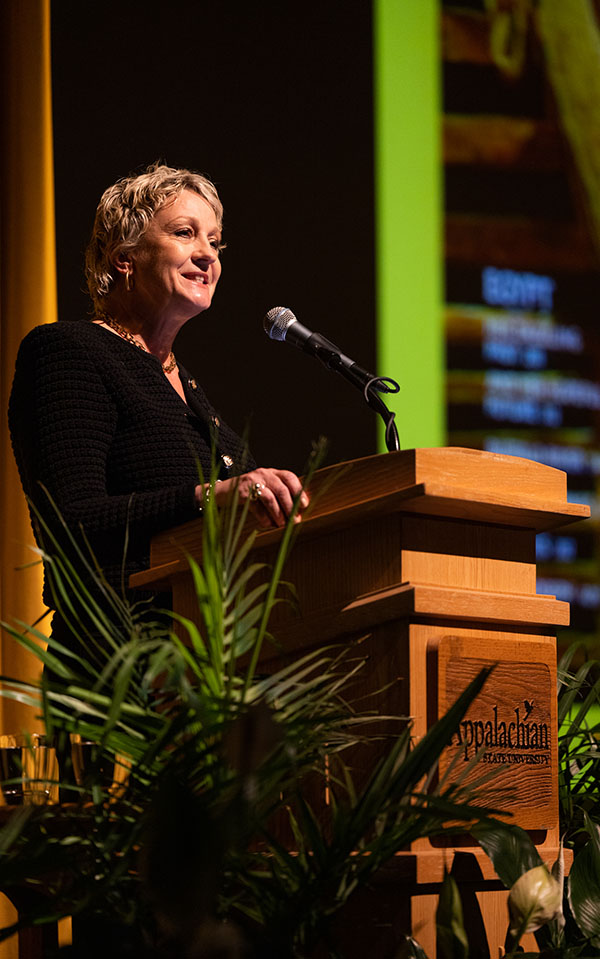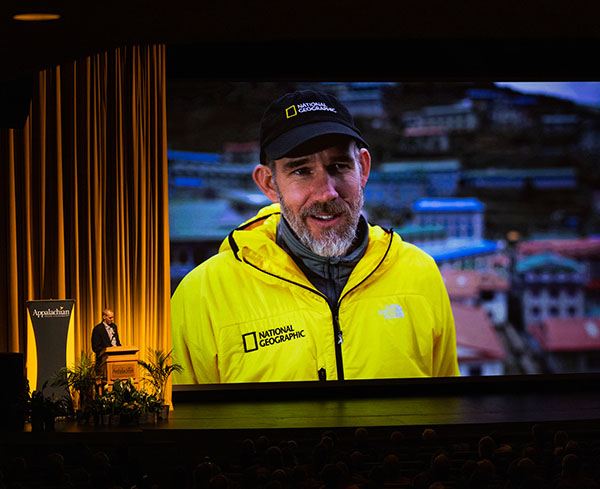 This year's summit featured a keynote address by National Geographic Society Chief Executive Officer Jill Tiefenthaler, who shared how the Society is building on its legacy of dauntless exploration by creatively leveraging cutting-edge science and storytelling — from historic scientific expeditions to award-winning filmmaking — to illuminate the threats from climate change and biodiversity loss and protect the world's wonders.
Following Tiefenthaler's address, National Geographic Explorer and App State professor of geography Dr. Baker Perry spoke about his work installing weather stations on high-altitude peaks across the world, including Mount Everest, to study the impacts of a changing climate.
Since its inception in fall 2011, the summit's objectives have included:
Educating students to be the leaders of tomorrow.
Reducing and stabilizing the UNC System's average annual energy expenditures.
Transforming and stimulating the North Carolina economy.
Positioning colleagues in the UNC System and private universities as national leaders.
Creating a culture of environmental and economic sustainability.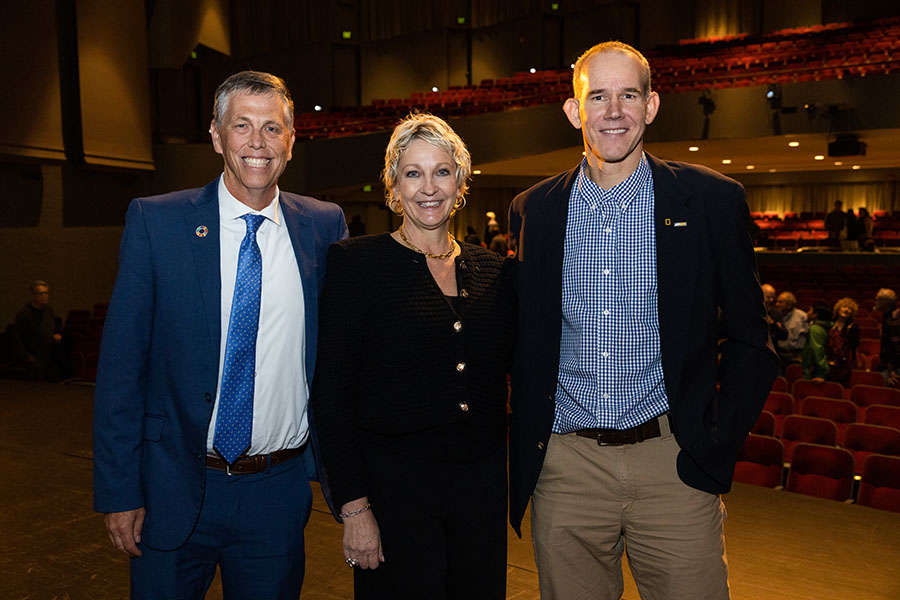 "This year's summit was a huge success," said Dr. Lee Ball Jr., App State's chief sustainability officer. "Convening a combination of higher education, industry, local government and nonprofit sectors creates unique perspectives and opportunities for transdisciplinary collaboration that is unprecedented. The Appalachian Energy Summit continues our focus on energy reduction and clean energy production while weaving in regenerative design practices focused on positive and generous solutions."
The 2023 summit included presentations and sessions on:
The North Carolina Clean Energy Fund.
Decarbonization strategies.
Energy cost savings, resilience and sustainability through microgrids.
Zero waste and waste diversion programs.
Aligning the climate action plans of the university and the town of Boone.
Campus energy efficiency.
App State's Innovation District — featuring a net-zero carbon energy system.
The event also featured a student poster presentation, and attendees were offered tours of App State's campus gardens, the Mountaineer Food Hub, Renewable Energy Initiative (REI) projects and Team Sunergy's solar vehicle workshop.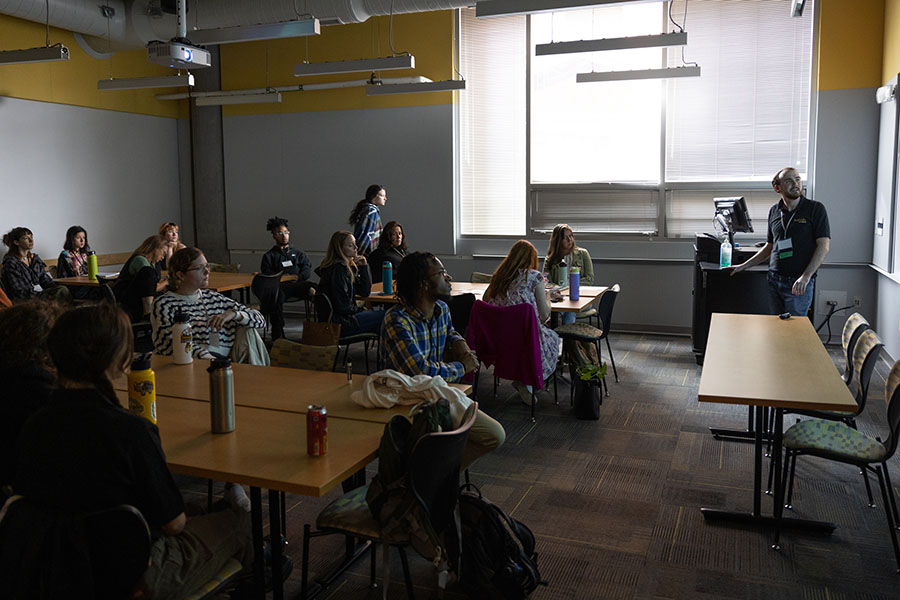 National Geographic Society featured at Energy Summit
Before joining the National Geographic Society, Tiefenthaler served as president of Colorado College in Colorado Springs, provost of Wake Forest University in Winston-Salem and professor of economics at Colgate University, in Hamilton, New York. As CEO of the National Geographic Society, Tiefenthaler oversees the implementation of the Society's programmatic agenda and heads the society's global community of National Geographic Explorers — scientists, innovators, educators and storytellers.
Tiefenthaler's talk, "Exploration at the Extremes," highlighted multiple examples of the Society's mission-driven work through words, photos, video and sound.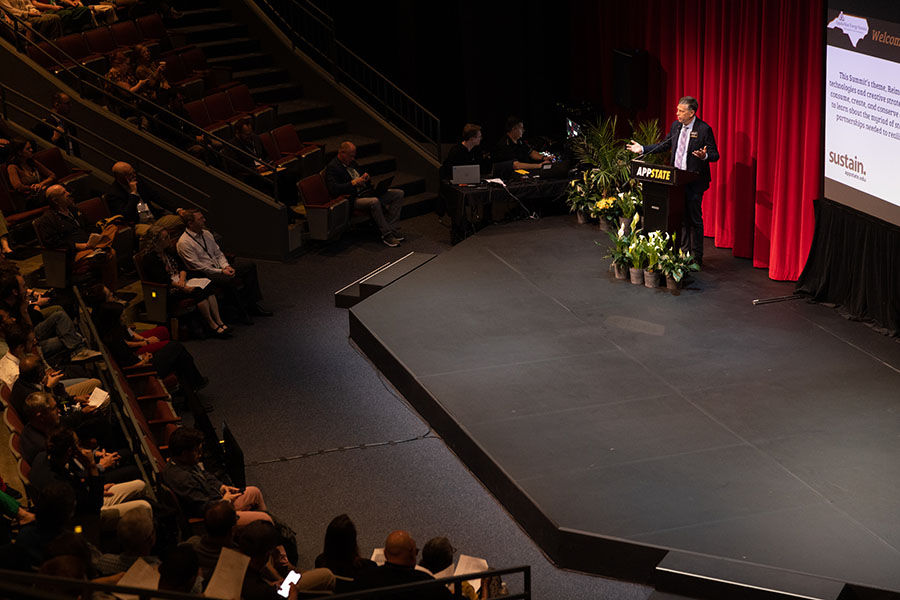 "We are all here because we are driven to make a positive difference," said Tiefenthaler. "Science alone is not enough to inspire the change we want to see in the world. We ground our work in science and combine it with compelling narratives to cultivate understanding and touch hearts and minds to invoke change."
Tiefenthaler highlighted several projects being led by National Geographic Explorers, including the Pristine Seas program; studies of Canada's highest peak, Mount Logan; a two-year exploration of the Amazon River Basin from the Andes mountain range to the Atlantic Ocean, including Perry's expedition to Nevado Ausangate; and the Okavango Wilderness Project.
Tiefenthaler then turned the program over to Perry to present his experiences during expeditions to Mount Everest and the Tropical Andes. Perry, a climate scientist specializing in high mountain environments, has spent the last couple of decades researching high altitude climate change.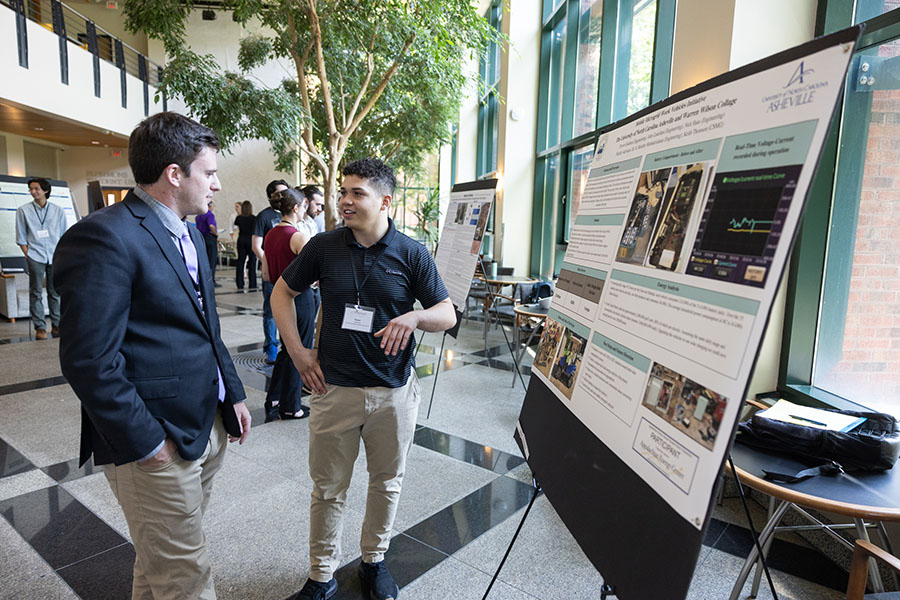 Perry has led research expeditions that have installed and maintained 11 weather stations above 5,000 meters — 16,404 feet — in elevation. In June 2019, Perry co-led the first National Geographic and Rolex Perpetual Planet Expedition to place weather stations on Mount Everest. At the time, the Balcony station at 8,430 meters (27,657 feet) was the highest weather station in the world. In February 2021, Perry co-led the National Geographic and Rolex Perpetual Planet Expedition to the Tupungato Volcano in Chile that installed the highest weather station at 6,505 meters (21,342 feet) in the Americas. In 2022, Perry led two National Geographic and Rolex Perpetual Planet Expeditions: one to Nevado Ausangate, at 6,384 meters (20,944 feet), in southern Peru to assess climate change impacts, and another to install the highest weather station in the world at 8,810 meters (28,904 feet), just below the summit of Mount Everest at Bishop Rock.
"High mountain regions are very likely warming much faster than the global average, and the world's supply of fresh water is very much in trouble as snow and ice vanish," said Perry. "Melting of the roof of the world raises the probability of catastrophic flooding."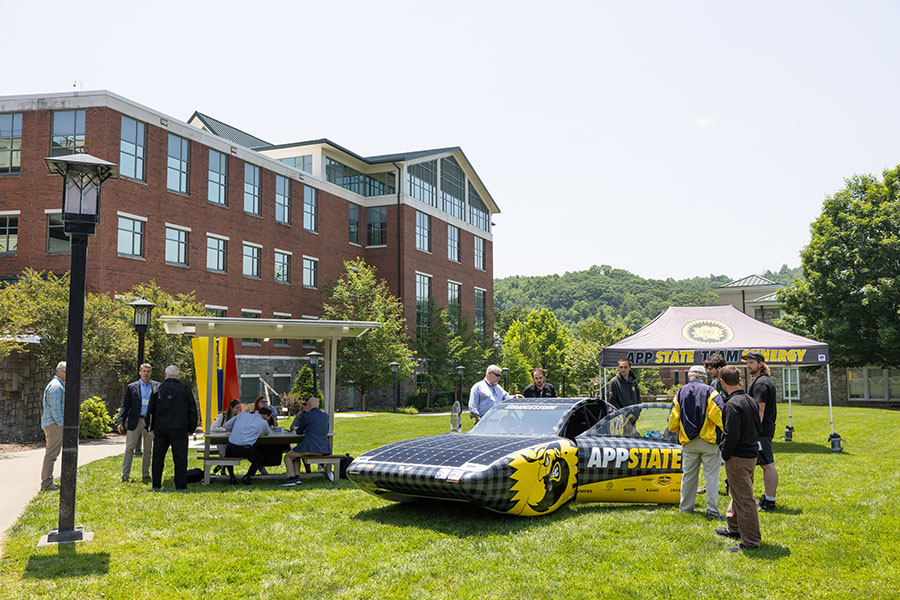 The understanding of climate change at the highest levels of the world is uncharted territory. Prior to the 2019 National Geographic and Rolex Perpetual Planet Expedition to Mount Everest, only one weather station existed above 6,000 meters (19,684 feet) worldwide.
With the network of observation stations the teams put in place during the 2019 and 2022 expeditions, scientists are able to collect real-time climate data from these highest regions. To extend research data collection, these stations receive regular maintenance, repairs and replacements, since the stations experience extreme wind speeds exceeding 150 mph.
"With continued support from National Geographic, Rolex and App State, we are working closely with our Sherpa team members and Nepali partners to continue to operate these stations and to extend the climate record as long as possible," Perry said.
To close the program, Tiefenthaler and Perry were joined by Ball for a moderated panel discussion with questions provided by students.
What do you think?
Share your feedback on this story.
The Renewable Energy Initiative — energy efficient student success
Recent App State efficiency projects
App State hosts decade of NC energy conferences to put ideas into action
July 21, 2022
About Sustainability at Appalachian
Appalachian State University's leadership in sustainability is known nationally. The university's holistic, three-branched approach considers sustainability economically, environmentally and equitably in relationship to the planet's co-inhabitants. The university is an active steward of the state's interconnected financial, cultural and natural resources and challenges students and others think critically and creatively about sustainability and what it means from the smallest individual action to the most broad-based applications. The university offers both undergraduate and graduate academic degree programs that focus on sustainability. In addition, 100 percent of Appalachian's academic departments offer at least one sustainability course or course that includes sustainability, and all students graduate from programs that have adopted at least one sustainability learning outcome. Learn more at https://appstate.edu/sustainability.
About Appalachian State University
As the premier public undergraduate institution in the Southeast, Appalachian State University prepares students to lead purposeful lives. App State is one of 17 campuses in the University of North Carolina System, with a national reputation for innovative teaching and opening access to a high-quality, affordable education for all. The university enrolls more than 21,000 students, has a low student-to-faculty ratio and offers more than 150 undergraduate and 80 graduate majors at its Boone and Hickory campuses and through App State Online. Learn more at https://www.appstate.edu.