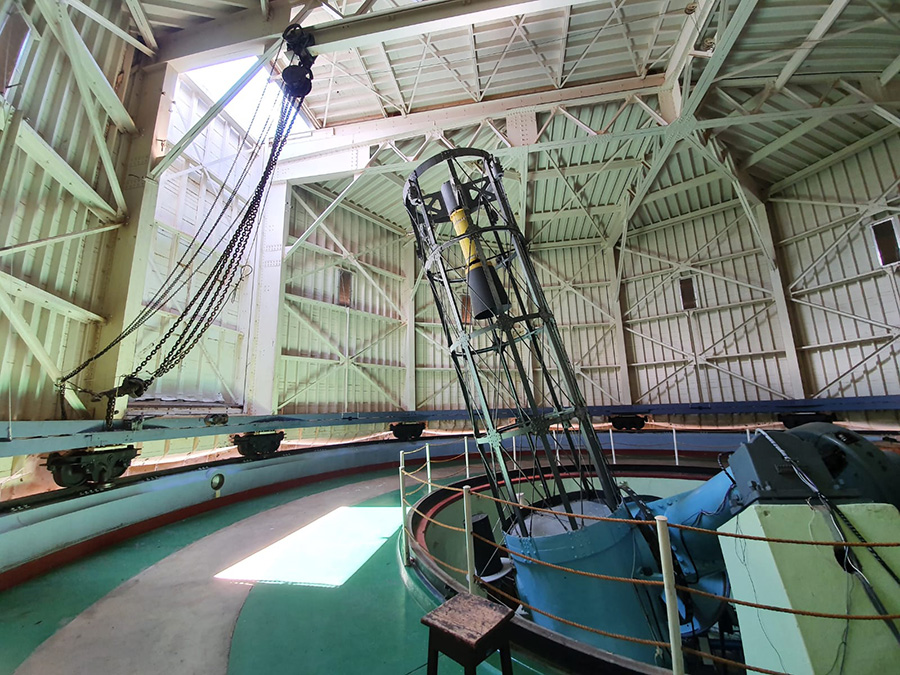 Posted June 30, 2023 at 11:04 a.m.
BOONE, N.C. — A spectrograph designed, built, installed and commissioned by Appalachian State University astrophysicist Dr. Richard Gray may help scientists across the world — including those at App State and the University of the Free State (UFS) in South Africa — gain greater insights into the origins and evolution of celestial objects such as stars, planets and galaxies far, far away.
This spring, Gray successfully commissioned a spectrograph that he designed and built for the 1.5-meter telescope housed at UFS' Boyden Observatory — work that began in 2019, as part of Gray's Fulbright project "Uniting the Sky: An Astronomical Partnership with the University of the Free State." The project was put on hold in 2020 due to the COVID-19 pandemic, as well as a malfunction of one of the telescope's internal mechanisms.
The project presents "opportunities for training a new generation of astronomers at both institutions, drawing especially from underrepresented groups in Appalachia and South Africa," Gray said.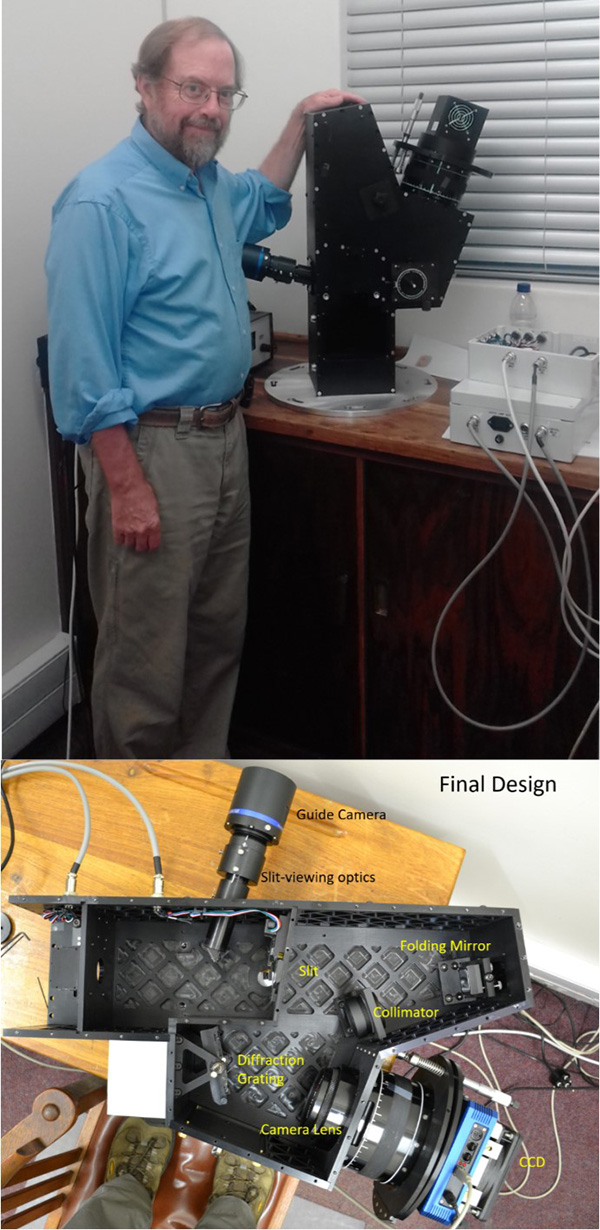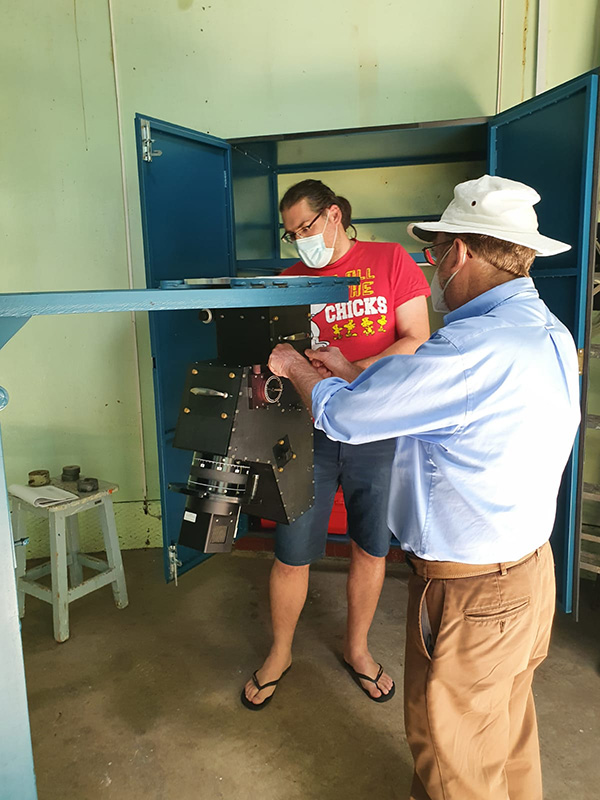 He explained that the long-term benefits for both App State and UFS center on collaborative research in astronomy and other STEM (science, technology, engineering and math) fields, as well as virtual and in-person exchanges for faculty and students.
"Astronomers are very interested in questions of origins — not only how stars form but also how planets form, because the two happen at the same time," said Gray. "I think it's fair to say that probably 90% of what we know about objects in the universe comes through spectroscopy."
An astronomical spectrograph "uses an optical element, such as a prism or diffraction grating, to disperse the light from a star or galaxy into the spectrum, or into the rainbow of colors," Gray explained. "The light is then focused on a highly sensitive charged-coupled device (CCD) camera that creates an image of the spectrum, which allows astronomers to analyze numerous details of the astronomical object being observed."
The App State–UFS collaboration includes access to the Boyden telescope for App State astronomers and reciprocal access by UFS astronomers to the 32-inch research telescope at the university's Dark Sky Observatory (DSO), which also features a spectrograph designed by Gray. This would make the entire sky accessible to scientists at both institutions. Before the installation of the spectrograph, UFS and App State astronomers could see only limited parts of the skies of the northern and southern hemispheres, respectively.
Remote access capabilities for the Boyden telescope are being explored. Currently, the dome that covers the Boyden telescope is operated by a hand crank and would need to be upgraded to an automated system.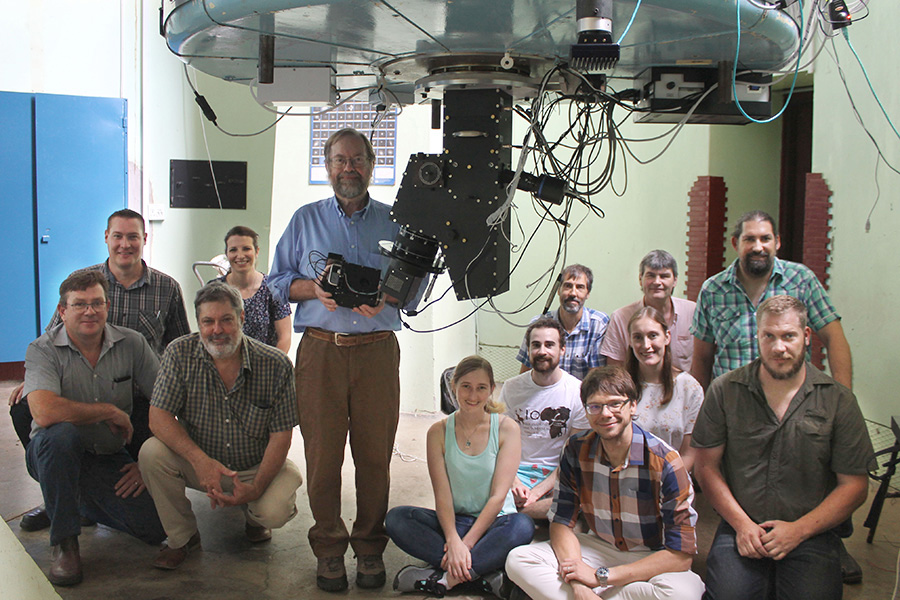 The making of a spectrograph
More than 100 parts compose Gray's spectrograph, which he built over the course of six months using equipment in App State's College of Arts and Sciences Machine and Electronic Shop and with the help of retired App State machinist Dana Greene and retired App State electronics technician Mike Hughes. The UFS Department of Electronics and Instrumentation also helped build several of the instrument's components, with the spectrograph's materials fully funded by App State's College of Arts and Sciences and the college's Department of Physics and Astronomy.
Commissioning of the spectrograph involved calibrating and optically aligning the instrument, as well as performing multiple tests to ensure it works as designed. The instrument is now fully operational and can be controlled remotely.
Additionally, Gray designed and built a polarimeter that — once installed inside the spectrograph — converts the instrument into a spectropolarimeter, which allows scientists to study and analyze the polarization of light emitted by celestial objects.
"For instance, scientists can study the effect of magnetic fields in astronomical sources, which introduce various polarization signatures that can be detected using the polarimeter," said Gray.
Numerous UFS students and professors were involved in the installation of the spectrograph, Gray said, and spent much time with him in the observatory, learning how the instrument works.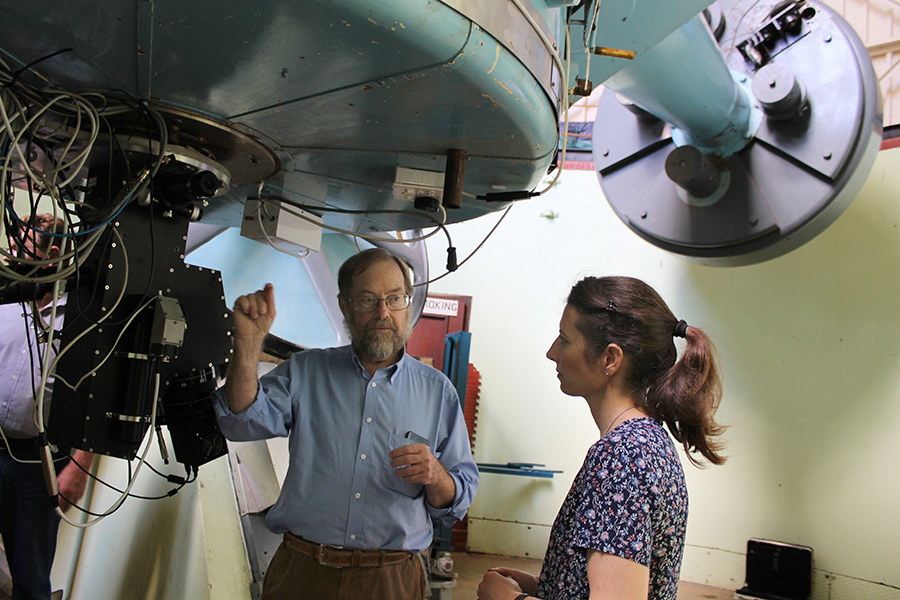 Shining new light on stellar, planetary evolution
Spectroscopy can help bridge the gaps in scientists' understanding of stellar and planetary evolution — the physical and chemical changes that stars and planets undergo over the course of their lifetimes, from birth to death. It could even play a key role in identifying life beyond Earth, according to NASA.
By examining the spectrum of an astronomical body, astrophysicists can determine its temperature, density and age, as well as the speed at which it is moving, its chemical composition and any magnetic field that may be present, Gray shared.
He offered an example of how the combined power of a spectrograph and polarimeter can be used to study stellar objects:
"Young stars, which are still contracting out of clouds of dust and gas, have light that is quite often polarized because magnetic fields wend their way through those clouds. By looking at the polarization properties, we can learn something more about how stars form, and then, by extension, how planets form," said Gray.
Dr. Pieter Meintjes, senior professor in UFS' Department of Physics, said, "The Boyden spectropolarimeter provides a unique opportunity to expose astronomers from App State to the southern sky. Rich star fields of the galactic center, as well as the Magellanic Clouds (dwarf galaxies), pass right overhead in the winter months of the Southern Hemisphere."
He added, "UFS research focused on multi-wavelength studies of high energy galactic and extragalactic sources will greatly benefit from optical spectroscopic and polarimetric observations. The Boyden spectrograph provides a very powerful diagnostic tool to unravel the secrets hidden within these sources."
Meintjes will use the newly installed spectrograph to study binary star systems, as well as active supermassive black holes. UFS professor Dr. Brian van Soelen, also in the Department of Physics, will use the instrument for his research on high-energy and very high-energy astrophysics.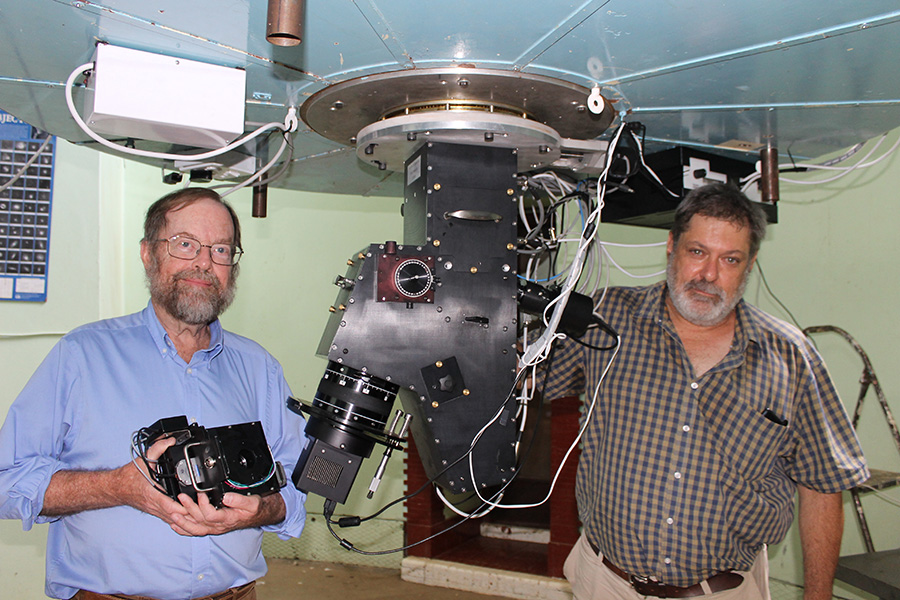 App State–UFS astronomical collaborations
Plans are in place for in-person exchanges between astronomy graduate students at App State and UFS, with UFS students visiting App State to work with the 32-inch DSO telescope and App State students traveling to UFS to use the Boyden telescope. This may eventually lead to exchanges between undergraduate students as well, according to Gray.
The first step in this process will begin with virtual exchanges between App State and UFS faculty, Gray said. Beginning this fall, UFS faculty will deliver virtual lectures on high-energy astrophysics to advanced astronomy students at App State, and App State faculty will give lectures in their areas of expertise at a future date.
Although the Boyden telescope's spectropolarimeter is not the first of its kind in South Africa, it marks an important move in making such technology more accessible for scientists across the world.
Gray explained that many of the world's astrophysicists seek observational time on the largest optical telescope in the Southern Hemisphere, known as SALT (Southern African Large Telescope), which is located approximately 500 miles southwest of Boyden Observatory, in Sutherland. However, it is extremely difficult to secure extended periods of time on this telescope, he said.
Having regular access to observational time on the spectrograph-outfitted Boyden telescope means that App State and UFS astrophysicists, as well as other scientists, can conduct long-term surveys of objects — over months, or even years, which is important for astronomical research, Gray said.
App State's long-term relationship with UFS formally began in 2009, with the signing of a partnership agreement. Examples of past collaborations between the two institutions include:
The federally funded mountains-to-mountains project, which involved developing two new master's degree programs at UFS, creating a leadership mentoring program for young Black women in academia, conducting doctoral research projects in the High Country and South Africa, and installing weather stations in South Africa's Maloti-Drakensberg Mountains. The project, which engaged faculty, staff and graduate students at both institutions, took place over the 2020–21 and 2021–22 academic years.
The University Staff Doctoral Program (USDP) — a joint program of UFS and App State that aims to increase the number of university academics in South Africa who hold doctoral degrees. Scholars who participated in the program in 2019–20 were co-supervised by App State faculty members during their U.S. doctoral work at the university and until the completion of their degrees. UFS invited App State to participate in the USDP project under the auspices of the United States–South Africa Higher Education Network collaboration program.
UFS is the only academic institution in South Africa with access to a 1.5-m telescope paired with a spectrograph.
What do you think?
Share your feedback on this story.
The university is one of 3 master's institutions nationwide to receive the honor
Feb. 15, 2023
About the Department of Physics and Astronomy
The Department of Physics and Astronomy's curriculum has an applied nature that includes a core of fundamental physics courses and laboratory experiences. The department prepares graduates for a variety of scientific, teaching or engineering professions, as well as future educational endeavors. Learn more at https://physics.appstate.edu.
About the College of Arts and Sciences
The College of Arts and Sciences (CAS) at Appalachian State University is home to 17 academic departments, two centers and one residential college. These units span the humanities and the social, mathematical and natural sciences. CAS aims to develop a distinctive identity built upon our university's strengths, traditions and unique location. The college's values lie not only in service to the university and local community, but through inspiring, training, educating and sustaining the development of its students as global citizens. More than 6,400 student majors are enrolled in the college. As the college is also largely responsible for implementing App State's general education curriculum, it is heavily involved in the education of all students at the university, including those pursuing majors in other colleges. Learn more at https://cas.appstate.edu.
About Appalachian State University
As the premier public undergraduate institution in the Southeast, Appalachian State University prepares students to lead purposeful lives. App State is one of 17 campuses in the University of North Carolina System, with a national reputation for innovative teaching and opening access to a high-quality, affordable education for all. The university enrolls more than 21,000 students, has a low student-to-faculty ratio and offers more than 150 undergraduate and 80 graduate majors at its Boone and Hickory campuses and through App State Online. Learn more at https://www.appstate.edu.