Posted Feb. 15, 2023 at 4:18 p.m.
BOONE, N.C. — Appalachian State University is one of 18 higher education institutions nationwide to be named a Top Producer of Fulbright scholars and students for the 2022–23 academic year, according to the U.S. Department of State and Institute of International Education. The university is one of only three master's institutions to receive the honor this year.
Two App State faculty and four alumni were awarded 2022–23 Fulbrights to study, teach and/or research abroad through the U.S. government's flagship international educational exchange program. Of the more than 9,300 applicants nationally for the 2022–23 Fulbright award cycle, less than a quarter received a Fulbright award.
"App State is proud that so many of our faculty, students and alumni have received Fulbright awards over the years," said App State Provost Heather Hulburt Norris. "By working with the Fulbright Student Program and the Fulbright Scholar Program as partners in a shared educational mission, we create mutual respect across cultures, as well as a deeper understanding of the challenges and opportunities facing humankind."
This is the sixth time App State has placed in the top 10 list for Fulbright U.S. Scholars among master's institutions, and the third time the university has made the list for the number of students and/or alumni selected for the Fulbright Program. App State was recognized as the nation's Top Producer of Fulbright students and scholars among master's institutions in 2019–20 and tied with the College of Charleston for this same honor in 2018–19.
"Thanks to the visionary leadership of these institutions, administrators and advisors, a new generation of Fulbrighters — changemakers, as I like to say — will catalyze lasting impact on their campus, in their communities and around the world," said Lee Satterfield, assistant secretary of state for the U.S. Bureau of Educational and Cultural Affairs.
Fulbright Week at App State, taking place Feb. 14–16, offers numerous in-person and virtual workshops for students, faculty and staff to learn more about opportunities available through the Fulbright U.S. Scholar Program and the Fulbright U.S. Student Program — as well as tips and tricks for preparing a successful Fulbright application. The three-day event is organized by App State's Office of Nationally Competitive Scholarships, Office of International Education and Development and Office of Research.
See the list of 2022–23 Top Producers for Fulbright scholars and students.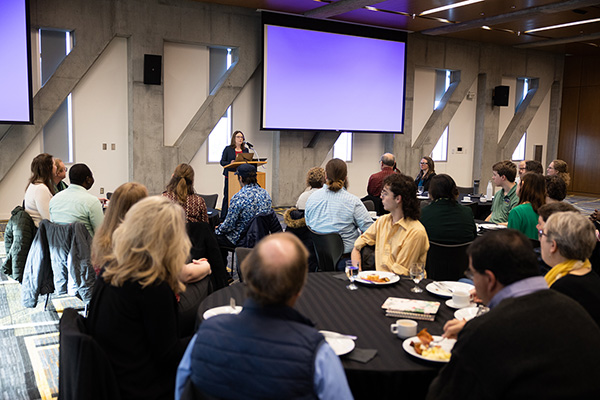 Faculty Fulbright recipients
App State's two faculty Fulbright recipients for the 2022–23 award cycle:
Dr. Alexandra Sterling-Hellenbrand, professor of German and global studies at App State, is teaching undergraduate courses and engaging in research this spring as the Fulbright Visiting Professor of Cultural Studies at the University of Graz. Her research builds upon and is part of a larger project called "Medieval Literature in the Modern Landscape: Heritage, Culture and Identity in Contemporary Austria," which Sterling-Hellenbrand began in spring 2020, during her first Fulbright appointment at the University of Graz.
Dr. Katherine Ledford, professor of Appalachian studies in App State's Department of Interdisciplinary Studies, is spending the spring 2023 semester in Amman, Jordan, where she teaches at Al-Ahliyya Amman University — working to foster cross-cultural understanding between the people of Appalachia and Jordan through literature.
Alumni Fulbright recipients
App State's four alumni Fulbright recipients for the 2022–23 award cycle:
About the Fulbright Program
The Fulbright Program, now in its 77th year, was created to increase mutual understanding between the people of the United States and the people of other countries. The primary source of funding for the Fulbright Program is an annual appropriation made by the U.S. Congress to the U.S. Department of State's Bureau of Educational and Cultural Affairs.
Fulbright Students are recent college graduates, graduate students and early career professionals, while Fulbright Scholars are faculty, researchers, administrators and established professionals. Applicants are vetted by their institutions before moving to review at the National Screening Committee level, where applications are reviewed by experts in the field/geographic region from institutions across the U.S.
Over 800 U.S. college and university faculty and administrators and over 2,000 U.S. students are awarded Fulbright grants annually. In addition, some 4,000 Fulbright Foreign Students and Visiting Scholars come to the U.S. annually to study, lecture, conduct research or teach their native language.
Since its inception in 1946, the Fulbright Program has given more than 400,000 students, scholars, teachers, artists and professionals of all backgrounds and fields the opportunity to study, teach and conduct research, exchange ideas and contribute to finding solutions to important international problems.
What do you think?
Share your feedback on this story.
App State Fulbright support
She will continue her research project 'Medieval Literature in the Modern Landscape'
Jan. 10, 2023
Her project aims to foster cross-cultural understanding through literature
Feb. 13, 2023
About the Office of International Education and Development
The OIED is responsible for spearheading the internationalization efforts at Appalachian. The internationalization mission of Appalachian is to develop awareness, knowledge, appreciation and respect of cultural differences in both domestic and international contexts in its students, faculty, staff and the surrounding communities. The university is also dedicated to creating a campus environment that builds the theoretical and practical skills needed to interact effectively in a global society. Learn more at https://international.appstate.edu.
About the Office of Research
Appalachian State University's Office of Research provides support for the research, creative, and scholarly endeavors of Appalachian faculty, staff and students. The office consists of four units: Grants Resources and Services, Sponsored Programs, Research Design and Analysis, and Research Protections. The Office of Research also collaborates with the university's Special Funds Accounting on the fiscal management of awarded projects. Learn more at https://research.appstate.edu.
About Nationally Competitive Scholarships
Nationally Competitive Scholarships (NCS) works with the Appalachian community to recruit and support students for nationally competitive scholarships and fellowships, including those that support research, teaching and critical language learning. This is achieved with outreach, mentorship and advising throughout the entire application and selection process. NCS is committed to helping undergraduate and graduate students find ways to connect their Appalachian education to their future endeavors through scholarship opportunities. Learn more at https://ncs.appstate.edu.
About the Honors College
More than 500 students are enrolled in Appalachian State University's Honors College, which serves a diverse group of high-achieving, high-potential, highly motivated students from all majors. The Honors College helps students develop independent and creative thinking and high-level research skills; promotes interdisciplinary inquiry; and nurtures cultured and caring exchanges of ideas. The college's enhanced academic experience prepares students for success in graduate or professional school and for leadership roles in their lives, communities and careers. Learn more at https://honors.appstate.edu.
About University College
Formed in 2007, University College consists of the university's general education program, faculty and student support, and co-curricular programming and support – all designed to support the work of students both inside and outside the classroom. All students at Appalachian begin their education in University College and benefit from its programs until they graduate. Learn more at https://universitycollege.appstate.edu.
About Appalachian State University
As the premier public undergraduate institution in the Southeast, Appalachian State University prepares students to lead purposeful lives. App State is one of 17 campuses in the University of North Carolina System, with a national reputation for innovative teaching and opening access to a high-quality, affordable education for all. The university enrolls more than 21,000 students, has a low student-to-faculty ratio and offers more than 150 undergraduate and 80 graduate majors at its Boone and Hickory campuses and through App State Online. Learn more at https://www.appstate.edu.