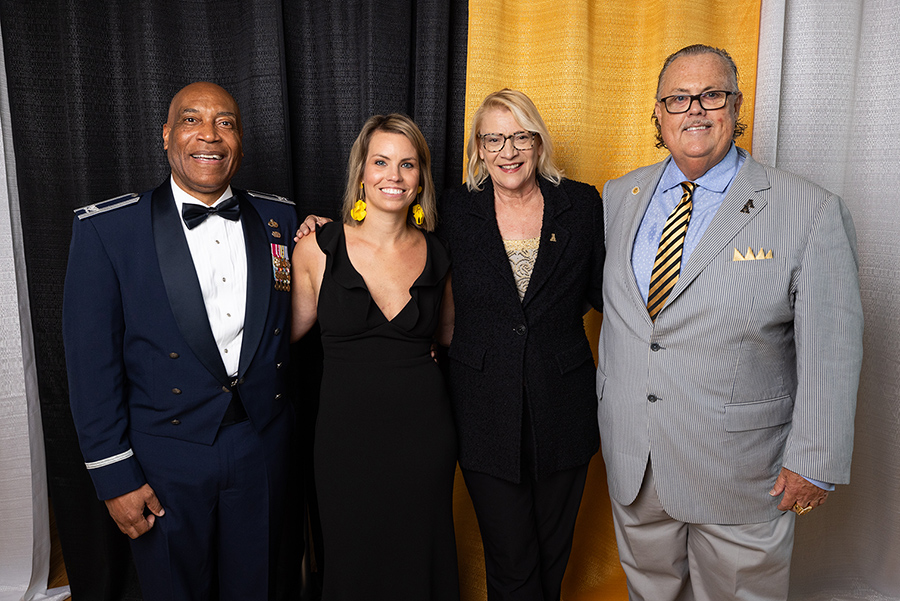 Posted July 20, 2023 at 12:11 p.m.
BOONE, N.C. — Three Appalachian State University graduates were honored by the university's Alumni Association at the 2023 Alumni Awards Gala, held in the Grandview Ballroom on July 15. The awards, given annually, honor graduates who have made a lasting impact on society and the university through their outstanding professional, philanthropic and volunteer accomplishments.
"Today we recognize three exceptional alumni who are making real and powerful differences in the lives of current and future App State students," App State Chancellor Sheri Everts said. "These remarkable individuals are changing the world for the better each and every day through their commitment to excellence, but each of them would say they are simply doing what they know to be right."
The 2023 honorees:
C. Philip Byers '85 received the Distinguished Alumni Award, which recognizes individuals who have attained extraordinary distinction and success in their career field and have demonstrated exceptional and sustained leadership in their community.
Brian "Scotty" McCullough '89 '98 received the Outstanding Service Award, which recognizes individuals for their exceptional service to the university.
Stacy Roberson Reedy '06 '07 received the Young Alumni Award, which is given to individuals under 40 years of age for their exceptional service to the university and accomplishments in their career.
The awards gala was held as part of the university's Alumni Weekend.
Distinguished Alumni Award — C. Philip Byers '85
C. Philip Byers earned his bachelor's degree in health education from App State in 1985. He also holds a master's degree in public affairs from Western Carolina University and participated in the Law Enforcement Executive Program at North Carolina State University.
Byers served in law enforcement for 20 years, retiring in 2006 as sheriff of Rutherford County. During his tenure, Byers received acclaim for leading the fight against illegal methamphetamine production and trafficking in Western North Carolina, and, as a result, testified on several occasions before the U.S. Congress. He was also part of a federal hate crime task force from 1996 to 1999, for which he received performance awards from the U.S Attorney's Office, Federal Bureau of Investigation and Bureau of Alcohol, Tobacco, Firearms and Explosives.
Byers is passionate about student success, safety on college campuses and access to education, which led to his roles in education leadership and philanthropy. In 2014, Byers was named president of Challenge Foundation Properties in Forest City — where he currently lives — to help connect a growing network of public charter schools with the building resources they need for long-term success.
In 2015, Byers was appointed by the North Carolina General Assembly to the University of North Carolina System Board of Governors. He was reappointed to the board in 2019 and serves as chair of the subcommittee on laboratory schools, vice chair of the committee on military and public affairs and as a member of the committee on university governance.
Byers is also a member of several community organizations, including Kiwanis International, Masonic Lodge and Oasis Shriners. He also works with the Thomas Jefferson Classical Academy in Mooresboro and is a founding member of the Lake Lure Classical Academy.
Learn more about C. Philip Byers and why he received a 2023 Distinguished Alumni Award from App State.
Outstanding Service Award — Brian 'Scotty' McCullough '89 '98
Brian "Scotty" McCullough earned his first bachelor's degree from App State — a Bachelor of Science in mathematics — in 1989. McCullough taught math in public schools in Roanoke, Virginia, and Charlotte, North Carolina, before beginning a military career with the Air National Guard in 1994. While in the military, he earned his second App State bachelor's degree, in health care management, in 1998. McCullough also received a master's degree in military operational arts and science studies from the United States Air Force's Air Command and Staff College in Montgomery, Alabama, in 2012.
McCullough, who has reached the military rank of colonel, currently serves as special assistant to the director of logistics, engineering and force protection of the National Guard Bureau located at the Air National Guard Readiness Center in Joint Base Andrews, Maryland.
During his military career, McCullough has served in multiple capacities, with assignments in North Carolina, Washington, D.C., Puerto Rico, Germany, Kuwait, Saudi Arabia, Turkey, Africa and Afghanistan. He has accumulated many major awards and decorations throughout his career, including the Legion of Merit, which is given for exceptionally meritorious conduct in the performance of outstanding services and achievements.
At App State, McCullough has remained an active donor and volunteer for his fraternity, the Pi Nu Chapter of Alpha Phi Alpha Fraternity Inc. He has also played a key role in the development and funding of the Fleming Endowment, the Fleming Scholars Program, as well as the National Pan-Hellenic Council (NPHC) Divine 9 Plots and Garden project and the NPHC Divine 9 Leadership Endowment. He previously served as an App State regional director of development to help raise funds for the university from major market areas, including Charlotte and Atlanta.
McCullough resides in Washington, D.C., with his wife, Erica.
Learn more about Col. Brian "Scotty" McCullough and why he received a 2023 Outstanding Service Award from App State.
Young Alumni Award — Stacy Roberson Reedy '06 '07
Stacy Roberson Reedy earned her bachelor's and master's degrees in accounting from App State in 2006 and 2007, respectively. She is also a 2017 graduate of the North Carolina School of Banking at UNC-Chapel Hill. She started serving as a faculty member at the North Carolina School of Banking this year.
Reedy is currently the executive vice president and chief financial officer at North State Bank in Raleigh, where she has worked since 2013. Previously, she held auditing and leadership roles at Dixon Hughes Goodman (now known as Forvis) in Raleigh from 2007 to 2013.
Reedy has been a board member of the Business Advisory Council in App State's Walker College of Business since 2020. She and her husband, Nolan Reedy '06, have been members of the Yosef Club since 2012. During her collegiate career, Reedy was a member of Beta Alpha Psi and Gamma Beta Phi.
As App State alumni, Reedy and her husband have made several gifts to the university, including to the Walker College of Business, the Walker College Dean's Club, the Walker College Building Leaders initiative — which supports the planned addition for Peacock Hall — the Department of Accounting and the Yosef Club.
Reedy, Nolan and their two children, Maddie and Mason, reside in Raleigh but make multiple trips to Boone each year, especially in support of App State football.
Learn more about Stacy Roberson Reedy and why she received a 2023 Young Alumni Award from App State.
Distinguished Alumni — academic colleges
The Alumni Association also recognized six individuals from App State's academic colleges and the Honors College.
What do you think?
Share your feedback on this story.
These awards recognize graduates for their professional, service and philanthropic accomplishments
Sep. 1, 2022
About Alumni Affairs
The Office of Alumni Affairs provides networking opportunities, affinity program discounts, alumni chapter gatherings and special events, merchandise and travel tour options to Appalachian State University alumni.
The Appalachian State University Alumni Association consists of nearly 142,000 living App State alumni. Membership is free and open to all graduates of App State. The association's mission is to help alumni remember their App State Experience and stay connected with current Mountaineers, and to work to ensure that those experiences are available for future App State alumni by raising support for the Alumni Memorial Scholarship and The Appalachian Fund.
About Appalachian State University
As the premier public undergraduate institution in the Southeast, Appalachian State University prepares students to lead purposeful lives. App State is one of 17 campuses in the University of North Carolina System, with a national reputation for innovative teaching and opening access to a high-quality, affordable education for all. The university enrolls more than 21,000 students, has a low student-to-faculty ratio and offers more than 150 undergraduate and 80 graduate majors at its Boone and Hickory campuses and through App State Online. Learn more at https://www.appstate.edu.