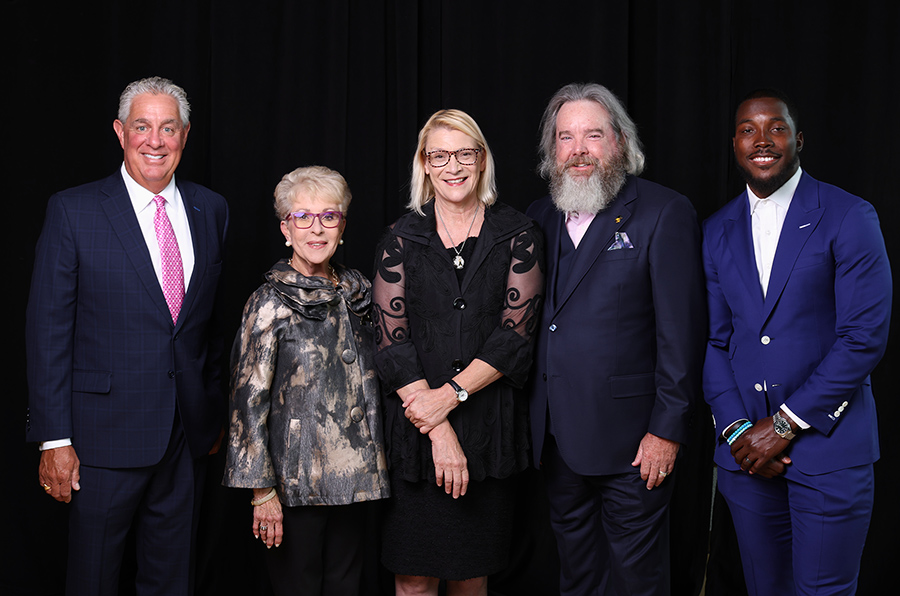 Posted Sep. 1, 2022 at 4:30 p.m.
BOONE, N.C. — The Appalachian State University Alumni Association recognized its 2022 Alumni Awards recipients at a gala held on App State's campus Saturday, July 16. The annual Alumni Awards honor graduates who have made a lasting impact on society and the university through their outstanding professional, service and philanthropic accomplishments.
"I am proud to recognize these extraordinary alumni who are making real and powerful differences in the lives of current and future App State students, and changing the world for the better through their commitment to excellence," said App State Chancellor Sheri Everts. "It is our honor to celebrate them."
Mark E. Ricks '89 received the 2022 Distinguished Alumni Award, which recognizes individuals who have attained extraordinary distinction and success in their career field and have demonstrated exceptional and sustained leadership in their community.
June Wilson Hege '65 and John Thomas Roos '84 each received a 2022 Outstanding Service Award, which recognizes individuals for their exceptional service to the university.
Douglas Middleton Jr. '15 '18 received the 2022 Young Alumni Award, which is given to individuals under 40 years of age for their exceptional service to the university and accomplishments in their career.
Distinguished Alumni Award — Mark E. Ricks '89
Ricks is a 1989 criminal justice graduate whose philanthropy has benefited education, the arts and numerous charities.
Ricks retired as director of global protective operations at Mars Inc. in 2017, after a 30-year career in corporate security and protective operations programs. During this time, he instituted corporate security policies, workplace violence programs and protective operations programs, and traveled the world extensively. A Virginia native, he currently resides outside of Washington, D.C., in Bluemont, where he owns Double Wood Farm, an equestrian sanctuary for retired horses.
Ricks is involved with many facets of the App State Community, serving as vice chair of the Board of Trustees, serving on the Appalachian State University Foundation Board and serving on the Property Management Committee.
Ricks' giving to App State has benefitted multiple areas of campus, including athletics and the Yosef Club, AppKIDS, the College of Arts and Sciences, study abroad, the club hockey team, the Mountaineer Emergency Fund, the App State Police K9 Unit and the Mountaineer Food Hub. His 2017 donation to benefit App State Athletics' A Mountaineer Impact initiative was the university's largest outright gift to date, and the 120,000-square-foot Mark E. Ricks Athletics Complex at Kidd Brewer Stadium was named to honor his commitment.
"Mark Ricks cares deeply about our students and their success," said Everts. "His support has ensured more students can succeed with the benefit of a degree from the premier public undergraduate institution in the Southeast."
Upon learning that he had received the award, Ricks said that as a student, he never would have imagined it.
"I read stories about these great alumni and some of the things they've accomplished and I'm in awe of those people," Ricks said. "I'm in awe of the predecessors that have won this award, and I'm honored to be in that club."
Outstanding Service Award — June Wilson Hege '65
Hege graduated from App State's Reich College of Education with a bachelor's degree in elementary education in 1965.
Hege has served as an active member of the College of Arts and Sciences Advancement Council for more than two decades. Hege led the board as vice chair from 2004–06 and as chair from 2006–07, when she aided with student and board member recruitment, fundraising and guidance. She currently serves as chair of the Membership and Governance Committee. Hege also served as an active member of the Alumni Council from 1997–2004.
Hege and her late husband, Bob, are members of the 1899 Legacy Society, which is designated for those who have included the university in their estate plans. They established the June and Robert Hege Endowment for the Appalachian State University Alumni Association, the June and Robert Hege Endowment for the College of Arts and Sciences and the June and Bob Hege ACCESS Scholarship, which provides financial support for students who qualify for the ACCESS Scholarship Program. Hege contributes to the Yosef Club, the Student and Faculty Excellence Fund and the Appalachian Fund. As owners of Meadows Mills in North Wilkesboro, Hege and her husband generously donated a mill to App State's fermentation sciences program as it began to grow, and they provided internship opportunities for students.
Hege has also supported the Stephen Vacendak Graduate Fellowship for Geography, Alumni Memorial Scholarship Endowment, Appalachian Centennial Endowment, Department of Finance, Banking and Insurance, Reich College of Education Dean's Unrestricted Fund, Arthel (Doc) Watson Endowed Scholarship for Traditional Mountain Music, Dr. Daniel B. German Eminent Professorship in Political Science and Barbara Poovey Burgin Scholarship Endowment for Watauga County Students.
Outstanding Service Award — John Thomas Roos '84
Roos, a 1984 advertising and marketing graduate, is the former senior vice president and chief growth officer for Blue Cross and Blue Shield of North Carolina (BCBSNC). He retired from BCBSNC in December 2020, after a 22-year career.
Roos brought significant company investments to communities across North Carolina through his support of nursing, first responders, food security, domestic violence prevention, and safe, healthy housing. He led the company's investment in workforce development through support of the University of North Carolina System, historically Black colleges and universities, North Carolina community colleges and independent colleges and universities.
A longtime Yosef Club member, Roos' support of App State has spanned more than 30 years, including financial support and advocacy for the university's Beaver College of Health Sciences, Walker College of Business and App State Athletics.
From 2001–12, Roos served on the advisory board of the Walker College of Business' Brantley Risk and Insurance Center. From 2009–16, he served on Walker College's advisory council. In 2010, he was a founding member of the Beaver College of Health Sciences (BCHS) advisory board, which he chaired for two years and served until April. Last year he created BCHS' Roos Family Endowed Scholarship to help train more health professionals to serve North Carolinians.
Young Alumni Award — Douglas Middleton Jr. '15 '18
Middleton is an NFL veteran who earned an App State bachelor's degree in political science in 2015 and a master's degree in public administration in 2018.
Middleton has spent six years in the NFL, playing for the New York Jets, Jacksonville Jaguars and San Francisco 49ers. Middleton has used his platform to advocate for mental health awareness and resources. He started the Dream the Impossible foundation to eradicate the stigma around mental health, suicide in the African American community and with student-athletes after the loss of his best friend, A.J. Morrison. For four years running, he has hosted the Let Your Light Shine Celebration, which is a program that educates students about financial literacy, mental health, career opportunities and community service. The event led to Middleton being named the NFL Players Association's community MVP in Week 15 of the 2017 season.
Middleton has spoken to numerous audiences about mental health and suicide prevention, including high school students and college and professional athletes, and served as the keynote speaker for the NFLPA Mental Health Symposium at the 2020 Super Bowl.
During his collegiate career at App State, Middleton started 32 games at safety and served as captain for two years, leading the team to its first FBS bowl game and victory in the 2015 Camellia Bowl. He earned Freshman All-Conference, Freshman All-American, First Team Sun Belt All-Conference, and academic honor roll recognition during that time.
College-level awardees
The Alumni Association also recognized the following individuals — all leaders in their fields — with college-level awards:
The awards gala was held as part of the university's Alumni Weekend.
What do you think?
Share your feedback on this story.
About Alumni Affairs
The Office of Alumni Affairs provides networking opportunities, affinity program discounts, alumni chapter gatherings and special events, merchandise and travel tour options to Appalachian State University alumni.
The Appalachian State University Alumni Association consists of nearly 146,000 living App State alumni. Membership is free and open to all graduates of App State. The association's mission is to help alumni remember their App State Experience and stay connected with current Mountaineers, and to work to ensure that those experiences are available for future App State alumni by raising support for the Alumni Memorial Scholarship and The Appalachian Fund.
About Appalachian State University
As the premier public undergraduate institution in the Southeast, Appalachian State University prepares students to lead purposeful lives. App State is one of 17 campuses in the University of North Carolina System, with a national reputation for innovative teaching and opening access to a high-quality, affordable education for all. The university enrolls more than 21,000 students, has a low student-to-faculty ratio and offers more than 150 undergraduate and 80 graduate majors at its Boone and Hickory campuses and through App State Online. Learn more at https://www.appstate.edu.