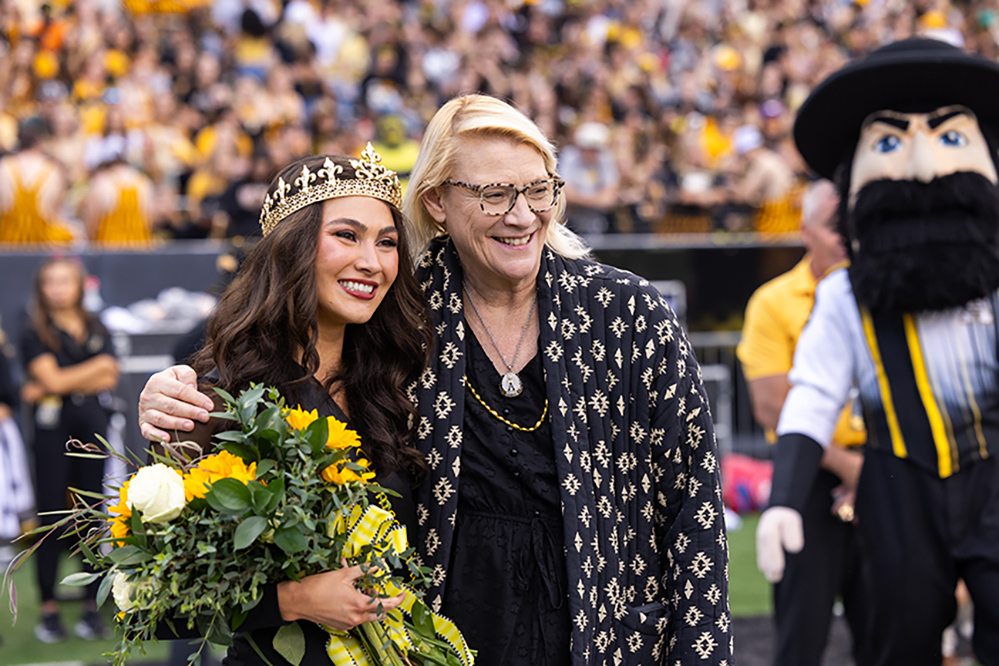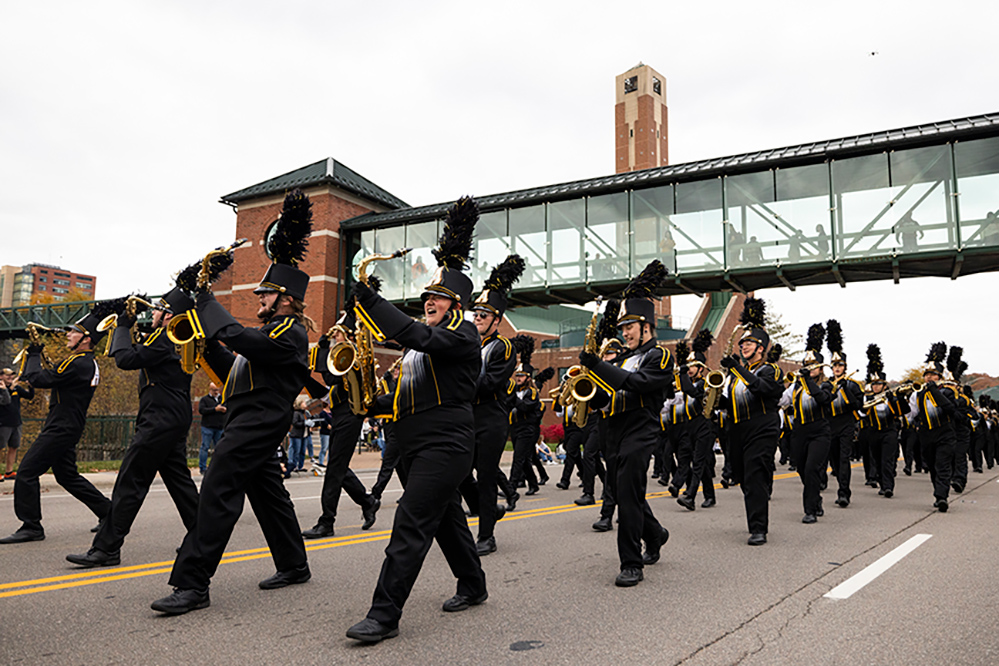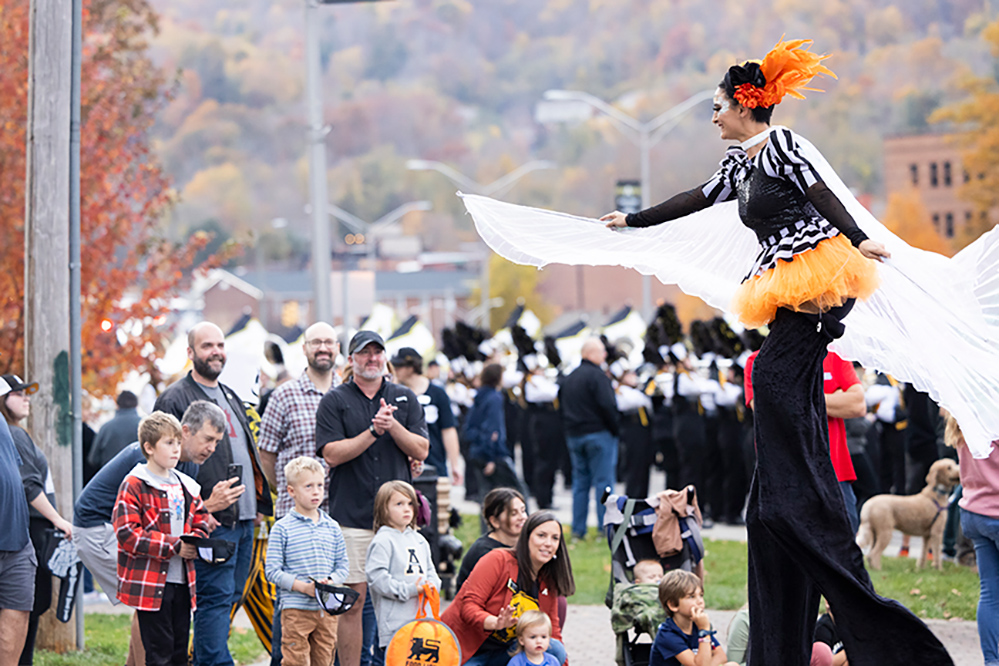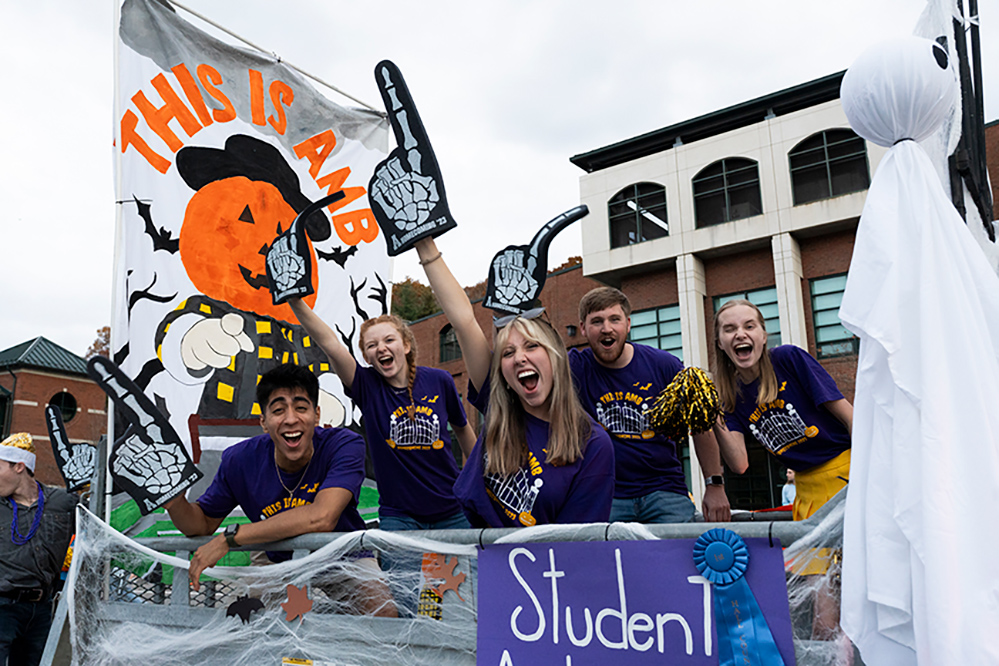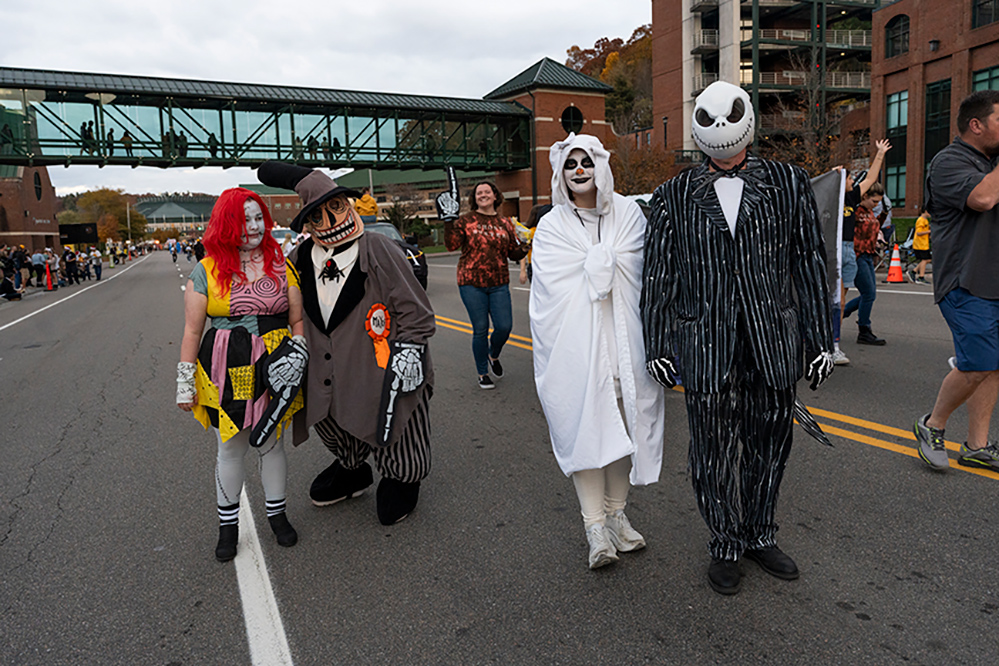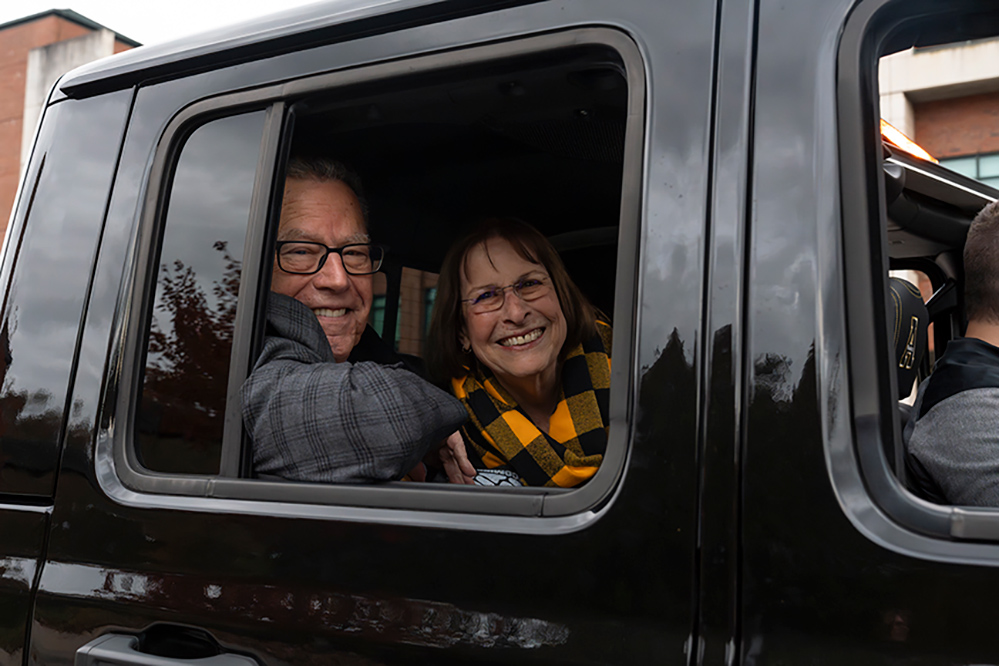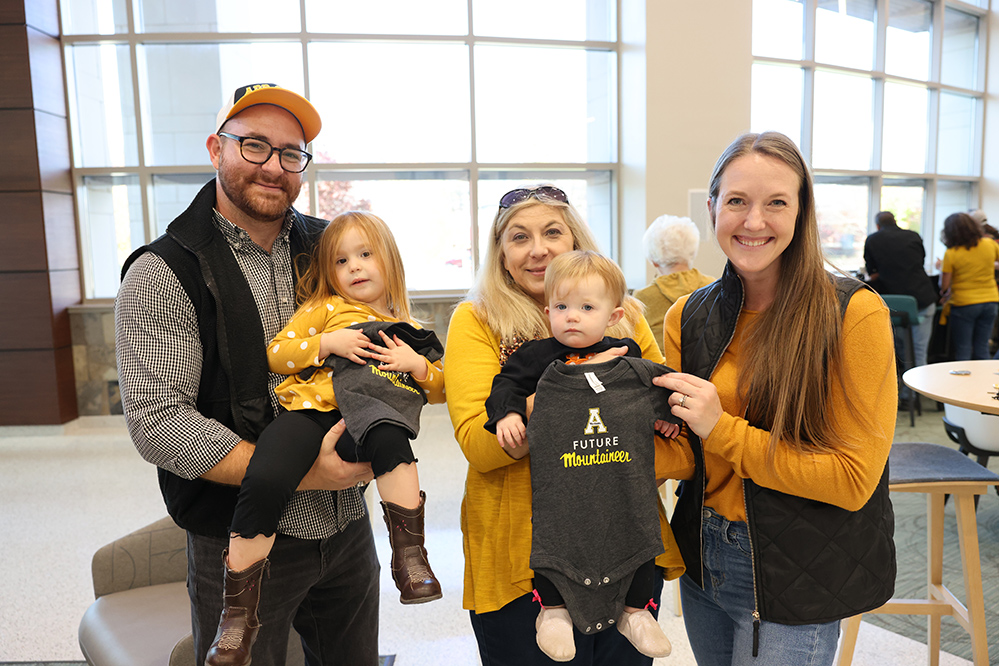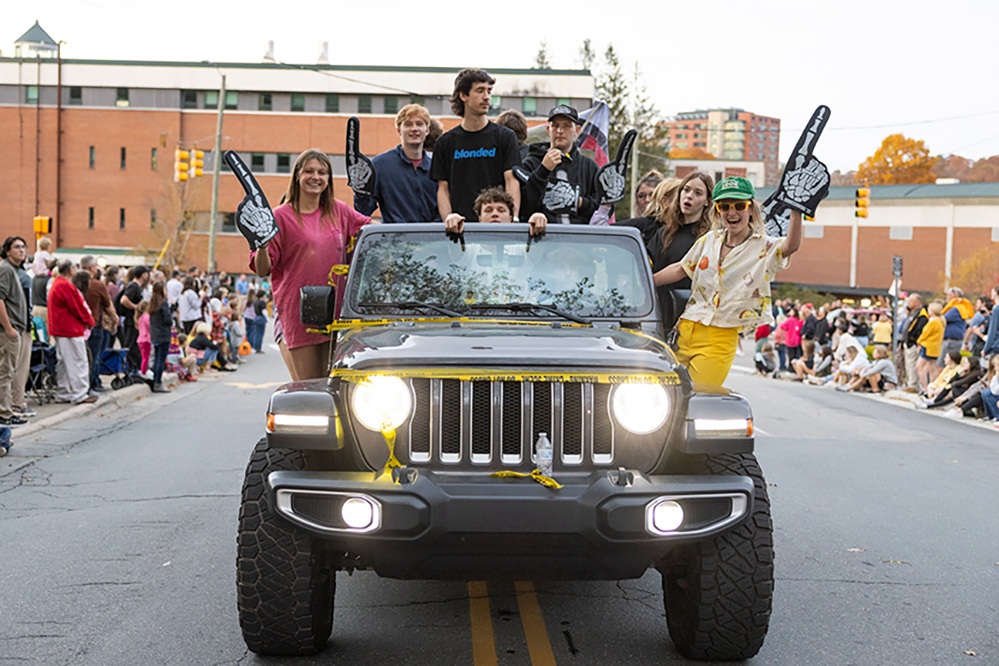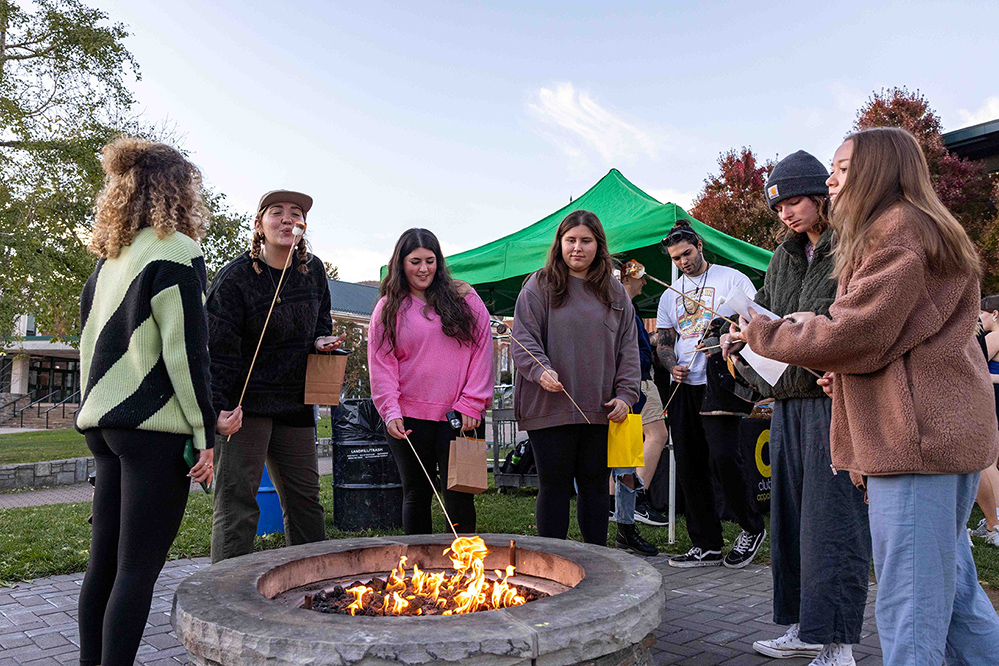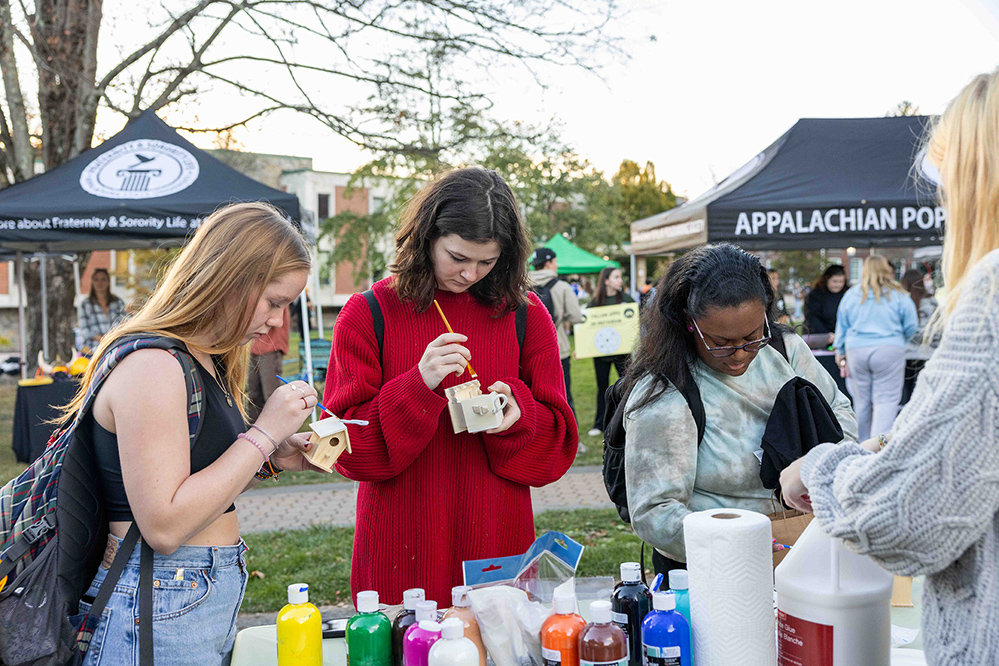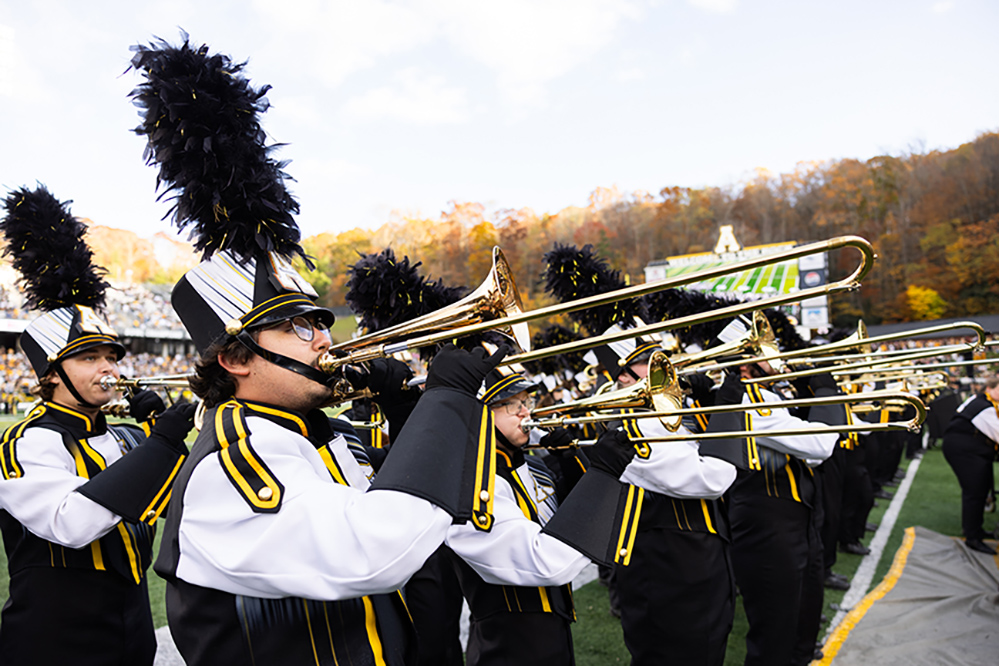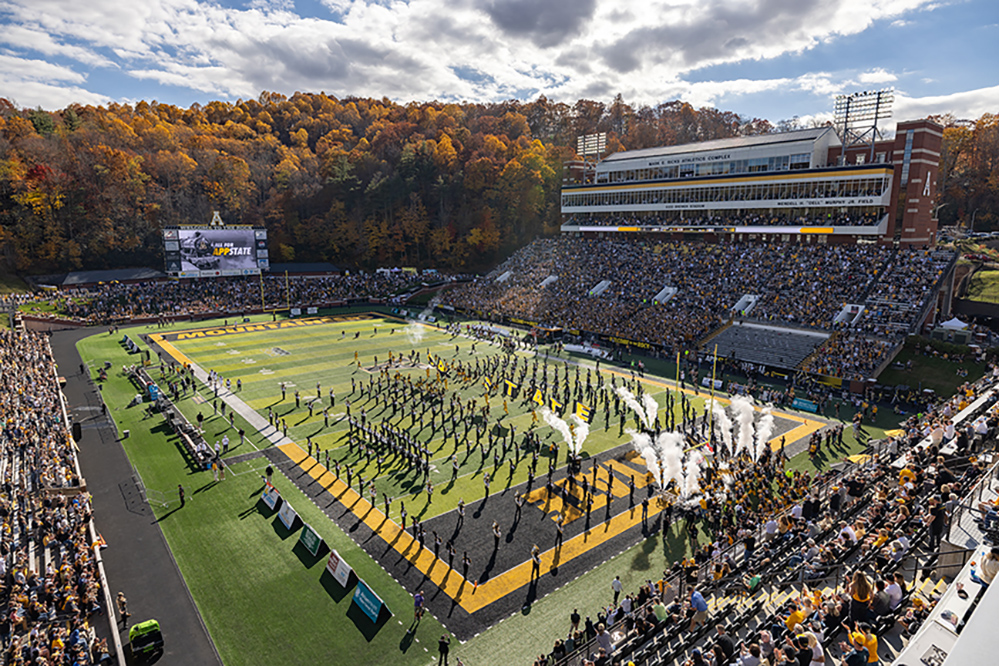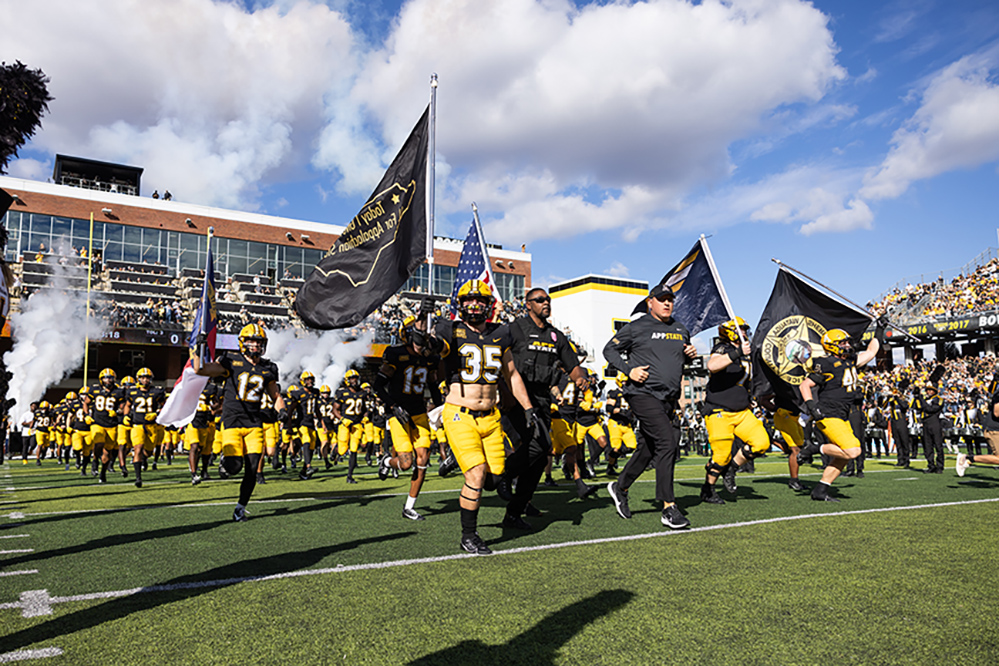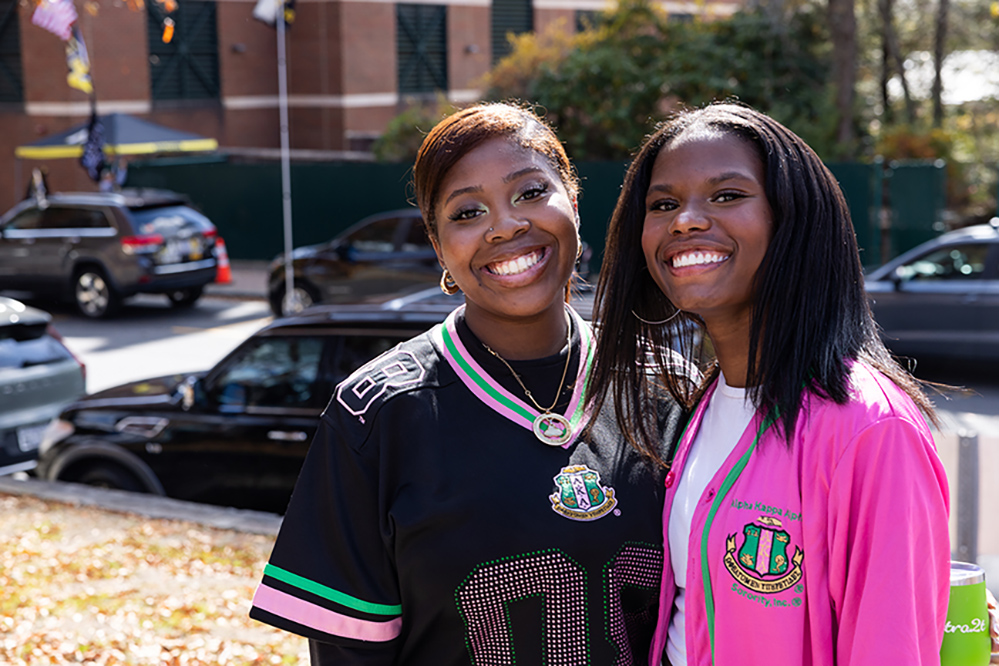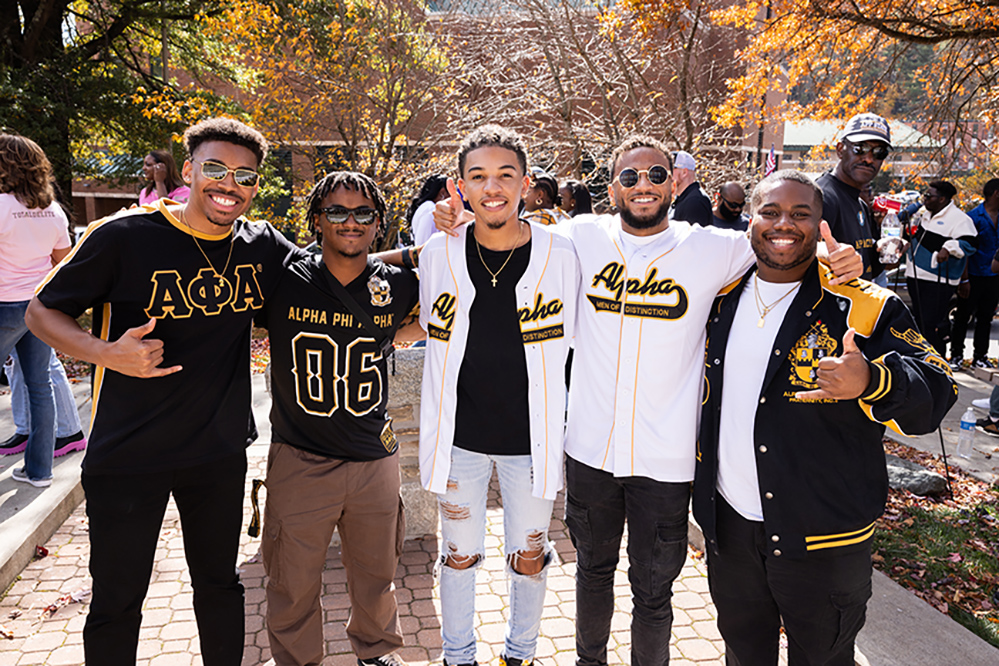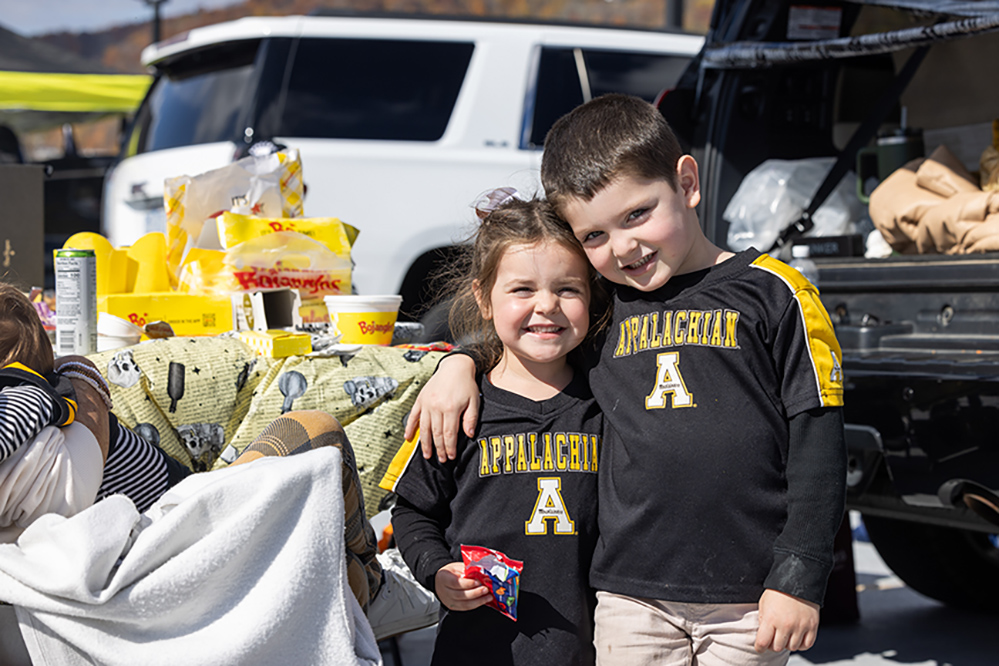 Posted Nov. 1, 2023 at 3:36 p.m.
BOONE, N.C. — A sea of black and gold flooded Appalachian State University's campus from Oct. 23 to Oct. 29 as alumni, students, faculty, staff and the community gathered to celebrate Homecoming 2023.
The week of festivities featured signature annual events, including the Homecoming Parade, home football game and Mountaineer Meetup Under the Stars (APPtoberfest), as well as several activities revolving around this year's student-selected Homecoming theme of "The Nightmare Before APPmas."
Homecoming is a staple among college traditions and has been celebrated at App State for many decades — it's a time to remember fond Mountaineer memories and to make new ones. Below, take a look at App State 50 years ago, 25 years ago and today.
1973
Picture it — Boone, 1973. Drivers were filling up their gas tanks for about 40 cents a gallon, and families were buying their first homes for around $32,500.
Everyone was spinning Pink Floyd's "The Dark Side of the Moon" — which ended up being one of the top five best-selling albums of all time. Groups of friends went to witness the terror of "The Exorcist" firsthand, which became the year's highest grossing movie and one of the most successful horror movies ever made. If the fear of the film was too much to handle, people could go home and lighten the mood with an episode of "All in the Family" or "Sanford and Son."
In sports, Secretariat won the Kentucky Derby, the Preakness Stakes and the Belmont Stakes to achieve the prestigious Triple Crown of horse racing. In the news, the Paris Peace Accords were signed, which resulted in all U.S. forces withdrawing from the Vietnam War.
At App State, enrollment was approaching 8,000 students.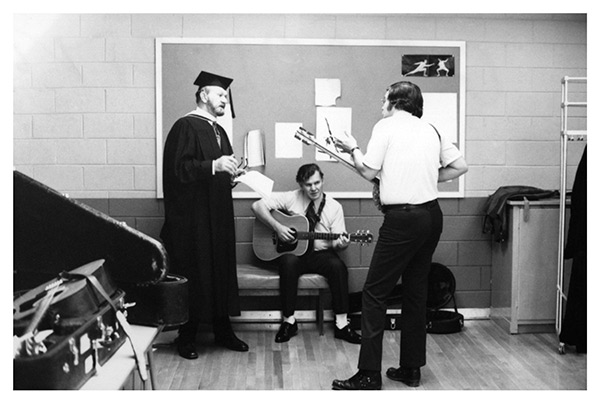 "Boone was a very quiet little mountain town," said App State alumnus Jim Harrill '75. "I bet 95% of the student body came from North Carolina, and probably 75% of them grew up in towns and cities in the western part of the state. We had a fair number of students from the Triangle area, and a few South Carolinians, Virginians and some athletes who were recruited from other places, but it was a pretty localized student population."
Harrill, who graduated with a degree in insurance and real estate, said App State was going through a lot of changes in the early '70s, and that he had started as a first-year student not long after Appalachian State Teachers College became Appalachian State University in 1967.
"When I enrolled at App State, I was planning to be a history teacher, but the market for teachers was not good at the time, because there was an oversupply," said Harrill. "So one of the biggest changes for me was the establishment of the school of business, which offered the insurance and real estate major. I stayed in that business until I retired just a couple of years ago."
New facilities at App State included the Broyhill Inn and Conference Center, which opened in 1973, and the water treatment plant, which was under construction. Featured entertainment events included a Blood, Sweat and Tears concert during Homecoming, and author James Dickey, who wrote "Deliverance," spoke at the Boone campus.
"I lived on campus all four years I was in college," said Harrill. "I always thought it was so convenient because I liked to go to sports games and concerts on campus, plus I didn't have a car, so walkability was important for me. Coed dorms were one of the bigger discussions when I was in school, and it eventually became an option, but when I started out, all of the men were on the west side of campus and all of the women were on the east side."
Harrill said he worked as a resident assistant at Gardner Hall his junior and senior years. He said his room had a black and white antenna TV, and that NBC, ABC and CBS were the only available networks.
"Of course, in Boone, you couldn't get those channels half of the time because of the mountains and the weather," he said.
As for other technology, Harrill said telephones were a groundbreaking addition to dorm rooms.
"If you had to make a phone call, we did have a pay phone on each floor in the dorms and telephone booths on campus," he said. "But by my junior year, if you were willing to pay a little extra, they'd put a landline phone in your dorm room, and that was pretty exciting."
1998
Jump ahead 25 years, to 1998. Thanks to the movie "Armageddon," Aerosmith made its way back to the top of the charts with its rock ballad "I Don't Want to Miss a Thing."
NBC was America's television network of choice, with "ER," "Friends" and "Frasier" raking in the three highest ratings of the year. Tom Hanks was a big screen mega star as "Saving Private Ryan" became one of the most critically acclaimed war films ever made, and "You've Got Mail" became one of the top 20 grossing romantic comedies of all time.
In sports, the New York Yankees swept the San Diego Padres in the World Series, which marked the team's first of three consecutive World Series titles. The 1998 team would go on to be regarded as one of the greatest baseball teams of all time, finishing the regular season with a record of 114–48.
In the news, the U.S. House of Representatives forwarded articles of impeachment against President Bill Clinton to the Senate, making him the second president to be impeached in the nation's history.
Technology continued to advance at a rapid pace in 1998 with the release of Apple's iMac, and the internet was forever changed when Google was founded on Sept. 4.
"About halfway through college is when I started to see things change and computers started showing up everywhere," said Boone native and App State alumnus Byron Cook '98. "My degree was in fine arts, but new technology was fascinating to me, so I started taking digital imaging classes. I remember one of the cutting-edge technologies then was that we were past the floppy disk and could burn data to a CD-ROM, and although it took five hours, that was so exciting."
Cook is now a web designer in University Communications at App State with an office in Anne Belk Hall, which was the university's library when he was in college.
"To get to learn all of that stuff in college and live through the history of it all and now be working here is pretty cool," he said. "To look back makes you definitely appreciate what we have now."
In 1998, enrollment at App State was just under 13,000 students. The Plemmons Student Union opened a Women's Center, and on the entertainment front, Spike Lee was the highlight of the year when he spoke at Farthing Auditorium in November.
"Campus has changed an enormous amount since I was in school," said Cook. "The Convocation Center wasn't there and Durham Park wasn't there. The student union didn't have any markets or anything like that, but we did have Cascades, and that was kind of the cool place to hang out and get some food. The main cafeteria was just like you would imagine in your elementary school, where you would go and stand in line and there was a huge sitting area."
Cook said when he wasn't hiking or playing pickup basketball as a student, he could be found at one of the go-to spots in town: a two-story bar called Rafters — which is now the ECRS Software Corp. building — that had a traditional bar upstairs and live music and entertainment downstairs. Additionally, he shared that there was a restaurant called The Caribbean Cafe in downtown, which is where Boone Saloon is now, as well as a club called Charlie Horse located at the site of Mexican restaurant Dos Amigos, in New Market Center, and that the line to get into the club would often extend all the way to where Big Lots currently stands.
"I'd say now there are a lot more social opportunities on campus and in town than there were back then, but I definitely had a lot of fun in college and I was provided with a fantastic education," said Cook. "I wouldn't change anything about my experience."
2023
This year, students, alumni, faculty, staff and the community enjoyed signature App State Homecoming events, including the Homecoming Parade, the Mountaineer Meetup Under the Stars (APPtoberfest) and the home football game against Southern Mississippi, in which the Mountaineers secured their ninth consecutive Homecoming win.
The grand marshals for the parade this year were husband and wife and longtime High Country residents Nancy and Neil Schaffel, who were designated honorary alumni of App State in 2014. In 2021, the Schaeffels made a $1 million matching gift to the endowment for An Appalachian Summer Festival to support programming of music, dance, theater, film and visual arts.
During the football game, members of the 2023 Homecoming Court received special on-field recognition. Juliana Grant, a senior nutrition and foods major from Huntersville, was named this year's Top of the Rock student for her outstanding achievements and contributions to the university.
Students and alumni were treated to many other special events throughout the week, including:
Homecoming Kickoff Party.
National Pan-Hellenic Council Step Show.
African American Alumni Network Denim and White Party.
WASU radio station Alumni Takeover.
Homecoming Band Spectacular.
What do you think?
Share your feedback on this story.
Students, alumni celebrate Homecoming 2022 with week of festivities
Nov. 10, 2022
About Alumni Affairs
The Office of Alumni Affairs provides networking opportunities, affinity program discounts, alumni chapter gatherings and special events, merchandise and travel tour options to Appalachian State University alumni.
The Appalachian State University Alumni Association consists of nearly 146,000 living App State alumni. Membership is free and open to all graduates of App State. The association's mission is to help alumni remember their App State Experience and stay connected with current Mountaineers, and to work to ensure that those experiences are available for future App State alumni by raising support for the Alumni Memorial Scholarship and The Appalachian Fund.
About the Division of Student Affairs
The Division of Student Affairs at Appalachian State University is committed to the development of lifelong learners and leaders by engaging and challenging students within a culture of care and inclusion. The division consists of 16 units that offer activities and services to help students develop more fully by becoming global learners, fostering healthy relationships, appreciating diversity and different perspectives, understanding community responsibility, enhancing self-awareness, developing autonomy and living ethically. These units include the Career Development Center, Campus Activities, Office of Community-Engaged Leadership, Wellness and Prevention Services, Counseling and Psychological Services, Student Health Service, Parent and Family Services, University Housing, Student Conduct, University Recreation, Intercultural Student Affairs, Student Legal Clinic and Off-Campus Student Services, Electronic Student Services, Child Development Center, and Staff Development and Strategic Initiatives. Learn more at https://studentaffairs.appstate.edu.
About Appalachian State University
As the premier public undergraduate institution in the Southeast, Appalachian State University prepares students to lead purposeful lives. App State is one of 17 campuses in the University of North Carolina System, with a national reputation for innovative teaching and opening access to a high-quality, affordable education for all. The university enrolls more than 21,000 students, has a low student-to-faculty ratio and offers more than 150 undergraduate and 80 graduate majors at its Boone and Hickory campuses and through App State Online. Learn more at https://www.appstate.edu.