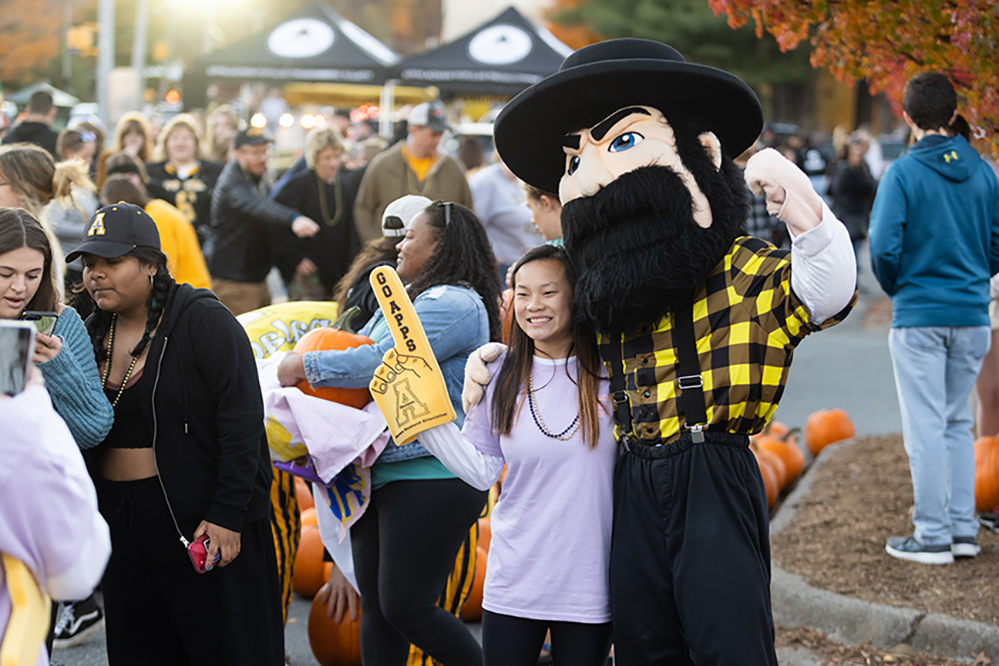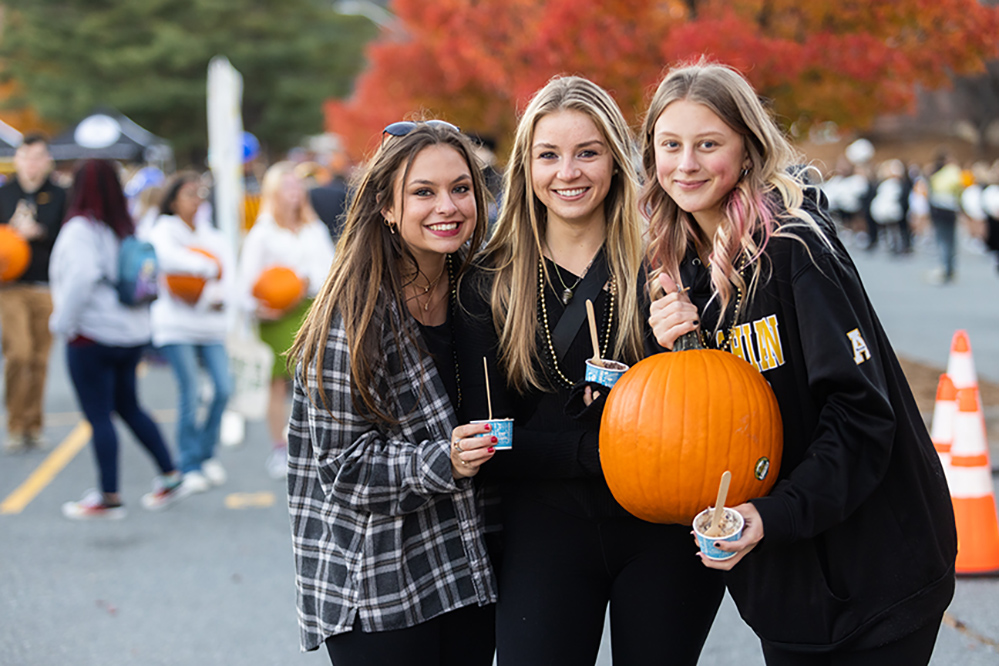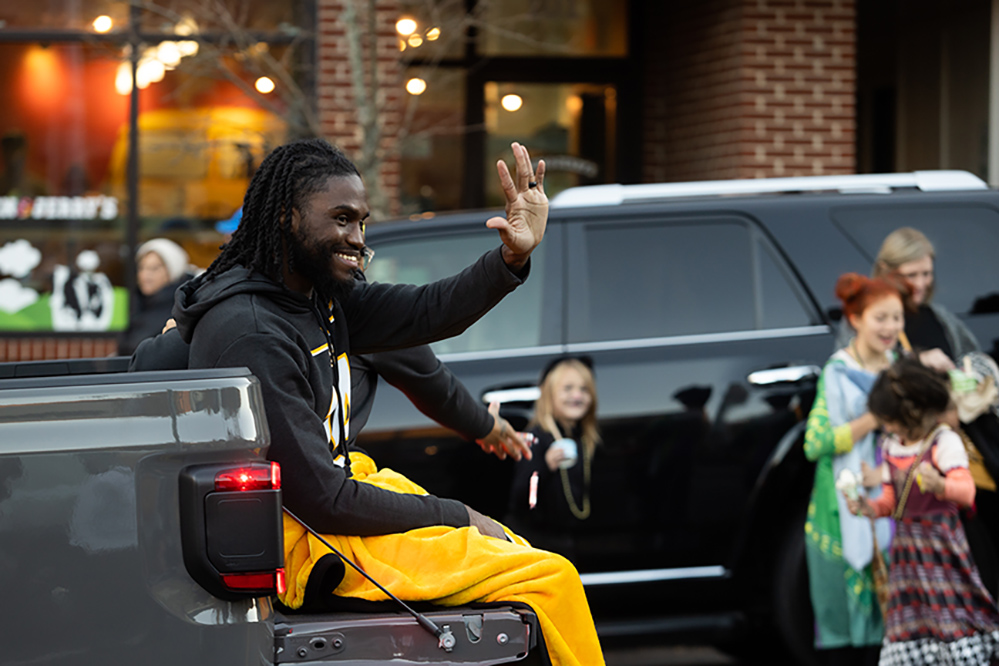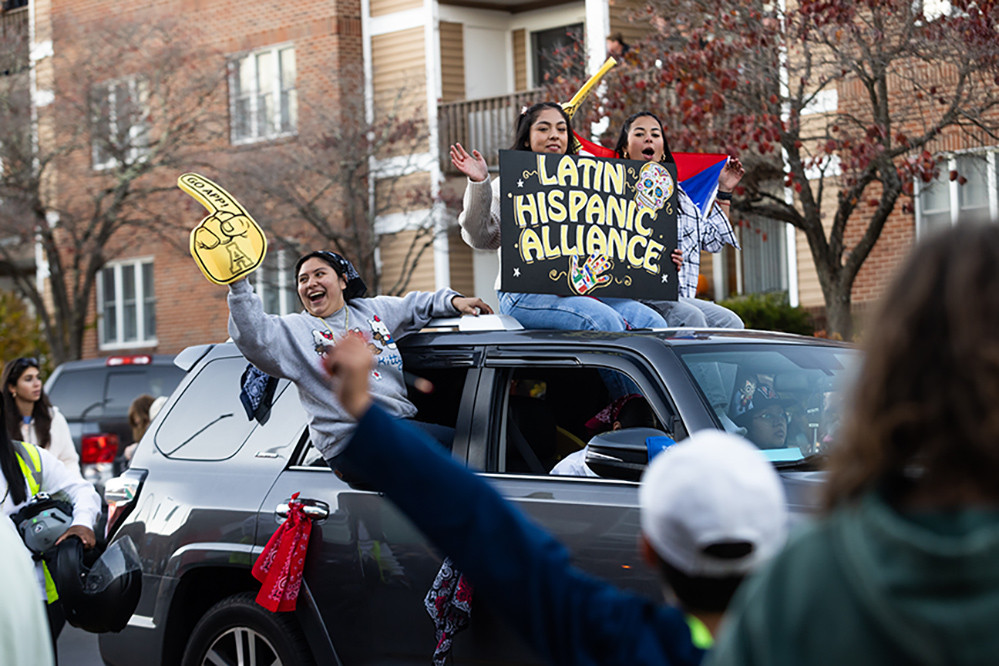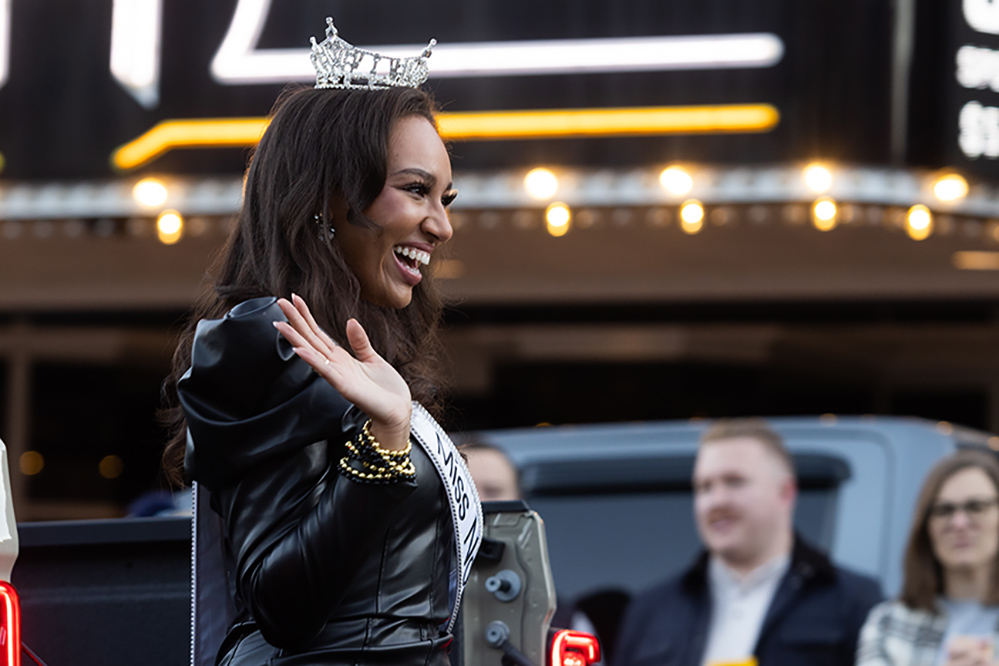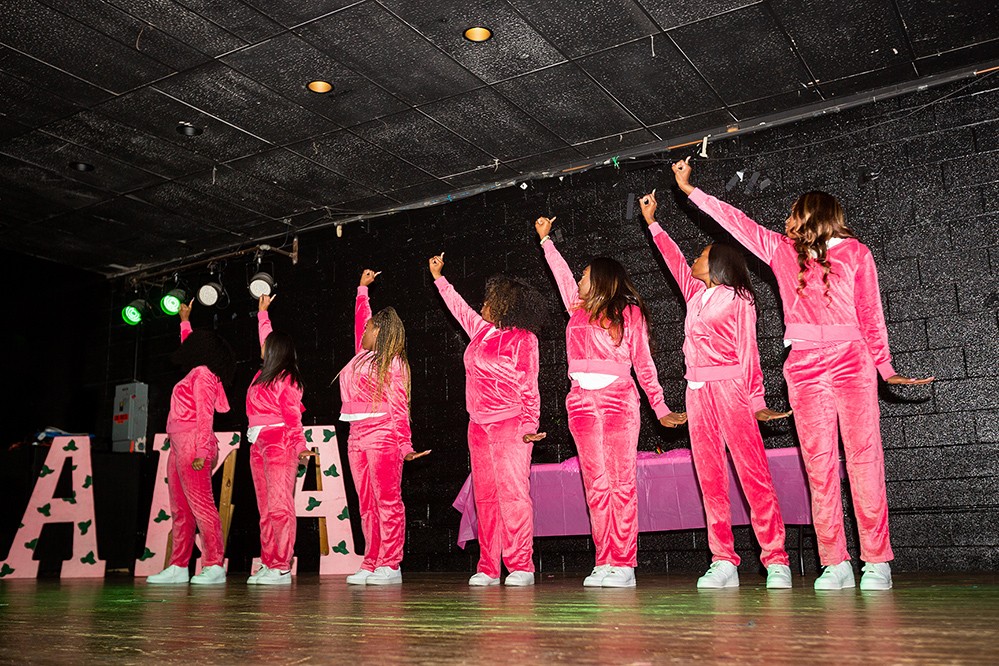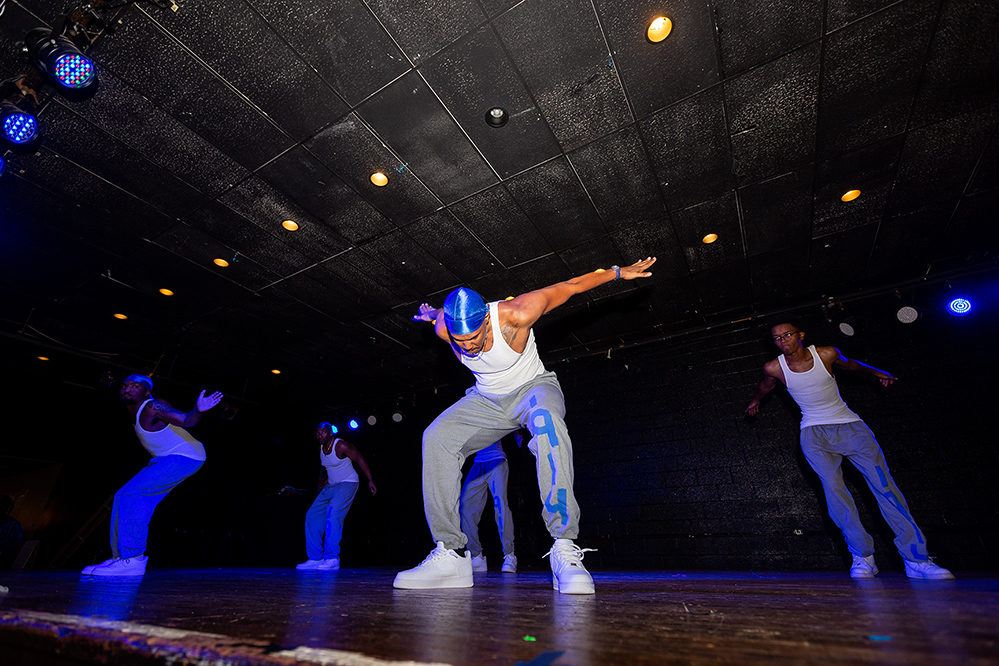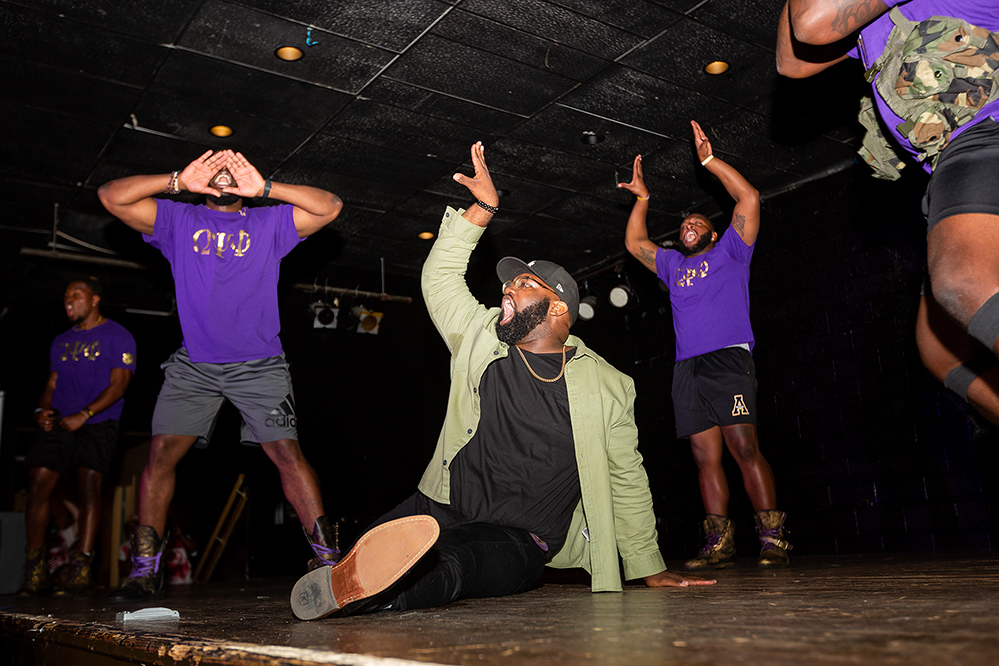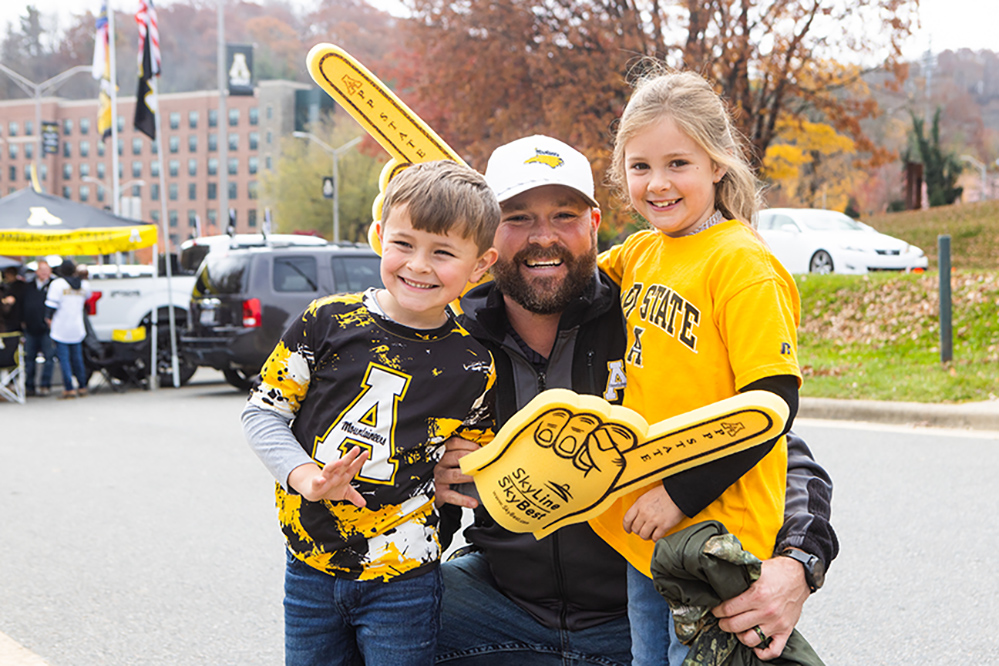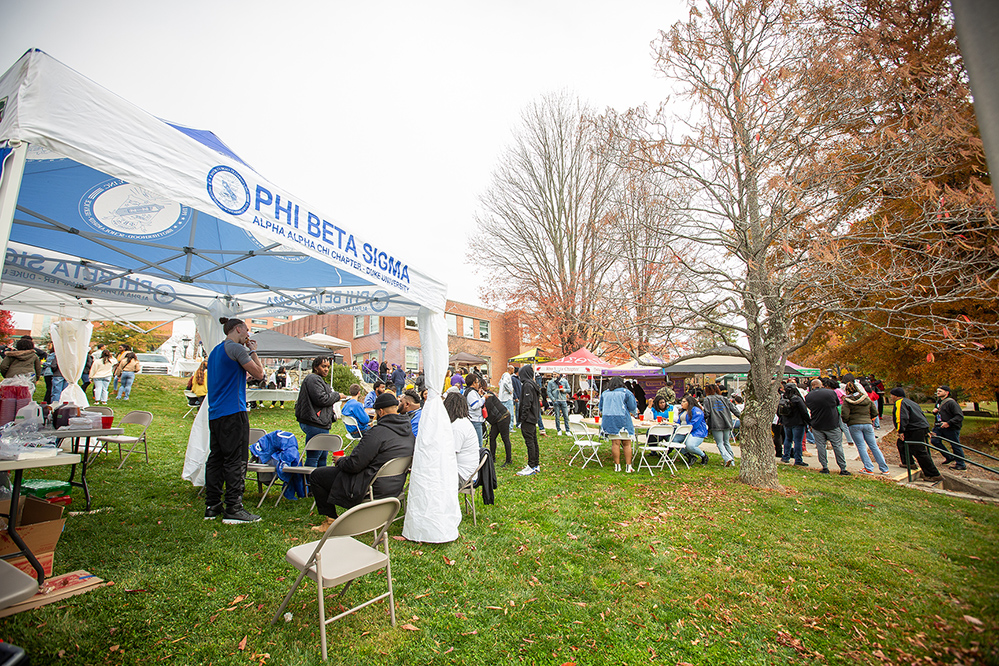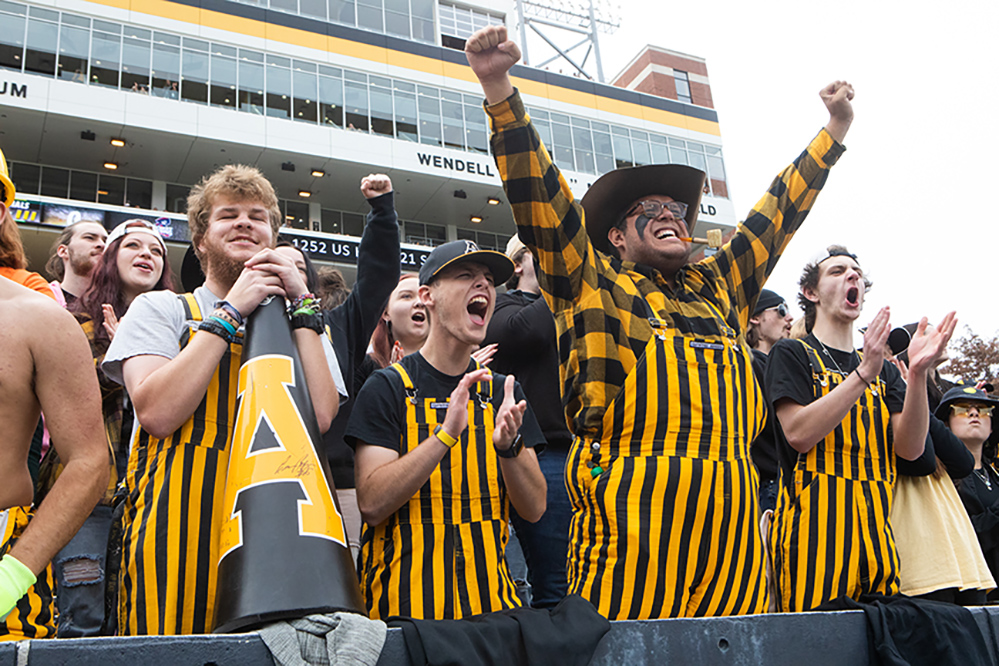 Posted Nov. 10, 2022 at 10:04 a.m.
BOONE, N.C. — Appalachian State University celebrated Homecoming week Oct. 24–29 with an abundance of festivities for students, alumni and community members, and the classes of 1972 and 2002 were invited back to campus for special recognition.
"To see all that has changed since I was first at App is crazy," said Trent Arrowood, a 2002 alumnus with degrees in management and political science. "Getting to come back and see how campus has continued to transform over the past 20 years is incredibly interesting, and to see how the Master Plan has all come together is really cool."
The history books show that App State, along with the entire country, has experienced significant cultural changes over the decades as well.
1972
Step back in time 50 years. People were blasting "American Pie" by Don McLean from their Volkswagen Beetles, wearing bell-bottoms and patterned shirts and sporting long, wavy hair. "Hawaii Five-O" was on the TV at home, "The Godfather" was blowing up on the big screen and kids were hitting the arcade to play a round of Pong. In the news, the Vietnam War dragged on, the Watergate scandal was beginning to unfold and NASA was set to launch Apollo 16 to the moon.
At App State, the 1972 enrollment was just under 8,000 students, and some of them lived in Watauga Hall — the university's first co-ed dormitory.
The university offered new degrees in technology and health education, and new courses such as Women in History. The Student Senate appointed first-year student Judy Gentry to the Homecoming Court, making her the first African American woman to be on any honorary court at App State.
Many memorable entertainment events also took place on campus, with one of the major highlights being a Beach Boys concert.
There were talks in 1972 that the university was planning to change its name to UNC-Boone, but of course, history has proven that the name never stuck.
2002
Jump ahead to 2002, when millions were still looking forward to seeing their "Friends" — Ross, Chandler, Rachel, Phoebe, Joey and Monica — on Thursday nights. "Spider-Man" was the must-see movie of the summer, along with a pair of high-profile sequels — "Star Wars Episode II: Attack of the Clones" and "The Lord of the Rings: The Two Towers."
The boy bands of the late '90s were eclipsed in popularity by rap, country and alternative rock artists, with music fans pressing the play button on everything from Nickelback's "How You Remind Me" to Ashanti's "Foolish" on their brand new iPods.
In the news, the nation was still reeling from the 9/11 terrorist attacks a year earlier, and the two-decade war in Afghanistan was in its early days. Kmart filed for bankruptcy, and across the pond, Queen Elizabeth II celebrated her Golden Jubilee.
In 2002, App State's enrollment was up to around 14,000 students, making the completion of the Rivers Street Parking Deck and the Living Learning Residence Hall welcome additions.
Students had some new perks to enjoy, such as the opening of the new movie theater in the Plemmons Student Union. Students also had some new things to complain about, as 2002 was the first year that computer labs began charging printing fees of 3 cents per page.
"When I was there it was like the beginning of the transformation," said Arrowood. "At that time, a lot of the building had commenced. We had two different computer labs and the Macs were just taking off. Most students didn't have laptops back then, and we had the Motorola (flip) phones, but you could see things starting to change."
One thing that hasn't changed, Arrowood says, is the App State Community.
"It's the people who make Appalachian," said Arrowood. "This is a unique and special place, and it's something that is not easily replicated. I know it sounds cliche, but the things that I learned while I was there shaped me into the person I am today."
2022
This year, the Homecoming festivities began on Monday, Oct. 24, with the Homecoming Kickoff Party on Sanford Mall. Partygoers got into the Mountaineer spirit with a fun night of inflatables, food, games and more.
"I always enjoy seeing the App State Community — representing our past, present and future — coming together. Welcome home, Mountaineers!" said App State Chancellor Sheri Everts.
This year's kickoff party included a service component, where students raised funds and donated winter clothing and blankets to members of the local community while also raising awareness about homelessness in the area.
The theme for this year's Homecoming was "App2K," with most events inspired by the 2000s, including the App2K Arcade Day, App2K Club Night and App2K Lip Sync Battle.
Other signature events held throughout the week included the following:
Homecoming Parade.
APPtoberfest celebration and pep rally.
Homecoming Band Spectacular.
Alumni and Friends Breakfast.
Denim and White Party hosted by the African American Alumni Network.
Dr. Willie C. Fleming Scholarship Recognition Reception.
Men's Basketball Tip-Off Dinner for the 2022–23 season.
Mountaineer Meetup: Homecoming Edition.
The grand marshals for the parade this year were Jerry Moore — who served as the Mountaineer head football coach from 1989 to 2012 — and former Mountaineer quarterback and 2009 graduate Armanti Edwards.
The App State football team did not disappoint its fans during the finale event, securing its eighth consecutive Homecoming win with a 42–3 victory over Robert Morris University on Saturday, Oct. 29.
During the game, members of the App State Class of 1972 were recognized, as were the members of the 2022 Homecoming Court. Makenzie Pucci — a senior special education major from Lexington, representing Alpha Phi — was recognized as this year's Top of the Rock student for her outstanding achievements and contributions to the university.
Following the game, the Homecoming celebration concluded with the National Pan-Hellenic Council's Step Show and the Homecoming After Party hosted by the African American Alumni Network.
"Thank you to the teams in Student Affairs and Alumni Affairs for working together to present a terrific week of events for our students, faculty, staff, alumni and members of the broader community," said Everts.
What do you think?
Share your feedback on this story.
About Alumni Affairs
The Office of Alumni Affairs provides networking opportunities, affinity program discounts, alumni chapter gatherings and special events, merchandise and travel tour options to Appalachian State University alumni.
The Appalachian State University Alumni Association consists of nearly 146,000 living App State alumni. Membership is free and open to all graduates of App State. The association's mission is to help alumni remember their App State Experience and stay connected with current Mountaineers, and to work to ensure that those experiences are available for future App State alumni by raising support for the Alumni Memorial Scholarship and The Appalachian Fund.
About the Division of Student Affairs
The Division of Student Affairs at Appalachian State University is committed to the development of lifelong learners and leaders by engaging and challenging students within a culture of care and inclusion. The division consists of 16 units that offer activities and services to help students develop more fully by becoming global learners, fostering healthy relationships, appreciating diversity and different perspectives, understanding community responsibility, enhancing self-awareness, developing autonomy and living ethically. These units include the Career Development Center, Campus Activities, Office of Community-Engaged Leadership, Wellness and Prevention Services, Counseling and Psychological Services, Student Health Service, Parent and Family Services, University Housing, Student Conduct, University Recreation, Intercultural Student Affairs, Student Legal Clinic and Off-Campus Student Services, Electronic Student Services, Child Development Center, and Staff Development and Strategic Initiatives. Learn more at https://studentaffairs.appstate.edu.
About Appalachian State University
As the premier public undergraduate institution in the Southeast, Appalachian State University prepares students to lead purposeful lives. App State is one of 17 campuses in the University of North Carolina System, with a national reputation for innovative teaching and opening access to a high-quality, affordable education for all. The university enrolls more than 21,000 students, has a low student-to-faculty ratio and offers more than 150 undergraduate and 80 graduate majors at its Boone and Hickory campuses and through App State Online. Learn more at https://www.appstate.edu.