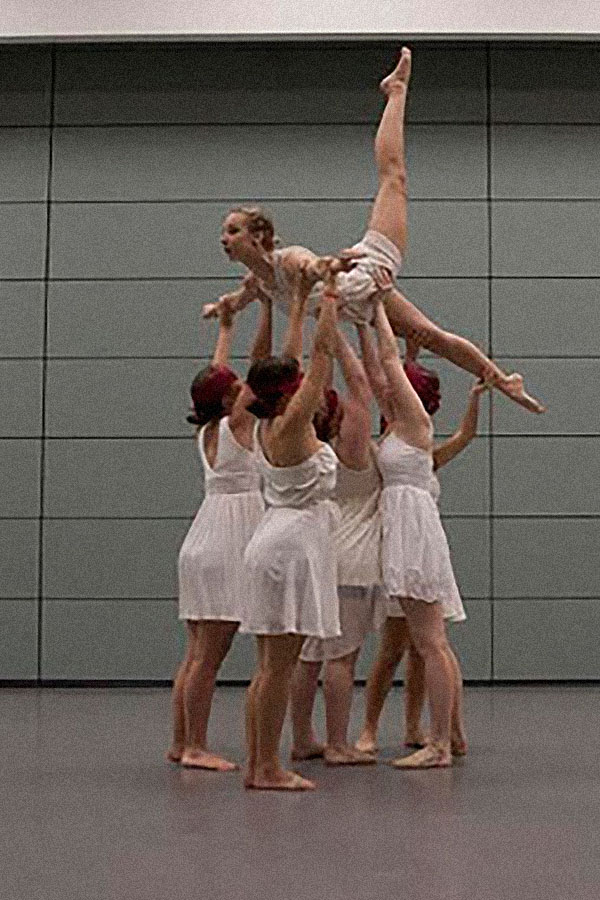 Posted Jan. 15, 2015 at 7:50 p.m.
BOONE—Appalachian State University's Department of Theatre and Dance will present the 2015 Momentum Dance Showcase Jan. 23 and 24 at 7:30 p.m. in the Varsity Gym Dance Studio on campus.
Ticket prices are $5 for students and $7 for adults and are available in Plemmons Student Union at the Momentum contact table the week of the showcase, as well as at the door 30 minutes prior to each performance.
Momentum is a campus-wide student dance organization. The annual dance showcase will feature seven original works choreographed and performed by Appalachian students.
Other clubs that are part of the theatre and dance presence on campus join the production, including ASU Elite Dance Team, NouN Improv Troupe, Entropy Dance Crew and Swing Dance Club.
"The Momentum student dance club provides students with a wonderful opportunity to explore creative expression through the choreographic process and to gain valuable experience as choreographers and as members of a production team. Since the showcase is informal and student-directed, students often feel more freedom to indulge in personal aesthetics and take creative risks," said Emily Daughtridge, associate professor of dance studies and faculty advisor for Momentum.
Choreographers whose works will be featured during the 2015 Momentum Dance Showcase are Jennie Flowers, Sarah Patrick, Madi Pratapas, Casey Rogers, Anne-Catherine Rossi, Fallon McKeon and Abbey Stuckey.
Patrick said, "I joined Momentum my freshman year and had the opportunity to dance in the Momentum Showcase. It was a great experience, so I decided to get more involved this year and become an officer as well as a choreographer for the showcase. This is my first time choreographing and it has been challenging, but I've been fortunate to have a wonderful group of dancers to work with. This has been a really exciting year in Momentum for me."
Senior choreographer Fallon McKeon added, "Momentum has greatly affected my dance career at Appalachian. I first danced in the showcase my freshman year and it is one of the main reasons I decided to major in dance. I have always loved the open and free atmosphere the showcase provided me as a dancer. Now as a choreographer, I have also noticed the passion that comes from everyone involved."
Varsity Gym is located at 530 Rivers St. Parking for the showcase is available to patrons at any available parking lot or garage on campus after 5:30 p.m. on weekdays and at all times on weekends. Covered parking is conveniently located in the Rivers Street Parking Deck directly across the street from Varsity Gym.
About the Department
The Department of Theatre and Dance is housed in the College of Fine and Applied Arts. Its mission is to provide liberal arts educations for the B.S. degree in teaching theatre arts and the B.A. degrees in dance studies or theatre arts. The department also values the opportunity to offer coursework for integrated learning through the arts to the general university student population.
Vital to the support of this mission is a dynamic co-curricular production program that provides exemplary theatre and dance experiences to departmental students, the university community and the region. The departmental philosophy is to support the university's liberal arts environment through a balanced and integrated emphasis on teaching, creative activity, scholarship and service.
About Appalachian State University
As the premier public undergraduate institution in the Southeast, Appalachian State University prepares students to lead purposeful lives as global citizens who understand and engage their responsibilities in creating a sustainable future for all. The Appalachian Experience promotes a spirit of inclusion that brings people together in inspiring ways to acquire and create knowledge, to grow holistically, to act with passion and determination, and to embrace diversity and difference. Located in the Blue Ridge Mountains, Appalachian is one of 17 campuses in the University of North Carolina System. Appalachian enrolls nearly 21,000 students, has a low student-to-faculty ratio and offers more than 150 undergraduate and graduate majors.
What do you think?
Share your feedback on this story.