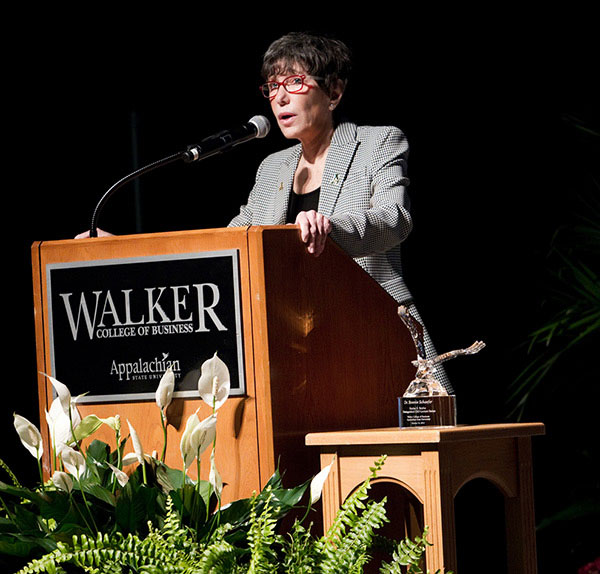 Conversations with smart people about stuff that affects our world, and how we affect it
Posted Oct. 23, 2015 at 4:19 p.m.
Bonnie Schaefer is the owner of the world-class Westglow Resort and Spa and former CEO and co-chair of the board of Claire's Stores Inc., the leading international costume jewelry and accessories retailer for tweens, teens and young adults. On October 13, 2015, she was the featured speaker at Appalachian's Harlan E. Boyles lecture series, presented by the Walker College of Business, and spent some time in the podcast studio talking about becoming a CEO, owning a world-class resort and spa, and giving back to the community.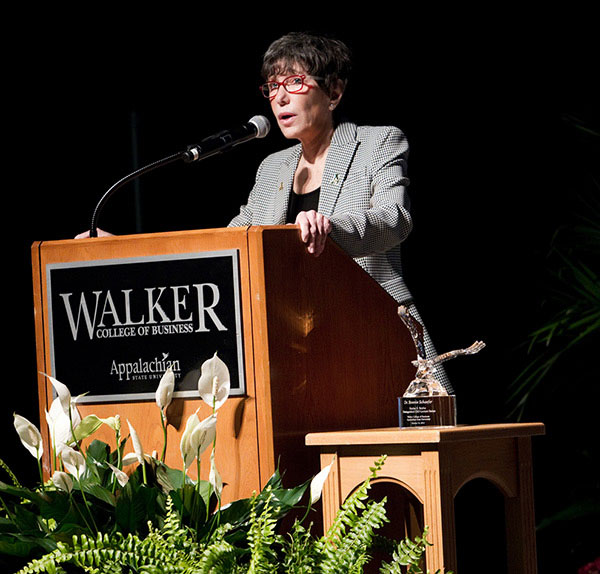 Transcript
Megan Hayes: Bonnie Schaefer is the owner of the world class Westglow Resort and Spa and former CEO and co-chair of the board of Claire's Stores Inc. the leading international costume jewelry and accessories retailer for tweens, teens and young adults. Schaefer began her career at Claire's stores in 1987 as a sales associate. She worked in various roles with the firm and along with her sister Marla was eventually elected co-Chair and co-CEO by the board of directors. Under the leadership of Bonnie and Marla Schaefer, the company shareholder value increased by approximately 200%. A dedicated philanthropist and activist for women's rights, Bonnie Schaefer is actively involved with, among other organizations, The Women's Media Center, which works for greater visibility and power for women, Equality Now, which improves conditions for women and girls around the world and the Ms. Foundation which fights to eliminate barriers for all women. Bonnie Schaefer's philanthropy work is felt internationally but since arriving in the High Country of western NC, Bonnie Schaefer and her wife Jamie have made a significant impact on life for residents here as well through their support of the arts, their leadership in building Boone's first Synagogue and the economic impact of their luxury report and spa. Schaefer attended the University of Miami and Skidmore College, studied in Italy and in 2012 received her honorary doctorate from Appalachian State University. Bonnie Schaefer, or Dr. Bonnie as we like to call you welcome to Sound Affect.
Bonnie Schaefer: Thank you
Megan Hayes: Can you talk a little bit about your journey to becoming the CEO for Claire's?
Bonnie Schaefer: Well I kind of stepped in and stepped out and then stepped back in. It was a difficult time because working in a family business was hard…working with family and for family and also it's a big company so I was working with strangers who did not want the boss's daughter around. It was a little bit of a minefield but I kept my eye on the prize. I wanted to learn every aspect of the business because I thought that one day I would run the company. I never expected it to happen but it did. Unfortunately my father had a stroke and that's when it happened. From the time I started to the time that happened I had the opportunity to work with various people in various departments and travel all around the country and all around the world.
Megan Hayes: While you were learning all these different aspects of the business you really did learn every aspect. I understand you started actually sitting on the floor in the stores.
Bonnie Schaefer: Yeah, I started out binning and sorting merchandise. Nothing was too tough. There really wasn't anything that I wouldn't have done because at that point I was desperate. I was desperate to do something worth while and also to get my fathers approval and my sister's approval…well not necessarily their approval but their validation that I could do it and to validate myself. I needed to know for me.
Megan Hayes: I bet there aren't that many CEO's that have done every aspect of the business the way you have. I'm sure it gave you an understanding of the company in a way that probably no one else at the entire company even had.
Bonnie Schaefer: You're probably right. My sister had a little bit of it and the women who rose up through the ranks for example, one women who is still a friend of mine started out at a district manager level and moved up to regional and then territorial vice president and then executive vice president and then president. That was under my sister and I because she could do it.
Megan Hayes: Yeah I wanted to ask you about that because during your tenure at Claire's many of the senior management positions that had previously been held by men began to be filled by women. Can you talk about why that was important for you?
Bonnie Schaefer: Of course it mattered that women were visible but it didn't matter at the time whether it was women or it was men. It mattered who was best for the job. Working in the company I noticed that the women worked harder depending on which department. They had the tougher jobs especially in the field. When people left or were moved to other departments or were promoted, with succession planning you look to see who is the best person and inevitably it was a women.
Megan Hayes: How did the company change with more women involved with senior management?
Bonnie Schaefer: I think it was better because it was definitely more appropriate for women to be running a company geared to women and girls.
Megan Hayes: Do you think there are more or fewer challenges for women who seek to become business leaders today?
Bonnie Schaefer: I think there are still a lot of challenges. There aren't as many as when I was growing up. I as a child of the 50's. It was unheard of for a young girl to want to grow up to be a CEO or anything besides a housewife and mother. The messages I got from television and from my own mother were, "Get married. Have children. Live a nice life." I knew that there was more to life than that so I found my own path. It took me into this roundabout discussion I had this morning. I think the challenges today are the same because equality is not really equal. Women still don't make as much as men. I didn't even make the same as my male counterparts working at Claire's.
Megan Hayes: Wow.
Bonnie Schaefer: Some of the responses from the board that I had were, "Well, your family has a lot of equity in the company.
Megan Hayes: That is stunning. That is a stunning response. Lets talk a little bit about what you're doing now and how you got here. What made you decide that you wanted to own and run a luxury spa resort in the mountains of North Carolina?
Bonnie Schaefer: Well for one thing my wife Jamie and I loved going to spas and traveling and we also loved North Carolina and the Blue Ridge Mountains. We decided to summer here and I would commute to work. Eventually we decided to get a home here. We belonged to Westglow Spa and we told the original owner who by the way just passed away last August. It was a terrible loss for us. We were very close to her…we told her if she ever wanted to sell we would be interested in buying. We never thought it would happen and one day she called up and I was in New York and there was a lot going on and she said, "Y'all, I'm ready to sell." That's how she talked. I said I couldn't even think straight. I told her I was working and there was too much going on. We declined. We came up that summer and it was under contract. Jamie and I were miserable and we really wanted that spa so we thought. "You know what? If it comes back to us then it is meant to be." Sure enough the deal fell through and it came back and we bought it. I was working so I said, "Okay Jamie be careful what you ask for because you have to do everything." She assembled a team and renovated and upgraded every aspect of the spa inside and out within a span of nine months. I can't see anybody doing that. It was amazing and she worked everyday at it. I didn't really see it happening until I walked in and it was finished.
Megan Hayes: So how is being an entrepreneur at a small business different from being the CEO of a major corporation like Claire's?
Bonnie Schaefer: Well, Jamie runs the day-to-day business but I am the big picture. It's different because there are a lot fewer employees. There is a lot more micro managing more on the part of Jamie than myself. I pick and choose what I want to do. For example, I get all the produce for the restaurant because I want to support our local farmers. I think it's important. For Jamie and I it's a labor of love because it is not a public company. Claire's gave little girls pleasure by going in and getting little trinkets. We're able to give people a spa experience as well as hikes and classes and massages and facials. You name it. We have it including a fabulous restaurant and great lodging. It's nice to be able to know that people come in and feel good when they leave. We call it, "The Glow. They got the Westglow."
Megan Hayes: You talked a little about supporting local farmers. There are so many ways that you support our community here. Can you talk about why it's important not only for you but just in general for people to give back to their communities?
Bonnie Schaefer: Oh my God. I think if you have the means and resources it is incumbent upon you as a human being to give back. This community is so small. There are so many in need. Just look at the Health and Hunger Coalition or the Hospitality House. There are so many people who are poor and staving in our own community. There is domestic abuse right under our nose here in Boone. A friend of mine did a movie about it called private violence. It's rewarding to me to give back. Not everybody feels like that. It's a value that has been instilled in me from childhood. I enjoy giving back.
Megan Hayes: I want to switch gears just a little bit. I watched the Makers videos and I wanted to talk with you about this perception of feminism. One of the things I have always found interesting is how people have such a strong reaction to the word feminist. I'm wondering why you think that is.
Bonnie Schaefer: I think it's because they're afraid. It wasn't too long ago people like Gloria Steinem and Bella Abzug burst on the scene and told women, "Yes they can and they should." Some women who come from the background where women should be like children seen and not heard or especially men don't like the idea of feminists. I'm sure they have some three-headed monster in their mind. There is a misperception that feminism is all about radical women wanting to emasculate men. That' s not true at all. It's just about standing up for what we believe in and what we rightful should have.
Megan Hayes: Once a year, there is a group of young women on our campus who set up a tent out on the mall. They ask members of our university community to think about why they are feminists. They pass out markers and they give you a sign to fill in that says, "I'm a feminist because…and then people fill in the blank." So Bonnie Schaefer, can you fill in the blank on that question?
Bonnie Schaefer: Well, there are a lot of reasons. I can't come up with just one.
Megan Hayes: Give us plenty!
Bonnie Schaefer: I'm a feminist because I've had enough of being repressed and put down by men, including my ex-husband. I have had situations in my life that I'm not going to talk about but they have been oppressive. I'm a feminist because I believe that I have every right to have what every man has and more. How's that?
Megan Hayes: That's great. Thanks. My last question for you is who are your idols?
Bonnie Schaefer: I have to say Gloria Steinem, as you know. I adore her. My father Roland Schaefer would be another and also my sister Marla Schaefer and my wife Jamie Schaefer. I adore her. She inspires me.
Megan Hayes: Is there one thing that the four of them have in common that means something special to you?
Bonnie Schaefer: Yeah. They are all strong women except for my father who was a man. They all have strength and they all have a very soft wonderful loving side.
Megan Hayes: I have to say from what I know about you I think you fit that description as well.
Bonnie Schaefer: Well thank you!
Megan Hayes: Bonnie Schaefer thank you so much for sharing your thoughts and ideas with us not only here in the podcast studio today, but also as part of this CEP lecture series that's held here on our campus. Not only were you able to give us some personal insight to you and the impact you've had on the community but I think you are very inspirational for our students here this morning so we appreciate your time and look forward to sharing your vision and your voice.
Bonnie Schaefer: Thank you Megan.
Megan Hayes: Thank you.
What do you think?
Share your feedback on this story.
Conversations with smart people about stuff that affects our world, and how we affect it
About Appalachian State University
As the premier public undergraduate institution in the Southeast, Appalachian State University prepares students to lead purposeful lives. App State is one of 17 campuses in the University of North Carolina System, with a national reputation for innovative teaching and opening access to a high-quality, affordable education for all. The university enrolls more than 21,000 students, has a low student-to-faculty ratio and offers more than 150 undergraduate and 80 graduate majors at its Boone and Hickory campuses and through App State Online. Learn more at https://www.appstate.edu.