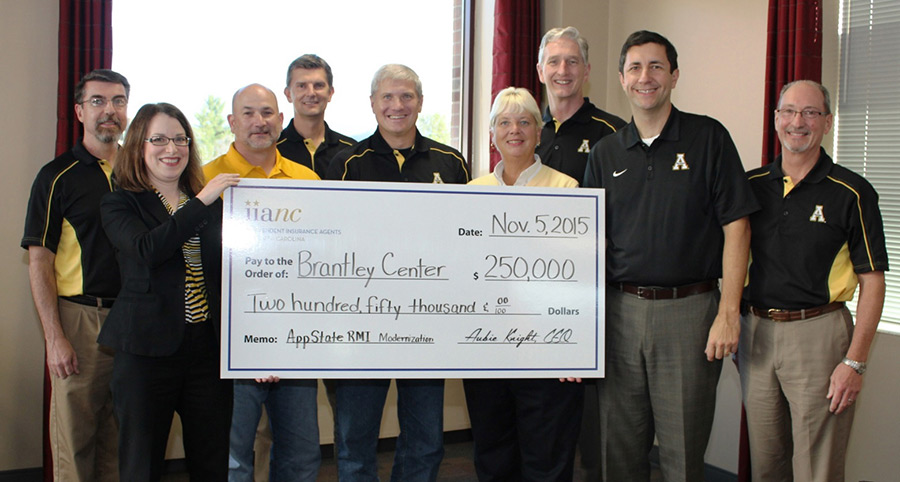 Posted Nov. 12, 2015 at 11:13 a.m.
BOONE—The Independent Insurance Agents of North Carolina (IIANC) has made a $250,000 gift to the Brantley Risk and Insurance Center at Appalachian State University. The gift will be used to help modernize the center located in the Walker College of Business. Aubie Knight, CEO of IIANC, presented the check to Walker College of Business Interim Dean Heather Norris Nov. 5.
"We are very grateful to the IIANC for its 25-plus years of involvement with the Brantley Risk and Insurance Center in support of our students," said Norris. "This most recent financial investment by the IIANC will help us enhance and make more versatile the spaces where our risk management and insurance students collaborate, learn and grow to become the next generation of successful insurance industry leaders."
Appalachian's risk management and insurance (RMI) program is among the "10 Largest Risk and Insurance Schools," according to Risk Management magazine, and aims to prepare graduates for careers through ample opportunity for interaction and networking with industry professionals.
"Our long-standing partnership with the IIANC and its member companies has been the cornerstone of the risk management and insurance program at Appalachian," said Brantley Center Director and RMI Professor Karen Epermanis. "This gift allows us to embark upon a much-needed modernization effort within the Brantley Center so that our students can capitalize on the educational opportunities afforded them. Beginning this fall, we will remove walls and reconfigure the floor plan, which will double the usable physical space to facilitate improved networking, study and research between students, faculty and community members."
The IIANC has a long history supporting the RMI program at Appalachian, and the organization was recently recognized as the center's "Founding Strategic Partner."
"The IIANC is extremely proud that we are able to support the RMI program," said Knight. "The RMI students at App State are receiving a first-class education in insurance and risk management and they will undoubtedly play a critical role in the future success of the insurance industry. We feel very strongly, that as an association, we need to support these students and help in every way that we can to nurture the educational opportunities that they are afforded. With the strong RMI programs here in North Carolina, we are optimistic that there will be a steady stream of industry leaders for generations to come."
"It is a pleasure for IIANC to contribute to the RMI program at Appalachian," said IIANC Secretary Jeff Haney, who is president of ECM Insurance Solutions of Charlotte. "They continue to graduate quality students who are the future of our industry. What they do with the students in the classroom is great, but what they do with them outside of the classroom through the Brantley Center is fantastic. The students are prepared to face the work world and they embrace it ready to contribute. We are honored to have a small part in this success."
About the Brantley Center
The Brantley Center serves more than 200 RMI and actuarial sciences majors each year. The center hosts a well-attended RMI career fair every semester, provides leadership development opportunities, coordinates internships, schedules shadow days to business sites, and supports student travel to participate in professional conferences, as well as regional and national competitions.
For more information about the Brantley Center for Risk Management & Insurance at Appalachian State University or programs, visit http://insurance.appstate.edu.
About IIANC
IIANC is a statewide trade association representing nearly 1000 independent insurance agencies in North Carolina, with more than 7,000 employees, who work to protect the insurance and financial needs of the state's citizens.
About Appalachian State University
As the premier public undergraduate institution in the state of North Carolina, Appalachian State University prepares students to lead purposeful lives as global citizens who understand and engage their responsibilities in creating a sustainable future for all. The Appalachian Experience promotes a spirit of inclusion that brings people together in inspiring ways to acquire and create knowledge, to grow holistically, to act with passion and determination, and to embrace diversity and difference. Located in the Blue Ridge Mountains, Appalachian is one of 17 campuses in the University of North Carolina System. Appalachian enrolls more than 19,000 students, has a low student-to-faculty ratio and offers more than 150 undergraduate and graduate majors.
What do you think?
Share your feedback on this story.