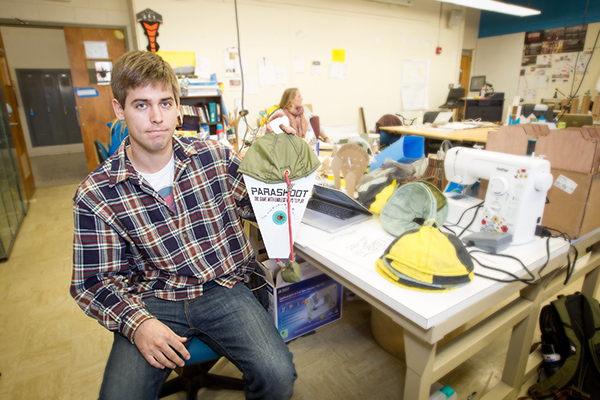 Posted Nov. 25, 2015 at 11:01 a.m.
BOONE—End-of-semester projects in the industrial design program at Appalachian State University have names like Flow, Sip and Sprout, Cinnaway and Hollo Band.
The work of senior students in the product design studio is a culmination of their experiences in the product design concentration within the Department of Applied Design's industrial design program.
"Students in the design studio conceptualize a product, design it, produce 20 units with packaging, branding, point of purchase display and write a business plan as if they were going to launch a company based on the product," said Richard Elaver, an associate professor in the department and program coordinator. "It takes everything they have been doing in industrial design and puts them into a production mindset where they also think about the cost implication of a design."
The students' products will be for sale at a "pop-up design store" in Plemmons Student Union Dec. 4. Some of the students have had their product selected for sale for two weeks in December in New York City thanks to a graduate of the program who works at Kikkerland Design, a company known for its quirky but functional products often found in museum and gift shops, Elaver said.
Students began their design project by first pitching products for "the outside experience," Elaver said. Each student had to consider three different activities for which to design a product that would enhance the user experience. Activities ranged from birding, to paddle boarding to picnicking.
The students researched the activity, interviewed people who participated regularly in the activity, surveyed existing products and then identified opportunities to sell a new product.
The products include sunglasses made from cork that will float if dropped in a lake or river, an outdoor game called Parashoot that combines aspects of a slingshot with a small parachute, a backpack that converts into a picnic blanket and a rope-winding device to facilitate raising or lowering bird feeders, hanging plants or similar objects.
Other products are cinnamon infused chalk sticks to repel ants and other insects when out of doors, a squeezable flow device for a water hose, a body rock crafted from polyester resin to be used for massage therapy, and a urethane pad that attaches to the edge of a kayak to cushion the shoulder when the kayak is being carried and a beer buoy that slips over canned beverages to keep them afloat.
Brandon Stambough spent three weeks developing his product called Sip and Sprout, targeted for tea lovers who also are interested in urban micro gardening. He has produced tea bags that also contain either tomato or basil seeds. Once the tea is consumed, the bag can be cut open and planted in a container rather than thrown away.
Hollo Band created by Sadie Whyte is a hollow plastic band that can be filled with either sunscreen or insect repellent. Magnetic closures on each end of the band allow it to be worn as a bracelet or necklace while keeping contents in place until they are used.
Patrick Garnier was inspired by the popularity of hammocks found on many college campuses to create a bag that can be added to the inside of the hammock's pouch to hold a cell phone, keys or other items. The pouch can also be clipped to camp chairs and other items.
Graduates in the product design concentration have gone on to careers with companies such as Toshiba, Vanity Fair, and the footwear and furniture industries. Most work in the design profession within the first year of graduating, Elaver said.
The students' items will be on display and available for purchase Dec. 4 from 10 a.m. to 2 p.m. in Plemmons Student Union.
The industrial design program at Appalachian is comprised of 150 majors and seven full-time faculty. Students can choose from two areas of concentration: product design or furniture design. The concentrations focus on design inquiry, creative problem-solving, user research, social and environmental concerns, and manufacturing requirements.
About Appalachian State University
As the premier public undergraduate institution in the state of North Carolina, Appalachian State University prepares students to lead purposeful lives as global citizens who understand and engage their responsibilities in creating a sustainable future for all. The Appalachian Experience promotes a spirit of inclusion that brings people together in inspiring ways to acquire and create knowledge, to grow holistically, to act with passion and determination, and to embrace diversity and difference. Located in the Blue Ridge Mountains, Appalachian is one of 17 campuses in the University of North Carolina System. Appalachian enrolls more than 20,000 students, has a low student-to-faculty ratio and offers more than 150 undergraduate and graduate majors.
What do you think?
Share your feedback on this story.