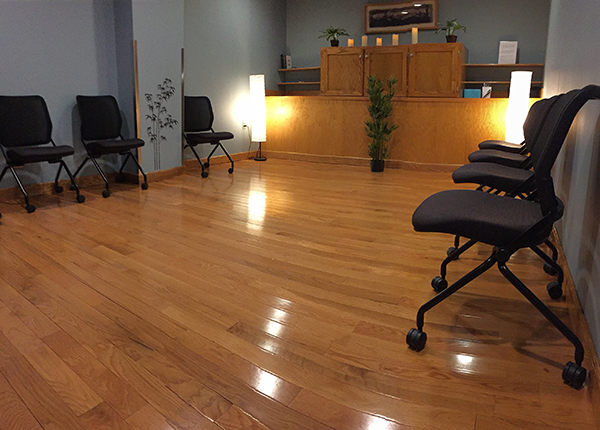 Posted Dec. 1, 2015 at 12:23 p.m.
BOONE—As final exams for fall semester near, Appalachian State University offers a variety of options for maintaining well-being.
Appalachian's Rich Mountain Meditation Room in Plemmons Student Union has been remodeled to better serve students, faculty and staff looking for a quiet respite from their busy lives. It is located on the third floor of Plemmons Student Union and is available for prayer, meditation or small group spiritual gatherings.
The remodeling was funded by the student union based on requests from App Sits, the student meditation club, and Still Point, a faculty/staff organization dedicated to exploring contemplative pedagogy and practice in higher education.
The room's upgrades include new flooring appropriate for yoga and tai chi, stackable chairs, new shelves and cabinets for meditation cushions, plants, battery-operated candles, softer lighting, paint and wall hangings.
"Finding your own space for alone time is very valuable. It's nice that we have a focus on stress relief and mindfulness. App State has really been doing all it can to provide a space for people, which is really nice," said Blakeley Rogers, president of App Sits meditation club.
The Rich Mountain Room is available as walk-in space weekdays from 7:30 a.m. – 5 p.m. It can be reserved for 30-minute periods the day of a gathering, but otherwise cannot be reserved for meetings or events occurring before 5 p.m. on weekdays. For complete guidelines, visit http://studentunion.appstate.edu/rich-mountain-meditation-room.
Upcoming events
Relax Yosef will be held in Grandfather Ballroom from 11 a.m. to 2:30 p.m., Tuesday Dec. 1, in Grandfather Ballroom of Plemmons Student Union. Students can enjoy massage chairs, an oxygen bar and yoga. Sponsored by APPS.
A guided meditation will be held Wednesday from noon to 12:30 p.m. in Plemmons Student Union, Linville Falls Room 226. Sponsored by Wellness and Prevention Services.
Reducing Stress with Mindfulness will be presented Wednesday, Dec. 2, from 4 to 5 p.m. in Plemmons Student Union's New River Room. Sponsored by the Counseling Center. Extra credit slips will be available.
A Meditations and Motivations program will be in Plemmons Student Union's Blue Ridge Ballroom on Sunday, Dec. 6, from 1-5 p.m. and Monday, Dec. 7, from 10 a.m. to 4 p.m. Hosted by Wellness and Prevention Services, the event will provide opportunities for stress reduction and resilience building in the form of community, guided meditation, yoga, ecotherapy, Koru Mindfulness instruction, expressive arts and motivational enhancement. For more information, call 828- 262-3148 or follow Wellness and Prevention Services on AppSync and instagram.com/appstate_wellness/.
Belk Library and Information Commons's Library Cares Campaign will be held Sunday, Dec. 6, through Wednesday, Dec. 9. There will be snack breaks and free activities throughout the building, including labyrinth walking, therapy dogs, yoga, chair massage, live music, qigong and progressive muscle relaxation. The series of activities is designed to help students navigate the stress of exam week. See the full schedule and room locations at http://guides.library.appstate.edu/LibraryCares/Schedule
Research has shown that the benefits of meditation can include a decrease in anxiety and stress, increase in emotional stability and creativity, increased ability to focus and concentrate, lower blood pressure, decrease in tension related pain and improved immune system.
About Appalachian State University
As the premier public undergraduate institution in the state of North Carolina, Appalachian State University prepares students to lead purposeful lives as global citizens who understand and engage their responsibilities in creating a sustainable future for all. The Appalachian Experience promotes a spirit of inclusion that brings people together in inspiring ways to acquire and create knowledge, to grow holistically, to act with passion and determination, and to embrace diversity and difference. Located in the Blue Ridge Mountains, Appalachian is one of 17 campuses in the University of North Carolina System. Appalachian enrolls more than 19,000 students, has a low student-to-faculty ratio and offers more than 150 undergraduate and graduate majors.
What do you think?
Share your feedback on this story.