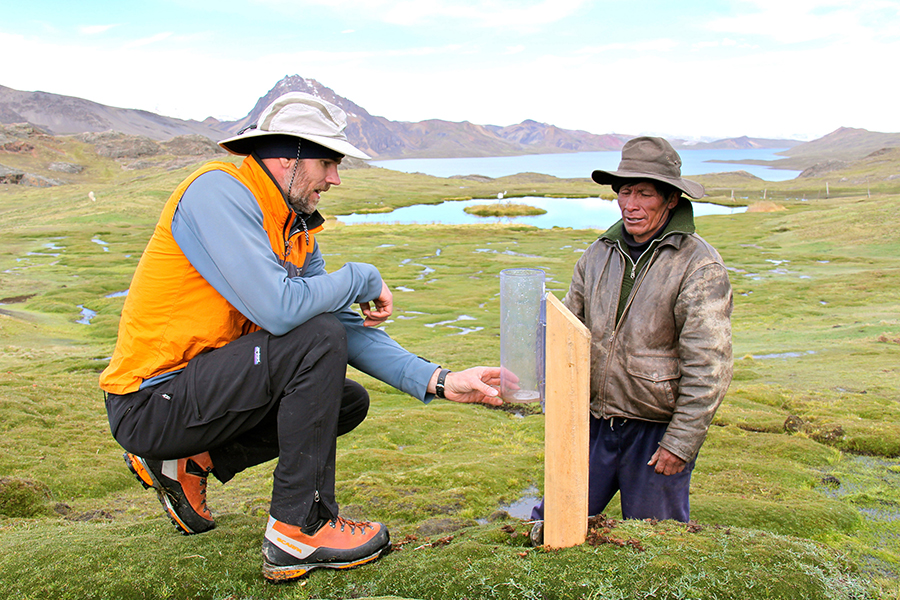 Posted Dec. 2, 2015 at 10:55 a.m.
BOONE—Twenty-nine faculty from across three colleges at Appalachian State University are involved in atmospheric sciences or related research.
Their research includes predicting the economic impacts of sea level rise, understanding snowfall patterns in the southern Appalachians and documenting climate change in southern Peru's tropical high Andes and in East Africa's Great Lakes Region. Other researchers are studying climate change and tree growth and environmental economics; recording air quality and climate data from high elevations; researching relationships between land cover change and water quality; studying indoor air quality issues; and furthering alternative energy development and use, among other projects.
The breadth of research and faculty members' interdisciplinary approach to their work are factors that secured an invitation for the university to join 104 other institutions as a member of the University Corporation for Atmospheric Research (UCAR). UCAR also operates the National Center for Atmospheric Research. Appalachian has been a member of this consortium of colleges and universities focused on research and training in the atmospheric and related earth system sciences since fall 2014.
"We have tremendous diversity in what our faculty members do," said Baker Perry, an associate professor and director of the graduate program in the Department of Geography and Planning.
"These are top-notch researchers who are competing with the large research institutions to secure National Science Foundation (NSF) funding for their research. Although we don't have an atmospheric sciences department, we are able to leverage our multidisciplinary perspectives on the atmosphere in an effective way," he said.
For instance, NSF and NASA funding has supported the work at AppalAIR, the Appalachian Atmospheric Interdisciplinary Research facility on campus related to air quality and climate data from high elevations. NSF funding also has supported research conducted by Professor Ellen Cowan regarding the relationship between glaciers, climate change, and mountain building processes along the Gulf of Alaska coastline. In 2014 Perry received a five-year NSF grant to study precipitation and climate change in the Andes Mountains.
John Pine, director of Appalachian's Research Institute for Environment, Energy and Economics, said the university's membership in UCAR will strengthen its NSF grant proposals and open doors to collaborative research with other UCAR institutions.
"When UCAR represents universities, it's not just the traditional atmospheric science programs," Pine said. "Their partners also include the U.S. Department of Energy, Department of Agriculture and the National Institute of Health. This interdependency of systems is exactly the kind of group we want to be part of."
The work of the member institutions includes economics, agriculture, water resources, public policy and sustainability in addition to work in atmospheric sciences, he added.
"This is perfect for what Appalachian wants to do in building multidisciplinary research and getting the human and natural sciences working together," Pine said. "It's a way to promote collaboration among Appalachian's colleges in multidisciplinary research and teaching."
Beyond opportunities for research collaborations, UCAR membership also brings potential benefits for students and faculty members beginning their academic career.
UCAR offers internships and graduate fellowships at its Boulder, Colorado, facility. Faculty members have access to the facility's remote sensing, supercomputing resources and atmospheric observing equipment and platforms, including aircraft and ground-based observing systems. Early career faculty can apply to work in residence at UCAR and member institutions can apply for UCAR scientists to visit their campuses.
"There are a lot of opportunities for our faculty, our students and our institution now that we are UCAR members," Perry said.
Additional information about UCAR is found at http://orsp.appstate.edu/node/1306.
About Appalachian State University
As the premier public undergraduate institution in the Southeast, Appalachian State University prepares students to lead purposeful lives as global citizens who understand and engage their responsibilities in creating a sustainable future for all. The Appalachian Experience promotes a spirit of inclusion that brings people together in inspiring ways to acquire and create knowledge, to grow holistically, to act with passion and determination, and to embrace diversity and difference. Located in the Blue Ridge Mountains, Appalachian is one of 17 campuses in the University of North Carolina System. Appalachian enrolls nearly 21,000 students, has a low student-to-faculty ratio and offers more than 150 undergraduate and graduate majors.
What do you think?
Share your feedback on this story.