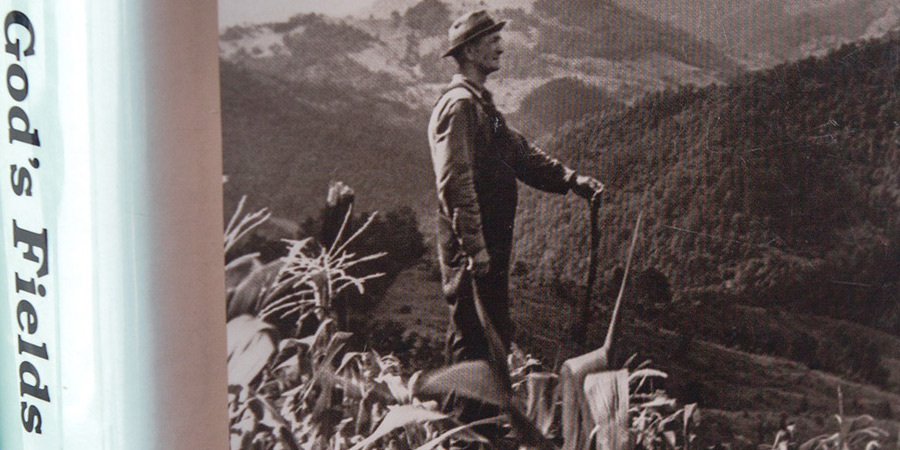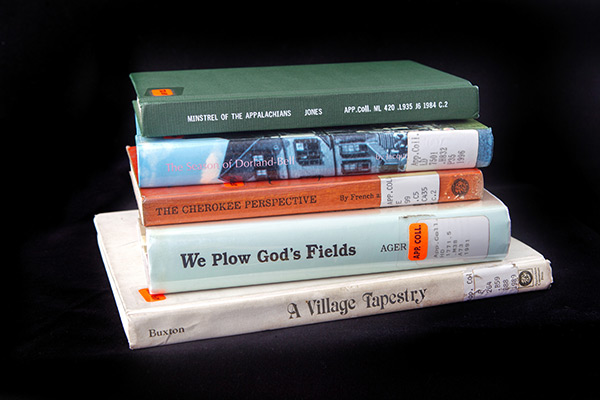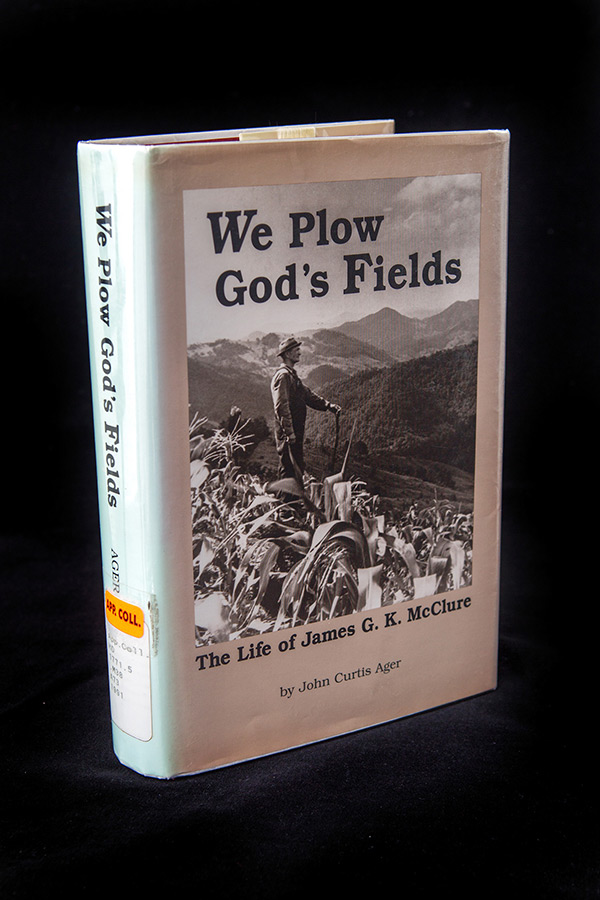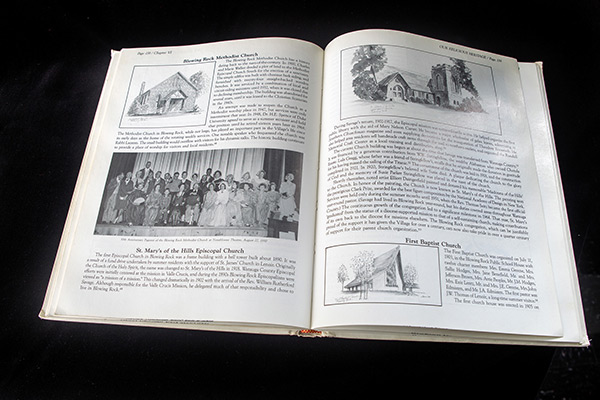 Posted Jan. 27, 2016 at 4:25 p.m.
BOONE—Appalachian studies scholars and those interested in regional history will have greater access to out-of-print works thanks to a two-year National Endowment for the Humanities (NEH) and The Andrew W. Mellon Foundation Open Book Program grant totaling $88,000 awarded to Appalachian State University.
The NEH and Mellon Foundation grants that were awarded to 10 universities and organizations total more than $700,000. The funds will give a second life to outstanding out-of-print books in the humanities by turning them into e-books that will be made available for free under a Creative Commons license.
Pamela Mitchem, coordinator of digital scholarship and initiatives in Belk Library and Information Commons, will direct the project. She was the principal investigator for the grant application. Materials to be digitized were selected by Fred Hay, librarian of the W.L. Eury Appalachian Collection, Anne Belk Distinguished Professor and professor of Appalachian studies; and Norma Riddle, interim associate dean and university archivist in the library's Special Collection.
After conducting copyright research and verifying copyright permissions, Belk Library will work with UNC Press in Chapel Hill to create digitized versions of 73 classic works on the history and culture of Southern Appalachia. The works were published by the now defunct Appalachian Consortium Press. The project should be complete by late 2017.
Projects were selected through a rigorous review process that measured how the digitized books would be of demonstrable intellectual significance and broad interest to current readers. "These are some of the seminal works on Appalachian studies," Mitchem said of the publications selected for the digitization project.
"The Appalachian Consortium was the combined effort of various institutions in the southern Appalachian region," Hay said. "It preceded and laid the foundation for Appalachian studies' scholarly association, the Appalachian Studies Association. From its inception the Appalachian Consortium was the primary publisher of monographs on the Appalachian region."
Among the works Hay and others selected for digitization is David E. Whisnant's "Modernizing the Mountaineer: People, Power, and Planning in Appalachia," which Hay called a classic study of both private and public development efforts focused and often foisted on the people of the Appalachian region. "Whisnant documents both the positive and negative results of these interventions and how they contributed to modern misperceptions of the region and its inhabitants."
Another is "Colonialism in Modern America: The Appalachian Case" edited by Helen Matthews Lewis, Linda Johnson and Donald Askins. Hay said, "This is a revolutionary work that redirected Appalachian studies away from nostalgia for things quaint to an awareness of the realities of colonial occupation and its devastating effects on Appalachia."
"The digitization of these important resources is a vital step forward in bringing regional scholarship to interested students and into the public domain," said Dr. William Schumann, director for the Center of Appalachian Studies at Appalachian. "The ease-of-access this project provides will not only broaden our knowledge of these materials, but also expand the ways that North Carolina's students and citizens interpret and utilize these resources. This project is a service to the state of North Carolina and to those interested in the Appalachian region everywhere."
Appalachian's Dean of Libraries Joyce Ogburn said the breadth of Appalachian's W.L. Eury Appalachian Collection, which is home to the largest collection focused on Appalachia, helped the university secure the NEH/Mellon grant.
"We have a good digital presence in the library but to be able to make this kind of foundational material available for others to use is really important to us," she said.
Ogburn hopes the library's collaboration with UNC Press will become a model for other universities to follow as they seek to digitize important holdings and make them more widely available to scholars and the public.
Among other works on the region's history, rural life and economic development that will become available for future viewing online or for purchase as an e-book are:
"Too Few Tomorrows: Urban Appalachians in the 1980s" by Phillip J. Obermiller and William W. Philliber, a collection of articles examining the movement of Appalachian natives in search of work after World War II to the urban centers of Michigan and Ohio
"We Plow God's Fields: The Life of James G. K. McClure" by John Curtis Ager, recounting the lives of James and Elizabeth McClure who left an affluent suburb in Chicago to move to the mountains of Western North Carolina in 1916
"Western North Carolina: Its Mountains and Its People to 1880" by Ora Blackmun, a history of Western North Carolina from the early settlement and development through the Civil War and Reconstruction
"From Ulster to Carolina: the Migration of the Scotch-Irish to Southwestern North Carolina" by H. Tyler Blethan and Curtis W. Wood, documenting the history and influence of the Ulster Scots in southwestern North Carolina and beyond
"Bits of Mountain Speech" by Paul M. Fink, a glossary of colloquial Appalachian speech collected by Fink primarily in western North Carolina and eastern Tennessee from 1910-65
"Minstrel of the Appalachians: The Story of Bascom Lamar Lunsford" by Loyal Jones, a biography of the Asheville lawyer, musician and music promoter who founded the celebrated Mountain Dance and Folk Festival held each summer in Asheville. Lunsford also preserved local folk culture both through his own recordings of traditional music and his documentation of the music and dance of other residents of western North Carolina.
"An Appalachian Symposium: Essays Written in Honor of Cratis D. Williams" edited by J.W. Williamson. The proceedings of a conference honoring Williams, a pioneer Appalachian studies scholar, brings together state-of-the-art articles addressing various aspects of Appalachian scholarship and as such is the defining document for Appalachian Studies in its early years. It is considered essential reading for anyone interested is gaining an understanding of Appalachian studies and its history.
In addition to Appalachian, funding was awarded to Cornell University, Northwestern University, Oregon State University, University of Florida at Gainesville, University of North Texas, Wayne State University Press, Wesleyan University, the American Council of Learned Societies and the American Numismatic Society.
About Appalachian State University
As the premier public undergraduate institution in the state of North Carolina, Appalachian State University prepares students to lead purposeful lives as global citizens who understand and engage their responsibilities in creating a sustainable future for all. The Appalachian Experience promotes a spirit of inclusion that brings people together in inspiring ways to acquire and create knowledge, to grow holistically, to act with passion and determination, and to embrace diversity and difference. Located in the Blue Ridge Mountains, Appalachian is one of 17 campuses in the University of North Carolina System. Appalachian enrolls more than 19,000 students, has a low student-to-faculty ratio and offers more than 150 undergraduate and graduate majors.
What do you think?
Share your feedback on this story.