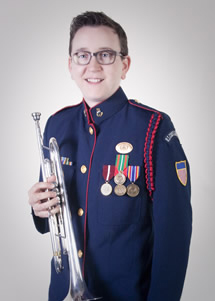 Posted Feb. 3, 2016 at 9:52 a.m.
BOONE—Chief Musician Kelly Watkins with the U.S. Coast Guard will join the Appalachian Symphony Band for a Feb. 16 performance at Appalachian State University. Watkins will perform on flugelhorn and also conduct the band for several compositions.
The 8 p.m. performance in the Schaefer Center for the Performing Arts is free and open to the public.
Titled "Kaleidoscope of Diversity," the program features music from various cultures.
The program opens with "Early Light," a 1999 composition by Carolyn Bremer. Written for the Oklahoma City Philharmonic, the material is largely derived from "The Star Spangled Banner."
Next, the band will perform the N.C. premiere of Mark Camphouse's "Homage to the Dream." The composition honors the Rev. Dr. Martin Luther King Jr.
James Barnes' tone poem for wind band, "Trail of Tears," depicts the federal government's 1,500 mile forced relocation of tribes of the Cherokees, Choctaws, Creeks, Chickasaws and the Seminoles from the southeastern United States to eastern Oklahoma.
Watkins will perform Richard Peaslee's "Nightsongs," adapted for winds by Chuck Dotas. The composition is one of the few written specifically for flugelhorn. Watkins will conduct the band in a performance of E.E. Bagley's "National Emblem," a rousing march published in 1906.
The concert concludes with Carmen Dragon's "La Cucaracha" based on traditional Mexican folk songs.
A native of Texas, Watkins is also a member of United States Coast Guard Brass Quintet. She currently serves as the artistic director and conductor of the Lesbian and Gay Big Apple Corps Symphonic Band in New York City. Prior to joining the Coast Guard Band, Watkins performed with the Illinois Symphony Orchestra, the Peoria Symphony Orchestra, Opera Illinois and the Illinois State University Faculty Brass Quintet.
In April 2009 and April 2012, she was awarded first prize in the North American Brass Band Association Adult High Brass Slow Melody Solo Competition and in 2003 was awarded grand prize at the International Women's Brass Conference Solo Competition. Additionally, she was a prize-winner at the 2001 and 2002 International Trumpet Guild Solo Competitions and the 2002 National Trumpet Competition.
Watkins holds a Bachelor of Music degree from Northwestern State University of Louisiana and a Master of Music degree from Illinois State University. She has pursued additional studies in arts administration at Boston University and studied conducting privately with Dr. James Patrick Miller at the University of Massachusetts, Amherst. She has served as president and executive director of the International Women's Brass Conference, and currently serves on its board of directors.
The Appalachian Symphony Band is directed by Kevin Gray Richardson. Graduate conductors are Matthew Brusseau and Onsby Rose.
About Appalachian State University
As the premier public undergraduate institution in the state of North Carolina, Appalachian State University prepares students to lead purposeful lives as global citizens who understand and engage their responsibilities in creating a sustainable future for all. The Appalachian Experience promotes a spirit of inclusion that brings people together in inspiring ways to acquire and create knowledge, to grow holistically, to act with passion and determination, and to embrace diversity and difference. Located in the Blue Ridge Mountains, Appalachian is one of 17 campuses in the University of North Carolina System. Appalachian enrolls more than 19,000 students, has a low student-to-faculty ratio and offers more than 150 undergraduate and graduate majors.
What do you think?
Share your feedback on this story.