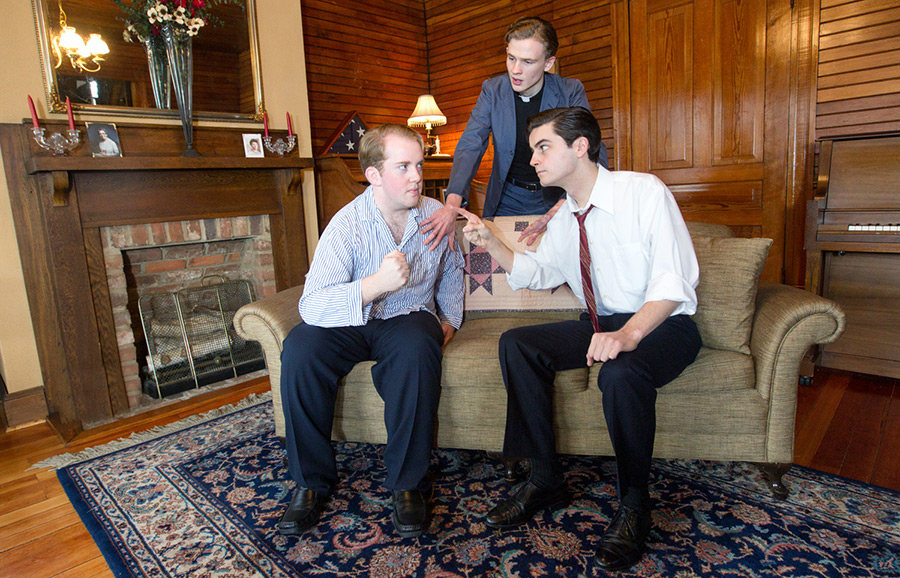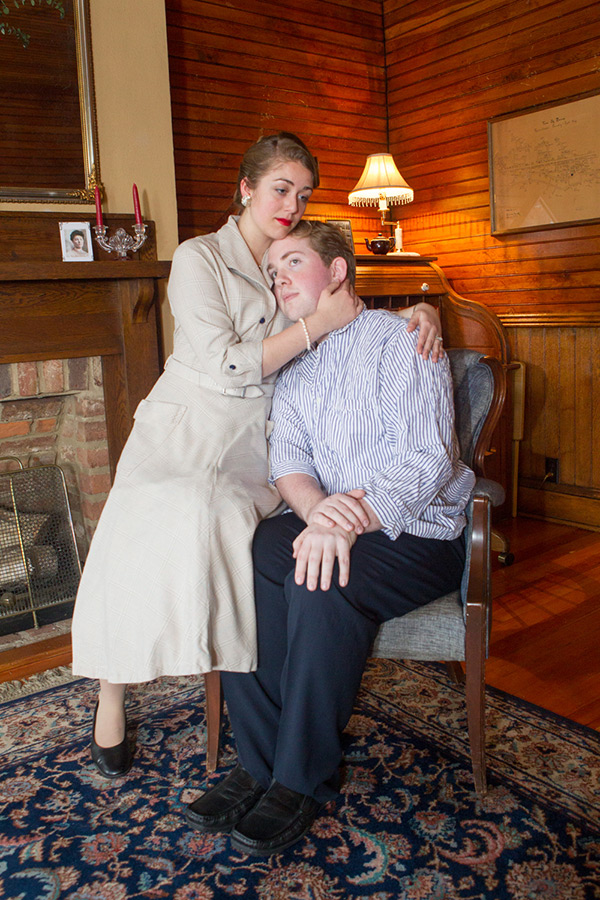 Posted Feb. 8, 2016 at 3:35 p.m.
BOONE — The Appalachian State University Department of Theatre and Dance is producing the regional premiere of "Clybourne Park" by Bruce Norris. It is the only play ever to win the "triple crown" of theatre, which consists of the Pulitzer Prize in Drama, Tony Award for Best Play and England's Olivier Award for Outstanding Play.
Five performances of the play will be given in Valborg Theatre on campus, with 7:30 p.m. shows from Wednesday through Saturday, Feb. 24-27, with a 2 p.m. show on Sunday, Feb. 28. The final matinee performance will be interpreted using American Sign Language (ASL). Ticket prices start at just $10 for Appalachian students and $17 for adults. For more information, visit www.theatreanddance.appstate.edu, call the box office at 828-262-4046 or 800-841-ARTS (2787).
A smart, razor-sharp satire, "Clybourne Park" questions our assumptions about racial integration in the United States. The first act takes place in the Chicago suburbs in 1959 where a working class black family has purchased a house. Their new neighbors have concerns about the future of their white neighborhood. The second act takes place in 2009 in the same house and same suburb, but this time an affluent white family has purchased the house and plans to renovate the property. The neighbors have concerns about the future of their "historically black" neighborhood.
The dramaturg for the production, Associate Professor Paulette Marty, said, "Bruce Norris has crafted a devilishly clever play that exposes our culture's complacency about racial inequality. He makes us laugh, while at the same time challenging us with the question, 'If we've made so much progress on racial equality, how come our neighborhoods are still almost as segregated as they were in 1959?'"
"Clybourne Park" is the concluding event of a four-week campus and community-wide conversation titled "How We Talk About Race in 2016," which began in January with a staged reading of Lorraine Hansberry's masterwork "A Raisin in the Sun" by In/Visible Theatre. Both plays and the related education and outreach programs were purposely scheduled to coincide with African-American History Month. In the interim period, classes in academic departments across campus studied the plays and the issues they contain.
With regard to the production and its education and outreach programs, Chancellor Sheri N. Everts said, "The arts can be incredibly powerful in highlighting social issues in a way that sparks deep and honest conversation. I look forward to the dialogue that 'Clybourne Park' will spark on our campus and in our community."
In addition to the Department of Theatre and Dance, other entities participating in the various programs include: the Office of Arts and Cultural Programs; the Office of Equity, Diversity and Compliance; and the Office of Multicultural Student Development. Support for this production is provided through the College of Fine and Applied Arts, with support for ASL interpreters by the Office of Disability Services.
Furthermore, "Clybourne Park" is being used as a starting point for an exploration on the issues of race by the Sustained Dialogue Initiative, whose mission is to engage members of the Appalachian community in dialogues that cultivate strong, trusting relationships and foster respect for each individual and their ability to contribute to positive change.
There will be talkback discussions after each performance involving members of the audience and an experienced panel of experts on the issues contained within "Clybourne Park," including race, segregation, gentrification, upward mobility, aspirations for a better life, mental health, PTSD and suicide. Bindu Jayne, associate vice chancellor for equity, diversity and compliance and chief diversity officer, said, "The intention of these talkbacks is to take these themes off the stage and place them into the context of our own community, as a powerful reminder that the dream continues to be deferred for many of us."
Moderators for the post-show discussions are Traci Royster and Lindy Wagner from the Office of Multicultural Student Development. Panelists to date, and the departments they represent, include Joseph Bathanti (English), Mark Bradbury (Government and Justice Studies), Tandrea Carter (Institute for Health and Human Services), Elisabeth Cavallaro (Wellness and Prevention Services), Rich Crepeau (Geography and Planning), Cameron Lippard (Sociology), Keith Martin and Paulette Marty (Theatre and Dance), Sonyé Randolph (Office of Equity, Diversity and Compliance) and Elizabeth Shay (Geography and Planning). In addition, Chancellor Everts and Provost Darrell Kruger will offer opening remarks to put the production in the larger context of the campus and community conversation.
The production is directed by Keith Martin, the John M. Blackburn Distinguished Professor of Theatre, with scenic design by Professor Mike Helms and costume design by Associate Professor Sue Williams – all faculty members within the Department of Theatre and Dance. The lighting and sound design is by Tim Snyder, a 2012 graduate of Appalachian's Theatre Arts (BA) – Theatre Design/Technology degree.
Notable in this production is the work of Marty and a team of student dramaturgs. "Our students have done stellar work on this production," Marty said. "They've done extensive historical research that has informed the actors' performances and designers' choices, dug into the themes of the play with the director to help him shape his concept for the production, and found great materials for audiences about the play's themes and context."
The cast for "Clybourne Park" includes Dylan Brown, Lydia Congdon, Koria Johnson, Logan Frazier, T.J. Lewis, Jake Roberts, Aaron Scotch and Jenna Allred-Tonsor. Karina Galiano is stage manager for the production.
About Valborg Theatre
The Valborg Theatre is located on campus at the north side of Chapell Wilson Hall on Howard Street in Boone. The theatre entrance faces the back of the Turchin Center for the Visual Arts on King Street. Parking is available after 5 p.m. on campus in faculty/staff lots and after 5:30 p.m. in the College Street parking deck near Belk Library and Information Commons.
To purchase tickets, contact the Valborg Theatre box office at 828-262-3063, the Schaefer Center box office toll-free at 800-841-ARTS (2787), or visit the department website at http://theatreanddance.appstate.edu.
About the Department of Theatre and Dance
The Department of Theatre and Dance is housed in the College of Fine and Applied Arts. Its mission is to provide liberal arts educational opportunities including B.A. degrees in dance studies and theatre arts. The department also values the opportunity to offer coursework for integrated learning through the arts to the general university student population. Vital to the support of this mission is a dynamic co-curricular production program that provides exemplary theatre and dance experiences to departmental students, the university community and the region.
The departmental philosophy is to support the university's liberal arts environment through a balanced and integrated emphasis on teaching, creative activity, scholarship and service.
Media Contact
Keith Martin
828-262-8179
MartinKT1@appstate.edu
About Appalachian State University
As the premier public undergraduate institution in the state of North Carolina, Appalachian State University prepares students to lead purposeful lives as global citizens who understand and engage their responsibilities in creating a sustainable future for all. The Appalachian Experience promotes a spirit of inclusion that brings people together in inspiring ways to acquire and create knowledge, to grow holistically, to act with passion and determination, and to embrace diversity and difference. Located in the Blue Ridge Mountains, Appalachian is one of 17 campuses in the University of North Carolina System. Appalachian enrolls more than 19,000 students, has a low student-to-faculty ratio and offers more than 150 undergraduate and graduate majors.
What do you think?
Share your feedback on this story.