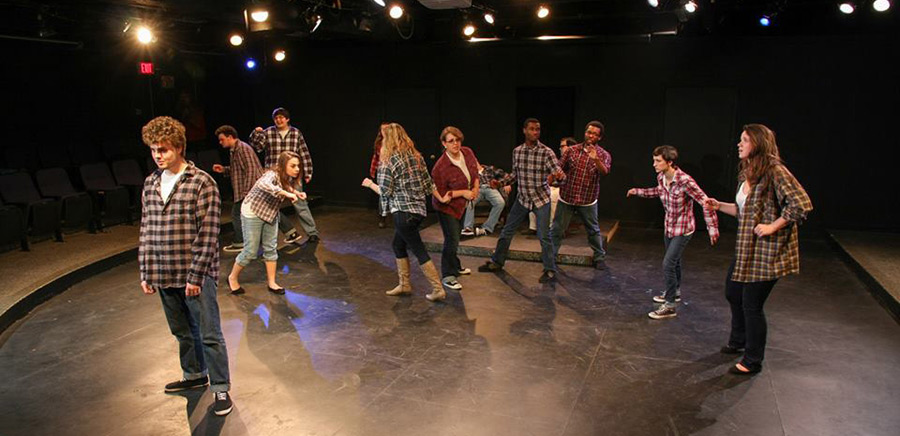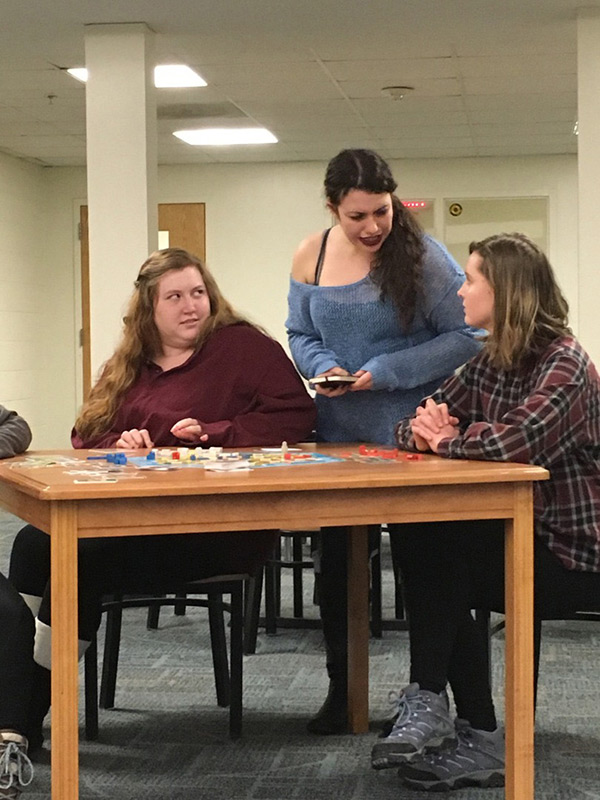 Posted Feb. 15, 2016 at 3:55 p.m.
BOONE—Playcrafters, one of the oldest student clubs at Appalachian State University, will present its 2016 New Play Festival Feb. 18 through 20 in the intimate I.G. Greer Studio Theatre on campus. Performances will begin at 7:30 p.m. on Thursday, Friday and Saturday evenings with $5 admission for students and faculty and $6 for the general public. Tickets will be sold at the door one-half hour prior to each performance.
Founded in 1933 by Cratis Williams and Rogers Whitener, Playcrafters is a venerable campus organization open to all students who are interested in theatre. Their social activities include master classes and workshops, movie nights, tailgating, an end-of-the-semester banquet and other activities. Most notably, the club sponsors an annual new play festival of original one-act plays written, directed, designed and performed entirely by students.
This 2016 New Play Festival line-up includes "At Rise," written by Matthew Lucas and directed by Krystopher Paschen; "Every Now and Then," by Jaraad Samad and directed Jenna Tonsor; "The Arbitrary Act of Entering a Room," written by Nick Newman and directed by Lauren Thefaine; and "Yogurt," written by Melanie Lech and directed by Sarah Duttlinger.
These four plays were selected almost a year ago by a panel of students and university faculty members. Each new work has been in careful development since the time of their selection with concurrent rehearsals for each play beginning in January.
TJ Lewis, a junior theatre performance major, is chair of the 2016 New Play Festival. "It has been a long journey trying to put all of this together," says Lewis, "but, at the end of the day, being able to bring life to young artists' works makes the journey worth it." Lewis said that the students involved in the four plays are eager to display their talent, creative energy and hard work to the campus community, as well as to audience members from throughout the High Country.
Senior theatre education major Lauren Thefaine is directing one of the original works and recounted her experience with the festival by saying, "Directing this show has been an adventure that's unraveled at each rehearsal. We're constantly picking up new things that are hidden in our script. It's been a pleasure to see this really funny and deep play come to life on stage."
The casts of actors for the various plays include App State students Hannah Daniels, Glenn Driskill, Elizabeth Galbraith, Aaron Green, Melanie Lech, Kaitlyn Lyon, Mary Elizabeth Myrick, Lauren Pavlacka, Max Probst, Tripp Taylor and Madi Viterito.
Playcrafters is currently accepting original student-written scripts for the 2017 New Play Festival, with a deadline of Monday, Feb. 29. For information about submissions, email Lewis at appstateplaycrafters@gmail.com.
About I.G. Greer Studio Theatre
I.G. Greer Studio Theatre is located on the east side of I.G. Greer Hall below the auditorium, with a separate entrance on the side of the building. Parking is available after 5 p.m. each weekday on campus in faculty lots, and after 5:30 p.m. daily in the College Street parking deck near Belk Library and Information Commons and the Rivers Street parking deck.
About Appalachian State University
As the premier public undergraduate institution in the state of North Carolina, Appalachian State University prepares students to lead purposeful lives as global citizens who understand and engage their responsibilities in creating a sustainable future for all. The Appalachian Experience promotes a spirit of inclusion that brings people together in inspiring ways to acquire and create knowledge, to grow holistically, to act with passion and determination, and to embrace diversity and difference. Located in the Blue Ridge Mountains, Appalachian is one of 17 campuses in the University of North Carolina System. Appalachian enrolls more than 19,000 students, has a low student-to-faculty ratio and offers more than 150 undergraduate and graduate majors.
Media contact
Cailey Pittman
President, Playcrafters
980-254-3241 phone
pittmancj@appstate.edu
What do you think?
Share your feedback on this story.