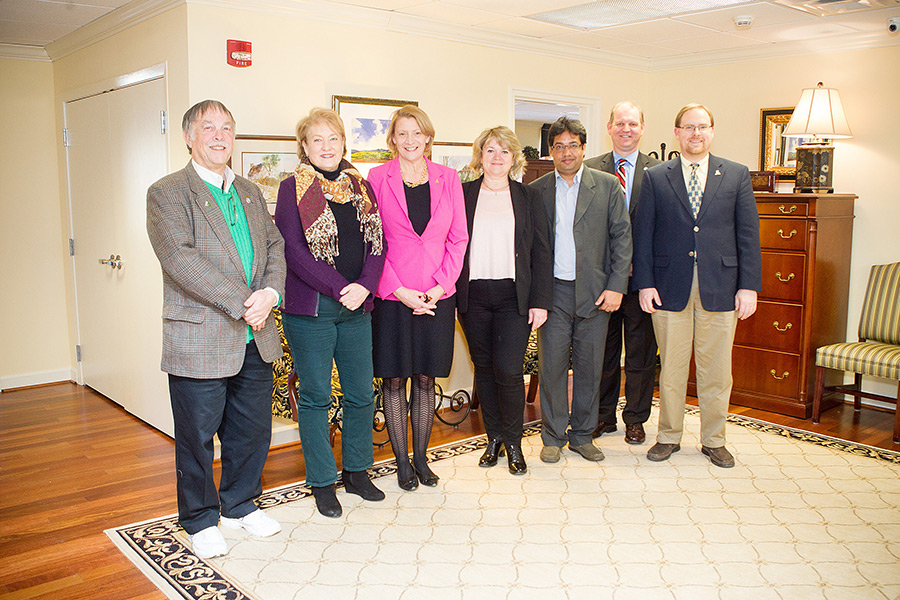 Posted March 23, 2016 at 11:51 a.m.
BOONE—A partnership between Appalachian State University, Novgorod State University in Russia and COMSATS Institute of Information Technology in Pakistan is focused on increasing students', teachers' and others' foundations of cultural awareness and communication.
A special topics course co-taught by Associate Professor Barbara Howard from Appalachian's Reich College of Education, Professor Arshad Bashir from COMSATS University in Islamabad, Pakistan, and Professor Natalia Ilyashenko of Novgorod State University, Veliky Novgorod Russia, will be offered this fall to graduate students at each partnering universities. The post-graduate level course will be open to any graduate student at Appalachian in the areas of leadership or to non-degree seeking students who apply to the Cratis D. Williams School of Graduate Studies.
The objectives are to develop a deeper understanding of the intricacies of culture on communication among those who wish to collaborate internationally. "Often, global connections break down simply due to lack of communication caused by misunderstandings," Howard said. "Students will have the opportunity to work together in a variety of online settings, both synchronously and asynchronously, to develop specific projects related to real world issues in leadership."
Organizers hope the course will lead to a 12-hour, multidisciplinary graduate certificate in international leadership for those who have a master's degree or higher in business or school administration, an educational doctorate degree or an educational specialist degree.
"We want to develop a model that brings together international students and faculty to gain an understanding and appreciation of cultures that intertwine to educate and transform leadership," Howard said. "We don't want to just transform our students," Howard said. "We want to bring leaders from business and education into these courses and who in turn will be able to affect change in the environments in which they work."
For more information about the course, contact Barbara Howard (howardbb@appstate.edu) or John Tashner (tashnerjh@appstate.edu)
About Appalachian State University
As the premier public undergraduate institution in the state of North Carolina, Appalachian State University prepares students to lead purposeful lives as global citizens who understand and engage their responsibilities in creating a sustainable future for all. The Appalachian Experience promotes a spirit of inclusion that brings people together in inspiring ways to acquire and create knowledge, to grow holistically, to act with passion and determination, and to embrace diversity and difference. Located in the Blue Ridge Mountains, Appalachian is one of 17 campuses in the University of North Carolina System. Appalachian enrolls more than 19,000 students, has a low student-to-faculty ratio and offers more than 150 undergraduate and graduate majors.
What do you think?
Share your feedback on this story.